206 Views
Standard Pergola Dimensions (with Drawings)
August 11th, 2021 1:24 AM
Share
We're committed to finding, researching, and recommending the best products. We earn commissions from purchases you make using links in our articles. Learn more here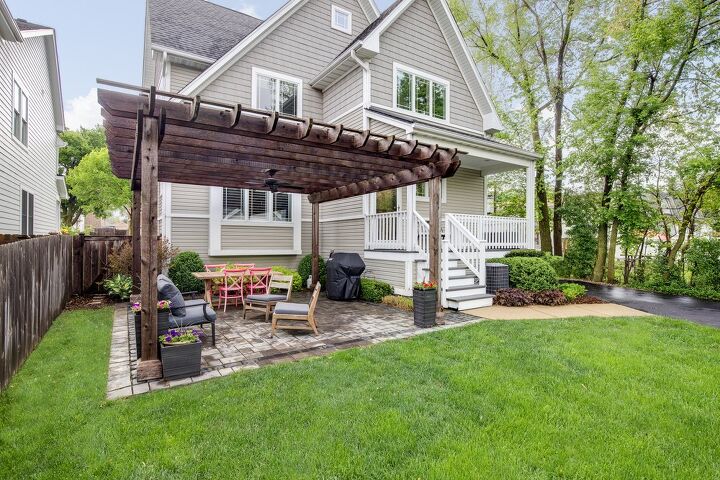 Installing an elegant pergola may just be the way to take your al fresco space to a whole new level. It's perfect for sprucing up the backyard or patio for a more elevated outdoor living experience. Pergolas have always been a popular feature in homes and come in a variety of styles and sizes.
A standard-sized pergola is typically 10 x 10 feet and anywhere from 8 to 11 feet tall. Slightly larger pergolas measure 10 x 12 to 16 feet and are a fantastic feature to house an outdoor dining table. Pergolas measuring 16 x 16 feet or 20 x 20 feet are suitable for shading an entire backyard patio.
One can have either a square pergola or a rectangular pergola, depending on your backyard needs. Custom pergola builders can also build any pergola based on your specific requirements and design choice. Most pergolas are built from wood but newer, more modern designs are available in vinyl, aluminum, even fiberglass.
Square Pergolas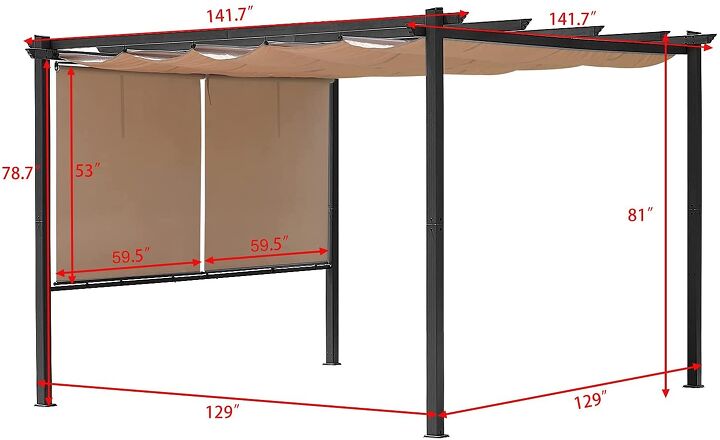 Square pergolas work great for one side of a backyard patio, housing two chairs and a small table. Furthermore, a 10 x 10-foot pergola can be an easy install for the handy amateur. If dealing with a 16 x 16-foot pergola and over, you may want to leave this job to the professionals.
Pergolas may or may not have added pergola covers. When needing more shade than is provided, you can choose among multiple options, ranging from canvas to corrugated plastic. Another sensible idea is to plant flowering vines around your pergola, allowing nature to wrap itself around the wooden beams.
Rectangular Pergolas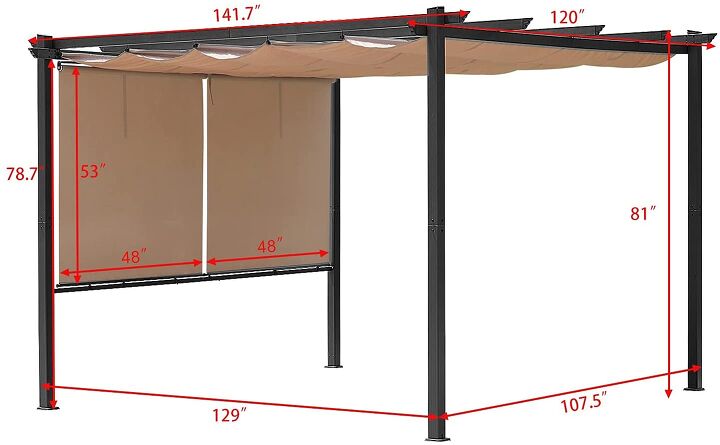 Rectangular pergolas are yet another very popular option similar to square pergolas. They range in size from the standard 8 x 10 feet all the way to 18 x 24 feet and larger. However, the size of your backyard or outdoor area that needs the pergola will determine which shape works best.
Rectangular pergolas are perfect for enclosing either an outdoor lounging set or a dining room table with chairs. Larger pergolas can accommodate an outdoor grill or even a pizza oven under their dappled shade. Another practical use for pergolas is by the side of a pool, especially if no other shade is available.
Simply install on the pool side that gets the most sun, tuck two lounge chairs underneath, and you're all set.
Attached Pergolas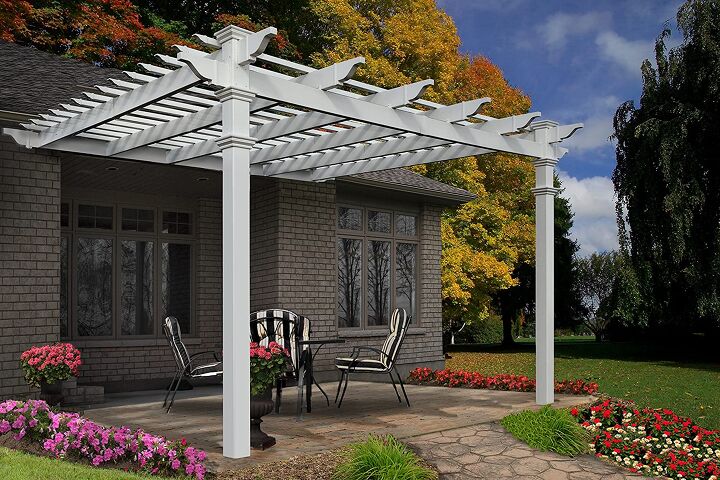 Attached pergolas are an outdoor extension of your home, creating additional living space and added enjoyment to your patio. This example is 78 inches long by 12 inches wide.
Attached pergolas only come with two supporting posts since the house itself supports the other side. In some DIY pergola kits, these types of pergolas are known as wall-mounted pergolas.
Pergola Post Size
Standard 10 x 10 foot or 12 x 12-foot pergolas typically used 6 x 6-inch posts for support. They are usually 9 to 11 feet in height, depending on the desired ceiling height. Always include extra length to help support the top and also to dig deeper into the ground for added stability.
For attached pergolas, you only need two standard 6 x 6-inch posts. This is because the attachment to the house or building takes off a significant amount of weight from the posts. However, the remaining two posts still need to be sound and weight-bearing.
Pergola Rafter Size
Rafter size is another thing to consider before deciding on your choice of a pergola. You must determine what you will use your pergola for and decide if you need minimal or maximum shade. When needing extensive shade, pergola covers may be the way to go beyond simply rafter size.
Standard pergola rafters measure 2 x 6 inches or 1 ½ x 7 ¼ inches. Note that the bigger the rafters, the more support is required of the posts to accommodate the extra weight. However, weight is not determined by size alone but also by thickness, quality, and type of material used.
Pergola Ceiling Height
The typical ceiling height for most pergolas professionally installed or from a DIY kit is about 8 to10 feet tall. This is the standard height for most enclosed areas such as garages, sheds, and the like. With an attached pergola, ensure that the top beams align with the structure you are connecting it to.
Choosing the Right Size Pergola Cover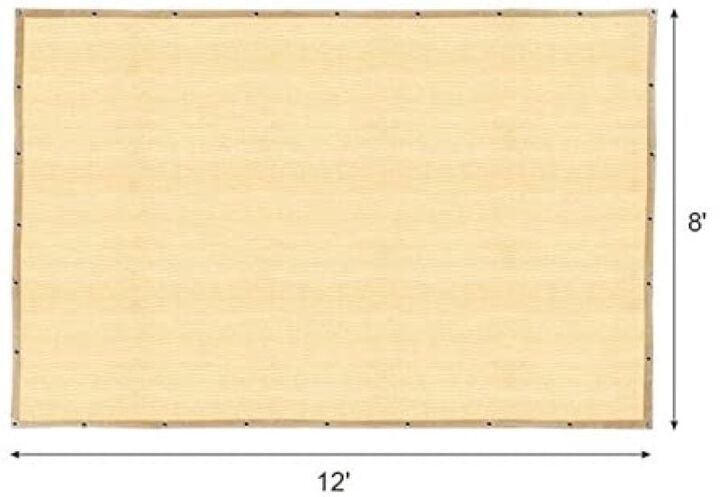 A pergola cover can be a great way to cover your patio. It doesn't merely provide shade, but the right one adds another dimension of style and function to your existing pergola.
A 12 x 8-foot cover is the perfect size for a 10 x 10-foot pergola. This size ensures enough coverage with 2 feet of extra material hanging from either end.
A fabric pergola cover provides needed shade during the hot summer months. However, if you need protection against rain or snow, another material, like corrugated plastic or metal, would be more suitable.
Using Pergola Vines for Shade
If au naturel is your design philosophy, growing vines around your pergola will give you shade in no time. Climbing plants, flowering or otherwise, create that perfect outdoor atmosphere underneath your pergola while enjoying both beauty and shade. Here are 10 of the most popular and hardy vines for shade.
Virginia Creeper
Bougainvillea
Royal Trumpet Vine
Carolina Jessamine
Bower Vine
Summer Cascade Wisteria
Chinese Jasmine
Honeybell Honeysuckle
Sweet Summer Love Clematis
False Hydrangea Vine
Pergola Materials
Traditionally, people always fashioned pergolas out of wood, with cedar and redwood being the most popular choices. These days, aside from wood, pergolas are also made from vinyl, fiberglass, or aluminum. All these different materials offer their own set of pros and cons.
Wood Pergolas
Wood pergolas remain the most popular material choice, with hardwoods topping the list. Hardwoods are certainly more expensive, but they add so much appeal to older homes. Softwood is easier on the budget and can be bought pre-treated and stained according to your personal preference.
Another option is timber, or lumber, which is an excellent building material for planks and boards. Timber is also a heavy wood, which helps lend an authentic and rustic feel to your pergola.
Vinyl Pergolas
Vinyl pergolas are easy to install, easier to maintain, and can last a lifetime. All you need to do is give it an annual pressure-washing to ensure that it stays looking nice and fresh. Vinyl pergolas are almost always white, making it a clean choice for a variety of patios and back porches.
Vinyl reinforced with a steel or aluminum core is extremely durable and holds up well in all weather conditions. It can withstand a high UV index, extreme cold, strong winds, and heavy rain. This type of vinyl is more expensive than wood but will last practically forever.
Aluminum Pergolas
Aluminum pergolas offer the same durability, beauty, and shade as other pergolas but with a modern aesthetic. While vinyl and wood bow to the traditional, the sleekness and lines of aluminum lend a truly contemporary look. Almost maintenance-free and highly durable, aluminum pergolas stand up to extreme heat, rain, and snow.
The resilience and toughness of aluminum pergolas also surpass that of wood or vinyl. The variety of colors aluminum comes in is way more than that of vinyl, which is usually plain white. Since aluminum is powder-coated, the paint lasts forever, and you can find a color to match any other existing structure.
One disadvantage of getting an aluminum pergola is the cost. But counting the distinct advantages, you may just want to dig deeper in your pocketbook and get it.
Fiberglass Pergolas
If you're looking for the next big thing, fiberglass pergolas are a contender with their durability and ability to comply with a host of design options. Fiberglass also has unparalleled strength due to pultrusion, a process where extreme heat pulls together fiber and resins. This strength and its relative lightweight make fiberglass an ideal material for pergolas.
---
Related Questions
What is the cheapest pergola I can get?
The most inexpensive, standard-sized vinyl pergola on the market today would cost slightly under $2,000.  Some retailers may even offer free installation with your purchase.  Vinyl is pricier than wood, but wood pergolas require regular maintenance and a yearly restain or repaint to prevent rot.If you decide to build your own pergola, the wood materials may cost you even less than a commercial pergola kit.  However, this only works out if you have the proper tools and skills to tackle such a project.
Will a pergola add value to my property?
As with any addition to a home, ask yourself if you genuinely need a pergola or simply a landscape refresh.  Remember that pergolas become a permanent fixture in your backyard so getting a professional opinion is advisable.  Younger homebuyers often prefer temporary patio covers such as retractable awnings over the more permanent pergola.
Summing It Up
Your backyard patio will undoubtedly acquire a different, more sensual feel once you install a pergola. It doesn't matter whether it's wood, vinyl, or aluminum. Increase the romantic vibe with creeping vines, or modernize your space with the play of light from shiny aluminum.
Before you make that decision, discuss the idea with everyone in the home. Adding more living space, beautifying a sparse backyard, creating shade–these are some advantages of having a pergola. And who doesn't want all that?

Stacy Randall
Stacy Randall is a wife, mother, and freelance writer from NOLA that has always had a love for DIY projects, home organization, and making spaces beautiful. Together with her husband, she has been spending the last several years lovingly renovating her grandparent's former home, making it their own and learning a lot about life along the way.
More by Stacy Randall
Published August 11th, 2021 1:24 AM