144 Views
What Paint Colors Go With Blonde Cabinets? (Find Out Now!)
May 30th, 2021 11:19 PM
Share
We're committed to finding, researching, and recommending the best products. We earn commissions from purchases you make using links in our articles. Learn more here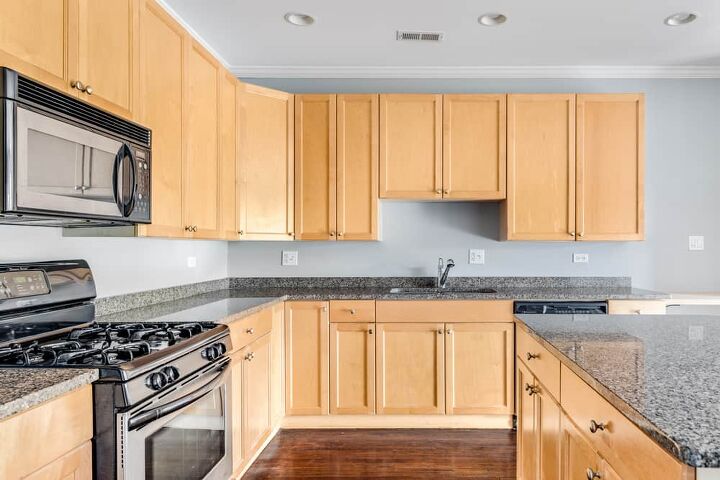 They say that blondes have more fun, but is that true for cabinets too? Blonde cabinets have a reputation for being difficult to match. Of course, this is only made worse by the heavy emphasis on yellow that this type of wood stain boasts. Trying to find paint that doesn't turn your kitchen into an eyesore can be rough, but it's not impossible…
In order to get a paint that works with blonde cabinets, you are going to have to stick with neutrals that have a muted, cool undertones. This means that the following colors are the best picks:
Green-Grey
Grey-Blue
Light Grey
Dark Grey
Off-White 
Beige
Blonde wood is difficult to work with, no lie. If you recently bought a house with blonde cabinets and want to give it a new paint job, this guide will be a godsend.
Do You Need an Interior Decorator?
Get free, zero-commitment quotes from pro contractors near you.
The Best Colors For Kitchens With Blonde Cabinets
Getting started on your paint journey can be rough, but there's good news ahead. You have a lot of pastels to choose from! These below are our top picks.
Green-Grey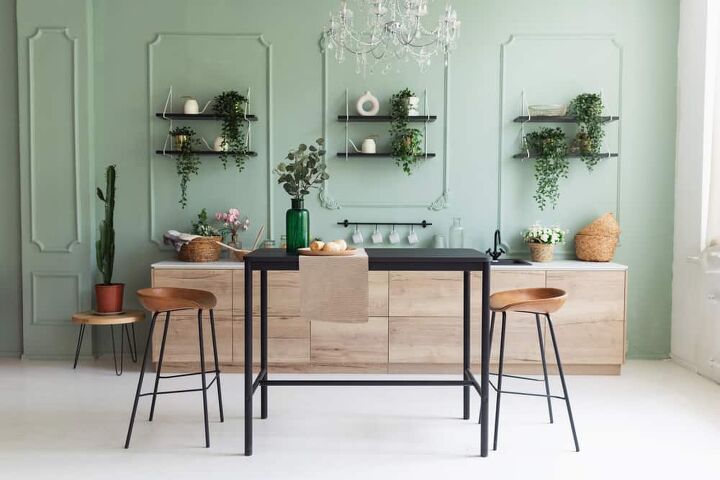 Admittedly, this is more of a seafoam than it is a green-grey, but there are still some grey undertones there. But, the overall concept still stands. Green has yellow undertones that match with most blonde woods. It's a color that also tends to provide a sense of freshness to a room. Since green-grey is a lighter color, it also can help open up a room in a way other shades of green won't.
This is a great pick for people who want to have a kitchen that stands out from the norm in a good way. Word has it that green-grey is becoming increasingly popular. Are we due for a new trend in kitchens? Quite possibly!
Grey-Blue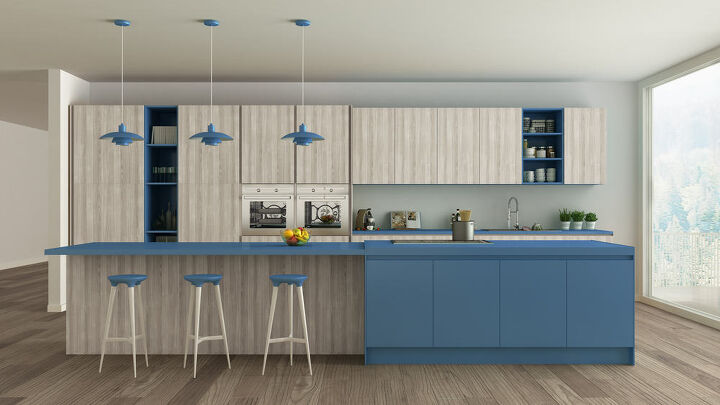 Not all blonde wood stains are going to be heavy in yellow. If you have a more neutral blonde in your cabinetry, you might want to try a blue-grey, like the paint colors featured in this picture above. Both bolder blue-greys and the "ocean mist" of the grey wall here work well with the light-hued wood in the room.
Even if you don't have cool blonde wood, this is still a relatively smart choice to make. When you have a wood stain with yellow undertones, the blue creates a contrast that brings out the yellow more. If that's a look that you want to accomplish, then add some of the blue-grey you love!
Light Grey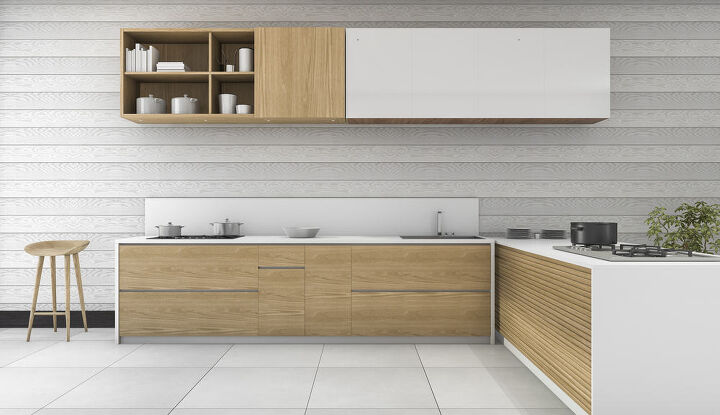 Grey is the most obvious choice for a blonde wood, primarily because it helps offset the yellow tones but also gives your kitchen a little more depth. In this kitchen, the designer painted the kitchen's wooden panels with a quirky pattern in two different shades of grey. This works well when it comes to adding depth and dimension to the kitchen.
True grey has neither warm nor cool undertones. That's what makes it a great pick for people who want to help tone down some of the more obnoxious undertones blonde woods can have.
Dark Grey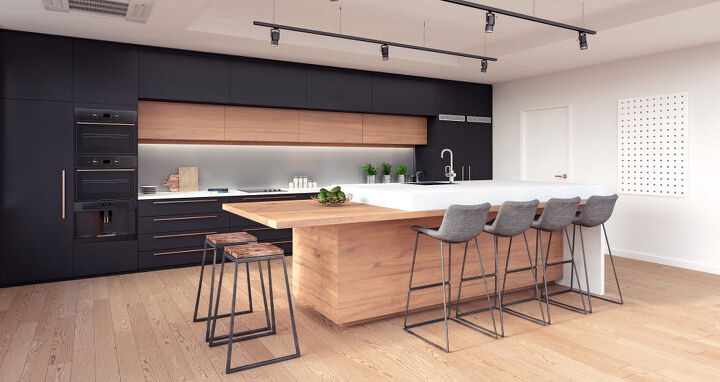 Modern designers are starting to turn their eyes to more dramatic colors for kitchens, and that's a great thing if you are the proud owner of blonde cabinetry. Dark grey is one of the most dramatic shades you can pick for your kitchen walls, and it works phenomenally well with light woods of all kinds—even honey oak!
This is a good choice for people who want to have an edgy, vibrant veneer for their kitchen. With that said, it's important to get a shade of grey that works with the specific undertones your wood has. May we suggest a rich charcoal?
Off-White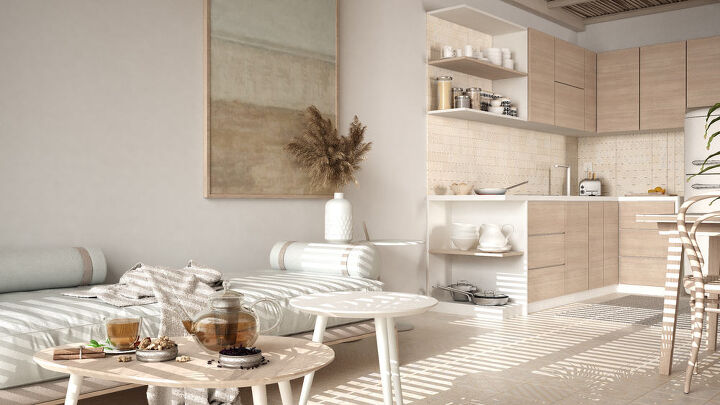 If there is one way to add a monochromatic effect that remains hypermodern, it's painting your kitchen walls an off-white shade while having blonde wood cabinets. It's basically the cornerstone of modern Scandinavian decor. Off-white offers a less stark look than regular white, and also has warm undertones that mesh well with most light woods.
This is a great choice for people who have smaller kitchens and want to bring some light in. It also happens to be a good way to make sure that your kitchen appears warm and inviting.
Beige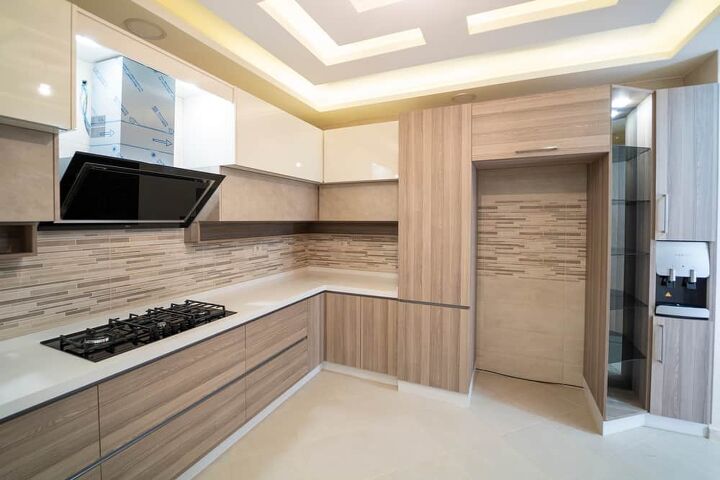 If you love the buttery look of off-white, but want something a little more substantial to pair with your blonde wood, choose beige. As a true neutral that tends to lean warm, beige offers a tone that matches well with yellow undertoned wood. It also tends to be a color that can help your cabinetry transition seamlessly from the cabinets to the wall.
In the photo above, the designer used tiles of varying shades of beige to create a neat backsplash that worked with the kitchen. While adding a little mosaic action can make your kitchen's wall pop, the truth is you don't need access to stone to make this work. A solid coat of paint is more than enough to make most kitchens look elegant with blonde wood stains.
Are Blonde Woods Still In Style?
It's no secret that blonde wood stains have a serious back-and-forth with the design world. During the 1970s through the early 1990s, they were a must-have for any home to be fashionable. (This was especially true about honey oak!) Then, they faded into obscurity. Then, a new set of wood stains that have joined the blonde wood family, many of which have become cornerstones of kitchen design in their own right.
The truth is that asking whether blonde wood stains are in style or out of style isn't an answerable question. It's all on a case-by-case basis. Some, like honey oak, are seriously outdated. Others, like white birch, tend to be more modern—even in-demand! So, use your judgment. If it looks like it's from the days of disco, avoid putting that wood stain shade in your home.
What Should You Do If You Have An Outdated Wood Stain In Your Kitchen?
We have some good news and some bad news. The bad news is that you have an outdated wood stain in your kitchen, and it will take work to remove it. The good news is that you have several different options to mitigate the wood stain's color. Some of the options at your hands include:
Painting Your Cabinets. It's true. You can hide the cabinet's wood stain by painting over them. We suggest doing this if and only if you're done with wood patterns once and for all. Once you've painted your cabinets, it's almost impossible to go back to a stain. Even though it's permanent-ish, white cabinets always look good, so it's going to be a smart choice.
Restaining Your Wood. This often requires you to sand down your cabinets, applying wood stain remover, then adding a new stain to it. In a lot of ways, it's like restaining your deck. This is also labor-intensive, but not as much as most of the other choices you can make.
Replacing Your Cabinetry. Obviously, this is going to be the most expensive and labor-intensive option on the menu. If you have the money and really, truly hate your cabinets in all of their un-glory, definitely consider it. Besides, a major kitchen remodel can add some serious value to your home.
Do You Need an Interior Decorator?
Get free, zero-commitment quotes from pro contractors near you.
---
Related Questions
What is blonde mahogany?
When most people think of mahogany, they tend to think of the deep red, dark hardwood that is a staple among most elegant homes. Blonde mahogany is a more exotic type of wood. Its actual name is Primavera, and it's an exotic hardwood that has a grain very similar to mahogany. While it's not real mahogany, its elegant style and workability make it a favorite among upscale woodshops.Blond mahogany is a great wood to use if you want to have a honey-colored piece of furniture with the qualities that make it heirloom-worthy. When polished, Primavera offers up a look that's both glamorous and casual. What's not to love?
What color hardwood is best for reselling your home?
If you want to give your flooring a makeover before it hits the market, now would be the time to avoid blonde woods! While blonde woods look great in cabinetry, they do not score well as far flooring options go. A better choice would be to go with a bold, dark wood finish like teak or ebony. Even medium-grade darkness like maple would be better.Light-colored flooring is more likely to show scratches and less fixable. As a result, savvy home buyers tend to decline them.
What flooring color should you avoid?
If you want to get a good price on your home, avoid hardwood flooring that touts a grey stain. Many buyers find grey floors to look dark and dingy. Moreover, since grey is starting to fall by the wayside in terms of trendiness, many people are also starting to view it as a dated floor choice. After all, no one wants to hear the phrase, "Your floors are sooooo 2010!" in a couple of years.
More Related Guides

Ossiana Tepfenhart
Ossiana Tepfenhart is an expert writer, focusing on interior design and general home tips. Writing is her life, and it's what she does best. Her interests include art and real estate investments.
More by Ossiana Tepfenhart
Published April 18th, 2021 11:03 AM