335 Views
Is Your Contractor Overcharging? (Here Are Your Options)
April 15th, 2021 6:28 AM
Share
We're committed to finding, researching, and recommending the best products. We earn commissions from purchases you make using links in our articles. Learn more here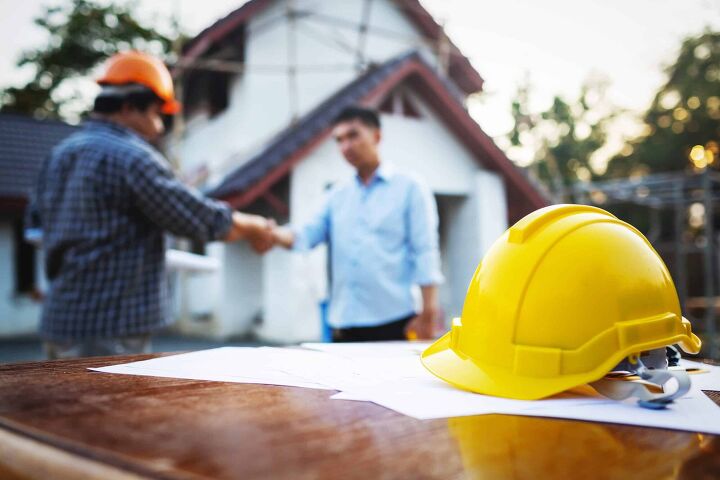 Doing any type of home improvement project is going to be a pricey matter, and if you have to hire a contractor, then things get even pricier. Of course, hiring any contractor comes with a risk. What if work is bad? Or worse, what if they don't do the work? One of the most common issues people have is dealing with a contractor that charges far higher than what their initial estimate shows. So, what can you do?
An overcharging contractor isn't something you need to take lying down. First, you should ask why the charge is higher. If the charge doesn't make sense or they refuse, fire them. You can also file a claim in court to ask for mediation, provided that you can furnish proof that they underbid on purpose.
There are a lot of horror stories floating around the net dealing with a contractor that overcharged clients. You don't have to take this lying down, nor should you. This guide will give you a better idea of what your rights are.
Do You Need to Hire a General Contractor?
Get free, zero-commitment quotes from pro contractors near you.
Why Did My Contractor Overcharge Me?
Overcharging can happen for a wide range of different reasons. Sometimes, there's a genuine problem that would make an otherwise simple issue become a major project. With those situations, it's a valid charge and there's not much you can do. This is just something that you will need to deal with.
However, there is another issue that could be the problem. Many shady contractors will "lowball" an estimate, only to come up with surprise charges later on when the contract is mostly locked in. They do this because they bank on the idea that people won't fight the charge and that they will be able to get away with it.
What Can You Do If A Contractor Purposefully Overcharged You?
Guess what! This kind of fraudulent charging and strategic lowballing is technically a form of crime in many parts of the country. It's also a reputation ruiner for contracting companies. Thankfully, there are ways to fight back. Let's talk about the step-by-step on how to settle this, shall we?
First, Go Over The Estimate
Sometimes, what may appear to be a purposeful overcharge isn't what it appears to be. Ask the contractors to go over the estimate, including any fees or add-ons. If they claim that there are "too many unknowns" to give a proper estimate, get a second opinion for another contractor. Or a third.
Be open to asking others for a written statement saying that it is possible to give a more accurate estimate, or any other evidence that suggests that you've been purposefully underbid. If you can, pull average costs for this type of project from the internet as a comparison. It can help build a case.
Get Pictures Of Any Work Done And Ask For Second Opinions
When you're dealing with a contractor who is demanding a ton of extras, get photos of their work. Have other contractors and experts look at the photos to see whether their add-ons are actually legitimate, and show them to a lawyer. You may have a right to sue if they are purposefully misleading you on costs.
Talk To The Contractor's Licensing Board
Your state's contractor licensing board is there to protect you. The state has the right to revoke a license of a contractor that is acting in bad faith. If you notice an overcharge that is above 20 percent of the original estimate, chances are that you may have a right to talk to the licensing board. They may end up being willing to renegotiate if their license is on the line.
Draft An Official Letter
This can be done through a lawyer or on your own, though a lawyer might be a better bet. In this letter, tell the contractor that you are not comfortable remitting payment without an itemized bill and explain your reasons. You can offer to pay a slightly higher fee, which will most likely start a negotiating deal. This can help decrease the overcharge immensely.
Head To Small Claims
Let's say that you have tried to negotiate but they're not budging. They are also becoming belligerent. If they threaten to sue you, agree to go to small claims and present your case against the contractor. In this event, you will have to present your case to a judge. If your case wins, you might be able to walk away paying the original fee.
Fire Them
If you notice that they're taking a long time, having "requirements creep" set in, or otherwise acting shady, you should consider firing them and cutting your loss. If the project is still in its early stages, then you might be able to cut your losses and get someone else to do the work instead.
Leave A Poor Review Online
If you were fleeced by a bad contractor, you hold the right to warn others of their behavior. Leaving a review explaining exactly what happened to you. This serves two purposes. First, it makes sure they don't do the same to others. Second, it may make them more amenable to working with you and dropping the overcharge.
How To Prevent An Overcharge In The Future
Though contracting companies are notorious for having a high markup, not all companies will do this to you. To prevent this from happening again, make sure to follow these handy tips:
Only do business with licensed, bonded, and insured contractors. No license means that you can't rely on them to keep their work or even deliver good work. Contracting with an unlicensed company is like playing Russian roulette. It's just a bad idea.
Ask for an itemized estimate that's on paper. You want to emphasize to the estimator that you want to know the price of materials, labor, fees, and taxes. While you're at it, be clear about the scope of work you want them to do.
Ask for references and actually call them up. Ask the references of any potential contractor about their budgeting issues, working style, and if they had any issues with them.
Read their reviews online. Reviews can be faked, sure, but if you don't see any reviews linked to them, it's usually a bad sign.
Search up the company, followed by keywords like "scam" or "overcharged." This will be a good way to weed through positive reviews to see if anyone was overcharged by them in the past.
Always make sure that you get more than one quote. Like with any other type of work, you should always shop around.
If you can, try to work with a contractor that has a price guarantee. This isn't always doable, but with some contracting groups, it can be. A price guarantee, especially if you have a flat-rate job that you need done, can help you prevent serious mishaps and give you legal footing.
Do You Need to Hire a General Contractor?
Get free, zero-commitment quotes from pro contractors near you.
---
Related Questions
My contractor fled town without finishing the work. What can I do?
Getting a lawyer and contacting the police is usually the best route to go. If they are licensed and bonded, you can also file a claim with the bonding company. Among other things, you also reserve the right to file a claim with the licensing board. Depending on the damage done, you may also be able to go after them with a mechanic's lien.
Can I sue a contractor for bad work?
If the work was truly awful and he signed a contract, you're in luck. Your contractor may be in breach of contract, especially if you have a "value guarantee" in the contract. Should you have a bad contracting experience, contact a lawyer.
How do you tell a contractor that you're unhappy with their work?
The fact is that you have to be forthright about it. Explain to them why you're unhappy, show them where their work may have fallen below standard, and show them what contract stipulations they may have bailed on. Try to be objective with them and explain why you feel uncomfortable with the work. Ideally, try to do this in writing.
Is it easy to fire a contractor?
Terminating a contract is a serious penalization and may require you to go to court. It's not easy, but it can be done.

Ossiana Tepfenhart
Ossiana Tepfenhart is an expert writer, focusing on interior design and general home tips. Writing is her life, and it's what she does best. Her interests include art and real estate investments.
More by Ossiana Tepfenhart
Published August 30th, 2020 11:42 AM