232 Views
Murphy Bed Dimensions: Queen, King, Full (Photos)
December 13th, 2021 2:02 PM
Share
We're committed to finding, researching, and recommending the best products. We earn commissions from purchases you make using links in our articles. Learn more here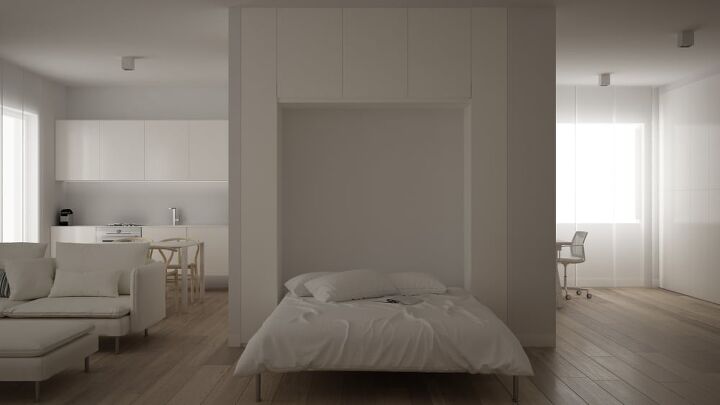 To steal a little inspiration from Superman, it's a bed, it's a wall, no, it's both! It's a Murphy bed, and it's one of the ultimate space-saving sleeping solutions for multi-functional areas. These efficient furniture pieces look like part of the wall or shelving but pull down into a bed, and it's important to understand the dimensions of a Murphy bed.
A Murphy bed features similar dimensions to a standard twin, full, queen, and king bed when it is down in the bed position. When upright, a Murphy bed is 82 to 92 inches high, 18 inches deep, and 43 to 86 inches wide depending on the size. However, if you opt for a horizontal Murphy bed, these dimensions change dramatically.
A Murphy bed, also called a cabinet bed or wall bed, is an excellent solution for a multi-functional room, like a studio apartment. It's also a great way to provide sleeping space for guests in a home with limited bedrooms. However, you need to make sure you get all your measurements correct so your Murphy bed can function properly.
A Quick Peek At Murphy Bed Dimensions
When open, your bed's width and depth are based primarily on the size of a standard mattress. However, the orientation of the bed plays a large role in how the bed takes up space.
Here is a quick glance at the average dimensions of the different sizes of a Murphy bed.
| | | | | | |
| --- | --- | --- | --- | --- | --- |
| Mattress Size | Orientation | Height When Upright (inches) | Width (inches) | Depth (inches) | Projection From Wall When Open (inches) |
| Twin | Vertical | 82 to 87 | 43 to 46 | 18 to 21 | 80 to 82 |
| Twin | Horizontal | 45 to 48 | 80 to 85 | 16 to 20 | 44 to 46 |
| Twin XL | Vertical | 87 to 89 | 43 to 46 | 18 to 21 | 85 to 87 |
| Twin XL | Horizontal | 45 to 48 | 85 to 90 | 16 to 20 | 44 to 46 |
| Double/Full | Vertical | 82 to 87 | 57 to 61 | 18 to 21 | 80 to 82 |
| Double/Full | Horizontal | 62 to 64 | 80 to 85 | 16 to 20 | 58 to 60 |
| Queen | Vertical | 87 to 89 | 64 to 68 | 18 to 21 | 85 to 87 |
| Queen | Horizontal | 68 to 70 | 85 to 90 | 16 to 20 | 65 to 68 |
| King | Vertical | 89 to 92 | 84 to 86 | 18 to 21 | 85 to 87 |
| King | Horizontal | 68 to 70 | 85 to 90 | 16 to 20 | 78 to 80 |
Is There A California King Murphy Bed?
California kings are seven feet long (not including the bed frame). A California king Murphy bed could end up being almost 8 feet tall when upright. Since this is the same height as many standard rooms, it makes fittmg a bed this size almost impossible.
Even a king size Murphy bed is pushing the limits in many rooms, which is why they aren't as common as twin, full, and queen sizes. Still, this isn't to say you can't have a California king Murphy bed custom-made if you have the room for it. For example, you might live in a loft with limited space but soaring ceilings.
Dimensions Of A Closed Murphy Bed
Basically, if you have the room for an open Murphy bed, you might think you're good to go. However, since you store a Murphy upright, you need to consider a whole separate set of dimensions.
Necessary Wall Space For A Vertical Murphy Bed
Obviously, where you install your Murphy bed on the wall needs to be clear and open to house your bed. Vertical Murphy beds are the most ideal since when open they closely resemble a standard bed. You can get into the bed from either side.
Vertical Murphy beds are also the most common type of bed, and you can find them in the same sizes as regular beds. King Murphy beds are not as common as twin, full, and queen models. However, you can get them (for a hefty price) or have one custom-made.
This size of Murphy bed comes with some extra challenges when it comes to installation due to the size and weight. However, you can find some basic, limited options for king units on sites like Wayfair.
A king Murphy bed is about 90 inches wide and roughly 92 inches long. However, one possibility is to use a design featuring two twin beds that come down side-by-side, creating a makeshift king.
Allow about 82 to 92 inches of vertical space on your wall for a Murphy bed. You need at least 43 to 92 inches of horizontal space for just the bed and frame. Of course, the exact space needed will depend on the size of your bed and any extra side cabinets or shelves your Murphy bed includes.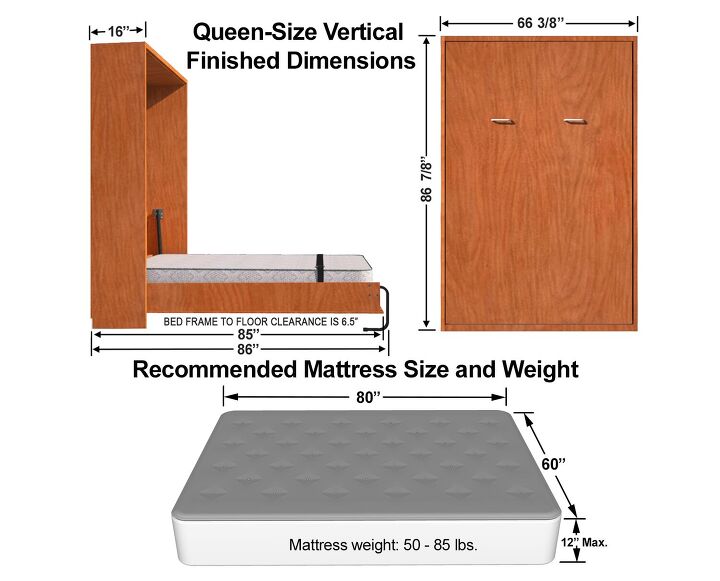 Necessary Wall Space For A Horizontal Murphy Bed
If your ceiling clearance or floor space in the room is tight, a horizontal bed might be a better option. Obviously, you just need to account for more horizontal wall space but will require less vertical space.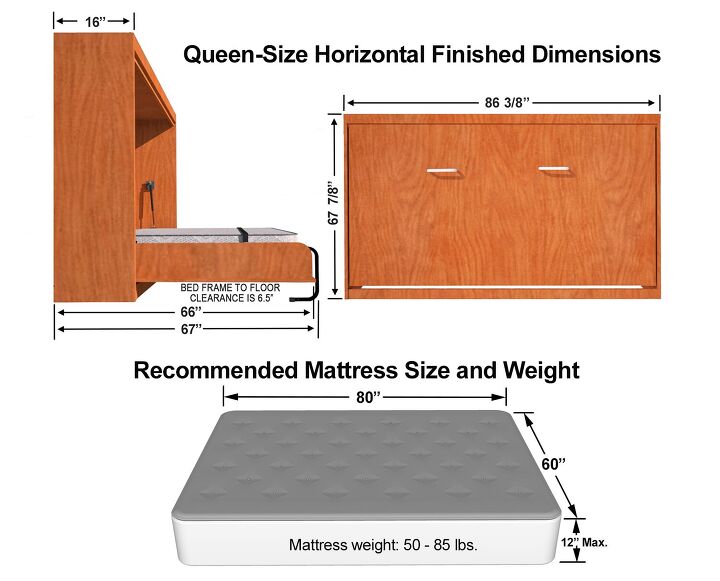 A horizontal Murphy bed needs about 80 to 85 inches of horizontal wall space. However, it only takes up about 47 to 69 inches of vertical space on the wall.
Adding In Storage
If you decide to go with a Murphy bed design that features side cabinets, you'll need even more space. These additions give you extra storage, plus add to the built-in shelving look, really disguising your Murphy bed. They become the perfect place to store books, photos, and can even double as a nightstand or bedside table.
Most Murphy bed cabinets ae about a half an inch to an inch below the top of the closed bed. This measurement is true for both horizontal and vertical Murphy beds. The cabinet depth is usually the same as the depth of the bed when it is in the closed position.
However, the width of the cabinets can vary between 18 and 30 inches. Cabinets are typically available in 18, 24, or 30 inches wide, but you can get custom sizes as well.
Therefore, it is important that the wall you plan to place your Murphy bed on be long enough to accommodate the width of the bed and the cabinets.
Depending on your bed's design, you can also get drawers or shelves flanking your bed. Make sure to account for the extra wall space these additions need.
If you're limited in wall space, consider getting storage on just one side of your bed. Some storage is always better than none. Here is an overview of some common Murphy bed cabinet sizes.
A Glance At Typical Murphy Bed Cabinet Sizes
| | | | | |
| --- | --- | --- | --- | --- |
| Bed Size | Orientation | Height (Inches) | Width (Inches) | Depth (Inches) |
| Twin | Vertical | 79.25 | 18,24,30 | 16 |
| Twin | Horizontal | 43 | 18,24,30 | 16 |
| Twin XL | Vertical | 84.75 | 18,24,30 | 16 |
| Twin XL | Horizontal | 64 | 18,24,30 | 16 |
| Double/Full | Vertical | 79.25 | 18,24,30 | 16 |
| Double/Full | Horizontal | 58 | 18,24,30 | 16 |
| Queen | Vertical | 84.75 | 18,24,30 | 16 |
| Queen | Horizontal | 64 | 18,24,30 | 16 |
| King | Vertical | 84.75 | 18,24,30 | 16 |
| King | Horizontal | 64 | 18,24,30 | 16 |
Some companies offer different styles of cabinets in different materials. Therefore, it's always important to check the exact measurements of the Murphy bed you plan to purchase. Dimensions can vary slightly from company to company, or you can commission a custom-size bed and storage solutions.
Open Murphy Bed Dimensions
When a Murphy bed is down, it typically takes up the same amount of space as a standard bed. Therefore, the space you need depends on the size of your Murphy bed.
The Murphy bed's overall dimensions usually equal the size of the mattress plus a few extra inches. These extra inches account for the bed frame and vary based on the bed's style.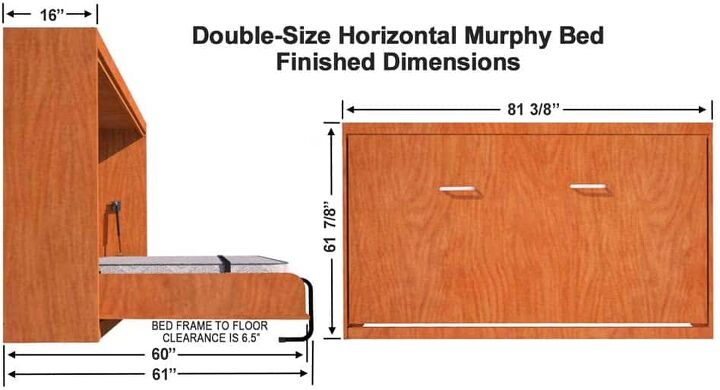 Clearance For A Murphy Bed
Having enough maneuvering space is always essential in a bedroom, especially for a Murphy bed. When you measure for your Murphy bed, consider the dimesnions when it is open and closed.
In addition to the wall space already mentioned, you need to consider the vertical space and the ceiling. And, of course, you need to think about your floor area as well.
Necessary Floor Space
When your bed is down, it's essential to leave an adequate amount of space around it. You don't want getting in and out of your bed to feel uncomfortable or awkward.
Usually, it's ideal to have between 30 and 36 inches of clearance around a bed. This open space allows you to climb into bed from either side.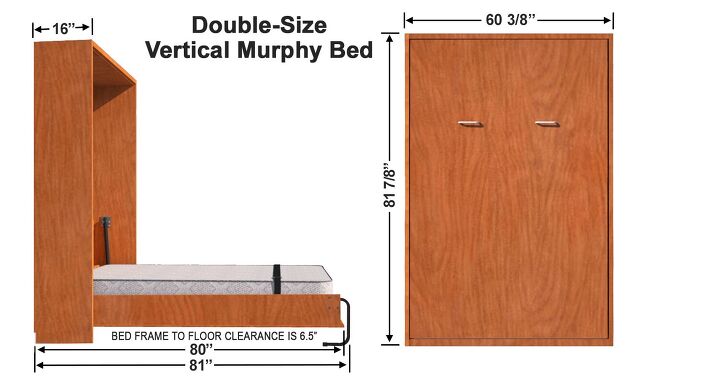 Plus, it lets people move around the room freely without feeling like they're going to trip over the bed. However, you could cheat the clearance a bit on one side for a twin bed. Twin beds are usually meant for one, so there is probably no need for equal space on both sides.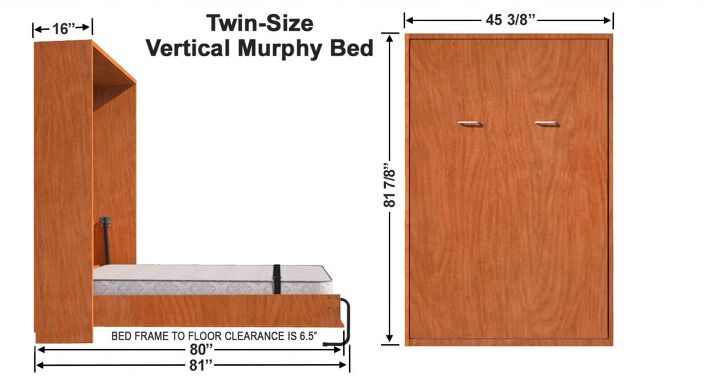 Likewise, if you use a horizontal Murphy bed, then you only get one open side. In this case, you might want to ensure you have some extra space at the foot of the bed. At least strive for this extra room at the foot for full and queen-size beds.
What Is On The Ceiling?
On average, your ceiling should be at least 2.5 inches taller than the height of the upright Murphy bed. Also, consider anything installed on your ceiling, like light fixtures or pipes, that can interfere with the Murphy bed.
Ensure the lowest hanging item is at least 2.5 inches above the height of your closed Murphy bed. If you don't have the necessary ceiling clearance, then a horizontal Murphy bed is the way to go.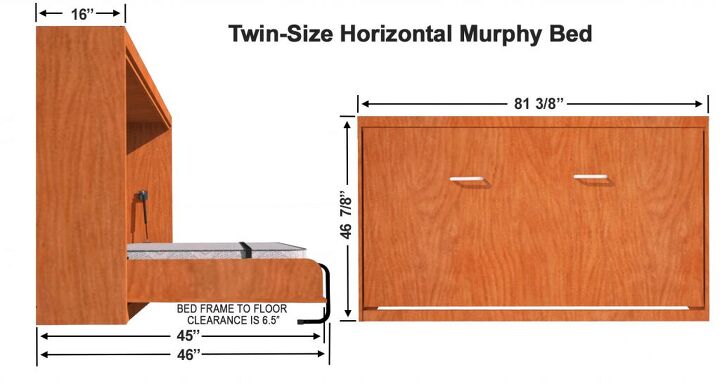 Extra Considerations When Using A Murphy Bed
While size and space are important factors for choosing your Murphy bed, so is safety. Typically, Murphy beds install into studs in the wall with brackets. Never leave your Murphy bed freestanding.
If you cannot install your Murphy bed yourself, it's vital to get someone who can do it properly. Some wall beds also mount to the floor as well. However, many new models have veered away from this design to protect flooring.
When planning your layout, ensure there's enough space to exit the room quickly when the bed is down. This is critical in case of emergencies like fire or a gas-line issue. You don't want your Murphy bed blocking any access points in the room when it is in the down position.
Likewise, remember to consider your other furniture in the room. Everything might look fantastic when your Murphy bed is up. But, when you pull down the bed, things become cramped and create a slew of accidents-waiting-to-happen.
---
Related Questions
Can you install anything on a Murphy bed's underside for when it's in an upright position?
When it comes to designing a Murphy bed for your space, you have lots of possibilities. In fact, you can come up with some quite unique and creative ideas if you go custom.You could bolt lockable storage for sweaters or lightweight items that can be jostled around to the Murphy bed frame.  Another option is to put some beautiful art on the underside of your Murphy bed.  This, or a map of places you've been, will make for a stunning display when the bed is closed.  Some custom Murphy bed companies can even mount flat-screen televisions on the underside of the bed! Another creative option is a fold-down table or desk. The piece simply folds back up and locks into position when you pull down the bed.
Do you need a particular mattress for a Murphy bed?
There's no need to get a custom mattress for a Murphy bed. Most standard mattresses will work just fine. However, you do need to pay attention to the thickness of the mattress. A Murphy bed mattress should be no more than 11 inches, although some allow for 12 inches. A standard mattress should hit this mark, which means you probably can't go for an extra-cushy pillow top. Therefore, when shopping for your Murphy bed mattress, don't forget to pay close attention to thickness.Also, look at different warranties and specials offered by various companies. Many mattress manufacturers offer trial periods for their mattress, providing you a good opportunity to see how the mattress holds up on your Murphy bed. For example, AmeriSleep offers 20-year warranties on all of their mattresses, plus the option for a 100-night trial period.Memory foam mattresses are a good match for Murphy beds because they typically don't bunch up when in the upright position. If you use an innerspring or hybrid style mattress, sitting upright for an extended peiod could cause damage to the mattress over time.Plus, most memory foam mattresses are between 10 and 12 inches thick and lighter. A lighter mattress is great as it won't strain your bed's lift mechanism (if it has one). A lift mechanism makes it much easier to put your Murphy bed back into the upright position since it does most of the work for you.
Are Murphy beds safe to use?
Maybe you've seen the classic cartoons where the Murphy bed snaps upright, trapping the sleeping character in the wall. Well, once upon a time, Murphy beds might have had their shortcomings, but nowadays, they are very safe.Many feature safety locks to ensure the bed stays put all night long. As long as you make sure the bed is installed properly, you can rest easy (literally). Make sure the bed attaches to the wall studs using three to four brackets.Additionally, make sure you know if your bed comes with floor mounts. Many newer models don't, as these mounts can damage certain flooring materials. However, these beds will likely have safety locks. But, if your bed includes floor mounts and requires them, it's important to use them.
Is Your Bed Taking Up Too Much Space?
Old Craftsman style homes are usually built to include smaller bedrooms. If your bed takes up more than 80% of your room, how about downsizing your mattress, or perhaps purchasing a futon to sleep on? Check out our Futon Dimensions Guide to see how much room a standard Futon will fill.

Stacy Randall
Stacy Randall is a wife, mother, and freelance writer from NOLA that has always had a love for DIY projects, home organization, and making spaces beautiful. Together with her husband, she has been spending the last several years lovingly renovating her grandparent's former home, making it their own and learning a lot about life along the way.
More by Stacy Randall
Published October 31st, 2020 11:05 AM