259 Views
The Most Dangerous Cities In Alabama: 2022's Ultimate List
June 2nd, 2022 6:50 PM
Share
We're committed to finding, researching, and recommending the best products. We earn commissions from purchases you make using links in our articles. Learn more here
Alabama is a beautiful state with a long and significant history, but unfortunately, there are many dangerous cities. Cities such as Lincoln, Greenville, and Fairfield are among the most dangerous places to live in Alabama. Whether it's Gadsen, Birmingham, or Tarrant, let's take a look at the 10 most dangerous cities in Alabama.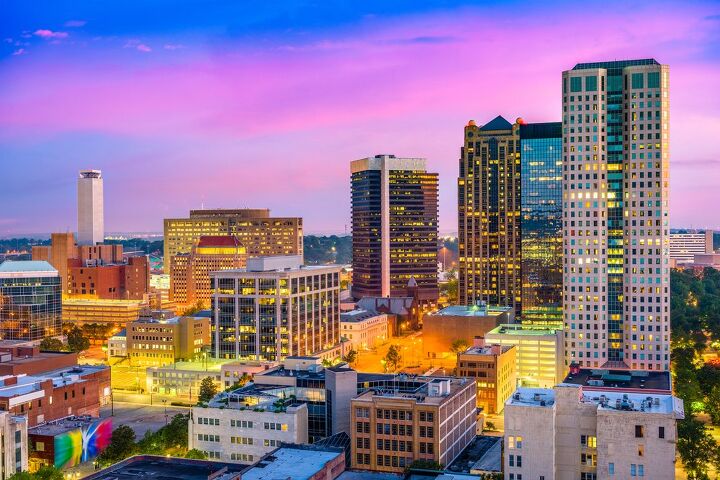 Alabama comes in at number 8 as one of America's most dangerous states. Sadly, Alabama would not be as dangerous as it is if it did not have such dangerous cities. There are 169 cities divided amongst 67 counties in Alabama.
Fairfield, Anniston, Lanett, Birmingham, Tarrant, Gadsen, and Troy are the most dangerous cities in Alabama. Cities like Andalusia and Greenville have higher crime rates than the majority of Alabama. Lincoln is one of the most dangerous cities in Alabama and 1 in 94 residents experience a violent crime.
Follow along as we explore the most dangerous cities in Alabama, and what qualifies them for that status.
Do You Need to Hire Movers?
Get free, zero-commitment quotes from pro contractors near you.
1. Fairfield
Annual Crimes: 1,079
Population: 10,625
Violent Crimes: 224
Property Crimes: 855
The rise in crime in Fairfield, Alabama is reflected in the decline in population. In the last 10 years alone, the population in Fairfield dropped from 11,117 to 10,625, and with good reason. Living in Fairfield carries a 1 in 47 chance of becoming a victim of violent crime.
The high risk for robbery and assault is likely related to the 3.7% unemployment rate, and 23.39% poverty rate. Fairfield, Alabama has a 1,079 annual crimes.
Property crime is a widespread danger in Fairfield. In Fairfield, you have a 1 in 12 risk of falling victim to property crime. Fairfield is 8.2 miles away from Birmingham, another dangerous city in Alabama, which could also account for some crime.
2. Anniston
Annual Crimes: 2,342
Population: 21,569
Violent Crimes: 646
Property Crimes: 1,696
In 2020, there have been 528 assaults alone in Anniston, Alabama. As of the last census in 2018, there are 21,569 residents in Anniston. If you live in Anniston, there's a 1 in 33 chance that you become a victim of a violent crime.
There are over 2,3000 crimes reported annually in Anniston. The crime rate in Anniston goes hand in hand with the 16.9% poverty rate. With 2,991 violent crimes per 100,000 residents, Anniston is ranked the highest for violent crime in Alabama.
3. Lanett
Annual Crimes: 580
Population: 6,236
Violent Crimes: 88
Property Crimes: 492
In Lanett, AL, you are at a high risk for both violent, and property crimes. There are 1,409 violent crimes per 100,000 Lanett residents, and 7,878 property crimes. You are at a 1 in 14 chance of being robbed in Lanett, AL, roughly twice the rate for the rest of Alabama.
Murder is rare in Lanett, but between rape, assault, and robbery, there's a 1 in 71 chance of violent crime. Lanett is located in Chambers County, which recently had a wide-scale, drug string resulting in over 50 arrests.
4. Birmingham
Annual Crimes: 17,783
Population: 209,880
Violent Crimes: 4,056
Property Crimes: 13,727
Birmingham is one of the most widely known Alabama cities. Unfortunately, it is also more dangerous than 99% of all U.S cities. In Birmingham, 27.2% of citizens live in poverty.
Besides being one of the most dangerous cities in Alabama, Birmingham is also the biggest. Both violent and property crimes have seen a 10% decrease in the last few years. The average income in Birmingham, AL is $19,640 a year, just above the line for poverty wages.
Violent crime is prevalent in Birmingham, but property crime is a plague of sorts. Birmingham residents face a 1 in 15 chance that their home will be burglarized, or your car will be stolen.
5. Tarrant
Annual Crimes: 477
Population: 6,158
Violent Crimes: 109
Property Crimes: 368
Not all small towns are safe, and Tarrant, AL is no exception. Sadly, 1 in 56 Tarrant residents have a violent crime commit against them. Property crime is much more prevalent, however, with 1 in 17 residents being affected.
There are 75 crimes per square mile in Tarrant, AL, 5 times higher than the rest of the state. On average, rent in Tarrant, AL costs $543 a month. When you see that 29.5% of Tarrant, AL residents live in poverty, the volume of crime makes sense.
Tarrant is just one of 11 different AL counties that have a poverty rate of over 25%. Luckily, violent crime is not widespread in Tarrant, and only 1 in 56 residents are affected by it.
6. Gadsden
Annual Crimes: 2,867
Population: 35, 157
Violent Crimes: 372
Property Crimes: 2,495
In Gadsden, AL, 82 out of every 1,000 residents have a crime committed against them. While crime occurs all throughout Gadsden, most of it takes place in the center of the city. Property crimes such as burglary and vehicle theft are most common in Gadsden, but robbery is widespread.
With roughly 47 annual robberies and 298 annual assaults, walking around Gadsden can be frightening. Theft, which is anytime that personal property is stolen, is common in Gadsden with over 1,800 cases reported annually.
If you talk to 14 Gadsden residents, statistically speaking, at least 1 of them has been or will be robbed. Over 250 cars and motorcycles are stolen a year, on average, in Gadsden, AL. Gadsden is afflicted with poverty and has an average yearly income of $17,981.
7. Troy
Annual Crimes: 1,246
Population: 19,126
Violent Crimes: 303
Property Crimes: 961
Of all of the cities in Alabama, only 3% of them have a higher crime rate then Troy. There is a 1 in 20 chance that you will have a property crime commit against you in Troy, AL.
Troy, AL is exactly 28.42 sq. miles. However, the 46 crimes per sq. mile that occur in Troy, AL makes it quite dangerous despite its small size. Besides a high volume of property crime, 1 out of 63 people in Troy, AL are victims of violent crime.
Out of the 19,126 people in Troy, AL, over 5,000 of them live in poverty. That equates to a 31.5% poverty rate, significantly higher than the nation 13.1% poverty rate. Rent in Troy, AL has gone up by 11% in the last few years, and is now $567, on average.
8. Andalusia
Annual Crimes: 549
Population: 8,735
Violent Crimes: 82
Property Crimes: 467
In Andalusia, AL, property crime is more of a danger than violent crimes are. On average, 1 out of every 107 people are affected by violent crimes in Andalusia. Assault makes up the majority of the total violent crimes in Andalusia, with 69 reported assaults annually.
Property crimes, however, are significantly more common, and 1 in 19 Andalusia residents have their property stolen. There have been 76 burglaries reported in Andalusia this year, and just under 400 thefts.
There is no rhyme or reason to the crime in Andalusia, and it is evenly spread throughout the city. With that said, there are 28 crimes per sq. mile, making it far from ideal for living. Sadly, 17.3% of all Andalusia residents fall below the poverty line, which contributes to crime.
9. Greenville
Annual Crimes: 451
Population: 7,553
Violent Crimes: 109
Property Crimes: 342
The total amount of annual crimes, 451, may not seem like a lot, but Greenville, AL is quite small. Due to the 7,553 person population, the 342 annual property crimes affect 1 in 22 residents.
There may be no murders in Greenville's recent history, but the 108 assaults this year prove it is a violent city. More than any other crime, theft is quite common in Greenville. In 2020, there have been 293 cases of theft reported to Greenville, AL police.
Greenville, AL, measures 21.53 sq. miles, and there are roughly 21 crimes per sq. mile. In Greenville, 45 out of every 1,000 people are victims of property crime. That all adds up to Greenville being one of the more dangerous Alabama cities.
10. Lincoln
Annual Crimes: 407
Population: 6,704
Violent Crimes: 71
Property Crimes: 336
Residents of Lincoln, AL pay an average of $675 a month in rent. That is somewhat pricey for rent in a city that 1 in 20 residents will experience property crime. Property crime is more common than violent crime in Lincoln, as only 1 in 94 people will experience violent crime.
For each sq. mile of Lincoln, AL there are 16 crimes committed. Assault, theft, and burglary make up the majority of crimes reported in Lincoln, AL. Despite the presence of many jobs, mostly in manufacturing, Lincoln, AL has a 3.5% unemployment rate.
In Lincoln, AL, only 1 out of every 1,000 residents will experience a violent crime. Violent crimes are considered murder, rape, assault, and robbery. Of the top 10 most dangerous cities in Alabama, Lincoln is the safest.
Crime Rates In Alabama Cities for 2020
| | | | | | | |
| --- | --- | --- | --- | --- | --- | --- |
| City | Burglary | Vehicle Theft | Theft | Assault | Murder | Robbery |
| Fairfield | 284 | 82 | 489 | 138 | 8 | 75 |
| Anniston | 413 | 152 | 1,131 | 528 | 7 | 68 |
| Lanett | 96 | 48 | 348 | 61 | 0 | 14 |
| Birmingham | 2,563 | 1,762 | 9,402 | 2,846 | 88 | 942 |
| Tarrant | 86 | 29 | 253 | 92 | 1 | 16 |
| Gadsden | 409 | 255 | 1,831 | 298 | 3 | 47 |
| Troy | 192 | 56 | 713 | 262 | 6 | 28 |
| Andalusia | 76 | 23 | 368 | 69 | 1 | 6 |
| Greenville | 36 | 13 | 293 | 103 | 0 | 3 |
| Lincoln | 56 | 41 | 239 | 63 | 0 | 5 |
---
Related Questions
What is the safest city in Alabama?
Mountain Brook is the safest city in Alabama. Only 244 crimes have been reported in Mountain Brook this year, and only 16 of them were violent.
Is Alabama safe to live in?
There is an average of 5 violent crimes per 1,000 residents of Alabama, making it somewhat unsafe. Alabama also has a rate of 28 property crimes per 1,000 people. On the ranking of most dangerous U.S. states, Alabama ranked number 8.
Do You Need to Hire Movers?
Get free, zero-commitment quotes from pro contractors near you.
Summing It Up
The most dangerous city in Alabama is Fairfield, but other cities like Anniston, Lanett, and Tarrant are not much better. Crime rankings are based on violent crimes and property crimes.
Cities like Gadsden and Birmingham lead Alabama in theft, with 1,831 and 9,402 reported cases, respectively. If you are looking for a safe city to live in Alabama, consider Mountain Brook.
Related Guides

Nick Durante
Nick Durante is a professional writer with a primary focus on home improvement. When he is not writing about home improvement or taking on projects around the house, he likes to read and create art. He is always looking towards the newest trends in home improvement.
More by Nick Durante
Published September 7th, 2020 8:07 PM