20 Views
How To Give A Mobile Home Curb Appeal
December 22nd, 2021 3:23 PM
Share
We're committed to finding, researching, and recommending the best products. We earn commissions from purchases you make using links in our articles. Learn more here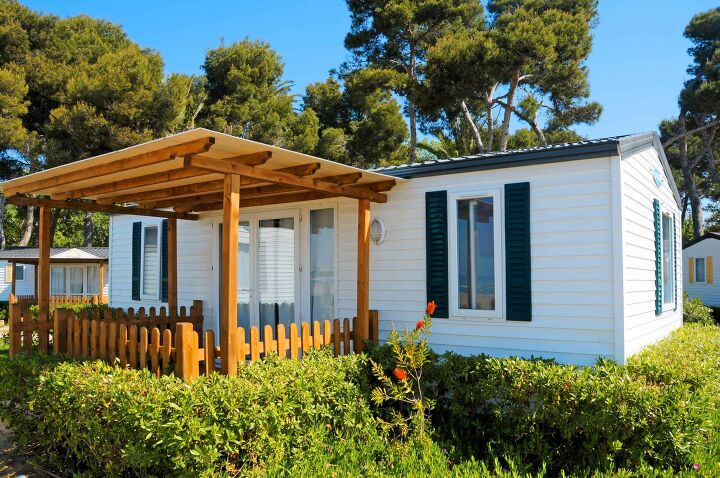 It's no secret that mobile homes have a little stigma attached to them. They are not exactly tornado-friendly. They're also not that good when it comes to getting buyers interested in them. The percentage of people who live in mobile homes has been steadily declining as a result of decreased interest.
That means that mobile home sellers need to improve their curb appeal to get a buyer. But…how?
Like with any other home, having the right landscaping, adding some fresh paint, and also improving exterior fixtures can all increase a mobile home's curb appeal. Even doing something as simple as power washing your home can yield wonderful results.
If your realtor looks like she's about to cry at the sight of your home, then you need to make a change before your home gets sold. This guide will give you a good idea of what can be done to bolster your mobile home's appeal.
Do You Need Landscaping Services?
Get free, zero-commitment quotes from pro contractors near you.
Ways To Give A Mobile Home Curb Appeal
The goal with curb appeal is to make your mobile home look fresh, new, and as non-stereotypical as possible.
These ideas below are the most popular tried-and-true ways to increase your home's appeal to buyers and passers-by.
Landscaping Around Your Mobile Home
The biggest and fastest way to improve your curb appeal is to invest in landscaping. Mowing your lawn, adding potted plants, or even adding some window flower boxes can make a huge change in how your home is perceived.
However, you want to ensure that you select greenery that is going to survive and thrive around your home. For instance, avoid placing shrubs and trees close to your home, as the water they need can attract pests and damage your siding.
Due to limited space, going vertical with your landscaping is your best bet. Plant small trees with non-invasive root systems or implement vines. However, if you choose a climbing plant, make sure that you go with one that won't cause damage to the exterior of your home.
Studies show that landscaping gives you the highest ROI of any home improvement project, so if you're looking to sell, spruce up the greenery.
Skirting Options For Your Mobile Home
Skirting allows you to hide the gear underneath your trailer, which in turn, gives you a more homey, house-like appearance. It also keeps the underside of your mobile home free of critters, debris, and even snow. Some skirting options can mimic a brick facade, vinyl siding, or even something a little more retro, like wood.
The wide array of options for skirting can make your mobile home look like it has more of single-family home foundation. In fact, with high-quality skirting you may be able to fool others into thinking that your home isn't manufactured at all.
If you don't have skirting or have skirting that looks dated, now would be a good time to change things up. Depending on the material you use, replacing your skirting will cost you between $330 and $3,000.
Painting A Mobile Home
People rarely ever acknowledge how much of an impact paint can have on any home's exterior. The idea that paint can change your mobile home's look is a very real one. After all, a house that has a fresh coat of paint gives the impression of being better maintained than a home that has chipped, faded paint.
Virtually any paint color will add more curb appeal to your mobile home. If you want to max out your curb appeal, paint your whole trailer and choose light (or bright) colors.
Power Washing A Mobile Home
We usually forget how much grit, grime, and mold can get onto the side of a mobile home. At times, regular washing with detergent and a sponge won't be enough to clean it all off. To get a truly pristine exterior, you need to hire a power washing team to get your home spotless.
In many cases, this can make an old mobile home look good as new–at a fraction of what a paint session would cost.
Replacing Your Outdoor Lights
Most mobile homes will have an outdoor light or two. It's an amenity that can come standard with your home, but most of us never really take the time to replace them.
Depending on how old your home is, this can mean your lighting fixtures could be as old as 30 years of age! They will look their age at one point or another, too. A quick way to modernize your home's exterior is to replace the outdoor lights.
If you want to go the extra mile, get a motion sensor light or a smart home light. To add some curb appeal at night, use string lights over your porch or deck, combined with "fairy light' accents throughout your property.
Add A Deck Or Patio To A Mobile Home
If your mobile home doesn't have a patio or a deck, it can easily feel a little too "trailer-y" for most buyers. That can be fixed pretty easily by just adding a patio or deck to your home. Even if you have a petite lot, it's likely that you will be able to fit an extension to your home that will make it possible to enjoy your backyard.
Should you try to go this route, just make sure that it's okay to do in your community. Otherwise, your community board won't be too thrilled with the upgrade.
Add New House Numbers
Over the years, most house numbers added to a mobile home will look a little worse for the wear. With some numbers, you might be able to fix this with a little polish and elbow grease. But, why do all that work when it's often easier to just switch out old house numbers for new ones?
It only takes five minutes and can easily add a new twist to an old home.
Upgrade Your Mobile Home Windows
Improving your windows is a great way to add curb appeal and potentially make your home more energy-efficient. If you can replace your windows with better options, go for it. If you can't, don't worry too much. You can still get a huge improvement in your curb appeal rating by getting shutters or even adding flower boxes to your home.
If you decide to replace windows (or upgrade them) in your mobile home, you should expect to do it fairly cheaply. A replacement window for a mobile home will be $175 to $300 for a high-grade, energy-efficient window.That's not too bad.
Get A Statement Mailbox For Your Mobile Home
You open your mailbox almost every day, but you never really think about how it looks, do you? A statement mailbox is an easy way to make sure that you add a little flair to your home's look.
Even if it's something as simple as adding a splash of paint or having a unique design, it can turn your mobile home's look from drab to fab.
Rethink Your Mobile Home's Front Door
You may have just bought a wonderful new home, but is your entryway offer enough personality and style to invite your guests? One of the simplest ways to increase your home's curb appeal is to switch out your front door with a statement door.
You can buy a door that is specially designed for use on manufactured homes or have one custom made. Though the custom route is more expensive, it guarantees that you get the perfect front door that matches your style.
If completely replacing your door doesn't appeal to you, consider painting it. You can paint the door to match your home's main color or trim, or go for a bold, pop of color. Either option will certainly increase your home's personality and curb appeal.
Quick Tip: For a very basic upgrade to your mobile home's front door, simply switch out the hardware.
Do You Need Landscaping Services?
Get free, zero-commitment quotes from pro contractors near you.
---
Related Questions
Why does my mobile home have a vent?
Mobile homes have vents in order to get enough air for their heating system. The air that flows in underneath the door may not be enough to be compliant with safety standards.
Do mobile homes have load-bearing walls?
This depends on the type of mobile home you're discussing. If you have a single-wide trailer, then you won't have load-bearing walls. Double-wide trailers might have load-bearing walls in some (most) cases. If you aren't sure whether your model has load-bearing walls, it's best to ask.
Can you put a regular door on a mobile home?
Unfortunately, you can't just get a regular door for your mobile home's door replacement. Mobile homes have different size doors than a typical house does.So you will need to get a door that's specially made for your mobile home. Don't worry, though! You can order one from the Home Depot for a fairly reasonable price.
Can I take out walls in my mobile home?
Whether or not you can take out walls in a mobile home depends on whether it's a load-bearing wall. If it's not a load-bearing wall, then removing the wall will be perfectly fine.However, if you have a load-bearing wall, you shouldn't remove it as it can damage the structural integrity of your home.

Ossiana Tepfenhart
Ossiana Tepfenhart is an expert writer, focusing on interior design and general home tips. Writing is her life, and it's what she does best. Her interests include art and real estate investments.
More by Ossiana Tepfenhart
Published August 26th, 2020 7:05 PM