418 Views
Makeup Vanity Dimensions (with Drawings)
August 3rd, 2021 1:54 PM
Share
We're committed to finding, researching, and recommending the best products. We earn commissions from purchases you make using links in our articles. Learn more here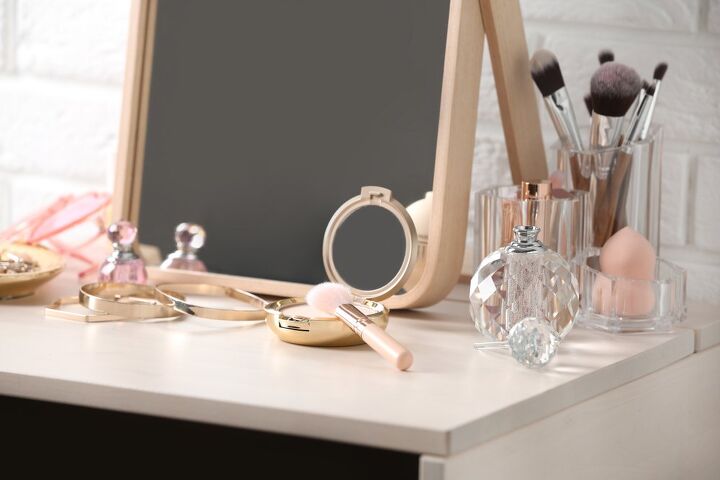 Whether you're a makeup enthusiast or someone who just needs a place to get ready, you probably need a makeup vanity. Investing in a practical and stylish piece of furniture can help you organize your space. Use this as a guide to choosing a makeup vanity with the proper dimensions.
Makeup vanity dimensions vary based on the model. Typically, makeup vanities have a length of 30 to 35 inches and a depth of 14 to 18 inches. The average height is usually 29 to 32 inches.
What's the Average Size of a Makeup Vanity?
How much space you need on your vanity varies from person to person. Two factors that you should consider are the amount of surface space and the amount of storage space. If you require a lot of space for your cosmetics, you should keep in mind the dimensions of your vanity.
Makeup vanities range in size depending on the style and model. They have an average length of 30 to 35 inches and a depth of 14 to 18 inches. Furthermore, they feature a typical height of 29 to 32 inches.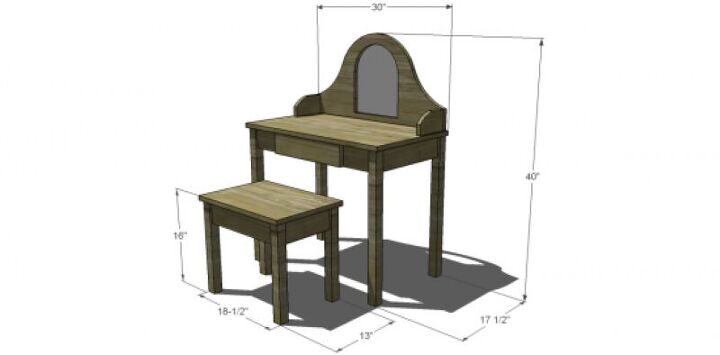 What Height Should a Makeup Vanity Stool Be?
Height is important when it comes to choosing your makeup vanity. Most vanities will come with a stool or chair built at an appropriate height for the vanity. If you need to buy seating, you should know the size to look for.
You should choose a stool that gives you 11 to 13 inches of space. This should be from the top of the seat to the top of the counter. If your makeup vanity is 31 inches high, your stool should be 18 to 20 inches tall.
Keep in mind if you sit for long periods, you may need a chair or stool with a back.
Things to Consider When Choosing a Makeup Vanity
Figure out your preferred makeup vanity dimensions and consider the 21 DIY & cute vanity room ideas. When choosing a makeup vanity, there are a few key things to look for.
Makeup Vanity Storage
Storage can come in several different forms, such as drawers, shelves, or compartments. This storage allows you to separate and organize makeup and larger items.
Makeup Vanity Dimensions
If you prefer to spread out your makeup and hair products, opt for a makeup vanity with more surface area. However, if you're tight on space, choose a more compact option such as a corner makeup vanity. Before you purchase your vanity, note the dimensions to ensure the table will fit in the space.
Makeup Vanity Style
Makeup vanities come in a variety of styles, from vintage to modern to classic. Makeup vanities also come in several different colors and finishes. The one you choose ultimately will come down to personal taste.
Types of Makeup Vanities
If you're a super-fan of makeup, you know how quickly you can run out of storage on your makeup vanity. It's best to choose a makeup vanity that can store your favorite products while also being practical for your space.
There are many types of makeup vanities.
Classic Makeup Vanity
It's hard to go wrong with a classic makeup vanity. This is a timeless style that is usually available in several finishes and storage options.
The IKEA Hemnes Dressing Table is a multi-functional piece. It can be used as a makeup vanity or as a desk. This makeup vanity has an oval mirror that gives it a classic, romantic feel.
The IKEA Hemnes Dressing Table has an overall height of 62.625 inches. The vanity has a width of 39.375 inches and a depth of 19.625 inches. The tabletop height is 30 inches.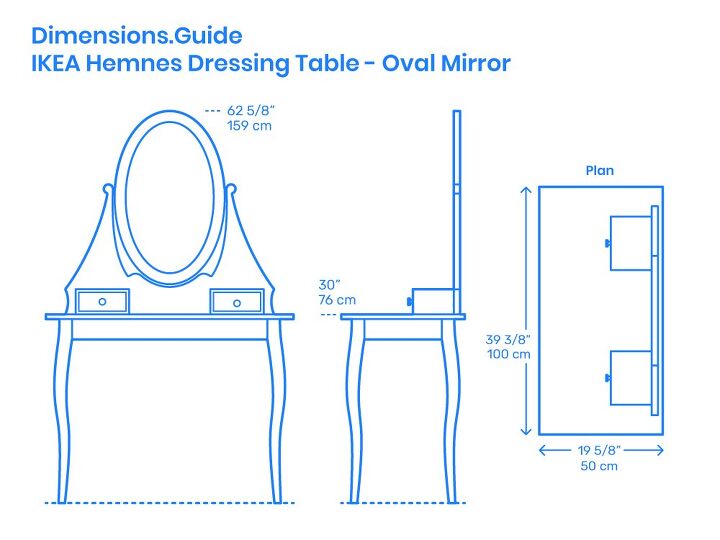 Lift-Top Vanity
A lift-top vanity features a mirror that doubles as a cabinet with hooks for storing jewelry. This vanity also has small shelves for storing perfumes or other items. Built-in compartments are available for storing makeup brushes or hair tools you need easy access to.
A lift-top vanity typically has a length of 31.5 inches and a depth of 15.8 inches. This vanity is usually 50 inches tall from the floor to the top of the mirror. Some of the best farmhouse bathroom vanities have a lift top if you want a rustic vibe.
Makeup Vanity With Drawers
Makeup vanities usually have at least two drawers for storage. It's best to determine how much storage you will need first. A makeup vanity with drawers usually has the widest surface area and a mirror.
The IKEA Tyssedal Dressing Table has the same style as a classic vanity, but it also has an adjustable mirror. The makeup vanity has an overall height of 56.75 inches and a width of 47.25 inches. It has a depth of 20.125 inches and a table height of 33.875 inches.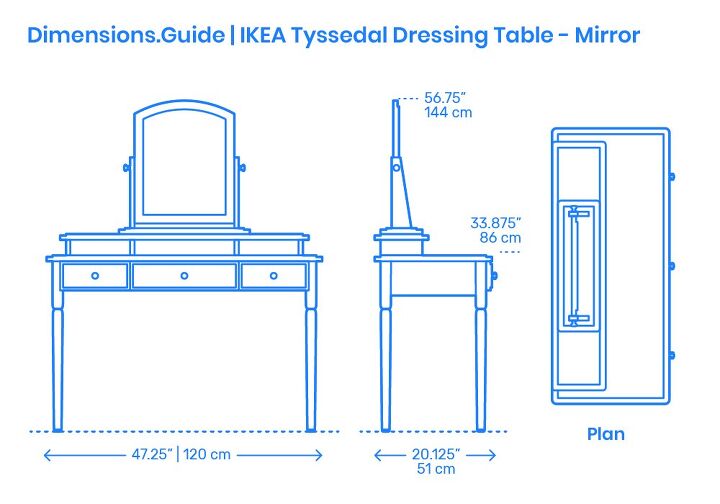 Corner Vanity Table
The corner vanity table isn't the smallest-sized vanity, but it is most space-efficient. This piece has lots of storage, and you can tuck it into a corner. Most corner makeup vanities have three angled mirrors and shelves for storage.
Most corner makeup vanities have a length of 31 inches, width of 31 inches, and height of 55.7 inches.
Makeup Vanity With Drawers and Cabinets
Makeup vanities with drawers and cabinets are less common, but they do exist. This is best for those who have larger makeup tools or airbrush kits that require more space for storage. When choosing where to store your items, consider which tools you use more often and keep them close by.
The Copper Cove Encore 86-Inch vanity has 2 doors, 5 drawers, and 2 shelves. This piece has a width of 86 inches, a height of 35 inches, and a depth of 24 inches. The vanity top has a width of 86 inches and a depth of 23.5 inches.
Lighted Mirror Vanity
Lighting is a key component when applying makeup flawlessly. There are several different mirror options when purchasing a makeup vanity with lighting.
The Askern Vanity Set features a rectangular, tall mirror and comes with a matching stool. It has an overall height of 66.75 inches, a width of 31.5 inches, and a depth of 16.125 inches. The makeup vanity table height is 30.3 inches.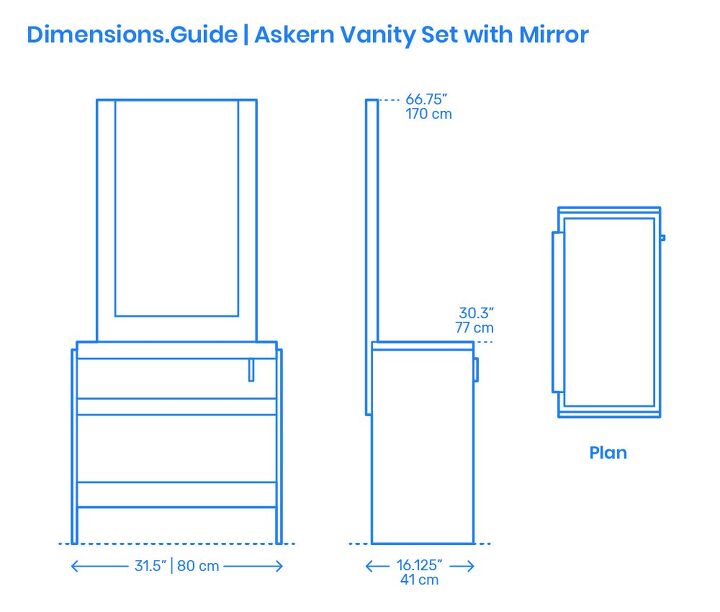 Where Should You Put a Makeup Vanity?
Before you buy a makeup vanity, consider where you're going to put it in your home.
In Front of a Window
When it comes to putting on makeup, lighting is extremely important. Placing your vanity in front of a window can provide the most realistic representation of your face. Try placing the vanity in the center of the window to prevent shadows on your face.
A vanity with a removable mirror is best when placing it in front of a window. This means that you can move the mirror around the vanity to get the best lighting exposure. The Rhythm Makeup Vanity is an excellent option to place in front of a window.
This makeup vanity comes with a flip mirror in the middle with two side drawers for ample storage space. It has an overall height of 30.5 inches, a width of 38 inches, and a depth of 18 inches.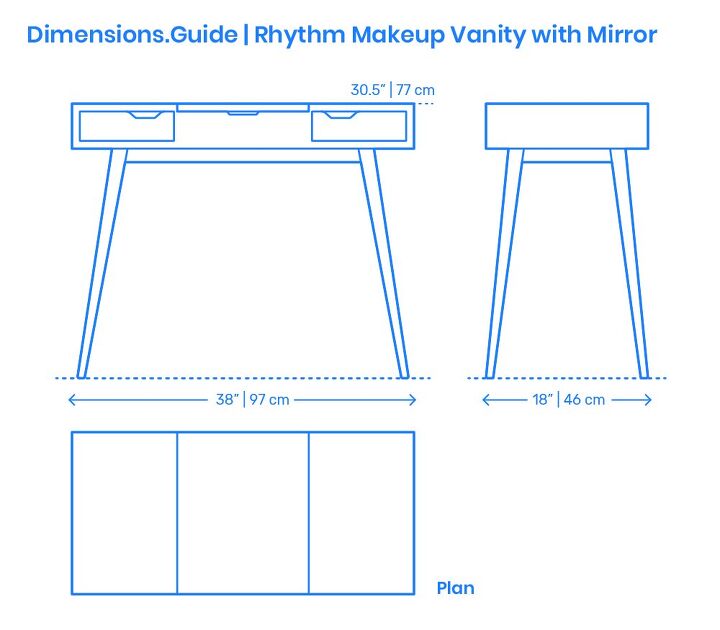 In a Walk-In Closet
It's best to keep your makeup in a cool, dry place as most skincare products lose their effectiveness in sunlight. Makeup should be kept at 45 to 60 degrees Fahrenheit, but a room temperature of 68 to 77 degrees Fahrenheit is sufficient.
While the lighting is not best, keeping your makeup vanity in a walk-in closet can be best for your products. Installing additional lighting or buying a makeup vanity with a lighted mirror can help.
Away From Radiators
As mentioned before, keeping your skincare and cosmetic products in a cool, dry place is very important. You also want to make sure that your makeup isn't susceptible to changing temperatures. These temperature changes can ruin the composition of your products.
Keep your makeup away from radiators or fridges to prevent damaging your product before you've used it. If you're worried about this happening to your products, invest in a vanity that is compact and efficient. A corner vanity is a good option for storage and keeping your products away from heat sources.
Next to Your Bed
When you don't have much space, you can keep your makeup vanity next to your bed. This placement can serve several purposes: makeup vanity, bedside table, and even a desk. Bedside makeup vanities tend to be smaller than other vanities, but they are ergonomic.
The FAMAPY Vanity Set has 4 drawers, hidden shelves, a cushioned stool, and a sliding mirror with storage space behind it. This vanity has an overall height of 52 inches, a width of 23.6 inches, and a depth of 15.7 inches. When the side drawers are open, the width is 37 inches.
At the Foot of Your Bed
When you need to make the most out of your space, place a makeup vanity at the foot of your bed. The mirror can create a sense of space and make your bedroom seem bigger. You're also positioning the mirror in a prime area to apply your makeup in the morning.
Between Other Furniture
You can place your makeup vanity between your wardrobe and dresser to create a luxe dressing area. This can make the most out of your floor space and allow for easier movement around the bedroom.
When a makeup vanity is between two larger pieces of furniture, it can look disproportionate. To offset this, add a large mirror above the vanity. The mirror should be hung at a height that you can see your entire body above the tabletop in the reflection.
Ideally, you should mount the mirror a few inches higher than the highest point of the vanity. This typically amounts to 5 to 10 inches above the vanity.
---
Related Questions
Are there portable vanity options?
Trying to do your makeup in a hotel mirror can be a struggle. If you travel often, a travel makeup vanity may be your best option. Travel makeup vanities usually have wheels to transport your station from place to place easily. The Studio ToGo Wheeled Trolley Makeup Case features an organizer and lights. Collapsed, it is 2 feet high and fully assembled it is 5 feet tall. It also includes 6 40-watt dimmable lights. These vanities are more expensive than your typical makeup kit due to their size, lighting options, and storage space. There are options ranging from $150 to over $600. 
Where should I place the lighting over a vanity?
If you need additional lighting when applying your makeup, you can place the lighting over your makeup vanity. Where to place the lighting will depend on the size of the vanity. The placement will also depend on if you have a mounted mirror or not.If your makeup vanity has a mirror, place it around 80 inches from the floor for an ideal height. The bottom of the fixture should be at least 2 inches above the top of the edge of the mirror. 
Related Articles

Stacy Randall
Stacy Randall is a wife, mother, and freelance writer from NOLA that has always had a love for DIY projects, home organization, and making spaces beautiful. Together with her husband, she has been spending the last several years lovingly renovating her grandparent's former home, making it their own and learning a lot about life along the way.
More by Stacy Randall
Published June 27th, 2021 11:34 AM