121 Views
What Are The Pros And Cons Of Living In Louisiana?
August 2nd, 2021 5:58 PM
Share
We're committed to finding, researching, and recommending the best products. We earn commissions from purchases you make using links in our articles. Learn more here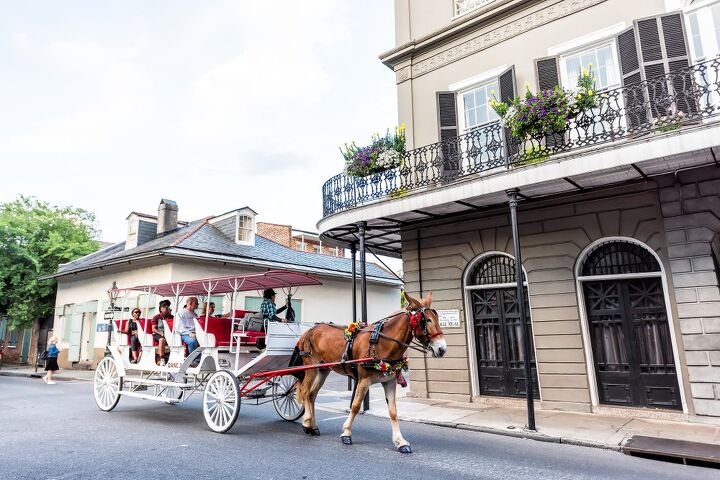 When one thinks about Louisiana, images of Mardi Gras revelry and lazy bayous usually come to mind. While these certainly are key elements of the Louisiana experience, the Pelican State offers a rich, fascinating history and a unique, diverse culture. Living in Louisiana can be a wonderful experience, but which cities are best, and what makes them worth considering?
There are so many pros to living in Louisiana from its rich culture and great cities to an outdoor life that is hard to beat anywhere in the US. A warm climate with an amazing sense of community round out strong reasons to locate in Louisiana today. The Pelican state may not be for everyone though. It struggles with harsh weather, education issues, and at times challenging crime.
Do You Need to Hire Movers?
Get free, zero-commitment quotes from pro contractors near you.
What Are The Pros Of Living In Louisana?
If you are looking for an amazing state to settle in, Louisiana has a variety of options for you. Large historic cities contrasted with rural living at its finest. Louisiana has something to offer everyone.
New Orleans And Mardi Gras
Even if you've never visited Louisiana, you've no doubt heard tales of Bourbon Street and the annual celebration known as Mardi Gras. Thousands of people line the streets of New Orleans, celebrating the day that signals the end of Lent, otherwise known as Mardi Gras, or "Fat Tuesday".
Louisiana natives take great pride in this event marked by elaborately decorated parade floats, brass bands, traditional feasts, and more than a few celebratory cocktails. If you enjoy pageantry, history, and a good party, Mardi Gras is not to be missed! For many Louisiana residents, the spirit of Mardi Gras is a way of life that is ingrained and treasured.
A Rich History
History buffs have flocked to Louisiana for ages, and for good reason. Originally colonized by the French, Louisiana became a state in 1812 after being purchased from France as part of the Louisiana Purchase.
A true "melting pot", French, African, and French-Canadian influences remain and can be seen in the architecture, music, and cuisine of Louisiana. Cajun and Creole dishes are staples on the menus of most Louisiana eateries, with some of the best-known establishments located in the heart of the French Quarter.
An Unmatched Culture
As part of the original French colony, the French Quarter is home to an array of artists, musicians, entertainers, restaurants, galleries, and museums. Cobblestone streets with traditional french names, street performers, and a thriving nightlife are just a small part of the French Quarter charm.
Sportsman's Paradise
In addition to its nickname as the Pelican State, Louisiana is perhaps better known as the Sportsman's Paradise, thanks to the diversity of its wildlife and natural resources. With numerous swamps, bayous, and waterways like the Mississippi River, there is no shortage of outdoor activities. Fishing, hunting, and exploring opportunities are as abundant as the native species that call Louisiana home. And because it's located on the Gulf Coast, Louisiana offers its residents plenty of beautiful beaches as well.
Sports Fanatics
As home to a major SEC school, and an NFL team, Louisiana treats football a bit like religion. Fans of the LSU Tigers and New Orleans Saints hold game days in high regard, and team spirit is strong throughout the state.
Strong Sense Of Community
The spirit of community is strong in Louisiana. Taking a page from the New Orleans playbook, residents statewide enjoy gatherings large and small, and no celebration is insignificant. Hospitality is a cornerstone of Louisiana culture.
Food As A Centerpiece
Cooking for family and friends is a time-honored tradition not taken lightly. Whether it's boiled crawfish or seafood gumbo, boiled crabs or etouffee, everyone has their favorite recipes, which have been handed down for generations. Fellowship through feasting is a common theme shared by all.
Whether it's celebrating a milestone, or helping in times of need, Louisiana residents share love through food during good times and struggles. As veterans of many major hurricanes, helping neighbors is a way of life. If you're looking for a strong sense of community and neighborhood pride, Louisiana may be a great place to live!
Climate And Housing
If you're considering a move and enjoy year-round warm temps, almost zero snow, and lots of sunshine, Louisiana is an option to consider. Though the summers can be hot, the average high temperature is around 76 degrees. With an average low of around 53 degrees, ice-covered roads and snow shovels are simply not something you'll contend with in this southern state.
Look To The Suburbs
If you've decided the climate is a good fit, what cities should you consider? Perhaps the most popular locales are the suburbs of both New Orleans and the capital city of Baton Rouge. If you enjoy being near the big city, but with a bit of distance separating you from the hustle and bustle, Louisiana offers many livable suburbs, such as Mandeville, North Shore, Metairie, and Abita Springs, to name a few. (Mandeville and North Shore are often noted by locals as having the best schools and safest, family environments.)
Homes are affordable, and the cost of living is below average for the country. You should be able to buy or rent a home in Louisiana for less than the national average.
What Is The Downside Of Living in Louisiana?
Like any other state, there are disadvantages to living in Louisiana. Let's highlight a few:
Extreme Weather
Without a doubt, the number one con when it comes to living in Louisiana is the weather. Yes, it's warm year-round, and for some people this is ideal. But for others, it's just plain hot. And not just hot, but humid. If I were to sum up Louisiana weather in one word, it would have to be "muggy."
Unlike other parts of the country, Louisiana doesn't have four clearly designated seasons. Residents often describe the climate as "11 months of summer, and a few weeks of everything else." What little winter there is, doesn't occur until late January, and temps can be high even then. If you're looking for a home state with spectacular fall leaves and a white Christmas, Louisiana may not be for you. In addition to the heat, Louisiana receives higher than average rainfall, so invest in a good umbrella.
Natural Disasters
Ask any resident of Louisiana about hurricanes and chances are, they'll have a story – some humorous, some sad, and many that serve as cautionary tales. Hurricane season runs from June to November and residents along the Gulf Coast, in particular, have learned to be on guard during these unpredictable months.
While inland Louisiana may fare better than its coastal counterparts, these volatile storms can wreak havoc on residents throughout the state. What part of Louisiana you decide to call home should definitely take into account your ability to withstand potentially life-threatening hurricanes. Tropical storms and hurricanes can also bring widespread flooding, which is something else to consider when choosing where to live in the state. Low-lying, coastal areas are the most vulnerable.
Wildlife
Louisiana is home to abundant wildlife, but not all of these creatures are welcome sights! Alligators are very dangerous and unfortunately very common residents in swampy areas. While they're generally easy to avoid, gators are something to be wary of should you choose to live near swamps or wetlands. Snakes and mosquitoes are common pests that are found more abundantly in swampy areas as well.
Education
Louisiana consistently ranks very poorly in terms of quality of education. As of 2020, it was ranked 49th out of 50 states. Standardized test scores tend to be some of the lowest in the country. Rural areas, in particular, have few educational options and opportunities.
Limited Job Opportunities
The state's economy is not particularly strong. As such, job opportunities are limited and poverty is rampant in some areas. Many residents have left certain areas in search of better opportunities in other states. This has led to abandoned housing and blight.
Crime
While overall crime is about average, metropolitan areas such as New Orleans have historically high crime rates. Drug activity and poverty can be significant. Violent crime and specifically murder rates are over double the national average!
Check out the most dangerous neighborhoods in New Orleans.
Do You Need to Hire Movers?
Get free, zero-commitment quotes from pro contractors near you.
Summarizing Louisiana
Like any state, Louisiana has its pros and cons. With a rich culture that boasts some of the finest dining, music, museums, and architecture in the country, it's a haven for those who enjoy the good life. The laid-back, relaxed atmosphere makes Louisiana an easy place to call home. Residents are welcoming and hospitable, and take great pride in the state's history and traditions. The cost of living is low, and housing is very affordable.
By contrast, the state's lackluster educational rating and lack of job opportunities cannot be ignored. Poverty is rampant in many areas, and many have left the state in search of better economic conditions. Another significant con is Louisiana's vulnerability to natural disasters. When it comes to hurricanes and flooding, it's a matter of when, not if. Evacuations and damage to homes are commonplace.
I highly recommend visiting Louisiana to experience it for yourself. It's a state like no other, all things considered!
Related Articles

Leslie Guilian
Leslie is a writer, editor, photographer, and graphic designer. She is also an avid birdwatcher and loves identifying new species along the Gulf Coast, where she lives with her husband and 3 children.
More by Leslie Guilian
Published June 23rd, 2021 9:27 PM