29 Views
Is It Safe To Live In A House With Foundation Problems?
April 17th, 2021 9:52 AM
Share
We're committed to finding, researching, and recommending the best products. We earn commissions from purchases you make using links in our articles. Learn more here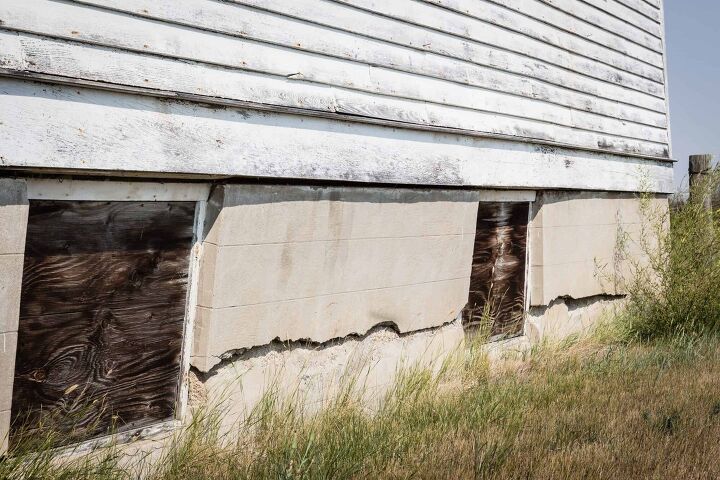 For builders and homeowners alike, there are many safety concerns to keep in mind. Whether it be ensuring that the drywall is not a fire risk, or that water lines are safely installed, there are countless minor safety concerns that come up.
One not so minor safety concern, however, is whether or not the foundation is safe, and if not, whether or not it is safe to live there.
Yes, living in a house with foundation problems is generally safe. If there are only minor cracks or gaps, it does not necessarily pose an immediate risk to your house, but it is a sign something needs to be done before the issue worsens. Major problems can occur if foundation problems go unchecked, such as sinking, upheaval, or even mold. To properly diagnose the damage as to whether your home is in danger, consider hiring a structural engineer.
While foundation problems don't always mean "get out now!", they certainly mean that the foundation needs fixing. Let's explore the safety of living in a house with foundation problems, and what should be done to make things safer.
Do You Need Concrete Foundation Repair Services?
Get free, zero-commitment quotes from pro contractors near you.
What Causes Foundation Problems?
More often than not, foundation problems are the result of water damage. Foundation sits atop of soil, and how much or little water the soil takes in determines the condition of it. There are two main types of foundation problems caused by water:
Shrinking (too little water)
Swelling (too much water)
Often times, it is not all of the soil that shrinks or swells. When one specific area is shrinking or swelling, it can cause the foundation to shift, causing cracks in the foundation. This shifting and cracking manifests in the form of cracking, sagging, warping, and bowing of the floors and ceilings of the home above it.
Dangers of Living In a House With Foundation Problems
It is not safe to live in a house with foundation problems, particularly if they are severe. There are many potential dangers and threats to your house caused by foundation issues, including:
Mildew and mold
Sinking foundation damages the house's structure
Flooding
Sewer line damage
Mold and mildew are quite common dangers caused by foundation problems. The presence of either mold or mildew can cause flu-like symptoms and respiratory problems. For cases of sinking or settling foundation, there is a high risk of costly structural damage.
Flooding is also a common danger of foundation issues. When the foundation shifts, it creates gaps that can cause water to spill into the house, typically the basement. Water leaking into the house creates a risk for mold and mildew.
Damage to sewer lines can occur when a foundation shifts. Fixing damaged sewer lines can cost between $6,000 and $25,000, depending on the severity of the damage. Even minor sewer line damage caused by foundation will run a minimum of $4,000 on average.
How to Identify Foundation Problems
If you suspect or already know that you have foundation problems, you need to look out closely for several factors. The earlier that you catch foundation problems, the sooner they can get fixed and your home will be safe.
1. Inspect the Floors/Ceilings
One of the telltale signs of foundation problems lies beneath your feet or above your head. Is your floor slanted? Or is the ceiling dipped down and sagging?
If so, that could indicate that your foundation has shifted causing the flooring, framing, and structure to warp. For severe cases of foundation problems, you should be able to notice the warping with the naked eye. Less advanced foundation shifting is harder to detect, so you should check the floor with a level.
Call a contractor right away if your floors or ceilings are sagging heavily. Otherwise, don't wait too long before it becomes a severe structural error.
2. Look at the Exterior Walls
Your home's exterior walls can say a lot about its foundation. Houses with faulty foundations often identify themselves by their bowed exterior walls. Bowed walls lean to one side or the other and put the structure of the house in danger.
In more extreme cases of foundation problems, bowed walls can sometimes be accompanied by gaps and cracks. Sometimes, bowed walls are simply caused by the soil surrounding them, but more often than not, foundation problems are to blame.
3. Keep an Eye Out For Cracks
Cracks in your floors or walls are a sure sign that you have foundation problems. Luckily, cracks are among the easiest dead giveaways for foundation problems to identify. Less lucky, however, is that cracks mean that your foundation problems are severe and need to be addressed right away.
However, some cracks are not an indicator of foundation problems. A small number of thin cracks are normal, especially if you live in a region that experiences seasonal changes.
Over time, every home will settle and you can expect some indications of minor settling. Cracks smaller than a quarter of an inch are generally a sign of normal settling of the house. It is a safe bet to assume that cracks that are slanted, 1/8" wide or bigger, larger than a quarter of an inch, or leaking are directly related to foundation problems.
4. Gaps Indicate Shifting
If there are gaps between your windows and the house, or doors and the house, it is a bad sign. That points to it being a case of your foundation shifting. In fact, as your foundation shifts, the windows and doors in your house will take the brunt of the movement. Those gaps will eventually become worse and worse as they are left exposed to the elements.
Also, if you notice that you have doors and windows that won't shut, this can be a sign of a much larger issue. While one random door or window shouldn't be worrisome, several doors and windows, usually on one side of the house or a room, points to foundation problems.
When foundation gaps are left unfixed, it increases the risk of mold and water damage as water will continually leak in. Besides that, foundation gaps leave your home open to pest invasions which can cause serious damage and cost a fortune.
If you come across mold in your home, check the windows and doors in your house. Mold is not exclusively caused by foundation gaps, but it is a sign that something could be wrong with it.
5. Pay Attention to Your Water Bill
A leaky pipe in your home's foundation is what's known as a "slab leak." Put simply, when your water pipes are leaking, water starts to back up underneath the slab. The first indication of a slab leak can be found by inspecting your water bill. If you notice that your bill has gone up but your usage has remained consistent, there's a very high chance that you have a slab leak.
Listen for the sound of running water, which may be a sign of a leak, even if it's not a bathtub or sink. Also, warm spots on your floor might mean that a hot water pipe has burst.
Who to Call About Foundation Problems
If you have identified any of the clear signs of foundation problems, you must reach out to a foundation contractor or structural engineer. Foundation repair is a specific niche, but there are many professionals with expertise in the area. Fixing your damaged foundation costs $4,500 on average.
The cost of foundation damage repair varies based on what the specific problem or necessary repair is.
| | |
| --- | --- |
| Foundation Problem or Service | Average Cost |
| Sinking foundation | $2,000+ |
| Leaking Foundation | $4,000+ |
| Exterior Wall Bowing | $400-$1,000 |
| Foundation Cracks | $550+ |
| Stabilization | $8,000+ |
| Waterproofing | $2,000-$,000 |
The span in cost for foundation repair varies depending on the severity of the problem, as well as the rate of the contractor.
How Do Foundation Problems Affect Resale Value?
If you neglect your house's foundation problems, it will make your home near impossible to sell. Sure, fixing your foundation can cost thousands of dollars, but it can also make your house sellable. More importantly, fixing your foundation problems makes the house safe and livable for yourself or potential buyers.
In the event that you are not able to fix your foundation problems and you fail an inspection, you must be honest about that with any prospective buyers.
Do You Need Concrete Foundation Repair Services?
Get free, zero-commitment quotes from pro contractors near you.
Summing it Up
Living in a house with foundation problems poses several risks to your health and the structural integrity of your home. Although each home will experience normal signs of settling, it's important to know when these indicate a much larger problem. Minor foundation problems that don't produce many signs, i.e., cracks, warping, bowing, are livable, but action should be taken.
When you notice signs that your foundation is shifting, sinking, or you suspect damage, call a foundation contractor or structural engineer. They will perform an inspection to assess the extent of the damage and provide you with your options.
On average, foundation fixes cost $4,500, and it is worth it to make the house livable. Look out for cracks or unevenness on your walls and ceilings. As long as you make the call and be proactive about getting your foundation fixed, it will be safe to live in your house.

Nick Durante
Nick Durante is a professional writer with a primary focus on home improvement. When he is not writing about home improvement or taking on projects around the house, he likes to read and create art. He is always looking towards the newest trends in home improvement.
More by Nick Durante
Published August 26th, 2020 12:59 PM