751 Views
Lime-A-Way Vs CLR: Which Is Better On Hard Water Stains?
November 8th, 2021 4:03 PM
Share
We're committed to finding, researching, and recommending the best products. We earn commissions from purchases you make using links in our articles. Learn more here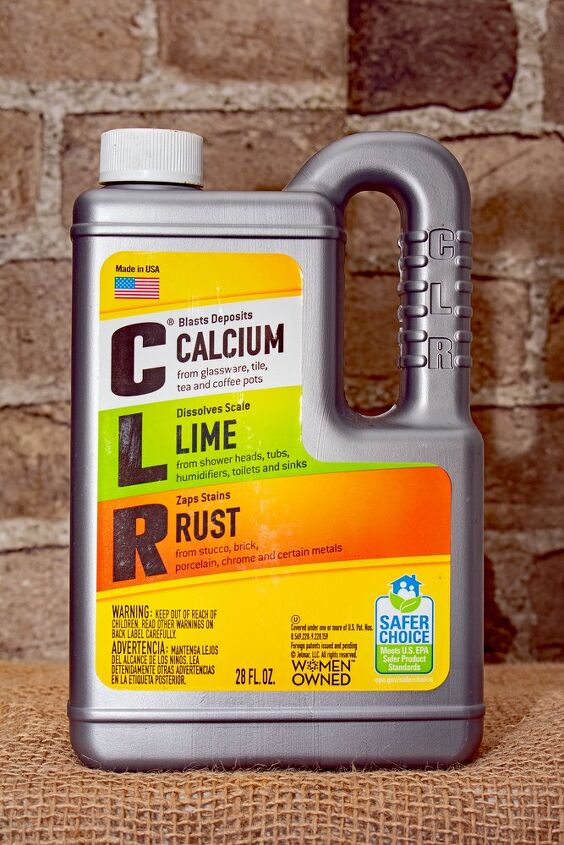 Hard water: An oxymoron or the cause of cleaning nightmares around the nation? While the term seems contradictory, hard water buildup is a real problem plaguing many households. It also poses the question of how exactly one would clean water stains without using more water.
Products on the market are specifically designed to combat hard water buildup without making the residue any worse. However, it is overwhelming to know which brand is right for you without spending time and money on trial and error.
LIME-A-WAY® and CLR® are two companies with entire product lines dedicated to dissolving these unsightly deposits. Both companies are effective against mineral deposits, but we have found that CLR® is better at fighting more stains on more surfaces.
In this article, we will talk about Lime-A-Way and CLR to bring you more information about the products. This will let you get a glimpse into the reasons why we chose CLR as the best product to fight off water stains.
Do You Need a Maid Service?
Get free, zero-commitment quotes from pro contractors near you.
What Is Hard Water?
Hard water staining is the buildup of minerals that make water "hard." Cleaning these stains with soap and water, or even most household cleaners, will disguise the stain until it dries again.
These minerals don't evaporate like hydrogen and oxygen (the elements in water's chemical structure) and need more encouragement to disappear. These stains come in all sorts of colors, typically ranging from white to orange if rust is involved. You can find more information about hard and soft water and how they cause hard water stains here.
Removing Hard Water Stains
The best way to remove mineral deposits is an acid-based cleaner. While two natural alternatives are vinegar and lemon juice, they don't work as effectively. LIME-A-WAY® and CLR use similar ingredients, but it can be hard to decide which is the best. LIME-A-WAY® uses sulfamic acid as its main ingredient, while a combo of gluconic acid, lactic acid, and other solvents are used in CLR®.
According to Amazon reviews, CLR® seems to be leading the fight against hard water stains. CLR® appears to do what others can't, with top complaints being that LIME-A-WAY® is more "watered-down," and other descaling liquids have left a bit of discoloration.
While this is about the hard water products, both brands have a full menu of household cleaning products, including heavy-duty, toilet bowl, kitchen, and even grill cleaners, as well as different bottles with large surface applicators, spray tops, and open spouts.
LIME-A-WAY®
LIME-A-WAY® is considered a household cleaner and may not have the strength needed for more challenging jobs. The company advertises that it can remove stains without scrubbing and can be used to clean a variety of buildup. The only thing LIME-A-WAY® has that other brands don't is the ability to remove stains without scrubbing – or so they say.
LIME-A-WAY® is great at fighting dozens of issues, including:
Soap Scum
Limescale
Calcium
Rust Stains
These cleaners can't be used on every household surface. The company tests where products are most effective and list them on each bottle.
Where To Use LIME-A-WAY
LIME-A-WAY® is excellent to use on a variety of different surfaces, such as:
Sinks
Fixtures
Tub
Tile
Shower
Glass
To use it, you simply spray it on the affected area and let it sit. The ingredients in the product will eat through the stains and the lime without needing to scrub. However, if it's a tough stain, you'll want to let it sit on the color longer so that it can take care of it accurately.
CLR®
CLR® is advertised as an industrial-strength cleaner and contains a patented fast-acting formula. The product also claims to clean several types of deposits. They have a collection of products to clean not only the bathroom but for laundry, kitchen, and the grill as well.
CLR® is excellent to use for a variety of problems, such as:
Calcium
Lime and Hard Water Deposits
Soap Scum
Discoloration
Dirt
You can't use these products on every surface. The company tests surfaces and advertises where their products are most effective. So, don't use it on wood or other surfaces that absorb any product that gets sprayed onto them.
Where To Use CLR
Cleans and Shines Stainless Steel
Countertops
Tubs
Showers
Tile
Fixtures
Sinks
With CLR®, you will need to make sure you have a scrub brush within reach. Unlike LIME-A-WAY®, CLR® does not eat through the stains on its own, and you will need to work the product into the stain to remove it.
What Can I Treat?
You want a clean, beautiful bathroom, but soap scum leaves disgusting stains on your bathroom surfaces and fixtures. LIME-A-WAY® is your go-to stain remover, with better power than all-purpose bathroom cleaners. You'll know it's working when your calcium, rust, lime, and soap scum stains are gone in a flash.
Soap Scum
Traditional bathroom cleaning supplies may be leaving residue on your tub, sink, or glass shower doors? These products offer a tough on buildup solution to the stains. Each brand's unique formulas can eradicate soap scum from hard, non-porous surfaces, glass, fiberglass, porcelain, and ceramic. Say goodbye to embarrassing soap scum in your sink, tub, and other bathroom areas. LIME-A-WAY® and CLR® will break down deposited minerals in tough hard water stains that may be stuck on your tile, tubs, fixtures, and bathroom floors.
Limescale
Are your bathroom fixtures looking a little less sparkly? That chalky white staining on your faucets and drains is called Limescale. What hard water leaves behind, LIME-A-WAY® and CLR® can clean. Their patented formulas work so well that BOTH products use the word "lime" in the title to reference their superb cleaning power.
Calcium
Do you notice hard water leaving calcium buildup in your bathroom? If not, look around for any white, flaky scales that form on your tile, tub, and faucets. These products act like sandpaper, scrubbing away even the most challenging deposits.
Rust Stains
Orange rust stains around the drain? Both CLR® and LIME-A-WAY® boast rust removal as a cleaning property of their products. Don't leave either product on fixtures for extended periods of time as they may damage the surface. This ensures they are tough on rust.
When To Avoid
Both CLR and Lime-A-Way are useful in many ways, but that doesn't mean that you should always use them. It is not safe to use CLR and Lime-A-Way on every surface, and that includes:
Rubber
Aluminum
Natural stone
Plastic
Wood
Colored grout
Lime-A-Way and CLR are highly acidic and both can damage metals. Limited exposure can damage sensitive materials easily, such as wood and natural stone. It is safe to use CLR and Lime-A-Way in drains and on shower glass but never exceed 2 minutes.
After 2 minutes, the acidity can prove too strong and either degrade or discolor the surface. Your CLR and Lime-A-Way will only neutralize if you rinse them away with water. Otherwise, the chemicals will remain acidic and they may damage the surface or your plumbing fixtures.
---
Related Questions
Does CLR damage rubber?
CLR can damage rubber with prolonged exposure and it is advised that you avoid using it. You can also damage other materials with CLR, such as plastic, natural stone, titanium, and grout. It is possible to damage almost any material if you leave CLR on the surface for more than 2 minutes.
Can lime a way be used on glass?
You can use Lime-A-Way on glass if it has mineral stains. Lime-A-Way is a great product for removing traces of calcium, rust, and hard water from glass shower doors.
Is CLR safe for septic tanks?
CLR is safe for septic tanks because it loses potency before it reaches the system. Water can neutralize CLR so that it is no longer acidic. CLR is one of the few chemicals and solvents that is safe for toilets, drains, and septic tanks.
Do You Need a Maid Service?
Get free, zero-commitment quotes from pro contractors near you.
Summing It Up
So, which do we think is the best? CLR® stands up to LIME-A-WAY® in versatility and effectiveness. You can use CLR® on more surfaces, and its industrial-strength technology makes it that much better than LIME-A-WAY®. Not only that, CLR® and LIME-A-WAY® are both about 18¢ per fl. oz., thus making them both about equal in price. However, as far as value, you get a more potent product in CLR®'s enhanced bottle than LIME-A-WAY®'s spray.
While CLR® is much better, LIME-A-WAY® is still a great product. So, don't go throw it out just because CLR® is better. LIME-A-WAY® can be used on many different surfaces, including certain ones that CLR® can't. So it's a good idea to keep this on the side in case you run out of CLR®, or you come across a stain that you need to remove from a surface CLR® cannot be used on. That way, you have the best of both worlds!
Related Guides

Upgraded Home Team
We are a team of passionate homeowners, home improvement pros, and DIY enthusiasts who enjoy sharing home improvement, housekeeping, decorating, and more with other homeowners! Whether you're looking for a step-by-step guide on fixing an appliance or the cost of installing a fence, we've here to help.
More by Upgraded Home Team
Published July 24th, 2020 12:32 AM