96 Views
5 Lawnmower Brands to Avoid (Buy These Push Mower Brands Instead)
October 15th, 2021 1:54 PM
Share
We're committed to finding, researching, and recommending the best products. We earn commissions from purchases you make using links in our articles. Learn more here
There are so many lawnmowers on the market that there are sure to be some brands that are not up to par. Some such brands include Earthwise and Craftsman among others that produce inferior lawnmowers. Luckily, there are plenty of great alternatives, so let's take a look at the lawnmower brands you should avoid and which ones are worth considering.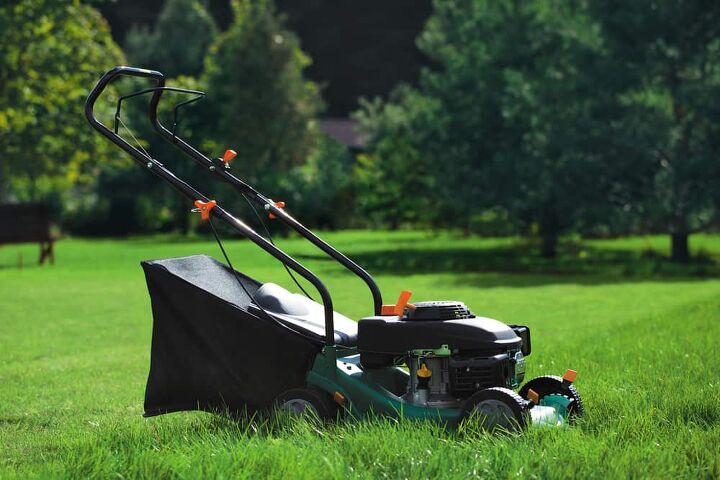 Your lawnmower is an essential tool for yard upkeep. Without it, keeping your grass looking its neatest and brightest would be an incredibly difficult task. But that doesn't mean all lawnmowers are created equally, either.
Just like any other product out there, some lawnmower brands are better off being avoided. Whether that is due to price, performance, or longevity issues, they have their own unique set of red flags. The brands that you would want to most avoid are Earthwise, Stihl, Cub Cadet for walk-behind mowers, Troy-Bilt, and Craftsman.
Do You Need a Mower Repair Service?
Get free, zero-commitment quotes from pro contractors near you.
Factors to Consider
Keep in mind that just about every manufacturer is trying to put out a quality product. For numerous reasons, that may not wind up being the case. It is important to know the how and the why for avoiding certain types of mowers.
Low power. Some brands may try to deliver a low-cost mower but have to sacrifice one of the most important things to do so: power. If your mower doesn't have the proper power levels to handle your lawn, it is a bad investment. Plain and simple.
Poor performance. Another reason that you may want to stay clear of certain brands is that they simply do not get the job done. Some mowers just can't cut it – literally – and should be avoided at all costs.
Durability issues. Perhaps a certain brand of mower does a fine job of cutting your grass but always finds itself in the shop. A mower that can't stay out on the field or requires frequent repairs will quickly become more costly than initially realized.
Price. Maybe all the specs look fine. Even the performance seems to have good ratings. But then comes perhaps the most important factor: the price tag. Some mowers are simply out to lunch on their price point, making them avoidable to the end.
1. Troy-Bilt
Though Troy-Bilt has been around for quite some time and is considered to be a trustworthy brand, their push mowers may not be worth the investment. That's not to say that their mowers are all bad, but they generally have the same set of shortcomings that make them a less than worthwhile investment.
Why avoid them? While they do make some quality mowers, their line of push mowers can be difficult to operate and make for a messy mowing experience. If you are looking for a more that does a good job bagging, this one isn't it.
The bagger itself struggles to capture grass clippings and removal is quite difficult. Many people like to have a clean, neat lawn, and grass clippings hinder that. Troy-Bilt mowers tend to struggle with collecting clippings, making it a difficult cleanup after each mow.
2. Earthwise
While the Troy-Bilt mower struggles with cleanliness and ease of use with its bagger, it at least performs in the way that standard push mowers are meant to perform. The Earthwise line of push mowers has gotten a negative reputation in recent years for subpar performance and construction.
Why avoid them? One of the major reasons to avoid Earthwise mowers is that it is an electric mower with a subpar battery. It uses lead-acid technology versus the industry-standard lithium-ion. What does that mean? Well, a lack of power and disappointing performance, for one.
The Earthwise line of push mowers struggles to cut your grass cleanly and efficiently, meaning that you have inconsistent results across the board. You want an electric mower that performs as well as a gas-powered mower and Earthwise just can't deliver.
Less effective components. Read some of the reviews of Earthwise push mowers out there. The general consensus is that they are trying to put out a product that can be priced with some of the best while using parts that don't do the job.
Between a lack of power and a lead-acid battery, Earthwise seems to be lagging behind on their technology and quality of components. You can avoid the trouble and go with a better option elsewhere.
3. Stihl
Stihl makes a lot of quality products. Their line of power tools is one of the most well-known and trusted on the planet. But when it comes to their electric lawnmowers, that is a whole other thing. When you talk about "poor performance", this is the kind of mower that you would refer to.
Why avoid them? Sure, it has a lithium-ion battery but that is probably one of the few positives to Stihl mowers. They tend to have a clunky, ugly design and are quite small compared to others on the market. And while that size isn't necessarily important, it does come into play when referring to the length of time that it takes to mow your lawn.
The simple fact of the matter is that we all have better things to do with our lives. Spending more time than is necessary on our lawns means less free time to enjoy the things that we want. Stihl produces a lot of quality products, but electric mowers are not one of them.
4. Cub Cadet
There is one distinction to be made here. When it comes to riding mowers, Cub Cadet seems to be a quality option. When it comes to push mowers, however, there seems to be a stark difference in the overall quality of their products.
The size, performance, and power of Cub Cadet mowers seem to be on par with the rest of the competition out there. But there is one major factor that makes it quite similar to the Troy-Bilt mowers mentioned above.
Why avoid them? Like Troy-Bilt mowers, there are difficulties with the baggers and mulching. Cub Cadet mowers tend to have difficulty with bagging, both in the implementation and removal of the bags. If you like keeping a tight, clean lawn, bagging plays a crucial role in the process.
Moreover, Cub Cadet mowers tend to be a bit more costly than some of the comparable mowers on the market. Why pay more for something that will be more difficult to use when you can save a few bucks and keep your lawn looking the way that you want?
5. Craftsman
While Craftsman is one of the premier tool makers on the market, there have been troubles of late with their line of lawnmowers. Want a good indicator? Bob Vila, the expert craftsman, severed his ties with the company. While that isn't exactly the smoking gun, it is definitely is an indicator that the quality of the toolmaking giant has dropped off.
Why avoid them? It seems that recent models of Craftsman mower struggle with bagging issues. While they can mulch fairly well, the mess created may not be worth the hassle. If you are planning to use your mower for bagging leaves or clippings or simply as a side-discharge mower, Craftsman mowers do not deliver.
The price is fine given all that you get, but there are better options out there for mulching mowers. And let's face facts: walk-behind mowers should be able to bag well.
Limited life. Another major detriment for Craftsman mowers is that they tend to not last nearly as long as some of the others on the market. A lawnmower is an investment. The last thing that you want is to have to break away from that investment sooner than you'd anticipated to invest in another mower.
What 4 Brands Should I Consider?
This piece isn't going to be entirely negative. Now that we have covered the brands that you should probably stay far away from, it is time to talk about the brands that will serve you best. Keep in mind that these are all personal preference. There are plenty of mowers from the above brands that have served people well, so it isn't a science.
The best brands for push mowers tend to be Ego, Honda, Greenworks, Toro, and Snapper. These mowers tend to not only deliver requisite power, bagging ability, and performance, but they are reasonably priced in most instances as well.
Ego
Most of the Ego push mowers are actually self-propelled and battery-powered. They also tend to have a strong charge, lasting somewhere in the hour range, making it great for smaller yards. Even better, it charges quick, too, allowing you to do part of a bigger lawn, recharge, and then go back at it.
Maintaining and using Ego push mowers is as easy as it gets and some of them even come with some cool extras. There are even speed controls on many Ego brand mowers, allowing for optimal control and precision where you want it.
Honda
Like Ego, Honda's line of mowers is self-propelled making it easier than ever to use. More importantly, Honda tends to offer an exceptional quality of cut, making it a must-have tool when it comes to upkeeping your lawn.
Two-blade cutting system. Even better, Honda mowers feature a two-blade cutting system. What does that mean? Well, when it comes to bagging and mulching, things have never been easier. And when it comes to the cleanliness and ease of bagging, Honda may be one of the best brands on the market today.
Most importantly, if you want a mower that is going to last you for the better part of the next two decades, Honda is it. That is the kind of investment that you can feel good about making.
Toro
Toro has one of the largest cutting widths on the market at an impressive 21 inches. That might not sound like a big deal, but a larger cutting width means fewer passes. Fewer passes mean less time spent mowing.
Aluminum cast. If you want a lawnmower that will stand up to the test of time and avoid nasty rusting, the aluminum casting on Toro brand lawnmowers is the way to go.
The engine. Another point for Honda, too: Toro uses Honda engines, so keep that in mind. More importantly, the motor has been praised for running smoothly and efficiently especially compared to others on the market.
Rear-wheel drive. Some push mowers can really struggle in rugged or sloped terrain, particularly when the weather has made things soggy and mushy. With rear-wheel drive functionality, Toro has all the power and traction needed to keep you covered.
Greenworks
Greenworks is another brand that brings quality and efficiency at a fair price. Some of the mowers in the first section put less of a priority on things like battery, cutting performance, and bagging efficiency. The quality mowers will not ignore those things.
Rear tires. On a quality mower, one of the most important things are the tires. With strong, 10-inch rear tires on most of their push mowers, Greenworks ensures that you will move smoothly over even the toughest of terrains.
Dual batteries. Never run into the problem of your mower being dead again. Keep one battery charging while the other is in use for optimal usability.
Solidly built. Despite being one of the most cost-effective mowers on the market, Greenworks tends to be solidly built. Thanks to the steel decking, they are built to last making it an investment that you can count on.
Do You Need a Mower Repair Service?
Get free, zero-commitment quotes from pro contractors near you.
Who Makes the Best Lawnmower Engine?
One of the most important components of the lawnmower that you choose is the engine. There has to be enough power behind it to propel it over even the roughest of terrains. Moreover, it needs to be able to deliver a better cutting performance than others on the market.
Perhaps the most efficient engine on the market belongs to Honda. Simply put Honda offers one of the most reliable, durable, and powerful lawnmower engines on the market today. Honda engines are workhorses, capable of delivering years of reliability and exceptional results along the way.
Your mower engine is the most important aspect. When choosing a mower, it is simply put that the engine is the most important thing. Getting enough power, torque, and fuel efficiency can mean the difference long-term. Even if the other components of your mower aren't the best, a high-quality motor can make it a worthwhile investment.
Related Guides

Ryan Womeldorf
Ryan Womeldorf has more than a decade of experience writing. He loves to blog about construction, plumbing, and other home topics. Ryan also loves hockey and a lifelong Buffalo sports fan.
More by Ryan Womeldorf
Published March 4th, 2021 1:58 PM