653 Views
Is Costco A Good Place To Buy Appliances?
November 10th, 2021 4:04 PM
Share
We're committed to finding, researching, and recommending the best products. We earn commissions from purchases you make using links in our articles. Learn more here
Costco is home to a wide variety of products that every homeowner needs, and that includes appliances. Many homeowners consider Costco one of the best places to buy appliances due to the low cost and countless options. Whether it be brand selection or price, let's take a look at why Costco is a great place to buy appliances.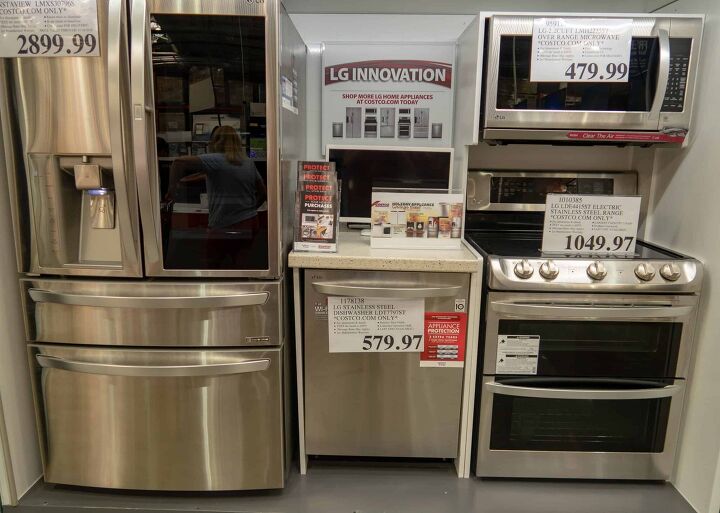 As an avid bargain hunter, I love Costco. I've used Costco as a go-to to get my favorite bulk items, and also as a place to find cheap deals on things like shampoo. As most people know, Costco has an appliance center that makes it popular with bargain-hunters. But, is it a really good place to buy appliances?
Costco is considered to be one of the best places to buy appliances, particularly if you are looking for a nice variety of options at a low price. So far, it's been rated by multiple sites as one of the most reliable places to find new home appliances on a national scale.
For most of us, the days when you'd go shopping at Sears for a washing machine are quickly fading away. Nowadays, it's all about finding a better deal at a major discount store. If you've been thinking about getting a membership to Costco, it might be a good time to go for it.
Do You Need Appliance Installation or Replacement?
Get free, zero-commitment quotes from pro contractors near you.
Is Costco A Good Place To Buy Appliances?
According to most surveys, Costco members are thrilled with the products and services they get in terms of appliance shopping. Most shoppers are fairly pleased with the variety of appliances, all of which come from notably reliable brands. The prices are notably cheaper than the rest, and there are also plenty of affordable delivery and installation options to choose from.
How Are Costco's Appliance Prices?
On average, this members-only shopping club has lower prices than typical department stores, which makes it a great place for people who are on a budget. The store chain is also known for having excellent sales, as well as online specials that can slash standard pricing significantly.
If you're worried about paying more than the average price, the good news is that Costco places its prices on the website. So, you can comparison shop if you want to.
How Do Costco's Extended Warranties Work?
Along with lower prices, Costco makes a point of offering other perks as well. The most notable one happens to be their extended warranties, which can be added onto any appliance purchase for a nominal fee. The warranty prices range from $79 for a single appliance under $1000 in cost, to $399 for a kitchen suite priced over $4000.
Regardless of which warranty you choose, the warranties will only cover the appliances that you buy from Costco. Should one break, the warranties will place the responsibility on Costco. The warranties extend coverage for two to three years, but can go for as long as four if you pay using the Costco card.
The warranties themselves are done by SquareTrade, which currently has an A+ rating on the Better Business Bureau. The warranties are highly regarded among people who use them.
What Should You Expect In Terms Of Costco's Appliance Delivery?
Costco is remarkably good at making ordering an appliance a breeze. When you get an appliance from Costco, they will not only bring the appliance to your home and install it, but they'll also pick up the old one and dispose of it for you. Costco's pickup, delivery, and installation services are totally free of charge.
What's impressive about this is that most other retailers will charge you several hundred dollars for this service, if they even offer it at all. As a reference, many major retailers, including Home Depot, will charge a fee for appliance installation and ask for additional money if you choose to have them haul away your old stuff too.
What Kind Of Appliances Does Costco Have?
If you are worried about not being able to find the kind of appliance that you want to get at Costco, don't be. This shopping club has a wide range of appliances, including:
Cooking Appliances
Washers and Dryers
Vacuums
Refrigerators and Freezers
Air Conditioners
Dishwashers
Small Kitchen Appliances
Wine Refrigerators
Kitchen Appliance Bundles
Since it's a national chain with an online ordering platform, you also can rest assured that all of the products on the site are available at a national level, even if they aren't present in-store. So, it's safe to say that you have a fair share of appliance categories to choose from.
Do You Need A Costco Membership To Buy Appliances?
Most people would assume that you need a membership to buy any of their appliances, but that's actually not true. The store chain does offer a very small percentage of appliances for sale to people who don't have a membership. However, if you want to access all their appliances, you will need to buy a membership to do so.
Thankfully, membership isn't very pricey. A Costco membership starts at $60 for a basic Gold Star card, and $120 for a Gold Star Executive card. So, if you're interested in buying specific members-only items, it may be worth the investment. Of course, being able to buy their delicious hors d'oeurves can be reason enough to join.
Do You Have To Go To Costco To Buy An Appliance?
Most people prefer to do their appliance shopping in person, primarily because they want to actually see what they're buying before they plunk down money. However, it's not mandatory. Since Costco makes a point of stocking trusted brands, it's safe to say that you'll get a quality item from them regardless of what you buy.
If you're not looking to make a trip out to your local store, that's totally fine. Costco offers both in-store and online shopping, so you can choose to do what fits your schedule best.
What Appliance Brands Does Costco Carry?
The brands Costco carries depends on the type of appliances that you're shopping for. However, there are definitely some brands that are more prominent than others. These include:
The store chain also carries some "indie" brands like Emeril Lagasse and Steamfast, too. So, if you're not a fan of more mainstream appliances or are looking for a more upscale option, you still might have some luck. With that said, Costco isn't exactly known for carrying ultra-luxury brands and shoppers should temper their expectations.
What's Costco's Customer Service Like?
If there's one thing that Costco seems to pride itself on, it's customer service. The shopping club chain is famous for working diligently to handle issues. Of course, chances are high that there won't be any problems while you're getting a new appliance for your home.
It's also good to know that shopping at Costco also means that your appliance might be eligible for their concierge service line. With this perk, you can call up Costco when your appliance acts up to get free tech help. That alone is a perk that's relatively unique to Costco stores.
Other Retailers to Buy Appliances in 2022
Although Costco is, undeniably, a great place to find a wide variety of reasonably-priced appliances, there are a number of other retailers to choose from. In fact, you can find a great selection and good deals at both online stores and brick-and-motor establishments. Here are just a few places you can buy appliances in 2022:
Home Depot: This home improvement giant is one of the top retailers for major appliances in the country. With thousands of stores nationwide, it's both easy and convenient to pop into a local store and check out available products. Or, if you'd rather shop online, they offer this option as well. Delivery is free with appliances purchases over $396 and they also have an excellent price-match program.
Wayfair: While Wayfair may typically be your choice for furniture, this online-retailer also offers appliances for purchases. Here you'll find all of the top brands, free shipping, and a growing large appliance category.
Lowe's: Like Home Depot, Lowe's is another popular choice to find in-store options for major appliances. You also have the choice of shopping online, if you know the specific make and model you're looking for. As an added bonus, Lowe's will also price-match local competitors and have free next day delivery on purchases $396 and above.
Amazon: This internet retail giant isn't only for buying the coolest gadgets, they also carry a pretty large selection of home appliances. While their selection may not be as extensive as brick-and-mortar stores, you can find Kenmore and Frigidaire products at pretty competitive prices.
Best Buy: Known primarily as a technology superstore, Best Buy also offers a substantial amount of home appliances. Here you can find everything from refrigerators and dishwasher to more advanced smart-home products. In fact, this is the best place to find the latest and greatest in home appliance technology.
Do You Need Appliance Installation or Replacement?
Get free, zero-commitment quotes from pro contractors near you.
Our Final Take
Though most people think of Costco as a wholesale store that has excellent bulk food pricing, the truth is that Costco also can be your new favorite place to buy home appliances too. The store has a truly impressive selection of appliances, ranging from the large to small.
Between the awesome customer service, the free installation, the option of extended warranties, and the low prices, it's hard to ignore the benefits of getting an appliance from here. If that isn't reason enough for new homeowners to grab a membership card, we don't know what is.
Related Guides

Ossiana Tepfenhart
Ossiana Tepfenhart is an expert writer, focusing on interior design and general home tips. Writing is her life, and it's what she does best. Her interests include art and real estate investments.
More by Ossiana Tepfenhart
Published August 4th, 2020 3:58 PM