6 Views
Is A Composite Deck Worth The Money?
July 14th, 2021 4:31 PM
Share
We're committed to finding, researching, and recommending the best products. We earn commissions from purchases you make using links in our articles. Learn more here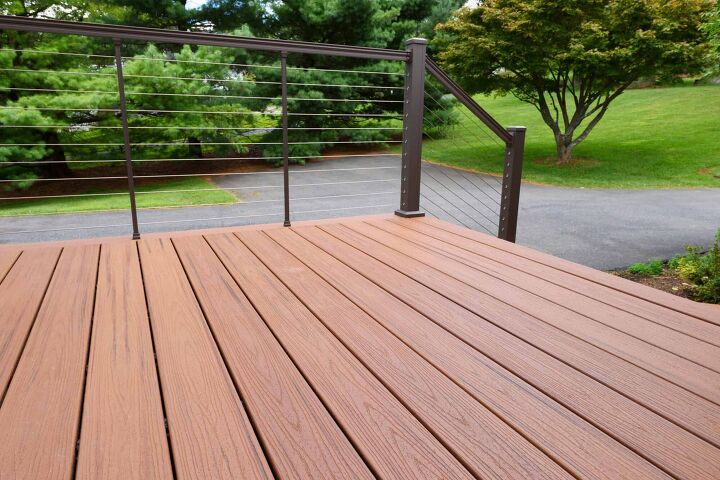 The deck on your home is the perfect spot to kick back and relax with your loved ones. If you own a home, you may want to consider a composite deck. With so many different lumber options, prices can vary quite a bit. There are many things to consider when asking yourself if a composite deck is worth it.
Composite decks are worth the money because they can last for 25-30 years due to their durability. It costs $4,200-$7,700 to install a 350 square foot composite deck, but it will resist fading and scratches. The 100% recycle material construction means that composite decks are sustainable and low maintenance.
Over the past several years, composite decks have become more and more popular. Not only do they look great, but they're also long-lasting.
Today we're going to look at why you may want to add one to your home.
Do You Need Deck, Porch, or Gazebo Installers?
Get free, zero-commitment quotes from pro contractors near you.
What is a Composite Deck?
There are several different composite products on the market. Essentially, the main difference between a composite deck and a standard deck is the lumber being used.
Composite lumber is made up of by-products, including the following:
Wood chips
Sawdust
Recycled plastic materials
Composite decks use a combination of both organic and synthetic materials. There are a ton of benefits to this that we'll dive into later in this post. Let's look into how much a composite deck will cost you first.
How Much Does a Deck Cost?
As a homeowner, you're well-aware of how important it is to have a realistic budget. That's where we come in. Due to the combination of materials, composite decks are more expensive than other decking supplies. You can look at spending around $3.00 to $7.00 per 8-inch board of composite lumber.
You'll need to factor in your deck size to know exactly how much it'll cost you. The average deck is around 400 square feet, which requires 20' by 20' of wood. Using the best of the best materials that will cost approximately $5,700. I know this sounds like a lot, but the benefits make it worth it.
Cost of Pressure-Treated Lumber
Let's say you haven't built a deck on your home quite yet. You decide to build a deck that's 400-square feet, but you're on a tight budget. Is there another option for you? Yes! You'll be able to build a deck with pressure-treated pine lumber for about $3,000.
Something to consider is the routine maintenance that pressure-treated wood needs. Maintenance can easily cost you nearly $1,000 per year. In a few years, you'll have spent the same amount on pressure-treated decking as you would've composite.
Something else to consider is hidden costs. It's crucial to compare lumber prices at different stores. This way you'll ensure you're getting the more bang for your buck.
Composite vs. Other Materials
Based on a 350-square foot deck, here's what you can roughly expect to pay depending on the material you choose:
| | | |
| --- | --- | --- |
| Material Type | Per Square Foot | Avg. 350-square-foot deck |
| Pressure-treated wood | $2-$5 | $700-$1,750 |
| Bamboo | $3-$10 | $1,050-$3,500 |
| Cedar | $3-$7 | $1,050-$2,450 |
| Redwood | $5-$30 | $1,750-$10,500 |
| Tigerwood | $7-$15 | $2,450-$5,250 |
| Mahogany | $8-$11 | $2,800-$3,850 |
| Ipe | $10-$20 | $3,500-$7,000 |
| Composite | $12-$22 | $4,200-$7,700 |
| Metal | $15-$20 | $5,250-$7,700 |
Benefits of a Composite Deck
Now you know a little more about what a composite deck is. So, what makes it worth the extra money? Let's dive into a handful of the top reasons you may want to invest in a composite deck. Hopefully, these will help you decide if it's right for you.
1. Highly Sustainable
The best part about composite decking is it looks just like natural wood. It's shocking how you can't tell the difference just by looking. The difference? You won't have to worry as much about the environmental impact.
Since it's made up of nearly 100% of recycled materials, you can feel good about the decision. Recycled goods are put together and ground up using heat and pressure. It's a way of adding to your home while giving back to the earth.
2. Long-Lasting Looks
If you're going to spend $6,000 on a deck, you may as well have a warranty. The warranties for composite decks are long and for good reason. They can withstand a lot of foot traffic and look great for ages. You want it to look as good as the day you built it, even years down the line.
Composite decks are aesthetically pleasing, look like real wood, and can be customized. There are several different styles and color options, as well. This gives every home a personalized touch.
3. Transferable Value
Chances are, you work your tail off all week at work. You want to spend your free time relaxing. Having a pressure-treated wood deck would require more work.
Easily one of the best things about composite decking is the low-maintenance aspect. They're less of a chore and more of a treat for homeowners. The type of deck you have can make or break a sale. If you plan on selling your house, this can be a big deal. Composite decking is long-lasting and can increase resale value.
Potential buyers love to see a deck in excellent condition. One way to ensure that is by building with composite lumber. Overall, the transferable value lasts longer.
4. Incredibly Durable
One of the most apparent benefits is how durable composite decking is. They're designed to do the following:
Prevent scratching
Resists fading
Doesn't stain
Won't mold
Can't warp
I don't know about you, but that alone is worth the money for me. If you have kids or pets, a composite deck is crucial.
You won't have to worry about dropping delicious grilled ribs or spilling a beer. Unlike other lumber, it's resistant to just about everything. They can handle a surprising amount of foot traffic as well.
Drawbacks of a Composite Deck
In order to make an accurate analysis of whether or not a composite deck is worth the money, you also need to understand the drawbacks. Like anything, there are some disadvantages to composite decks, such as:
1. High Upfront Costs
As indicated above, the price of composite products is roughly 50 to 100 percent more than conventional treated lumber. Because of this, high upfront costs are considered the most obvious drawback of a composite deck. In fact, homeowners often opt for lumber options simply because they are more affordable.
2. Permanent Composite Deck Colors
To both avoid and reduce maintenance, color is permanently applied to composite decking. This means that you can't simply re-paint or re-stain your composite deck if you want to give it a good refresh. Whereas, you can easily change the shade, color, and tint of standard wood decking.
The only option you have for altering the appearance of a composite deck is to perform surface cleanings.
3. Damage and Fading
Though composite decks are designed to be long-lasting and resist fading, darker composite deck colors can fade over time. This happens as a result of high foot traffic, UV rays, and general weathering.
In fact, noticeable surface damage such as scratching and deep gouges are a common problem with composite products. Unfortunately, fading and surface damage is difficult to remedy. Your only solution is to replace the entire affected deck boards.
---
Related Questions
How long do composite decks last?
Due to the minimal upkeep, composite decks can last longer than alternatives. On average, you can expect to get 25 to 30 years out of one. A pressure-treated deck requires more maintenance. If treated with great care, these can last around 10 to 15 years in total.
What is the best composite decking for the money?
There are several different options when it comes to composite decking. It's essential to do your research to see what fits your needs best.One of the best composite decks on the market is TimberTech AZEK products. Not only are they high quality, but they also come with a 50-year limited warranty.
Are there disadvantages to composite decking?
There aren't a ton of disadvantages when it comes to composite decking. One of the most obvious is the higher upfront cost. You've read that this is worth it in the long run. It's important to acknowledge that not everyone has the budget for composite materials.Another disadvantage would be that the colors are permanent. You can't avoid treated lumber, which is a negative for some homeowners.
Do you have to seal composite decking?
Do you HAVE to? No. Once the surface is cleaned, it's up to you whether you'd like to seal it.Even though it's not required, I highly suggest sealing it anyway. This will cut down on maintenance quite a bit. You'll also get more years between cleaning periods by sealing it off. If you choose not to seal the deck, you can expect to do a deep cleaning annually.
Do You Need Deck, Porch, or Gazebo Installers?
Get free, zero-commitment quotes from pro contractors near you.
Bottom Line
Having an outdoor living space that meets your needs is a must. The look and feel of your deck can be a game-changer. Adding a composite deck may be pricey, but it's worth it. When you compare the other option, it's no competition.
While pressure-treated costs less in the short-term, you'll pay more in maintenance. Plus, who wants to spend their weekends doing chores when you could be relaxing instead? Composite decks are less work, so you get to enjoy the money you spent. Good luck on your deck-building journey.

Upgraded Home Team
We are a team of passionate homeowners, home improvement pros, and DIY enthusiasts who enjoy sharing home improvement, housekeeping, decorating, and more with other homeowners! Whether you're looking for a step-by-step guide on fixing an appliance or the cost of installing a fence, we've here to help.
More by Upgraded Home Team
Published August 27th, 2020 8:11 PM