142 Views
How To Install Portable Air Conditioner In A Horizontal Sliding Window
April 16th, 2021 3:29 PM
Share
We're committed to finding, researching, and recommending the best products. We earn commissions from purchases you make using links in our articles. Learn more here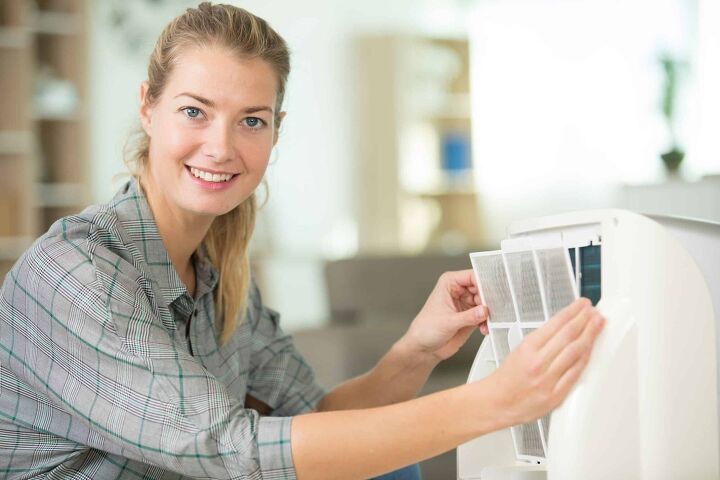 Portable air conditioners are the newest style of air conditioning. They are easy to move from room to room as needed and are easy to install anywhere. In a horizontal sliding window, the installation is just as easy as with a typical window. It just takes a few tweaks is all.
Installing a portable air conditioner in a horizontal sliding window just takes a few minutes and can be done by anyone who can read instructions. There is a window kit that usually comes with the air conditioner that will fit either horizontally or vertically. All you have to do is install it in the window and hook up the vent hose(s).
Keep on reading to find out how you can install your portable air conditioner into your horizontal sliding window. We'll give you all the tip and tricks you need to make this installation as successful as possible.
Do You Need a Window A/C Unit Installed?
Get free, zero-commitment quotes from pro contractors near you.
Installing The Vent Hose(s)
Using the window kit that comes with your air conditioning unit, you can install the vent hose(s) within minutes and have your unit up and running in no time. All you need is the kit, a screwdriver, and maybe some duct tape.
Make sure you have all the necessary parts. Gather all of the things you will need and check the window kit to make sure all the parts are there. You should have a window kit plate, duct connectors, exhaust hose(s), grated covers, and screws. The unit may also come with exhaust covers.
Choose the correct location. Make sure your air conditioner is located close enough to the window and electrical outlet. It has to be within reach of the window and outlet without stretching the cord or the vent hose too far.
Set up the plate. Secure the grated cover(s) over the hole(s) in the window kit plate with the screws that came with the kit. Open the window and place the plate with the grooved side facing outward.
Install the grate. Widen the plate until it fits in the opening and then close the window to hold it in place. You can use duct tape for a better fit if needed.
Connect the pieces. Attach the duct connector(s) to the hose(s) and extend the hose(s). Screw the connector onto the hose clockwise until it stops.
Set up the air conditioner. Roll the air conditioner until it is about 20 inches from the window. Connect the hose(s) to the back of the unit. They usually just snap on but some you may have to screw on.
Ensure it's connected properly. Connect the other end of the hose(s) to the vents on the window kit plate and make sure it is tightly connected so there are no leaks.
Test the unit and provide any last-minute fixes. Turn on the unit and check for leaks. Use the duct tape to cover any leaks you find.
Some Important Things To Note
There are some important things to know about the exhaust hose. First of all, even though the air conditioner comes with a long exhaust hose, it is best to keep it short for the best cooling effects. Also, make sure there are no bends or kinks in the hose. They can trap the air or condensation in the hose. Use the hose adapters to prevent bending.
Never add more hose to the exhaust hose to make it longer. It is best to have the hose about 20 inches or less from the window for maximum cooling. And do not replace it with an exhaust hose that did not come with the unit. If you need a replacement, order it from the air conditioner manufacturer.
What If My Window Is Too Big?
You can use thick cardboard, plexiglass, or plywood to fill in the gap. The hardware store also sells filler material that you can have cut to the perfect size for your needs. Use duct tape to secure the filler or board to prevent leaks. Some air conditioners come with weather stripping or foam to help insulate your window.
Safety Tip: Make sure your air conditioner is plugged into a properly grounded outlet and never connect it to an extension cord or power strip.
What If I Do Not Have A Window?
You can vent your air conditioner through a sliding glass door as well. Just use the same window kit as you would with a window. You will just need more filler material or wood to fill in the gap. And make sure you do not attach it to a door that is used often.
You can also choose to vent through the wall or ceiling if you do not have a window or door to use. This is a more complicated process and may require a professional. However, if you are handy enough, you can use a jigsaw to cut a hole in the wall and vent it there yourself. You will also need a special venting kit for certain kinds of ceilings and walls.
How Does The Water Drain?
One of the most common issues with portable air conditioners is water leakage. When the hot air in the room is cooled, the humidity is removed, and that humidity has to go somewhere. Most air conditioners have a drain pan in the bottom of the unit.
Other types of air conditioners can be vented to the outside like the exhaust hose. Also, some units are self-evaporative, and you do not need to drain them because the moisture gets expelled through the exhaust hose.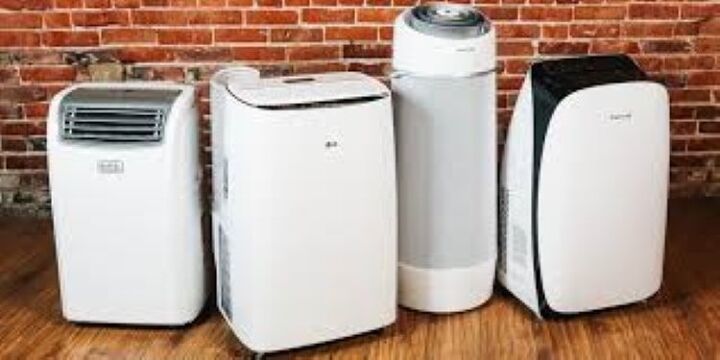 What Size Unit Will I Need?
All portable air conditioners are measured in BTUs. Your room needs about 20 BTUs per square foot. If your room is 500 square feet, you will need a 1,000 BTU air conditioner to cool it properly. Most units will provide this information on the packaging or in the description.
Security When Using Portable Air Conditioners
Believe it or not, some criminals just look for homes that have portable air conditioners in their windows. That is because you cannot use your regular window lock with the venting and exhaust system in place. There are solutions for that.
Security window locks for portable air conditioners are now on the market. Some of these are just sliding window locks you snap onto the window frame to keep it from opening. They also have window wedges that are good for security as well as safety for children inside the home.
Easy Trick: You can buy home security decals to put on your windows even if you do not have home security.
Security bars are also a good choice. You can buy one or make your own out of a sturdy wooden or metal dowel. A stick-on window alarm is another great deterrent for burglars. As soon as someone tries to force the window open, the alarm goes off and this will surely send the robber running.
Dual Hose Versus Single Hose
Some portable air conditioners have two hoses to circulate the air. These are more efficient and can cool the room more quickly. They pull in fresh air from outside through one of the hoses and send the hot and humid air back out through the other. However, these are also a bit more expensive than single-hose units. It just depends on your needs and your budget.
Other Features
Portable air conditioner units can come with many different features like an oscillator to move it back and forth, a dehumidifier, a remote control, and a timer so you can program it.
Each of these can be a handy tool to have when you need them, but they typically add to the price as well. If your budget is low and the room is not large, a small and simple air conditioner will work fine.
Why Choose A Portable Air Conditioner Instead Of A Window Unit?
Portable air conditioners have become a new normal among households due to their portability. For instance, you can buy several window kits and place them in multiple windows throughout your house. Then, you can move your air conditioner to any room that you want without having to buy multiple units. No more sleeping with your door open and fan on just to get cool air into your room. Instead, you can simply move the unit to your room at night, and back out into the living room in the morning.
Additionally, you can aim the unit anywhere you want. So if you want the cool air to blow directly on you, just turn the box toward you. This way, it saves you from having to run additional fans or other appliances to keep cool when it's hot out. However, remember if you live in a humid area, you still may need a dehumidifier to get the moisture out of the air. Also, an air purifier is always a good idea too.
Do You Need a Window A/C Unit Installed?
Get free, zero-commitment quotes from pro contractors near you.
Our Conclusion
You may have considered purchasing a portable air conditioning unit, but maybe you've shied away from the idea because you have a horizontal window. However, there are kits you can get to make installation possible. You can always used the good old-fashioned cardboard and duct tape method as well. Don't let your horizontal window hold you back from using your portable air conditioner! Installation is as quick and easy as a vertical window.

Patricia Oelze
I am a DIYer who loves writing about anything home-related. When I am not writing, you can find me studying for my PhD in Psychology, photographing nature, and swimming at the lake with my grandkids.
More by Patricia Oelze
Published August 19th, 2020 10:35 PM