1.2K Views
How To Use a Vivint Camera Without Service
November 10th, 2021 7:46 PM
Share
We're committed to finding, researching, and recommending the best products. We earn commissions from purchases you make using links in our articles. Learn more here
Vivint cameras offer peace of mind and advanced home security, that is unless you use one without service. You can only use your Vivint camera at a limited capacity if you don't have service, and you can only monitor from home. Whether it be the low costs, lack of contract, or surveillance capabilities while at home, let's see what you can do with a Vivint camera with no service.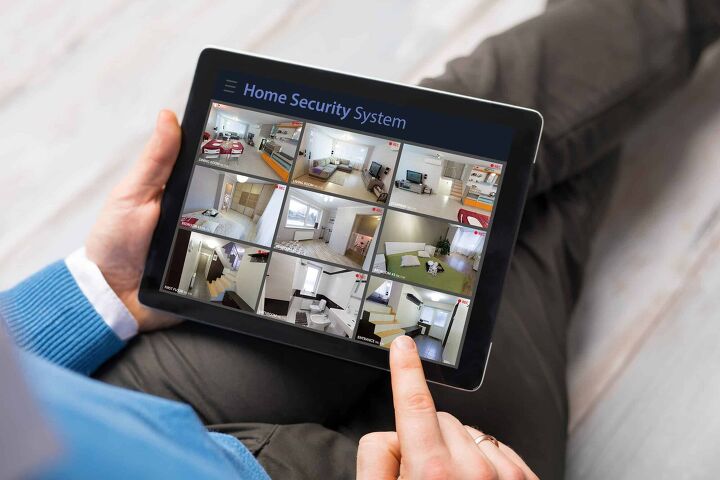 Home security is super important; after all, it protects you, your family, and your most significant investment – your house. Nowadays, there are multiple options available on the market to help automate your home's protection.
To use your Vivint cameras without service, you will need to make sure you're at home to be able to view your cameras. However, without the service, you cannot view your cameras remotely, or have the ultimate protection you hope to get when you bought the cameras in the first place.
If you're not married to having a monitored security system, then an unserviced Vivint camera might be enough for you. Especially if you're typically home most of the time.
Do You Need Alarm or Security System Installers?
Get free, zero-commitment quotes from pro contractors near you.
How Is a Vivint Camera System Supposed To Work
Typically, when you purchase a Vivint camera, you also acquire a monthly service plan. Depending on your plan, the service can include remote access.
This access enables you to control your various Vivint products through an app. Plus, many plans offer professional monitoring and alerts for burglary, fire, and other emergencies.
Vivint Cameras
Vivint has three cameras: the Vivint Doorbell Camera, the Vivint Outdoor Camera Pro, and the Vivint Ping Indoor Camera.
The Vivint Doorbell Camera alerts you to approaching visitors, delivered packages, and suspicious activity in front of your home. You can also talk to people in real-time. This camera is similar to the popular Ring Doorbell.
The Outdoor Camera Pro is a surveillance camera that includes unique AI features, including a sentry mode and night vision. This camera recognizes real threats and alerts intruders before they have a chance to do damage to your property.
You can use the Ping Camera to keep tabs on your home's interior. With a service plan, you can see what's going on inside while you're gone.
However, even without a plan, you can at least see if your kids are wandering the house at night. (Now you can find out who keeps eating the last slice of cake)!
Cost
The cost of a Vivint camera varies based on model, style, and plan. You also generally pay for the equipment and the surveillance plan separately. For example, a doorbell camera costs about $249.99 but is usually included with a Smart Home Video Plan that costs about $44.99 to $49.99 a month.
The Vivint Outdoor Camera Pro runs about $399.99. However, it is also typically included with the Smart Home Video Plan. Other basic service plans can cost $29.99 a month and beyond, depending on what they include. A Vivint Ping Indoor Camera costs $199.99.
In most cases, you can add monitoring to a plan for an additional $5 per month. A Vivint specialist can discuss your personal preferences and help you choose the best options for you.
No matter what you decide to do, your exact price is unique to you, so call the company for a quote. Also, there is the cost of installation and activation, which in some cases, is free with various specials.
Other Products
If you want to go all the way with your Vivint service, you can add on multiple products. There are thermostats, smart locks, CO2 detectors, water sensors, and several cameras to complete your smart home package.
The company also has garage door openers, smart lights, and smart speakers to help create a full smart-home experience. All of these elements can be controlled remotely through the Vivint app with a service plan.
Can You Buy a Vivint Camera without Purchasing the Service?
You can purchase a camera or other Vivint products without buying a service plan at the same time. However, doing it this way, you will likely lose out on any free installation or activation deals.
Plus, if you know that you want the service, many times a camera or some other product is included. By getting both your camera and service plan at the same time, you can get your camera for free.
What If You Ditch the Service? Are You Secure?
So what if you opt to ditch your Vivint service or not purchase it altogether? How secure is your home really? Well, that depends.
According to Vivint, "Without a Vivint service plan, product and system functionality is limited (including loss of remote connectivity)." Basically, you can use the camera, but in a reduced capacity.
If you don't care about having 24/7 protection and perks like medical alerts, then this could work for you. Also, keep in mind you won't be able to control your products from the app. Plus, if anything is spotty with your equipment, customer service is likely to be of little help.
Using a Vivint Camera without Service: Pros
While you won't get ultimate security without a monitoring service, it has some potential positives. Here are a few of the plusses for having no service plan:
Low Cost — Once you purchase the camera, there are no more fees. Vivint has some of the highest-priced service plans in the industry. 
No Contracts —You're not tied into any contracts. Many of Vivint's plans require you to sign up for a five-year contract.
The Camera Might Be Enough — Depending on your location, simply having a camera could be enough to dissuade people who are up to no good. Intruders might see your camera and decide it's not worth the risk. 
Using a Vivint Camera without Service: Cons
Of course, for every positive, you're going to get some downsides. If you forgo service for your Vivint camera, here are some disadvantages you'll face:
No Remote Access — You can't adjust your cameras or turn them on or off unless you are at home. To view footage, you would need to do it locally via a hard drive or something similar. You won't be able to view it in real-time if you're away from home. 
Limited Protection — You can keep an eye on your property when you're home, but you won't have access when you're away. So, if you're out of town and something happens, you're out of luck. If you live in a dangerous city, this might not be a great option for you. 
Not Compatible with Other Companies — If you purchase Vivint cameras, and then decide you want some type of service plan, you have to go with Vivint. Vivint's cameras will not tie into any other monitoring company. Therefore, you need to go with some of the highest-priced plans in the industry.
Limited Access to Customer Service — Without a service plan, Vivint expresses that connectivity is limited. Therefore, if you're having problems with your camera, you're likely on your own. 
What Happens If I Cancel Vivint?
If you decide that Vivint isn't for you, you can cancel the service. However, if you chose to finance any of your Vivint devices you were required to sign a five-year contract, meaning you'll have to pay your contract in full if you decide to cancel before the five-year mark.
Those who cancel within the first year must also pay a $300 cancellation fee, on top of the full contract. If, instead, you can cancel during the second year, the cancellation fee drops to $150.
On the other hand, if you are on a month-to-month contract you can cancel at any time with no penalty since you paid for your devices in full. These devices are also yours to keep after cancellation.
Do You Need Alarm or Security System Installers?
Get free, zero-commitment quotes from pro contractors near you.
---
Related Questions
What are some alternatives to a Vivint Security System?
Numerous home security companies offer similar services to Vivint, like Protect America and security-giant ADT or Xfinity. Plus, there are products like the Ring Doorbell, which provide remote access and viewing without a monthly fee. However, you can purchase a low-cost monthly Ring service plan that provides monitoring and lifetime access to video footage. It's all about finding what works for you and knowing how much security you want and need for your house. 
Are Vivint cameras waterproof?
The Vivint Outdoor Pro and Vivint Doorbell Camera are designed for exterior use. Therefore, they are weather-resistant and hold up well during rain and storms. The Vivint Ping Camera is for indoor use and should not be used outside. 
Can I use a smartphone to control Vivint?
With Vivint's mobile application you can control your home security and home automation devices from the convenience of your phone. Even when you're not at home, the app allows you to easily check-in on all of your devices.As far as your computer goes, you can also control home security and home automation features right from your desktop. You can control smart home devices, easily look at system status, arm and disarm security, and check live video feeds.
Can I take Vivint with me to a new home?
When you're moving to a new home, there are several options available to you through Vivint. If you want to keep your current equipment, you'll be able to take it all with you except for the starter equipment. Or, you can start a new contract and receive all new equipment at your new place.Since smart devices can be challenging to move without an involved process, Vivint replaces your starter equipment at your new home. If you'd rather avoid having to wait for new starter equipment, you can also just take everything with you during your move.
What 3rd-party products are compatible with Vivint?
Vivint products are compatible with several third-parties, including Amazon Echo, Google Home, Nest thermostats, and Philips Hue lighting products. If you plan to link your Vivint system to any of these third-party applications, check with the pros before purchasing and installing your system.When it comes to home security, you have tons of choices. It's all about finding what makes you feel safe and secure.
Related Guides

Stacy Randall
Stacy Randall is a wife, mother, and freelance writer from NOLA that has always had a love for DIY projects, home organization, and making spaces beautiful. Together with her husband, she has been spending the last several years lovingly renovating her grandparent's former home, making it their own and learning a lot about life along the way.
More by Stacy Randall
Published September 7th, 2020 4:25 PM