340 Views
How To Modernize A Split-Level Home (Here's What You Can Do)
January 10th, 2022 6:56 PM
Share
We're committed to finding, researching, and recommending the best products. We earn commissions from purchases you make using links in our articles. Learn more here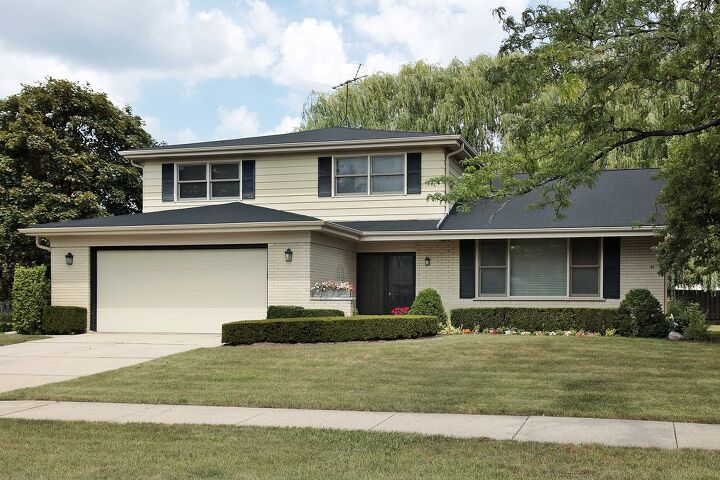 Split level homes have a bit of an outdated look to them that has fallen out of favor in the ultra-modern or ultra-rustic home landscape. But the good news is that there are plenty of methods for bringing a more modern aesthetic to your split-level home.
To modernize a split-level home you can take action and add some recessed lighting to the first floor, as well as some skylights, throughout the home. Another great idea is to replace old windows with newer ones and tearing down some of your interior walls to make space and bring in more natural light.
Do You Need an Addition or Remodel Contractor?
Get free, zero-commitment quotes from pro contractors near you.
Why Split-Level Homes are Out-of-Style
To put it simply, the split-level home is a design from the 1950s. Moreover, it presents serious challenges when it comes to renovating the entire space. The good news is that you can transform the floorplan to look like something out of this century.
Make no mistake, retro is chic but split-level homes, to many, are still out of style. But don't worry, there are ways that you can transform the space without having to tear the walls down (but you can do that if you want).
Ways to Modernize a Split-Level Home
While split level homes can be gorgeous, with their high ceilings and efficient use of space, they can also seem outdated and not reflect your unique taste in design. With that said, here are some ways that you can modernize your split-level home and make it more suited to your style preferences:
1. Add Recessed Lighting to the First Floor
While ultra-modern can mean different things to different people, it generally means getting more natural light into the home. Because of their design, split-level homes can struggle to get an ample amount of natural light.
Recessed lighting, also known as can lights, can be an excellent addition to ergonomic, modern kitchens. This is because it offers both ambient lighting and a focused illumination. Magazine pictures of "modern" homes tend to make them look almost sterile; recessed lighting offers more light without it becoming impractical.
With recessed lighting, you can even highlight the best features in each of the different rooms. The lights will stay relatively hidden and won't become a distraction, either.
2. Add Skylights Upstairs
Lighting is one of the most important features in just about any home layout. Again, split-level homes tend to struggle with natural lighting. By adding skylights into the master bedroom, it can give an entirely new dimension to the space.
Even better, adding a skylight has a ton of benefits from every aspect: economical, functional, and aesthetic. Skylights allow for natural, warm lighting to permeate the room. This not only makes it appear to be larger, but makes it more inviting as well.
Skylights are a great modern addition that can bring a split-level home into the 21st century. Even better, that natural light will light up just about every corner of the room. That can help you save on electric costs over time.
3. Replace Old Windows or Add in a New One (or a few)
Noticing a theme yet? Light can be the biggest factor in transforming a split-level home from an outdated space into one that looks fresh and modern. Windows can look simple at first glance, but they actually play a major role in the entire feel of the home.
Moreover, the proper windows can play an integral role in the energy-efficiency of your home. By replacing current windows with something that let in a lot more light and are more efficient, you can bring in more natural light to the home, making the space feel bigger, and help to cut down on energy costs over time.
To modernize a split-level home, replace the outdated windows. By even changing out those outdated windows for something modern and new, it can really change the look of the home. Conversely, you can consider adding in a window or two to really allow more natural light to permeate the space.
4. Tear Down Interior Walls
One of the major concepts of the modern home is that it has an open floor plan. Modern floor plans put an emphasis on open space to make the entire area seem bigger while also granting more freedom for the homeowner to decorate. This way, you can maximize the space by adjusting the alignment of furniture and fixtures.
Part of the reason that split-level homes feel so outdated is that they have a number of interior walls. It is the literal antithesis of the modern floorplan. Not only that, but those closed off, separated rooms can bring with it a claustrophobic feel.
Try taking out some of the interior walls wherever possible. "Wherever possible" is important because some of (or all of) those interior walls could have major structural implications on the rest of the home. If you can, taking a wall or two out is a great way to open up what is largely an enclosed space.
5. Change the Exterior of the House
The exterior of a split-level home is what's giving away its age. Updating the siding, materials used in the lower façade, or simply giving it a fresh paint job are some of the easiest ways to renovate a split-level home, but can also make a big impact. Consider these options for altering the exterior:
Update the lower façade. If the lower half of your home is outfitted with outdated tile, brick, or stucco, it may benefit from some updating. Try redoing the façade in an entirely different material, such as stone or clapboard. Or, keep the existing material and refresh it with some landscaping.
Try a new roof color. One of the most effective ways to modernize the look of a split-level home is to avoid roof colors that are too light or too close to the exterior of the home's existing exterior paint color. For a more on-trend look, always lean more towards contrasting colors.
Repaint your house. If your home is currently painted a drab, dull yellow, tan, brown, or light blue, you can try repainting the siding to be a more saturated hue.
Replace the garage doors. Your garage takes up some serious real estate on the exterior of your home and it's the first thing that your guests see. Paint your existing doors or choose some new ones that are more contemporary to change your house's entire look.
Re-side one section. By simply updating the siding on the "taller" portion of your split-level home, you can achieve a more modern look, on a budget. Try replacing the wide horizontal siding with narrow lap siding, vertical siding, or even architectural panels.
Can You Convert a Split-Level Home?
This isn't as simple as "yes" or "no". The short answer is that, yes, you can convert a split-level to open up the home and make it feel more modern. The problem is that it may not be the easiest of plans to execute.
With some proper planning and a little bit of flexibility, it is possible to transform that 1950s look into something that has a much more modern, updated feel to it. Keep in mind that the costs could be elevated from a standard renovation project because of the potential removal of walls and their load-bearing implications.
How Can You Increase the Curb Appeal in a Split-Level Home?
The outdatedness of a split-level home isn't specific to the interior. The outside of a split-level has a unique look to it and that can be enough to dispel a potential buyer from taking a visit. So, that means sprucing up the curb appeal becomes important.
Changing the aesthetic of the exterior of your split-level can come down to some very simplistic changes. Try painting the front door to something fresh with a pop of color involved. That pop of color can give the right contrast to the rest of the home to make it stand out in a positive way.
It also doesn't hurt to make sure that the gardening is tended. With some fresh mulch and flowers, it can provide that freshness that can elevate any home. When a home is cared for, it doesn't have that old, uncared for look that we think of with outdated homes.
It also helps to ensure that the drainage is properly taken care of. One of the biggest issues plaguing split-level homes is that water can pool up at the lower points of the house. With proper drainage, you can keep the yard dry and clean, making it more appealing for potential suitors.
What is the Difference Between a Split-Level and a Split Foyer?
This can be confusing to those who don't know the difference. A split foyer actually has a separate section that is on the ground level between the garage and the house. For ranches, this can extend off the main house and connect to a garage that was once completely separate from the rest of the home.
With a regular split-level, when you enter, you can either go up or down. Generally speaking, a split-level has a kitchen, a main entry, and the living room on the "main" level. The bedrooms would be upstairs, and the basement or garage would go down.
Do You Need an Addition or Remodel Contractor?
Get free, zero-commitment quotes from pro contractors near you.
What are the Advantages of Split-Level Housing?
Despite all that you've read about them being outdated, split-level houses do have some positives to them. The first is that they create a much better separation between the upstairs and the downstairs. This can come in handy for those who want to rent their extra space out for additional income to a potential roommate.
For now, they are also quite affordably priced. This is partially because they are seen as being out of date. The lower demand in most markets means that they are readily available for a cheaper price than other types of homes. For first-time homebuyers, that can mean a more realistic first-time option.
Split-level homes also provide more outside space. Since they are built vertically, that can mean that split-levels have more square footage in the yard. That allows for expansive decks to be put on or to simply enjoy the extra yard space for kids and pets.

Ryan Womeldorf
Ryan Womeldorf has more than a decade of experience writing. He loves to blog about construction, plumbing, and other home topics. Ryan also loves hockey and a lifelong Buffalo sports fan.
More by Ryan Womeldorf
Published September 13th, 2020 3:38 PM