67 Views
How To Make A Roof Ladder Hook
August 13th, 2021 12:54 AM
Share
We're committed to finding, researching, and recommending the best products. We earn commissions from purchases you make using links in our articles. Learn more here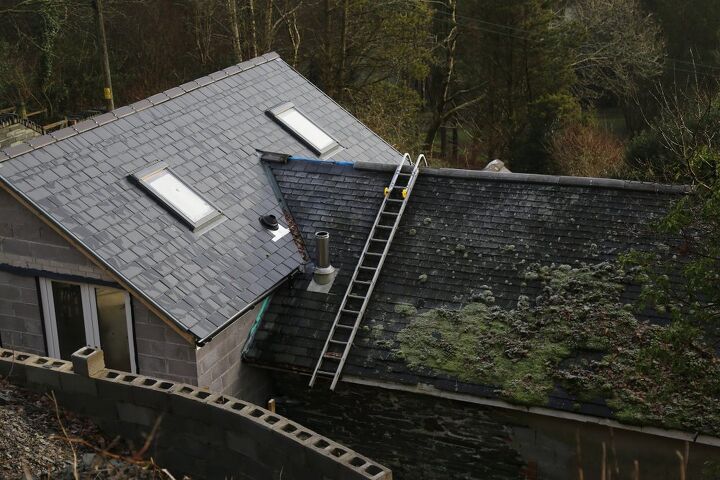 Working on a ladder is a delicate process. Yes, the ladder will allow you to get to spots high up off the ground that you wouldn't be able to otherwise. They are a useful tool that any roofer, builder, or amateur handyman should have at his or her disposal. To keep your ladder steady, it's a good idea to have a roof ladder hook. The good news is that you can make these, and it's simple.
Roof ladder hooks are particularly important. You can buy the necessary materials and shape the hooks using a torch, metal tongs, and two wooden boards joined at a 45-degree angle. Ladder hooks are beneficial to have because they add an extra level of security and safety to using your ladder to get up on the roof.
This article will take you through what you need to know in order to make your roof ladder hook. In addition, we'll talk about the safety precautions behind this project so that you can ensure your safety during your project.
Do You Need Roofing, Siding, or Gutter Installers?
Get free, zero-commitment quotes from pro contractors near you.
Safety Is Essential
When getting up on your roof for any reason, it is essential to be safe. That means having a sturdy ladder that will safely support your weight. If your current latter is rickety and worn down, consider buying a new one that will be able to meet your needs.
Ladder hooks are an excellent thing to have because it is an added safety level when climbing onto the roof. The hooks affix around the edge of the roof, providing an extra layer of stability. This can give those who don't feel comfortable high up to feel safer and more stable.
Take short, sturdy steps and try not to rush up the ladder. If it wobbles or tips to one side, you could find yourself going with it. This is the quickest way to find yourself in need of an emergency room visit.
Comparison Of Store-Bought Roof Ladder Hooks
Naturally, there are ready-made options available that you can purchase at the store. If you don't feel like going through making one yourself, you can always buy one in relatively short order. Here is a good idea of what you can expect to get from some significant hardware stores.
| | |
| --- | --- |
| Store | Cost |
| Ace Hardware | $27.99 |
| Home Depot | $44.78 |
| GME Supply | $25.00 |
| Lowe (bracket only) | $10.88 |
| eBay | $55.99 |
| Roofing Direct | $61.22 |
| Buyladder-max | $70.99 |
| Amazon | $25-$100 |
The price not only depends on the retailer that you purchase it from, but it can also depend on the quality and a few other factors. The hook's size, the material involved, and more can dictate whether you get a relatively inexpensive one or start to push closer to the $100 mark.
Creating Your Own Ladder Hooks
For this, you will need a long piece of steel, a blow torch, metal clamps or tongs, and two pieces of wood that have been brought together to make a 45-degree angle. Start with your wood; set it so that the "V" shape is upside down and pointing directly upward. This is what we will use to shape the hooks.
It would be best if you had measurements of the edge of your roof or at least a general idea of what it is. This will allow for a tighter, more secure fit when you are creating the ladder hooks. Don't worry; you don't need to be precisely precise for this to still work.
Shaping The Steel
There are a couple of different metals that you can use in this instance, but steel is preferable. Whatever you choose needs to be sturdy and solid so that it doesn't warp or bend under the tension that will be created.
Lay the steel up against one side of the wood and begin heating it up with your torch. Be very, very careful because using heat of any kind is extremely dangerous. As the steel begins to heat up, you can use the tongs to begin to shape the hook.
Again, you don't need to be precise with your hook, but it has to be able to fit around the thickness of the roof and provide a little extra wiggle room. As long as the steel is hot, you can shape it any way that you want.
Creating Handles
Having handles on the ladder hook can make it easier to get a grip on. This means being able to secure it to the roof in an easier manner. This step should be performed when the previous step has been completed and has had a chance to properly cool.
Much the same as the last step, use your torch to heat the end of the hook. From there, you can bend it to create a handle that will allow for easier use. Take as much time as you need to form your handles properly; they are yours and can fit whatever specifications that you want.
Finding The Best Ladder Hooks
Creating your ladder hooks is a relatively simple process, but it might be a little too much for some amateurs to take on. That is why it is essential to have an alternative option available. Knowing which ladder hooks you can buy can give you a better idea of what to compare to or to simply make a purchase in a pinch.
Little Giant Wing Roof Ladder Hook
Also known as Wingspan, these are meant to support ladders while you work on walls or windows. The hook not only keeps you from falling, it actually gives a safe lock to the point of connection. With highly durable steel construction, you can feel safe, comfortable, and steel while on your ladder.
Best of all, you can fix it on relatively quickly. There might not be a better option for performing outdoor work. It is also relatively light and extremely versatile, hooking onto your ladder so that you can work around windows, walls, and even bushes. It even has extra width to provide even more versatility.
The only bad thing about this hook is that it is not compatible with any type of ladder. This also may not be ideal for using it on the roof. So, if you're looking for a ladder hook that can do just about anything, this one is it.
Qualcraft Ladder Hook (With Wheel)
If you are looking for the utmost security from your ladder hook, this is the one for you. The hooks are tight while you work and are made from heavy-duty material to ensure that it will hold up to heavy wear and tear.
With the wing nuts on, the ladder not only stays stable but is also non-slip. On those rainy or snowy days, this can be particularly beneficial in keeping you safe. These hooks can also fit on both single ladders and extension ladders, making them incredibly versatile.
The adjustable wheels make it easy to position and move them, too. This ladder is excellent for its multipurpose usage, high durability, and ease of use.
Ladder-Max Stabilizer
This takes the traditional ladder hook and changes it up. With wheels attached to each end, it is a quick assembly and allows for ease of movement. The plated steel provides maximum durability, too.
What makes this a top-of-the-line ladder stabilizer is that it is easily adjustable and can sit on top of or up against the surface you are working on. That means it can get you into just about any area regardless of location.
If you don't feel comfortable making your own ladder hooks, this would make an acceptable option that gets the job done and keeps you safe and secure at even the tallest heights your ladder can reach.
---
Related Questions
Are roof ladder hooks safe?
Roof ladder hooks are not only safe, but they're also a necessity for your overall safety when working on a ladder. The new ladder hooks are strong, and they fold flat. They also include a lock that is adjustable and secures almost any ladder you have to your roof. This helps you work with weak decking, or in icy or wet surfaces, on steep pitches, chimneys, and antenna repairs.
Can I put a ladder against the gutter?
You should not lean a ladder against your gutter because it can damage your gutter. This will eventually cause clogging and other problems that you'll have to fix later on down the line. It's better to lean your ladder against the siding under your gutter, or if you need roof access, find a side that doesn't have a gutter so you can get up to the roof.
How do you secure a roof ladder?
To secure a roof ladder, you will need to get the ladder to the eaves level. Then, use the wheels so you can push the ladder onto the roof before you flip it over onto the bearers. The ridge hook should be located securely against the pitched roof on the opposite side.
Do You Need Roofing, Siding, or Gutter Installers?
Get free, zero-commitment quotes from pro contractors near you.
Wrapping It Up
Roof ladder hooks are necessary when you need to climb your roof to fix something on the pitch or the chimney. Also, they're instrumental in wet and icy conditions. While you can buy several different kinds, you can also make your own by using a torch and a long piece of steel. You want to make sure it's long enough, as well as strong enough to hold your weight. If you're not comfortable doing this, there are plenty of roof ladder hooks you can buy in stores as well.

Ryan Womeldorf
Ryan Womeldorf has more than a decade of experience writing. He loves to blog about construction, plumbing, and other home topics. Ryan also loves hockey and a lifelong Buffalo sports fan.
More by Ryan Womeldorf
Published July 27th, 2020 7:39 PM