279 Views
How To Make A DIY Pool Slide (Quickly & Easily!)
August 12th, 2022 7:17 AM
Share
We're committed to finding, researching, and recommending the best products. We earn commissions from purchases you make using links in our articles. Learn more here
Pool slides are fun for the whole family, but they are expensive unless you build one on your own. Luckily, you can build a pool slide in a few simple steps by building a platform and installing a playground slide. Whether it be the materials involved or running water to the slide, let's take a look at how you can install a DIY pool slide.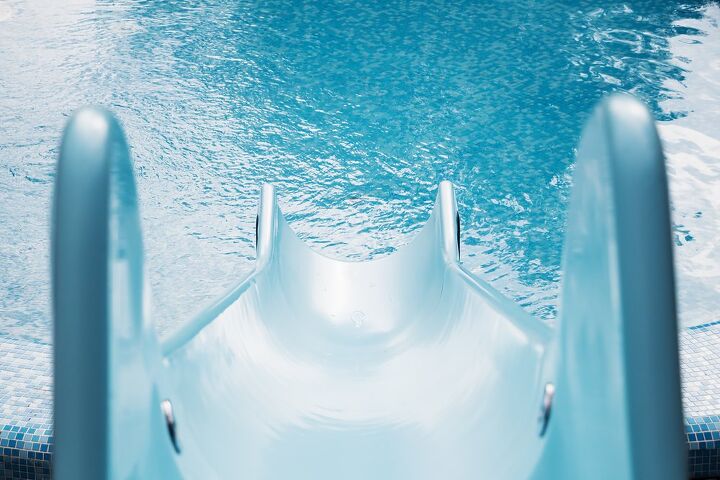 Owning a pool is already a luxurious thing in this day and age, but have you ever experienced what it's like to have a pool with a slide? It's an amazing thing indeed. Unfortunately, buying a pool slide is going to be a little difficult. We're going to show you how to cut costs and keep things safe while you make your own.
You will need to fasten a playground slide to the edge of your pool, and also create a platform where people can get up to the top of the slide. While water is not necessary for the slide to work, you can add plumbing to run water there if you so choose.
There are a lot of different ways to make a pool slide happen in your home. We're going to give you a quick run-through on how to make your own pool slide.
A Word About The Instructions
When it comes to making your own pool slide, you have to remember that each pool is going to be different and the slides that you use will also be different. So when we offer up advice, it has to be modified to suit your pool's surroundings. Additionally, it's important to remember that not all pools should have a slide. Try to have a depth of at least 10 feet for maximum safety.
Before You Begin: What You Need
Getting a DIY slide put together is one of those things that you are going to have to shop for, and that means you will need to be a little smart about shopping. To put one together, here's what you are going to need at a bare minimum:
A Playground Pool Slide. We suggest getting a regular slide that you would use for a playground or one of those smaller ones that you find made for toddler jungle gyms. When picking a slide, choose one that has holes at the top that let you secure it to a ladder. Try to keep it under four feet long, for the sake of logistics.
A Ladder. You can either use a metal ladder that has holes at the bottom for securing purposes or build your own ladder.
Bolts. You're going to need bolts, screws, and anchors to hold everything together.
A Pool Slide Spray Kit. You can get these from Amazon, if you want the slide to be wet.
How To Install Your DIY Slide: A Walkthrough
Now that you have your supply list, it's time to talk about how you're actually going to make the slide work. Below, you can find general instructions and guidelines to make your DIY water slide project easier.
Start By Planning
Where are you going to put your slide, and where will the ladder be? When picking a location, keeping these things in mind is a must:
Figure out the terrain that your slide will be on. An above-ground pool can have a pool slide that is placed on a platform made from wood or a metal ladder. An inground pool may need a metal ladder and additional supports to keep the ladder from moving around.
Remember depth. Three feet is ideal as a minimum, but many professionals prefer a depth of 10 feet.
Figure out how you are going to secure the slide to the pool area and the ladders. You will need to figure this out. Do not puncture the sides of the pool! Usually, adding weight to the bottom of the ladder or hooking the ladder over the above-ground pool helps. Ideally, you will have a way to bring the ladder firmly into the ground.
Remember that you might need to remove tiles or alter a concrete area if you have to lock a slide into the ground. Sadly, you might have to plan around that as well.
Measure, measure, measure. This is a must for any construction project. Remember, pool slides are still construction!
If you need to make a platform or a ladder, it's best to search up instructions online. There are a ton of prefabricated plans you can choose from and alter to your needs.
Installing It
Now that you have a general plan on how to secure it, you can start working on the installation. The tips below will help you out:
Start with the supports. Build the ladder if you need to, and build the platform too. If you have to add supports to the edge of the ladder, you will need to do that now, too.
Move the supports to close to the edge of the pool. Give enough space for the slide's edge to hand slightly over the edge of the pool.
Attach the slide to the support. It's often best to bolt the slide's sides to the support. If you have a slide with prefab holes, you can usually secure them there.
Double-check to make sure that the slide is properly positioned. Once you have made sure that the slide has enough overhang into the pool, you will need to move to the next step. If it's not positioned properly, move the structure and mark off the areas that the supports should be placed on.
Plant the supports in place. This may mean anchoring the ladder into place. Whether this means bolting it down, adding cement weight, or another option is up to your specific plans. In most cases, having cement weights on the bottom of the ladder will do just fine.
Test the slide with your hand to see if it needs additional support. You usually won't need it, but it's always good to get an idea. If you need supports, use wooden planks to help add stability.
Add the pool slide spray kit. This is the easiest part. If you want to add a spray kit, just follow the instructions that come with the kit.
Enjoy your new pool slide. Now is the time to splash away and enjoy the fruits of your labor.
Is Adding A Pool Slide A Safe DIY Project?
It all depends on what your skillset is like. If you have good woodworking skills and are able to plan out a water slide well, there's no reason why you should worry about this. It's only when people tend to get lazy with planning or don't pay attention to the supplies they need that having a DIY pool slide could become an issue.
Like with all other DIY pool projects, it's important to remember that adding a pool slide is something you need to think about safety-wise. If you have children who are prone to accidents or small toddlers, it might not be safe quite yet.
Is There An Easier Way To Get A Pool Slide?
Yep. The easiest way to make it happen is to get a pool slide kit from Amazon or the hardware store of your choice. These kits tend to come with full instructions as well as all the knickknacks to make it secure. Believe it or not, some of the pool slide kits on the market are actually as expensive as making it on your own.
If you want to go with a surefire structure, then getting a kit is a better option. With that said, we totally understand why someone might want to get their hands on a DIY project. This is one of the better ways to spend time out in the sun during the spring.
---
Related Questions
How do you clean a pool slide?
Believe it or not, pool slides are easy to clean. It's best to wipe down the slide (on the top and bottom) using a cleaning wipe. Most cleaning wipes are totally safe with pool slides, since plastic doesn't corrode like metal does. If you just need to give your slide a quick clean, use a hose to rinse it down.To get rid of mold, make sure to wipe down the slide with white distilled vinegar or another antifungal substance. Vinegar kills mold while keeping things safe.
What are waterslides usually made from?
Waterslides are typically made of ultra-durable PVC or plastic. In the case of slip n' slides (the ones that are rolled out and laid flat), the material is often nylon on vinyl. The bottom line? Most slides are made of strong, durable, synthetic materials that won't break. You have nothing to worry about there.One thing that you need to be aware of is that water slides that are attached to pools are no longer meant to be made from metal. Metal is often seen as an unsafe material due to corrosion and the risk of getting tetanus.
Are pool slides dangerous?
There is an extremely high risk of slipping and falling when using a pool slide, which is why this pool toy is starting to fall by the wayside. If you want to reduce risk, make sure that your pool slide has proper traction grips and adequate railing. When using the slide, make sure to watch for people below and don't allow kids who can't swim to slide.
Related Guides

Ossiana Tepfenhart
Ossiana Tepfenhart is an expert writer, focusing on interior design and general home tips. Writing is her life, and it's what she does best. Her interests include art and real estate investments.
More by Ossiana Tepfenhart
Published March 29th, 2021 2:55 PM