330 Views
How To Install A DeWalt Trimmer Line (Step-by-Step Guide)
August 14th, 2021 10:39 PM
Share
We're committed to finding, researching, and recommending the best products. We earn commissions from purchases you make using links in our articles. Learn more here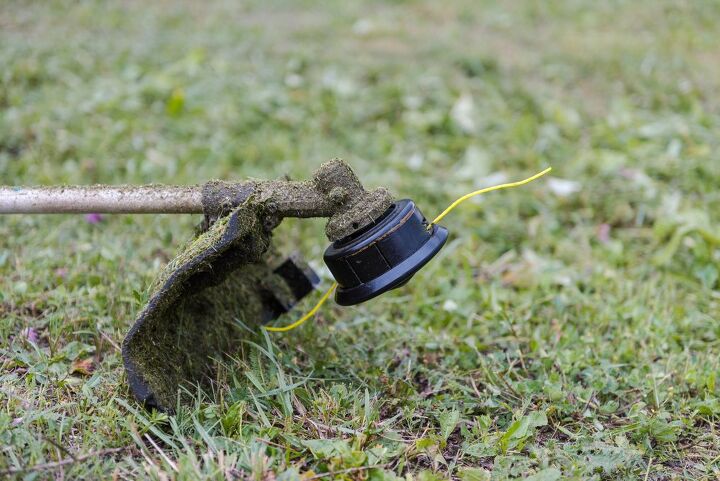 When you picked out a DeWalt trimmer, you never thought that the trimmer line would become so tatty and dull. Yet, here you are. You know that you're going to need to replace the old trimmer line if you want to be able to use your trimmer for a longer period of time. The question is, how do you do it?
Before you try to remove the old trimmer line, remove the battery in the trimmer. Then, unlock the spool cap and remove the old trimmer line. Get your new trimmer line, cut it to a 20-foot length, and insert it into the trimmer head. Wind it gently. Then, do the same on the other side. Reattach your trimmer cap once everything feels tight.
Of course, there are a couple more steps that you need to be aware of if you want to install your trimmer line properly. If you want to make sure your line trimmer is safe to use after you tinker with it, you need to get the full scoop on how to work a newer trimmer line installation. This guide is here to help.
Do You Need Lawn and Tree Maintenace Pros?
Get free, zero-commitment quotes from pro contractors near you.
Installing Your DeWalt Trimmer Line
The big issue with trying to put together universal instructions for a trimmer line install is that there are a bunch of different trimmer models under the DeWalt umbrella. This means that you need to refer to your owner's manual to double-check any instructions brought here and also "fill in" any details that are specific to your model. With that said, here's what you'll need to do for a QuickLoad trimmer:
Before anything begins, make sure that the battery is dead and removed. You should never try to install a new trimmer line if it has a live battery or if there is any chance of it going live mid-repair. This could cause serious injury to you and also destroy the trimmer head. Run your trimmer until it peters out of gas, remove the battery, and unplug anything else that could light it up.
Start to remove the trimmer head by searching for the indicator knob. The indicator knob is white in color. When you find it, turn it clockwise and push it down. Your indicator knob should be away from the spool window. If you're having a hard time with the knob, try to spin the trimmer head from right to left. The idea here is that you want to unlock your indicator knob.
Pull your trimmer head out. This is also sometimes called the spool cap. Though some DeWalt trimmers won't require you to pull this out, most will. Check your owner's manual to make sure you need to pull it out before you do. Otherwise, you may permanently damage your trimmer.
Remove your old trimmer line and clean the spool cap. Many trimmers end up getting clogged as a result of all the grass inside. Clean all the gunk out before you reach the next step.
Check the head. You want to make sure that the holes in the head all line up in a straight row. If they do, proceed to the next step. Check the marks that indicate the winding direction of your trimmer head, since this will come in handy later.
Trim your line. If your line doesn't come pre-cut, you will need to cut about 20 feet for your trimmer in total.
Insert your trimmer line into the jam hole. Once it's inserted, start winding your trimmer head according to the indicator arrow on the side of the head. Keep winding until it's completely installed. You should have 2 to 3 inches of trimmer line stuck outside of the head.
If you have a dual-feed trimmer line, repeat the process on the other end of your trimmer. If you have a traditional trimmer, using a flat head screwdriver can help the winding process become easier. It's normal to have your trimmer's dual lines face opposite directions, by the way.
Once you have feeding lines on each side (if your model calls for it) push your spool cap down on the trimmer. You should hear the white indicator knob click into a locking position. If it doesn't automatically click into a locking position on its own, tweak the knob until you hear the click and feel it locked down.
A Note About Removing Your Trimmer Head On A Gas Model
If you have a gas-powered trimmer, then you need to take extra care when you are working on your trimmer. Gas models get their energy from a spark plug that helps ignite the motor. To make sure that you don't have a sudden mishap with your trimmer during your installation, remove the spark plug before you do anything else.
You Can Also Replace Your Trimmer Head And Line Together
If you don't want to stick to installing your trimmer line due to all the winding and tedium, you can also just replace your trimmer head and line as a single unit. Plenty of stores on Amazon offer trimmer head and new preinstalled lines together, and they can be used to "snap in" a faster, easier way. It's just a little more expensive.
Believe it or not, this is an easy way to upgrade your string trimmer. To make sure that your trimmer runs even better, find an upgraded trimmer head and connect it to your trimmer machine. Since your trimmer head will also come with strings preloaded into it, you get all the newness of brand new strings without having to wind it up.
Why You Need To Take Care When Moving The Trimmer Head
When you're installing a new trimmer line on your trimmer, you're going to be working primarily with the head of the trimmer. Most models will ask you to remove the spool cap/trimmer head in order to wind your line into it. This is great and all, but we want to point out that you need to do this with great care.
If you remove the trimmer head in the wrong way, you can damage both the head and the rest of your lawn trimmer. This can render your trimmer entirely useless. To make sure that you remove it the right way, follow these tips below:
Check the owner's manual online. Model-specific instructions are going to trump what you read here. If you want to make sure that you're doing things correctly, take a look at videos for your specific DeWalt model. There are tons of them on YouTube and there's bound to be at least one that is good for you.
Pull upwards, not side to side. When you're removing the spool cap, make sure to pull it directly upwards. This prevents you from jerking the cap around and potentially harming the electrical components inside. If you're having a hard time, twist the cap gently to loosen it up.
Listen to the trimmer's indicators. Does your trimmer head feel like it's stuck there, even when you've jiggled it around a bunch? Don't try to force a trimmer head off if it doesn't want to come off. You might break the trimmer by doing so.
Don't be afraid to call the DeWalt helpline if you need assistance. Did you know that DeWalt has a crazy good customer service team? It's true, and they can help guide you through the threading process if you need it. You can go on DeWalt's site to find out which number is right for your area.
Do You Need Lawn and Tree Maintenace Pros?
Get free, zero-commitment quotes from pro contractors near you.
---
Related Questions
What is the tip speed on a DeWalt string trimmer?
If you're seeking a high-speed string trimmer, you're in luck. The average tip speed on a DeWalt trimmer varies between 16,000 – 21,000 rotations. This makes it one of the fastest and most effective trimmers in the lawn care world. To get full details about your specific model's tip speed, it's best to read the specs included on the packaging or sales website.
How long does a DeWalt grass trimmer run for?
While DeWalt makes excellent grass trimmers, the cordless and gas-powered versions do have a little bit of an issue with runtime. The typical runtime for a DeWalt cordless trimmer is only 26 minutes to slightly over half an hour. Other conditions can also impact runtime, including humidity, temperature levels, the type of grass being cut, and more.If you are looking to use a gas-powered or battery-operated trimmer, make sure that you have enough time to refuel your trimmer. Many, if not most, yards will require more than a single runtime to completely care for them.
Why is my string trimmer smoking?
While you're working on your lawn,  you might have noticed your string trimmer smoking. The white or greyish smoke you're seeing is a sign that the motor is being overworked or is a sign of overheating due to low lubrication. Sometimes, it can also indicate too much ethanol in your fuel. Take a break, lube your trimmer, and check to see if it happens again.

Ossiana Tepfenhart
Ossiana Tepfenhart is an expert writer, focusing on interior design and general home tips. Writing is her life, and it's what she does best. Her interests include art and real estate investments.
More by Ossiana Tepfenhart
Published October 10th, 2020 7:09 PM