85 Views
How Do I Fix Steep Stairs With Little Headroom?
November 18th, 2021 11:14 AM
Share
We're committed to finding, researching, and recommending the best products. We earn commissions from purchases you make using links in our articles. Learn more here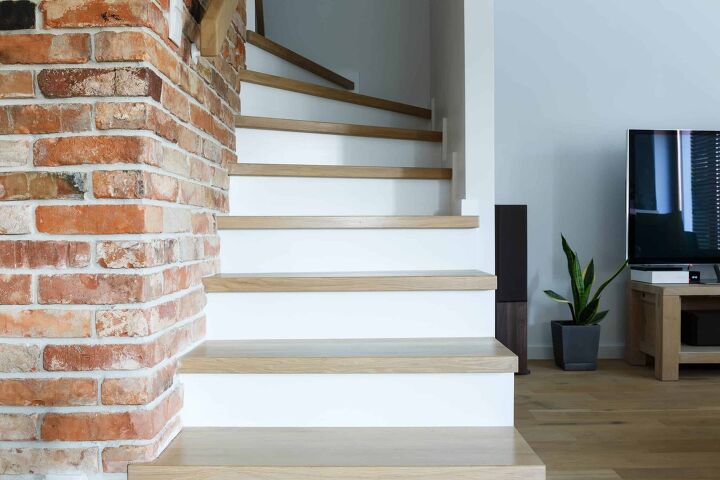 Old houses have so much character; it's no wonder why people choose to buy them. One of those odd quirks that you won't find in a new home is a steep staircase. New homes have to follow Residential Building Codes, while older homes often get a pass.
To fix steep stairs with little headroom you can lengthen your staircase by removing a section of the floor from the top landing. If lengthening is not an option, you can also use winder stairs with pie-shaped or triangular steps at the transition. A winder staircase takes up about 60 square feet less room than a traditional staircase.
Steep staircases may be a unique feature in your home, but they can be dangerous, too. Shallow treads create tripping hazards, and steep rises become inaccessible for many people.
There are many different staircase designs you can choose from depending on the available space. Before we get there, here is a quick primer on the International Residential Code (IRC).
Do You Need a Wood Stairs and Railing Contractor?
Get free, zero-commitment quotes from pro contractors near you.
Residential Building Codes and Staircase Lingo
The Rise: Stair Riser Height
Building codes dictate that each step rise no more than 7-3/4" not including any carpet or runner. The minimum height here is 4", which would be considered very shallow.
The Run: Stair Tread Depth
The run is the depth of each step, which on average should be 11". They are allowed to be 10" by building code. However, in this case, you would need to include 1" nosing (aka the overhang).
The 7-11 Rule
Many architects rely on the 7-11 rule to create the most comfortable staircase. This means a 7"-rise and an 11" run for each step.
Here is a chart showing the total length of a straight staircase, with standard 8' or 9' floors. Each has a standard 11" run.
| | | | |
| --- | --- | --- | --- |
| | Total height | "Perfect" Stairs (7″) | Max Rise (7-3/4″) |
| 8′ floor with 2×8 joist system | 105-1/8″ | 14 stairs at 12' 10" | 13 stairs at 11' 11" |
| 8′ floor with 2×10 joist system | 107-1/8″ | 14 stairs at 12' 10" | 13 stairs 11' 11" |
| 8′ floor with 2×12 joist system | 109-1/8″ | 15 stairs at 13' 9" | 13 stairs 11' 11" |
| 9′ floor with 2×8 joist system | 117-1/8″ | 16 stairs at 14' 8" | 14 stairs at 12' 10" |
| 9′ floor with 2×10 joist system | 119-1/8″ | 16 stairs at 14' 8" | 14 stairs at 12' 10" |
| 9′ floor with 2×12 joist system | 121-1/8″ | 16 stairs at 14' 8" | 15 stairs at 13' 9" |
Width of Staircases
Building codes require staircases to be a minimum of 36", not including handrails. With each handrail able to extend 4.5", the minimum amount of clear staircase is 27".
Handrail Placement
Staircase Headroom
The headroom of a staircase is measured from the edge of the tread to the ceiling directly vertical. This height cannot be shorter than 6'8" at any point. You can see how low headroom makes a straight staircase unfeasible.
Alternative Staircase Designs
There are a number of alternates to straight staircases. Here are some important questions to keep in mind as you consider your options:
Is this my primary access to the space?
Will I need to carry large things, like furniture?
Do my stairs need to be safe for children?
Do my stairs need to be accessible to pets?
U-shaped Staircase
Putting a "switchback" in your staircase is a great way to decrease the linear footprint. These stairs turn 180 degrees and include a landing platform at the halfway point.
Disadvantage of U-shaped Stairs
The trade-off, of course, is the width. U-shaped staircases will be at a minimum of 6' wide, due to code guidelines. If you have low headroom and a minimal width, this option won't work.
L-shaped Staircase
An L-shaped staircase is a great option if the staircase is going in the corner of a room. The two sections are split by a small platform before turning 90 degrees.
Disadvantage of L-shaped Stairs
If your stairs are not in the corner of the room, the L will protrude far into your space.
Winder Staircase
A winder staircase is similar to an L in that it turns 90 degrees. However, replacing the L's platform with additional treads is space-efficient. Using pie-shaped or triangular stairs keeps this design closer to the wall.
Code on Winder Stair Treads
There are a couple of additional guidelines for winder stairs. First, the treads have to be a minimum of 6" at the narrowest point. This restricts how many stairs you can fit into a turn.
Code on Winder Stair Handrails
Winder staircases are more difficult to use than L-shaped where you turn on a platform. For this reason, code requires you to install your handrail on the outside of the turn. This will make it easier for people to stay on the widest part of the stairs.
Alternating Tread Staircase
These funky looking designs save tons of floor space by fitting two risers into one run. The design is very compact and can add a unique flair to any space.
Disadvantage of Alternating Tread Stairs
Because the width of each tread is half what it should be, they can be difficult to use. People who navigate stairs one at a time will have trouble using these stairs.
What about a Spiral Staircase?
Spiral staircases are very compact, since all treads radiate from a central pole. They are a popular choice for small loft apartments and other spaces with limited floor space.
Building Codes for Spiral Staircases
Spiral staircases are more difficult to navigate, due to their curved treads. For this reason, code prohibits them as the primary access to a full second floor of a home. However, you can use them for loft spaces, basement access, and outdoor patios.
Spiral Staircases Are a One-Way Street
Keep in mind that you can only fit one person on the stairs at a time. For a large family, this may become inconvenient.
Carrying Things on Spiral Staircases
Because of their narrow design, it is impossible to carry large objects up these stairs. Moving furniture in or out of the space is impossible.
Can't I Just Use a Ladder?
Ladders take up so little of your valuable floor space. Unfortunately, there are a few real disadvantages to consider.
Ladders Cannot Be Primary Access
Just like spiral staircases, ladders cannot be the primary means of access. Imagine having to descend one in the case of an emergency!
Think of Your Furry Friends
Ladders are not as accessible as stairs and can be dangerous for older folks and children. Plus, you won't be able to train your dog to climb a ladder!
---
Related Questions
How do I make my staircase less slippery?
Slippery stairs can be a tripping hazard, especially for kids and pets. Anti-slip adhesive stair treads are easy to install and, on average, $30-$80. Carpet treads or runners are attractive décor that protect the hardwood underneath.
What color should I paint my stair risers?
White risers with dark-stained treads provide a beautiful modern aesthetic for your new staircase. White helps brighten dark spaces and can make your staircase look more spacious.
Do You Need a Wood Stairs and Railing Contractor?
Get free, zero-commitment quotes from pro contractors near you.
Our Final Take
When renovating your staircase to be up-to-code, there is a lot to consider. Little headroom makes long staircases impossible, and residential codes prohibit the most compact solutions, spiral staircases and ladders.
Designing your staircase to turn 90 degrees will decrease the overall length. L-shaped and winder stairs maintain important safety standards that spiral staircases lack.
For the most compact and safe design, use pie-shaped steps in a winder staircase. This will allow you to bring steep steps down to code without sacrificing headroom.

Upgraded Home Team
We are a team of passionate homeowners, home improvement pros, and DIY enthusiasts who enjoy sharing home improvement, housekeeping, decorating, and more with other homeowners! Whether you're looking for a step-by-step guide on fixing an appliance or the cost of installing a fence, we've here to help.
More by Upgraded Home Team
Published August 30th, 2020 9:16 AM