141 Views
How To Connect A Roomba To Alexa (Quickly & Easily!)
October 28th, 2022 2:26 PM
Share
We're committed to finding, researching, and recommending the best products. We earn commissions from purchases you make using links in our articles. Learn more here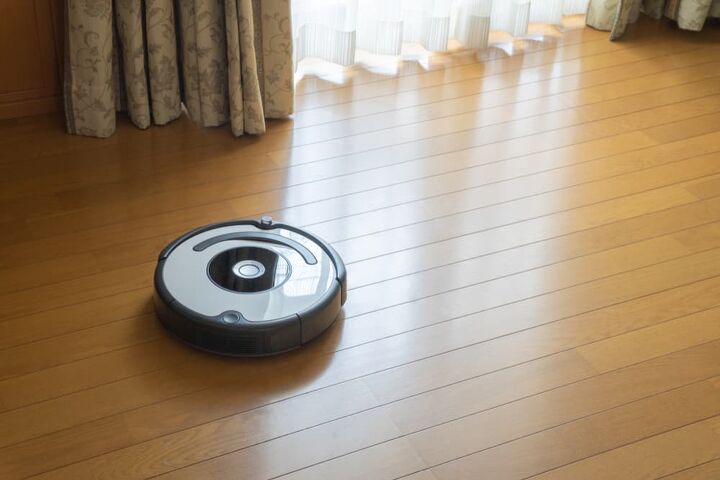 Having a smart vacuum like a Roomba is a wonderful thing, especially if you are short on time and long on money. Roombas are great, of course, even if you don't have a smart home. Having that little machine buzz around and clean your home on its own can save you tons of time. To make it more efficient, you might want to connect it to your Alexa hub. But, how do you do that?
To connect your Roomba to Alexa, you will need to do the following:
Download the iRobot app, open it, and tap the Settings icon right on the left of the screen. 
Go to "Smart Home" then select "Works with Alexa."
Hit "Link Account," which transports you to the Alexa app. 
Next, hit the "Link" button on Alexa and wait. It will do the linking for you.
Enjoy the newly linked accounts.
While linking many smart home devices can be a chore, iRobot and Amazon's Alexa make it easy to work with their programming. This guide will help you learn how to link your accounts and work with your Roomba to its fullest potential.
How Do You Manually Link Your Roomba To Alexa?
Most of the time, your Roomba should be able to automatically link to Alexa without having to be manually entered. As long as the Roomba is fairly close to the Alexa hub, it should be able to pick things up. However, there are always exceptions to the rule. Here's how to handle this:
Go to Alexa's app and go to Devices.
Connect your Roomba to a wi-fi system. (Make sure that it's a 2.4 Gigahertz wi-fi connection, as that's the only one that Roombas can use.)
Add the Roomba skill for Alexa.
Go to the iRobot app.
Use the iRobot app to link the Roomba. This can take a second.
If no Roomba is detected, try a manual search option in the app next.
Link the Roomba to your Alexa app.
Important Note: All of these commands also work with Braava, the mop equivalent of a Roomba that's also made from iRobot.
Do You Need To Have Alexa Detect Your Roombas Individually?
Alexa is remarkably good at making things efficient. When you link one of your Roombas to Alexa, you link your entire fleet. This cuts down on the amount of time that needs to be spent on linking devices.
How Do You Prepare A Roomba For Linking?
In order to make sure that your Roomba will be able to be linked to your Alexa app, you need to make sure that the conditions are right for everything to work out. This includes doing the following for your Roomba.
First, download the iRobot app and make an account with the company.
Log into your app.
Place your Roomba on its charger.
Grab the charger and place it near your Alexa hub, and plug in the charger.
Connect your Roomba to a 2.4-GHz wi-fi network.
Is The iRobot App Available On Android And iOS?
Yep! The makers at iRobot make a point of engineering stuff to make it as accessible as possible for all people involved. This means that you can find it on the App Marketplace for iPhones and iPads. It also means that Android users can find the app on Google Play. Both apps have the exact same layout, so these instructions work with both platforms.
While iRobot does make an effort to make their Alexa accessibility workable, it's important to remember that you still have to have a smartphone in order to connect your Roomba to your Alexa app.
Can You Connect Roombas To Google Home?
Of course! The iRobot company is pretty awesome when it comes to creating tools that are easy to access. That's what it says in every Roomba review, right? It's worth noting that you cannot install Roombas on Alexa and Google Home at the same time. So you will need to choose one hub or the other.
How To Connect A Roomba To Google Home
If you have a Google Home instead of an Echo, then you can still work your Roomba magic with it. You just need to make sure that it is connected. Here's how to make it happen:
Start by placing your Roomba on its charger, and putting the charger near your Google Home device.
Connect your Roomba to the wi-fi.
Get an account on iRobot and download the app. Login.
Head to the Google Home App.
Click "Add Device."
Tap "Have Something Already Set Up?" and find "iRobot." Click it.
This will send you to iRobot, which will ask you if you want to link the accounts.
It'll send you back to Google Home, where you will have to confirm that you want the accounts linked.
Commands To Use With A Smart Home Roomba
Now that you have everything set up, it's time to get to the fun part. (And maybe tape your cat riding on said Roomba for a YouTube success.) Smart home commands for using a Roomba are pretty easy to learn. To start using your Roomba, use some of the commands below:
"Alexa, tell Roomba to vacuum my living room."
"Ok Google, ask Roomba to pause vacuuming."
"Alexa, ask Braava to start mopping."
"Alexa, ask Roomba to schedule a vacuuming at (day) and (time). "
"Ok Google, clean my living room."
With some routines, you might have to program the full routine in the iRobot app. This can include cleaning specific rooms, avoiding certain areas, and more. Learning how to program routines for your Roomba (or Braava) is an entire tutorial in and of itself. So while that is something you should learn, that's going to be another option.
Can You Command Your Roomba From Your Car?
Here's a cool thing about the way that tech works: it's always improving. In recent years, certain car models started to get upgrades that make it possible to access your Amazon Alexa or Google Home while you're on the road. To do this, you will need to do the following:
Check to see if your car comes with Alexa or Google compatibility. Some of the more popular brands that have started to include Amazon Alexa include MINI, Ford, Genesis, and Infiniti. You can find out whether or not your specific car model has it by looking at the stats online or checking the owner's manual.
If not, you will need to have a sound system that has Echo Auto included in it. This is best done by a professional installer. The sound systems that come with this capability will have it written on the stats on the package.
Link your Echo Auto with your phone. You can do this by using your phone as the Bluetooth link, and by following the instructions that you can find with your sound system or car.
Once your Echo is set up, give it a quick test. Turn on your car and make sure your Alexa is connected. Ask Alexa to vacuum your carpet using the Roomba. Go back into the house and see if the vacuum is running. If it is, then you're ready to use your Roomba on the road.
---
Related Questions
Is there a fee to use Amazon Alexa?
The good thing about having Amazon Alexa in your home is that it's an affordable luxury. The only fee that you need to pay is for the device that lets you access Alexa—like an Echo Dot or an Echo Auto. There's no monthly fee that you ever have to worry about in order to use your smart home device.With that said, you will have to pay a monthly fee if you want to use other services associated with Amazon Alexa, such as accessing all of the music from Amazon Music. (Most songs are available without a subscription.) Whether or not you choose to use this service is completely up to you, and has to be ordered specifically.
Do you need to get Amazon Prime to use an Alexa device?
No, you do not. Amazon Alexa is a smart home system that is made with the idea of making tech more accessible to the world. If you do not have Amazon Prime, then you can still own and use an Alexa Hub. With that said, many people find that having an Amazon Prime account is a good choice if you want to have a smart home featuring Alexa.Prime often comes with a lot of perks that Alexa users enjoy. This includes having benefits like discounts on Prime Day (low-cost Amazon devices!), having free shipping on many goods, and more.
Can you add a different voice to Amazon Alexa?
Yes! Amazon has multiple accents for Alexa, including British, American, and more regional matters. Recently, Amazon also released a series of celebrity voices for the Alexa app as well. So if you've ever wondered what it sounds like to have Samuel L. Jackson answer questions for you, it's now something that you can find out first hand.

Ossiana Tepfenhart
Ossiana Tepfenhart is an expert writer, focusing on interior design and general home tips. Writing is her life, and it's what she does best. Her interests include art and real estate investments.
More by Ossiana Tepfenhart
Published January 1st, 2021 6:00 PM