339 Views
How To A Vacuum Intex Pool Without Skimmer (Step-by-Step Guide)
August 18th, 2022 12:10 AM
Share
We're committed to finding, researching, and recommending the best products. We earn commissions from purchases you make using links in our articles. Learn more here
Intex pools are generally easy to keep clean, but it can prove tricky when you don't have a skimmer. The easiest way to clean your Intex pool without a skimmer is with a manual vacuum system. Whether it be a vacuum or a rake, let's take a look at how you can easily clean an Intex pool without a vacuum.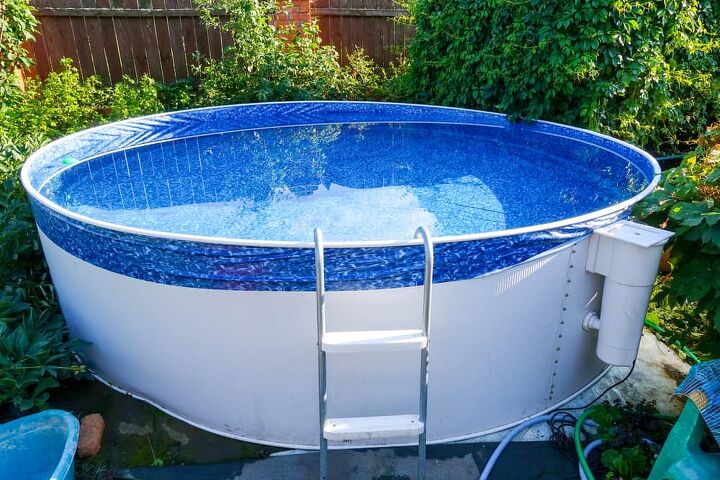 A swimming pool is one of the most common items in a home owner's wishlist. Thanks to Intex's assortment of above ground pools, having a backyard pool is more affordable and convenient. To make the most out of your Intex above ground pool, it needs to be cleaned and maintained.
For cleaning pools, a very important tool that you can use is a skimmer. It works in a similar function as a handheld leaf skimmer to keep leaves and debris from entering the pool filter. But what if you have no skimmer?
Prime the vacuum by removing excess air from the vacuum line. Connect the vacuum line to the pump and turn it on. Guide the vacuum head along the bottom of your Intex pool to clean it without a skimmer.
Keep reading for a more detailed guide on how to vacuum an Intex pool without a skimmer.
Do You a Need Pool, Spa, or Hot Tub Contractor?
Get free, zero-commitment quotes from pro contractors near you.
What Does a Pool Skimmer Do Anyway?
Even if you don't have a skimmer, knowing how it functions will help you better understand the steps outlined ahead.
There are two types of pool skimmers that relate to the same area. One type is a net that you attach to the end of a telescoping shaft to fish out leaves and debris out of your pool. The other type is a more complex mechanism that's built-in into an inground pool or mounted to an above ground pool.
Above ground pool skimmers are mounted on the poolside with either a plastic attachment or a vacuum-mounted floating model. Pool skimmers are the starting point of a pool's circulation system and serve as filter gates.
As the water passes through the skimmer, larger debris is blocked from going all the way to the filter or pump. The skimmer keeps the pump and filter in good working condition by clearing large debris that can cause major problems. Without a skimmer, chemicals and debris won't be properly removed from the pool.
Methods to Vacuum Intex Pool Without Skimmer
Even if you don't have a skimmer, it's not the end of the world. You can still reliably clean your Intex pool provided that you have the right tools below.
Things You'll Need
Pool vacuum head – Most vacuum heads that you find in the market are universal fit meaning they should fit all cleaning pools. Also, buy a weighted head so it floats on water.
Telescoping shaft or pole – These poles are designed to connect to nets, hooks, and pool skimmers. Make sure that the pole is long enough to reach the bottom of your pool.
Pool vacuum hose – These hoses are also universally compatible with most pool vacuums. Again, ensure that the hose has enough length to reach the pool floor.
Skim vacuum plate – Pick up this item if you have a pool skimmer basket instead of a strainer. This is handy because it eliminates the need to turn the pool pump on and off.
How to Vacuum Your Intex Pool Manually
Follow the steps below to vacuum your above ground pool without a skimmer.
Step 1: Prime the Vacuum
Why is vacuum priming necessary? Before vacuums can operate, they must be filled with liquid first. Priming is basically the process of removing air from the vacuum line. Air spaces in the vacuum line will result in less suction power.
Follow the instructions below to prime your vacuum.
Connect the vacuum head with the telescoping shaft and submerge it into the pool.
Press the free end of the connection against a jet to eliminate all the air spaces.
You're doing it right if you see air bubbles come up.
Step 2: Connect to the Pump
Your pool vacuum system operates by connecting it to the skimmer inlet that's powered by the pool's suction system. Since your pool doesn't have a skimmer, you're free to use the inlet by connecting the vacuum. You can save plenty of time by not removing the skimmer.
To connect to the pump, simply connect the open end of the vacuum hose into the skimmer inlet. For good measure, check if the other end is attached to the vacuum head.
Step 3: Vacuum Your Swimming Pool
At this point, you can start vacuuming your Intex above ground pool. Get a thorough clean by guiding the vacuum head along the surface of the pool. Make several passes as needed.
If you start losing suction power while vacuuming, you can repeat the first two steps to regain vacuum power.
Step 4: Clean the Equipment
Most people overlook this step but it can accelerate the deterioration of your equipment. Once you're done cleaning your Intex pool, it's highly recommended that you clean all your equipment. Simply detach the hose from the skimmer inlet and wash the hose and head with tap water.
The chemicals present in pool water can decrease your equipment's life. Therefore, you should clean them thoroughly after use and keep them in a covered storage space.
Alternative Ways to Clean Your Intex Pool
Use an Automatic Vacuum
Automatic vacuums are a great hands-free option for cleaning Intex pools without hiring a cleaning service. There are three types of automatic vacuum:
Pressure-side vacuum
Suction-side vacuum
Robotic vacuum
Suction-side vacuums work as a dedicated suction line that connects to the skimmer. They use the pump's suction to move the cleaner around the pool to get rid of dirt and debris. A leaf canister may be added for particularly heavy debris load.
Pressure-side vacuums utilize the existing pressure side water flow for moving the cleaner. The water that's cycled back into the pool serves as the vacuum's fuel. This type doesn't use the pool's filtration system but instead, it uses a filtration bag.
Robotic vacuums are like the bulkier, aquatic cousins of the Roomba. Unlike the first two types above, robotic vacuums don't hook up to your existing pool equipment. In fact, many of them support "plug and play" operation. They offer higher efficiency and reduced power consumption but with a higher upfront cost.
Use Manual Tools to Clean Without Vacuum
If you don't have a vacuum, you can use standard tools to clean your Intex pool. For instance, you may use a plastic rake to remove large debris and leaves. However, make sure that you use plastic rakes only to avoid scratches on your pool.
For removing sand and algae, you can use a brush. However, only use clean brushes because otherwise, you'll just add more debris to your pool.
Do You a Need Pool, Spa, or Hot Tub Contractor?
Get free, zero-commitment quotes from pro contractors near you.
---
Related Questions
How Do I Prevent Algae in My Intex Pool?
Algae are microscopic plants that grow in water. They're usually green in color but they can appear in different colors as well. Chlorine by itself can kill algae.
However, there are cases when chlorine levels drop too low or the water has a high level of stabilizers. When this happens, the pool water can't kill the algae. Always make sure that there's enough chlorine in the pool and add a dose of algaecide once a week.
Why Is My Pool Water Cloudy?
There are many causes of cloudy, smoky or hazy pool water. Perhaps the most common reason is pool filtration or circulation. Therefore, always backwash and clean the pool's filtration system. Check the filter because it may need to be chemically washed.
Another potential cause of cloudy pool water is improper water balance. Test the water's pH degree, calcium hardness, alkalinity levels, and make the proper adjustments.
Which Type of Above Ground Pool Should I Buy?
This is a very difficult question to answer because everyone's needs and preferences are different. However, there are some key factors to consider when shopping for an above ground pool.
What size and shape of the pool that best fits your backyard and family? Which pattern and design fit your landscaping and community better? Does the manufacturer offer a warranty?
Typically, you want a pool that compliments your home and backyard. If it's meant to be a focus piece, make sure it has a design that fits the personality of your family.
Related Guides

Upgraded Home Team
We are a team of passionate homeowners, home improvement pros, and DIY enthusiasts who enjoy sharing home improvement, housekeeping, decorating, and more with other homeowners! Whether you're looking for a step-by-step guide on fixing an appliance or the cost of installing a fence, we've here to help.
More by Upgraded Home Team
Published November 9th, 2020 8:40 PM