159 Views
How Much Weight Can You Put On Top Of A Refrigerator?
November 29th, 2021 5:42 PM
Share
We're committed to finding, researching, and recommending the best products. We earn commissions from purchases you make using links in our articles. Learn more here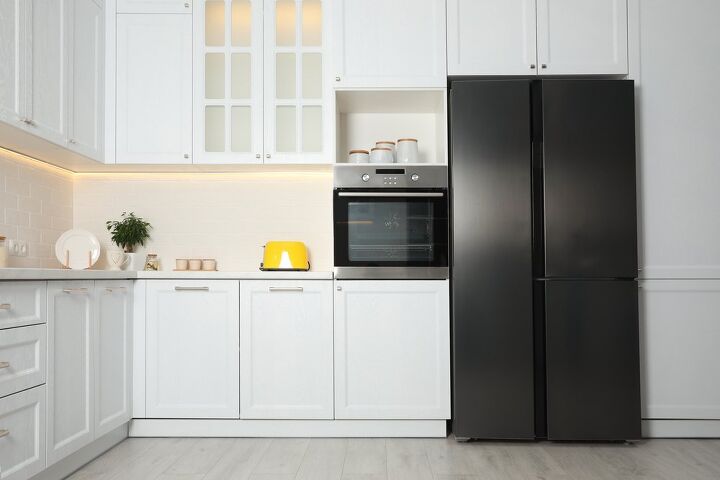 The refrigerator is a useful appliance, and it's been helping home and business owners since 1834. Refrigerators are usually found in kitchens, and they come in numerous shapes and configurations. While the inner workings of the refrigerator are most important, the refrigerator's exterior should not be overlooked.
After all, if your refrigerator isn't located in an ideal spot, it won't work well. Moreover, if there's stuff on top of it, it may not be able to work as it should. This article focuses on this latter point, as many homeowners don't know about it.
Most refrigerators can hold about 60 pounds (25 kg) of extra weight on top, which means most refrigerators can hold microwaves and other small appliances. One could also use the space to stack small items, provided the above weight limit is not exceeded. But it's best to keep the space above the fridge empty, as doing so will help the refrigerator work well.
Consult Your Refrigerator's Manual First
While keeping the space above a refrigerator clear is widely accepted practice, you should still consult your refrigerator's manual to see if there's any mention of the space above the refrigerator.
If storing items above the fridge is in fact permissible for your appliance, then it's likely the manual will give a weight limit. The manual may also provide a layout, indicating where items should not be placed.
Why It's Good to Keep the Space Above the Refrigerator Clear
While a refrigerator certainly has the mass and strength to support the weight of small and even midsize items, there are several reasons why it's best to keep the space above the refrigerator clear.
Heat Needs to Be Able to Escape
Most refrigerators include vents at the top, and these are there so the heat that's generated by the machine can escape. Therefore, if there are items blocking these vents, then a backup may occur, and such can lead to a variety of negative consequences.
This is why some refrigerator manuals show how items should be placed, as proper placement will ensure you don't cover the vents. This way, you can utilize the open space without it compromising the system.
When heat is not able to escape from the system as it's supposed to, such causes the refrigerator compressor to work harder . And when the refrigerator is prevented from working as it should, you'll notice an increase in your energy bill; the system may also make strange noises and seem like it's always working at max capacity.
If the compressor blows out, then your refrigerator won't be able to generate cool air, and an absence of cool air will cause the food inside to spoil quickly. If your system's vents are hard to locate, it's best to be safe rather than sorry and avoid putting items on the top of the fridge.
Items Can Fall and Cause Damage/Injury
Another reason why stacking items on top of the refrigerator should be avoided is because these items may fall and hit you on the head when you open the refrigerator door. Such a scenario is common when small items are stacked on top of the refrigerator.
Moreover, sometimes it's hard to distinguish the end of the refrigerator door from the rest of the refrigerator. Therefore, individuals stack items partially on the door, which leads to them falling when the door is opened.
Storing midsize appliances is particularly risky, as if these fall they will not only injure you but get damaged as well. Or—if you're using the top of your refrigerator to store cereal—you could have a box of cereal fall and spill its contents, which will be a pain to clean up.
Fire Hazard
You should avoid putting flammable items on top of the refrigerator. While the risk of a fire starting is not significant, you should keep flammable items away from the vents through which hot air exits.
Light Items vs. Heavy Items
Because the refrigerator is a large, thick appliance, it can support small items—like boxes of pasta—as well as midsize appliances like microwaves and TVs. But it's best to avoid putting heavy items on the fridge, as these add extra weight while blocking necessary vent grates.
Adding more weight is even riskier when the fridge is on wheels, as the wheels are designed to support a specific weight. If this weight is exceeded, the wheels may break, causing the refrigerator to tilt or fall over. Avoid putting large appliances like wine coolers and stand-alone icemakers on the top of the fridge.
Consider Where the Refrigerator Is
It's also important to take the refrigerator's location into account when considering whether or not you can put items on top of it. For example, if the refrigerator is under a cabinet, then there's already limited room. Therefore, it's best not to put anything in this small space, as there's already little room for the heat to escape.

Matthew Mountain
Matt loves everything DIY. He has been learning and practicing different trades since he was a kid, and he's often the first one called when a friend or family member needs a helping hand at home. Matt loves to work with wood and stone, and landscaping is by far his most favorite pastime.
More by Matthew Mountain
Published November 29th, 2021 5:42 PM