892 Views
How Much Road Frontage Is Required To Build A House?
July 28th, 2021 4:21 PM
Share
We're committed to finding, researching, and recommending the best products. We earn commissions from purchases you make using links in our articles. Learn more here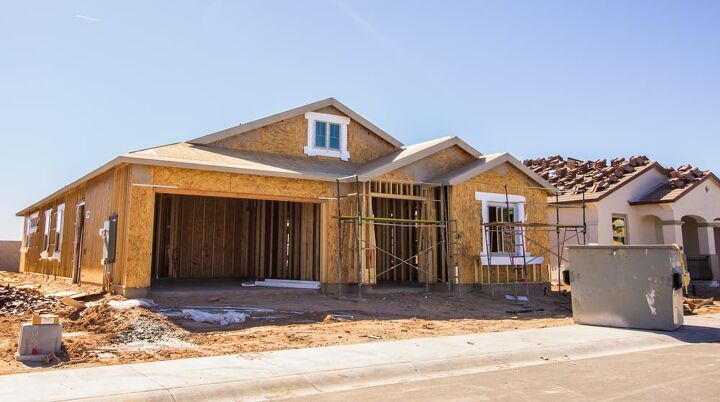 When building a home from the ground up or adding an addition to your existing home, you have to jump through a lot of hoops. Each town or county has its own set of zoning laws put in place by the local government. Oftentimes, the contractors will take measures to ensure they're adhering to the proper laws. Whether you're employing a contractor or building a structure yourself, it is important to understand the zoning laws in your area.
Road frontage requirements are determined by each town or county. Each location will have a minimum dimension requirement for the front, side, and back yards. To find out the road frontage requirements in your area, you can check the zoning map at your town or city hall. You can also contact the zoning department in the city or county in which you plan to build.
Do You Need a Permit Service?
Get free, zero-commitment quotes from pro contractors near you.
Zoning Ordinances
A zoning ordinance tells you what you can and can't build and where you're allowed to build it. Zoning codes can be different for each parcel of land. Before you build anything, it's important to understand the kind of structure you're permitted to build—for example, a single-family detached home. The ordinance should tell you the minimum requirements for the dimensions of the building. It will also tell you the required distance from the property's boundaries, also known as setbacks.
Setbacks
Setbacks are the minimum distance from the front, side, and back yard to the edge of the property line. For example, your area's zoning laws may state that a house or building can be no closer than 50 feet from the front property line, 10 feet on both sides, and 20 feet from the back line. There may be no buildings within the setback limits. However, you are permitted to have a driveway or a pathway, depending on the restrictions of your local government.
Setbacks can also refer to the distance a house or building is from a road (road frontage), wetland, or any other area that is determined to need protection from development.
Road Frontage
This is just as it sounds. Road frontage is the distance between the front of a building and the road it faces. The amount of frontage may determine the property's value. For example, a larger frontage typically means more land which means more privacy. For some people, privacy is desirable enough to pay a higher price tag.
A Setback's Purpose
The purpose of a setback is to encourage the formation of a neighborhood. For instance, in a densely populated urban area, many people walk as a means of transportation. Setbacks will likely be small, meaning the buildings will be closer to the roads and walkways. Because of this, more structures can be built closer together, which encourages a higher population.
In suburban areas, people often want to spread out and have more private space. In this case, setbacks would be longer, allowing for more space between properties and access roads. This cuts down on noise and gives homeowners a sense of seclusion.
Setback Violations
If a building violates a setback, oftentimes the owner is required to move or reconfigure the portion that is in violation. This can be a very expensive endeavor, which is why it's so important to know the zoning laws before building anything.
Because zoning laws and building codes change over time, sometimes, an older house may be "grandfathered" in. So, if you purchase a house that does not adhere to the zoning laws, you might not have to make any changes initially. However, if you decide to add an addition at a later point, you may be required to move the violating portion before starting construction.
Road Frontage Requirements
As mentioned before, the requirement of a road frontage is entirely dependent on the zoning laws in your area. Below is a table that shows various cities and counties across the United States and the minimum frontage required for each location. It does not include every state, but you get the idea.
| | |
| --- | --- |
| Town/County | Minimum Frontage Required |
| Amesbury, MA | 200 feet |
| Boise, ID | 20-40 feet (depending on district) |
| Bozeman, MT | 10-25 feet depending on district) |
| Burnett County, WI | 30-130 (depending on type of road) |
| Charleston, SC | 10-50 feet (depending on district) |
| Chicago, IL | 10-12 feet (depending on district) |
| Christian County, MO | 40-150 feet (depending on district) |
| City of Norman, OK | 50-90 feet (depending on type of road) |
| Clark County, NV | 10 feet |
| Clarksville, TN | 40 feet |
| Concord, NH | 20 feet |
| Corrales, NM | 25 feet |
| Eagan, MN | 30 feet |
| Exeter, RI | 10-200 feet (depending on district) |
| Franklin County, NC | 25-75 feet (depending on type of structure) |
| Franklinville, NY | 30-50 feet (depending on district) |
| Gloucester, VA | 200 feet |
| Guadalupe, AZ | 30 feet |
| Hall County, GA | 40 feet (on a cul-de-sac) |
| Hammonton, NJ | 200 feet |
| Hollywood, FL | 25 feet |
| Hoyt Lakes, MN | 20 feet |
| Hudson, IA | 25-150 feet (depending on district) |
| Killeen, TX | 25 feet |
| Marion County, IN | 20-50 feet (depending on type of road and district) |
| Morgan County, UT | 30 feet |
| Omaha, NE | 20 feet |
| Orting, WA | 20 feet |
| Oxford, PA | 90 feet |
| Prince George's County, MD | 60 or 80 feet (depending on district) |
| San Bernardino County, CA | 15 feet (Mountain Region) 25 feet (Valley & Desert Regions) |
| Sandpoint, AK | 30 feet |
| Sebastian County, AR | 25 feet |
| Union, OR | 20 feet |
| Vail, CO | 20 feet |
| Warren County, OH | 35-50 feet (depending on district) |
| West Point, KY | 50 feet |
| Wyandotte County, KS | 50 feet |
| Yankee Springs Township, MI | 25 feet |
| Yankton, SD | 15-30 (depending on district) |
Minimum Lot and Building Size for a House
Currently, most prospective homeowners are looking for a larger amount of land. People typically look for no less than half an acre. More than an acre is even better. But is there a minimum amount of land required for building? The answer is yes.
The International Residential Code (IRC) requires all homes to be a minimum of 120 square feet. The lot size may be no smaller than 320 square feet. Within the home, one room is required to be habitable. For a room to be habitable, there are different regulations, which include having at least one window and a closet.
Besides the bedroom, all other rooms must be a minimum of 70 feet. There are no regulations for the dimensions of a kitchen or bathroom. The ceilings, however, must be no less than seven feet in height.
Just as the zoning laws differ from state to state and town to town, so, too, do the minimum house size requirements. Some states require newer houses to be no less than 1000 square feet.
Other Regulations in Zoning Ordinances
Aside from your properties dimensions and the setback restrictions, zoning ordinances also regulate other things. These can be sheds or other detached structures, fences, and decks. It's always best to check with your zoning officials before building anything on your property.
---
Related Questions
We've learned a lot about zoning requirements and acceptable property dimensions. But maybe you have more questions. Below are some other things people wanted to know related to how much road frontage is required to build a house.
What determines the front of a house?
The front of a house is usually determined by which side faces the street as well as the location of the main entrance. If you're between the street and the main entrance, you're considered in front of the house.
How do you calculate how much land you need for a house?
Subtract the square footage of the home from the square footage of the plot. This calculation will give you an idea of how much front, side, and back yard space you'll have. You also need to be wary of the setback requirements in your zoning area.
What is reverse frontage?
This term usually refers to homes that face a highway. In this case, the access road is located in the back of the house instead of the front to minimize entrances to the highway. A reverse frontage road also diverts through traffic off of the highway.
What is double-frontage in planning?
Double-frontage lots are also known as through lots. They are non-corner parcels with two street frontages. If a house has a street in front of it and a street behind it, it's considered to have two front yards, making it a double-frontage lot.
Do You Need a Permit Service?
Get free, zero-commitment quotes from pro contractors near you.
Summing It Up
The short answer is that it depends on where you live when determining how much road frontage is required to build a house. Our chart shows how the numbers vary based on location.
To find out what your zoning requirements are, check with your local government. It's best to do it during the planning stages before you begin construction. Even if you've hired a contractor for the job, it's still wise to know your area's requirements. You never want to be caught violating a zoning ordinance. It can be an expensive blunder to say the least!
Related Articles

Upgraded Home Team
We are a team of passionate homeowners, home improvement pros, and DIY enthusiasts who enjoy sharing home improvement, housekeeping, decorating, and more with other homeowners! Whether you're looking for a step-by-step guide on fixing an appliance or the cost of installing a fence, we've here to help.
More by Upgraded Home Team
Published June 29th, 2021 9:31 AM