20 Views
How Much Does Metal Roofing Cost?
August 26th, 2021 12:14 AM
Share
We're committed to finding, researching, and recommending the best products. We earn commissions from purchases you make using links in our articles. Learn more here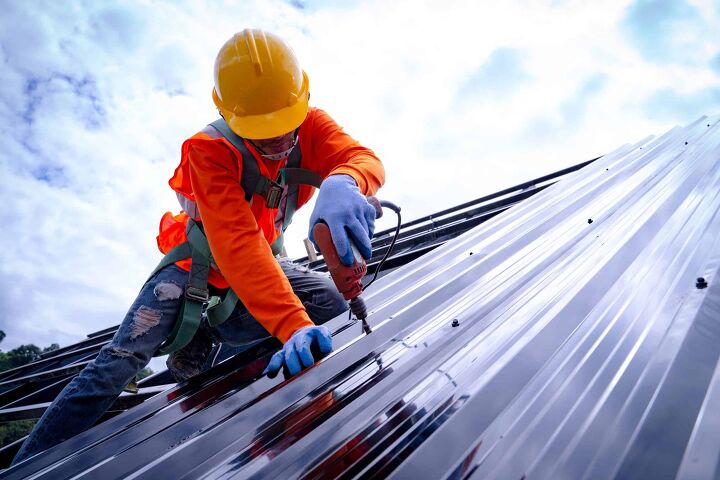 Installing a metal roof can be a cost-effective, durable, and attractive solution for your next project. Whether you're building a shed or replacing the roof on your house, metal materials can provide you with many great benefits. Before you start your project, however, it's crucial to weigh the costs of the construction.
The average homeowner spends $14,750 to install metal roofing at $7.50 per square foot for metal shingles. Homeowners spend an average of $2.65 per square foot to install galvanized steel metal roofing. You can expect to pay $9 per square foot for copper roofing, and $4.05 per square foot for labor.
Read on to learn more about how metal roofs are priced, as well as the factors that may impact your project's final cost.
Do You Need Metal Roofing Installation or Replacement?
Get free, zero-commitment quotes from pro contractors near you.
How to Estimate the Cost of a Metal Roof
The easiest way to estimate what you'll pay for a metal roofing project is to know the square footage of the area you're working on. Most materials and labor costs are priced by square foot. What does a metal roof cost per square foot? The average cost for metal roofing panels is around $8.75 per square foot.
Because projects are priced by square footage most of the time, you can often save money when you have a bigger project. With many metal shops and contractors, the greater the square footage, the less you may have to pay per square foot.
The final cost you will pay is determined by factors like:
Type of metal you decide to work with
Style of roofing
Overall complexity of the project
Accessories and metal roofing materials prices
When estimating your costs, you must consider any extra materials you may need like fasteners, coatings, roof underlayment, and other accessories. Use our metal roof cost estimator below to get started with an idea of what you may have to pay for your metal roof.
Do Your Research First
Whether you're planning on building a metal roof for a small shed or a whole house, it's important to do your research to estimate your costs. It's often difficult to estimate one set metal roofing price for every builder, as each project is unique. However, we can use a national average of prices to make an educated guess about what you'd pay.
How much does metal roofing cost? Installation costs for metal roofs are generally around $5.50-12 per square foot depending on the materials and cost of labor in your location.
Metal Roof Cost Estimate Based On Square Footage
| | | |
| --- | --- | --- |
| Home Size (sq ft) | Minimum Average Cost | Maximum Average Cost |
| 1,000 | $5,500 | $12,000 |
| 1,250 | $6,875 | $15,000 |
| 1,500 | $8,250 | $18,000 |
| 1,750 | $9,625 | $21,000 |
| 2,000 | $11,000 | $24,000 |
To estimate the price for your project, take the square footage of your structure, and then multiply it by our average metal roof cost per square foot. (For instance: 1,357 sq-ft X $5.50 equals a cost of at least $7,463).
Consider the Costs of Labor
The cost to install metal roofing also should include the rate to hire a professional to help with the work. It's important to work with a highly trained professional to get the job done correctly.
This labor can cost you an additional $2.30-5.80 per square foot. This means, metal roof installation costs can amount to around $3,000-$10,000 depending on the complexity of your roofing project.
When you start a roofing project, it's important to build it so that it lasts for years, through various weather conditions and general wear and tear. Installing a metal roof is not simply placing the metal shingles on top of your roof. You'll need the right type of equipment to ensure a quality job, as well as safety.
You also want the measurements to be accurate so you can budget for the right amount of materials. Professional contractors can do all this for you, as well as prepare the workspace for roofing with a synthetic underlayment and install any necessary pipe boots or vents.
If you're trying to estimate the metal roof replacement cost, you'll have to consider the cost of materials and added labor. In addition to installing the new roof, you'll first need help tearing up and removing your old roofing.
Types of Metal Roof and How They're Priced
When it comes to building a metal roof, you have many options for the type of material you'll use. These panels and sheets all come in different sizes, shapes, patterns, and durability.
How much is a metal roof? First, you must consider the style of metal roof materials you want to use. You'll see various costs here, as each can be made of a different material.
Here are a few different types of metal roofing you can choose from:
Sheet metal: These are square metal panels that can be flat, ribbed, or corrugated. Ribbed steel roof materials tend to be the cheaper option at around $5.50 per square foot.
Standing seam metal: Starting at $4 per square foot plus installation costs, this roofing style features adjacent panels that fold over each other to form a ribbed appearance. They come in various materials and can stand up well against inclement weather. Builders will often have their pieces cut and made to order at a local sheet metal shop.
Metal shingles: These shingles start at $7.50 per square foot and come in various types of materials.
The next part of determining your metal roof prices is choosing the type of material you'll use:
Aluminum Roofing
Aluminum roofing will start at around $3.75-$5.50 per square foot. This material is ideal for homes in humid, coastal areas, as it stands up well against corrosion. It's a good upgrade from steel when it comes to longevity and quality. Aluminum tends to be pretty pliable and pretty easy to work with. It also makes for a great option for people looking for energy-efficient building materials.
Galvanized Steel Roofing
When it comes to steel roof cost, galvanized steel, or stone coated steel, is often the most affordable option. It starts at around $2.65 per square foot, plus up to $10 per square foot for installation.
You can also go with G-90 steel panels for added protection against harsh weather and corrosion resistance/ These are coated with a layer of zinc oxide for more durability.
Copper and Zinc Roofing
Copper and zinc are some of the most expensive options for metal roofing materials. You can expect to pay around $9 per square foot or more, which does not include installation or labor costs. With copper and zinc, you're getting premium-quality material that is low-maintenance and long-lasting.
Copper can be difficult to work with and thus requires professional installation. Your final cost of materials and labor will depend on the thickness and weight of the materials you want to work with, as well as service providers in your area.
Many homeowners and builders will notice higher costs in a coastal city or a location that gets a lot of rain. In these moist environments, the roof will have to be built with the climate and weather in mind.
Metal Roofing Cost by Metal Gauge
The metal gauge will also impact the cost of a metal roof. The gauge measures how thick the metal material is, and starts at $1.75 per linear foot.
Listed below, the smaller number represents a larger thickness. And thicker panels and sheets come at a higher cost.
Here are some examples of metal gauge costs:
29 gauge: $1.75 per linear foot; this gauge is often used in residential projects
26 gauge: $3.00 per linear foot
24 gauge: $5.00 per linear foot; this gauge is great for areas with heavy winds
Benefits of Building with Metal Roof Panels
No matter the cost of metal roofing, you can often get a return on your investment pretty quickly. That's because this building material comes with many awesome benefits. It may potentially have a larger upfront cost than some other building materials.
However, metal roofing can pay for itself with the following benefits:
Great longevity, with the ability to last for decades
Sleek and modern design
Helps you save on energy costs: Metal roofs can cool homes during the summer months by reflecting heat when the sun is beaming the brightest.
Provides insulation during the colder winter months
Little to no maintenance is necessary; you may only need to recoat after a few years or use a simple soap solution in a pressure washer
Materials are recyclable, making this an environmentally-friendly project
Can qualify you for a discount with your homeowner's insurance company, as it's a fire-resistant material
The durability and strength of your metal roof can be especially effective if the panels are coated with zinc (which means you have galvanized metal). A thick coat may cost more initially but will last longer than a thinner coat and be more durable to last against inclement weather.
Metal Roofing vs. Asphalt Shingles
Should you use metal or asphalt shingles for your roof? These two materials differ in cost, design style, durability, and maintenance. Each builder will have his or her own preferences.
Take a look at some reason you may consider choosing metal over asphalt:
Metal can be less expensive than asphalt shingles.
Many metal roofing panels have home warranties for up to 50 years, while asphalt shingles need to be replaced every 10-25 years.
Replacing your asphalt roof with metal can increase your home's value by 1-6%.
Metal gives you a more modern and stylish look, allowing you to choose from many different styles and coatings or paint colors.
---
Related Questions
The cost of a metal roof will vary by your location, project, and many other factors. Take a look at some related questions to help you learn more about metal roofing costs.
How much does a metal roof cost for a 1,625-sq ft house?
The average cost of metal roofing is around $5.50-12.00 per square foot. So, building a roof for a home that is 1,625 square feet may cost around $8,937-19,500.
What's the cheapest metal roof for a garage?
One of the cheapest metals that you can use for a metal roofing project is galvanized steel. This material can often start at around $2.65 per square foot, which is significantly more affordable than some of your other options.
How much does a copper roof cost?
Metal roofing prices will depend on the material, and copper is one of the most expensive materials you can use to build a metal roof. Copper roofing panels cost around $9 per square foot, plus any additional labor and installation costs. So, for a 1,250-square foot home, for example, a copper roof may cost at least $11,250.
What can add to the price of your metal roof installation?
The final cost you will have to pay for a metal roof installation will depend on the type of roof you want to build. For instance, if you want a complex architectural design with many angles, shapes, or cutouts within the roof, your installation costs may be higher.
Certain types of roofing designs will require the skills of a professional contractor who has the equipment to get the job done safely and efficiently.
You can also expect an increased price for metal roofs when you work with colored steel panels to add to the design of your project.
Do You Need Metal Roofing Installation or Replacement?
Get free, zero-commitment quotes from pro contractors near you.
Get Ready for Your Next Metal Roofing Project
There are many great benefits to building a roof with metal sheets or panels. These pliable and sturdy materials can help you improve the curb appeal of your home, all while saving on energy costs.
Builders can expect to pay anywhere between $5.50-12 per square foot, but your final costs will depend on the cost of materials and labor in your location.

Upgraded Home Team
We are a team of passionate homeowners, home improvement pros, and DIY enthusiasts who enjoy sharing home improvement, housekeeping, decorating, and more with other homeowners! Whether you're looking for a step-by-step guide on fixing an appliance or the cost of installing a fence, we've here to help.
More by Upgraded Home Team
Published August 7th, 2020 2:46 AM