203 Views
How Much Does It Cost To Replaster A Pool?
August 26th, 2021 12:18 AM
Share
We're committed to finding, researching, and recommending the best products. We earn commissions from purchases you make using links in our articles. Learn more here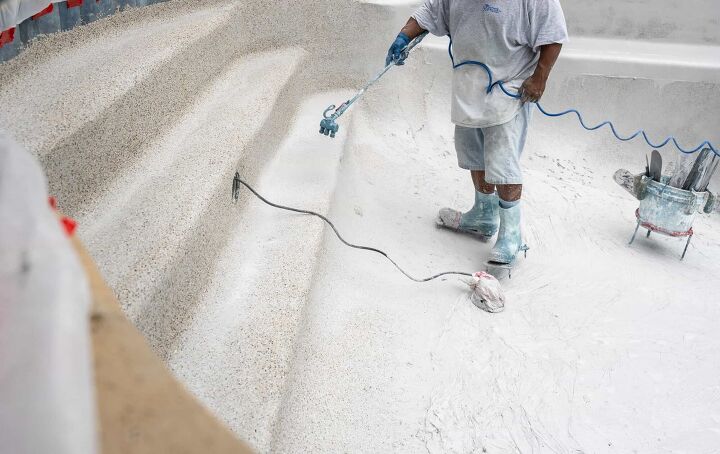 Owning a pool is a great investment, particularly if you live in a hot and dry environment. Nothing beats being able to cool off with a relaxing dip when the temperature starts to rise. However, while a pool is a blessing during the hottest months of the year, it can require a lot of upkeep and maintenance.
One significant component to pay attention to is if your pool has plaster walls. Eventually, you will need to replaster them so that they don't get cracked and leak water into the ground. When that happens, the question becomes, "how much does it cost to replaster a pool?"
The average cost to replaster a pool is $6,500 at $5.50 per square foot for materials and labor. Homeowners spend another average of $1,500 to paint a pool or $5,000 to install aggregate. You can expect to pay $4 per square foot to install porcelain tile in a pool, and it can cost up to $30,000 total.
Do You Need Plaster Installation Services?
Get free, zero-commitment quotes from pro contractors near you.
Average Costs for Pool Replastering
When trying to figure out how much this project is going to cost, you will need to factor several things. First, you have to determine the price of the material you're using. While plaster is relatively inexpensive, it's not the only option available. We'll cover the costs of other materials as well.
The second consideration is labor. When having a professional team replaster your pool, you can expect to pay another $45 to $65 per hour. So, the larger the job is, the more you'll pay for labor. Here is a quick breakdown of the costs of replastering compared with different options.
Plaster or Marcite
If you currently have plaster in your pool, it will make sense to replace it with a new layer. This material can also be called Marcite, and it will cost roughly $4 to $7 per foot, not including labor. For a 1000-square-foot pool, you can expect to pay around $5,500 to $6,500 in total.
The plaster will often last up to 15 or 20 years, depending on variables like thickness, density, and usage. If you opt for a cheaper material, you can expect to replace it within five to ten years.
Paint
If the price of replastering is too expensive, one alternative is to cover it with a thick layer of pool-ready paint. You have to make sure that the paint can hold up to chlorinated water, which will make it more expensive than average paint. Typically, repainting will only cost around $1,500 with labor, but it will wear down faster.
In most cases, paint will wear off after a few years, so you will have to maintain it more frequently. Over time, you may spend more than you would on replastering.
Aggregate
To create a more natural look for your pool, you can choose an aggregate finish. You will have to choose between a smooth surface, such as Diamond Brite, or something rougher, like Pebble Tec. For smoother aggregate, you can expect to pay around $5,000 with labor costs. Pebble aggregate, however, can get up to $9,000 for an average pool.
The advantage of choosing a material like Pebble Tec is that it will last longer. Diamond Brite can wear down in as few as eight years, while Pebble Tec can stay intact for up to 20.
Tile
The most expensive material to resurface your pool is tile. However, it does last the longest, with an average lifespan of 25 to 30 years. You can also choose from a wide array of colors and styles to fit your needs. On the low end, porcelain tile will cost around $4 per foot. Ceramic tile will be roughly $6 a-foot, and glass can be up to $25.
When you calculate labor costs, you can expect to pay between $30 and $50 per foot, which can inflate the project to upwards of $30,000 total.
One advantage of working with tile is that you don't have to resurface the whole pool. Instead, you can install it along the waterline to create a more layered effect. You can also match your tile to pool structures like an outdoor cabana.
How Your Location Affects the Price
Unfortunately, replastering your pool can be even more expensive, depending on where you live. Here is a quick overview of the average costs for this project in various cities. These prices are based on 1,000 square feet, so if your pool is bigger, be sure to plan accordingly.
Las Vegas – $5,000
Los Angeles – $7,000
Phoenix – $4,800
Orlando – $5,500
There are several reasons why costs can go up or down based on your location. These variables can include:
Supply and Demand – In areas where pools are more prevalent, there are likely to be more contractors available. However, if you live in an area with fewer pools, it can be harder to find qualified workers.
Regulations – Each state and county has its own rules regarding renovations projects like this. Some of these laws may inflate the cost.
Local Materials – Your contractor may have to ship materials from another part of the country, which will add to the price.
Signs That Your Pool Needs Replastering
On average, pool plaster will last between 10 and 20 years. If there is a coat of pool paint over it, it should be closer to 20. The durability of your plaster depends largely on how often you go swimming and how well you take care of it. Also, if you have a saltwater pool, the plaster will wear down faster. No matter how much you baby it, it will eventually need to be replaced.
Here are some warning signs that it's time for an upgrade.
Staining – Since your pool water has various metals and minerals in it, they will react with the plaster and stain it over time. While scrubbing and acid washing can help, the surface will become more stained over the years.
Rough Surface – As plaster wears off, it will create an uneven surface on your pool. Unfortunately, it won't just be bumpy, but it can create jagged and sharp points as well. If you run your hand along the plaster and it feels too rough, it's time for replastering.
Cracks and Leaks – Eventually, the surface will wear down so much that the concrete underneath will show through. Because concrete is porous, it will allow water to seep into the soil. So, if you're having to refill your pool regularly, it's a sure sign that the plaster is cracked or worn off completely. In extreme cases, soil erosion around the pool can cause the concrete shell to crack, which will be much more expensive to repair.
Do You Need Plaster Installation Services? Get free, zero-commitment quotes from pro contractors near you: FIND LOCAL CONTRACTORS.
---
Related Questions
Do I have to replaster the whole pool?
In some cases, the surface might be wearing down in a few places only. While you can patch these sections, doing so is a temporary fix. Eventually, the rest of the plaster will wear off, and you'll have to cover the whole pool.
Can I do this project myself?
If you're trying to save money, you might think that replastering your pool is an easy enough job. However, there are many elements that go into it, such as draining the water, removing the old plaster, and allowing the new material to set. Overall, we recommend hiring professionals since they can guarantee their work and get done much faster.

Upgraded Home Team
We are a team of passionate homeowners, home improvement pros, and DIY enthusiasts who enjoy sharing home improvement, housekeeping, decorating, and more with other homeowners! Whether you're looking for a step-by-step guide on fixing an appliance or the cost of installing a fence, we've here to help.
More by Upgraded Home Team
Published September 17th, 2020 3:07 PM