226 Views
How Much Does It Cost to Reface A Fireplace?
August 8th, 2022 10:47 AM
Share
We're committed to finding, researching, and recommending the best products. We earn commissions from purchases you make using links in our articles. Learn more here
If you live in North America, then a fireplace is a must-have during winter time. Over time though, popular home improvement styles change and your fireplace may need a touch-up. Follow along as we explore the cost to reface a fireplace whether you spend $200 or $6,000.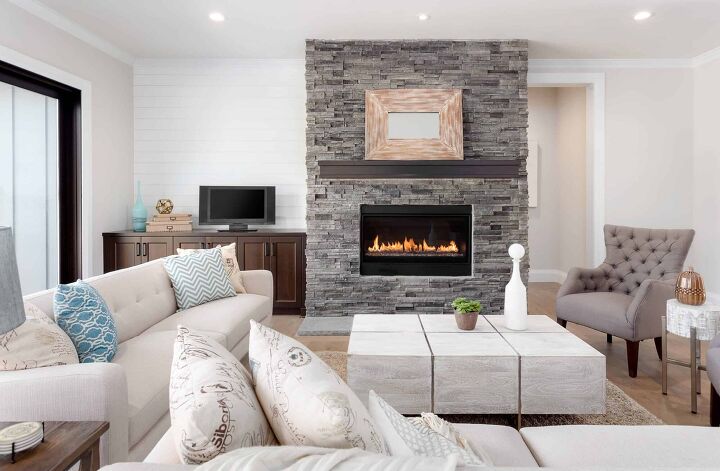 Is your fireplace outdated? Maybe you just bought a home and want to fix up the place and make it your own. You don't have to replace the whole thing. Refacing your fireplace can transform your living room into a whole new space. But it can be expensive depending on the materials you choose.
It will cost you between $300 and $6,000 to reface a fireplace. The price depends on if you do it yourself, or hire a professional to install it. Customized stonework will cost an additional $50 to $100 per square foot and does not include any extras like enlarged mantles, or fireplace doors.
Needless to say, it can be significantly cheaper to do it yourself. But you should know that it is a big job and may be out of your depth unless you have done it before. Then again, you can learn almost anything on YouTube nowadays.
Do You Need Brick or Stone Fireplace Repair?
Get free, zero-commitment quotes from pro contractors near you.
| | | | |
| --- | --- | --- | --- |
| Type of Fireplace | Lowest Price Found | Highest Price Found | Average Cost |
| Electric | $100 for DIY job | $2,500 | $850 |
| Gas | $500 for DIY job (not recommended) | $6,000 | $2,000 |
| Wood burning | $200 for DIY job | $7,800 | $2,280 |
What is Your Existing Fireplace Made of?
A fireplace can be made of many different materials including metal, wood, stone, tile, glass, and brick. Taking apart and disposing of your old fireplace materials can cost quite a bit too. That is because you will likely have to hire a demolition laborer for that job. The average cost for removal of a standard fireplace is about $500 to $1,000.
The Parts of a Fireplace
There are several components of a fireplace. It is important to know the name and what each of the components are. These include the:
Mantel is the shelf above the fireplace
Surround is the area around the fireplace
Firebox is the space where you burn the wood
Hearth extension is the ledge under the firebox
Fire safety screen is the protective barrier in front of the firebox
The Material You Choose Can Make a Huge Difference
Each component is important in the aesthetics as well as the functionality of your fireplace and they can each be a different material. The cost can increase or decrease drastically depending on what materials you want to use.
Mantel
The mantel is one of the major eye-catchers of your fireplace. This is because it is right at eye-level and typically holds family photos, mementos, and other decorative items. The cost of the installation of a mantel is fairly cheap. In fact, you can usually do it yourself. When choosing the material you want for your mantel, you have to consider what materials you will be using for the hearth and surround.
Wood: This natural material has so many choices to pick from and you can often get the pieces for a very inexpensive price. Try natural wood like a log or driftwood stained and varnished or painted. When using wood for your mantel you have to be careful to hang it far enough from the firebox to prevent a fire hazard. You can do a wood mantel for as little as $50 or as much as $5,000.
Marble: With marble, your mantel can blend in with almost any color scheme because of the various hues and textures of the stone. It can be quite expensive though and is very heavy. The cost for a marble mantel ranges from $750 to $11,500. But because of how heavy it is, you may have to pay extra to beef up your foundation to handle the weight.
Metal: Different types of metal such as stainless steel or brushed metal add a unique touch of bling to any fireplace. However, it can be expensive, and it can get very hot quickly, so it has to be placed a safe distance from the firebox. The average cost is between $500 to $1,500.
Tile: Covering your mantel with tile is a fantastic choice. There are so many different styles and materials you can choose from and they are typically quite inexpensive. Use a contrasting color for the grout to make a bold statement. The cost for tile ranges from $3 to $50 per square foot depending on the type.
Surround
The surround is also a big part of the look of your fireplace. It is the frame that holds the whole thing together, so it has to look great. The surround can be made of many different materials as well, so the cost varies for both materials and installation.
For example, if you are using hand stacked exotic stone, the cost is going to be astronomical. Just for the stones, it will be about $200 to $500 per square foot. And putting it in by hand will take quite a while so expect to pay at least $1,000 for labor.
| | |
| --- | --- |
| Material | Average Cost |
| Tile | $75 to $1,800 |
| Brick | $100 to $2,000 |
| Wood | $100 to $4,000 |
| Metal | $950 to $5,700 |
| Stone | $1,000 to $10,000 |
Firebox
When refacing your fireplace, you normally would not be replacing the firebox. However, if it is found to be damaged or just needs to be replaced, that can be done at the same time. A firebox is typically made of some kind of stone and can range from $160 to $3,500 or more. It depends on what type of stone is used.
Important Note: National Fire Codes deem that any kind of combustible materials must be at least one inch away from the firebox opening for every 1/8th of an inch it sticks out from the wall. It should also have a minimum of six inches all around it.
Hearth Extension
Your fireplace hearth is another major part of the looks as well as functionality and safety. Most hearths are made of brick, stone, or concrete. However, they may also be made of tile, steel, slate, marble, or granite.
Tile may cost anywhere from $3 to $20 per square foot
Concrete will run you about $4 to $8 per square foot
Slate can cost you $5 to $20 per square foot
Brick costs about $6 to $15 per square foot
Steel ranges from $15 to $40 per square foot
Stone is approximately $30 to $50 per square foot
Granite is typically about $40 to $60 per square foot
Marble is usually around $50 to $200 per square foot
Guidelines for safe practice say that the hearth extension has to be at least two inches thick and must be no less than 16 inches in front of or eight inches beyond each side. The material has to be non-combustible, durable, and fire-resistant.
Fire Safety Screen
The safety screen is usually not very expensive compared to all of the other components, but it is important. They are usually made of metal or metal combined with glass. You can get them in thousands of different styles and colors so of course, the price varies greatly. In fact, you can get a cheap one for $50 or spend thousands on a custom-made one.
---
Related Questions
Should I Get a Wood, Gas, or Electric Fireplace?
The decision really depends on your particular wants and needs. However, if you are looking for ease of use or efficiency, there are pros and cons of each.
Type
Pros
Cons
Electric

· Lower maintenance than wood

· Most efficient at $25 per year

· Cooler to the touch

· Does not lose any heat in a chimney

· Higher maintenance than gas

· They do not look real at all

· Will not work in a power outage

Wood

· Is the most natural and popular

· No need for electricity or gas so it works without utilities

· Smells the best

· Higher maintenance

· Loses the most heat up the chimney

· Needs to be cleaned every year

· Costs the most

Gas

· Easier to care for

· Much more efficient at $60 per year

· Burns cleaner

· Costs more than electric

· Not as natural looking as wood

· Will not work in a power outage
Do You Need Brick or Stone Fireplace Repair?
Get free, zero-commitment quotes from pro contractors near you.
Will a Fireplace Add Value to My Home?
A fireplace definitely adds value to any home. In fact, according to the National Association of Realtors, almost half of home buyers would pay more for a house with a fireplace. The average additional price they would consider ranged from $1,250 to $12,000.
Of course, this varies greatly by the area of the country you live in. For example, someone who is looking to buy a home in Florida or Hawaii may not be as excited about a fireplace as someone in Alaska or North Dakota.
What Are Some Cheaper Ways to Remodel My Fireplace?
Rather than refacing your fireplace, there are many other inexpensive ways to perk up that spot. Add some paint or stain to the existing fireplace surround. Or you can put a fake front on the front of the surround like a thin veneer or brick. Change the firebox material or hearth.
Another idea is to change the mantel. With just about anything. You can get a nice mantel for just a few hundred dollars that will change the look of your fireplace instantly. Or add some ornamental extras to the front of the fireplace. Maybe a new fire safety screen or wood box. Just adding some new bling to your fireplace can make a huge difference for cheap.
Related Guides

Patricia Oelze
I am a DIYer who loves writing about anything home-related. When I am not writing, you can find me studying for my PhD in Psychology, photographing nature, and swimming at the lake with my grandkids.
More by Patricia Oelze
Published September 22nd, 2020 2:13 PM