20 Views
How Long Will Stamped Concrete Last?
July 4th, 2021 2:28 PM
Share
We're committed to finding, researching, and recommending the best products. We earn commissions from purchases you make using links in our articles. Learn more here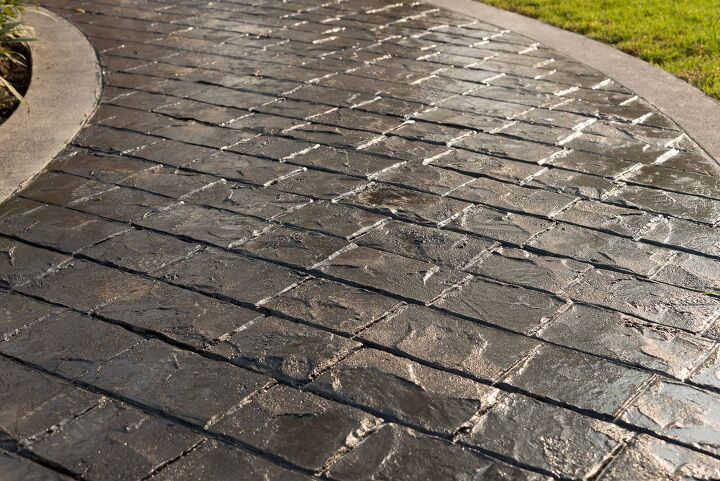 Stamped concrete is one of the hottest trends when it comes to backyard patios, driveways, and walkways. It's easy to see why. It's clean, gives the appearance of tile, and yet also tends to be easy to color with dyes. With the rise of stamped concrete, people are starting to wonder how long it will last. This is doubly true due to stigma from bad concrete in the past. Thankfully, there is some good news on the horizon…
Stamped concrete can last for 10-25 years before you need to repair or replace it. Colored stamped concrete can dull and fade in less than 10 years, but it is still physically durable. Stamped concrete is just as likely to crack as standard concrete, especially if it is for a driveway.
The amount of progress that has been made in improving stamped concrete is astounding. If you've been considering getting stamped concrete for your home, chances are that it's a great idea. This article will explain why people are seeing this as a stylish "set and forget" solution to all their paving needs.
Do You Need Concrete, Brick, or Stone Pros?
Get free, zero-commitment quotes from pro contractors near you.
What Is Stamped Concrete Used For?
Stamped concrete is a style of pouring concrete that involves using "stamps" to add a tile-like appearance to them. This type of concrete is often used in garden paths, patios, as well as near pools. In some cases, it can also be used as a driveway substitute, though this is relatively rare.
People like stamped concrete because it can be cheaper than traditional paving, and also is less expensive than brick-laying on a new surface. It adds style to any place, and can even be colored through a variety of different methods. The coloring is commonly added to give the surface of the concrete its desired appearance. Whether you prefer to go the more modern or antique route, there is a concrete dye for virtually every application.
How Long Will Stamped Concrete Last?
In the past, stamped concrete was known for not being very durable when compared to traditional paving styles. Thirty years ago, you might have heard that stamped concrete only lasts for about five to 10 years. This had to do with the fact that it was difficult to achieve an even depth throughout the stamping process. The patchiness that often occurred during installation is what contributed to lower lifespans. These days, things have improved greatly thanks to advances in concrete technology.
If you just got some new stamped concrete, you can expect its durability to be on par with standard concrete paving. In fact, the installation processes are nearly the same between the two, with the only additional step being the physical stamping. The stamping is done when the concrete has dried slightly but is still flexible enough to create a texture with a prefabricated stamp.
This means that you can expect it to last for anywhere between 10 to 25 years, as long as you maintain it well. In some cases, it can even last longer than standard concrete, simply due to the sealers used to lock in color.
Doesn't Colored Stamped Concrete Fade?
It's a common belief that having concrete with color added into it will translate into fast fading. This isn't true! The color itself doesn't really fade, per se. Rather, what ends up happening is that the sealant that locks in the color tends to fail later on, giving the concrete a faded appearance. A quick new coat of sealant will make the color come back to life.
Doesn't Stamped Concrete Flake Off?
Flaking is an extraordinarily rare occurrence in any kind of concrete. This is doubly true when you're talking about stamped concrete, since you are going to have sealant places on top of it. Only concrete with terrible workmanship will have this happen in modern days. If you notice flaking from your concrete, you probably should contact the pavers for a fix.
How Likely Is It That Stamped Concrete Will Crack?
Stamped concrete has just the same chance as regular concrete when it comes to cracking. When installed properly, most stamped concrete will be fairly crack-resistant. This is especially true if you make a point of leveling out pavement. However, cracks can happen to just about any type of concrete.
Additionally, it should be noted that some experts recommend to avoid using stamped concrete for substantial weight-bearing surfaces. Despite its durability, it isn't always the best choice for things like driveways or RV pads. Some stamped concrete design patterns have very thin edges which makes it more susceptible to cracking. Instead, stamped concrete is ideal for use as an inexpensive way to enhance landscape aesthetics and improve curb appeal of your property.
If you want to make sure that your concrete won't crack, vet the installers that you hire for it and make sure to have a deeper pour. Thinner concrete patios are more prone to cracking and breaking than those that are thicker.
Always consult a specialist if you're unsure and they will help you select a stamp design that works with your intended area, the exposure to elements, and its foot traffic.
How Much Maintenance Does Stamped Concrete Need?
Believe it or not, stamped concrete is lower maintenance than most other types of paving. As long as it's kept clean, given an occasional coat of sealer, and isn't exposed to serious stressors, you should be good to go. This is why many homeowners are now turning to stamped concrete for their backyards, patios, and driveways.
You can keep the concrete surface free of debris by rinsing it off with water, or using a broom or leaf blower. To avoid staining, you shouldn't allow dirt to collect on the surface for too long. If stains do occur, you should remove these as quickly as possible by power washing or imploring strong chemicals.
Above all, the most important maintenance task for stamped concrete is period sealings to protect from moisture, abrasion, freeze-thaw conditions, and maintain its color and sheen.
How Much Does Stamped Concrete Cost?
This depends on the stamp pattern you choose, the size of your concrete pathway, the color you want it to be, as well as the area you live in. However, there are ranges that you can expect to have your project fall into. Here's the scoop:
Basic stamped concrete pours will cost between $6 to $13 per square foot. This includes simple things like small single-color pathways as well as flat patio areas with minimal detail. If you have a driveway or a larger zone you want to pave, keeping it simple is the easiest way to save money.
Mid-range stamped concrete costs between $10 to $15 per square foot. This kind of project would include concrete that's poured in curvy shapes, has borders, as well as concrete that is multicolored. These types of projects are great for smaller patios, indoor pools, as well as statement pieces.
Upper range stamped concrete can cost upwards of $17 per square foot. With this offering, you can expect hand-colored designs, special scores, as well as multi-colored sets. In many cases, it can be hard to tell this type of poured concrete from larger stone mosaics. People who are looking for statement patios or who want to have an ultra-luxurious take on driveways should consider this route.
Is Stamped Concrete Worth It?
Most people love the way that stamped concrete looks in their home, especially when it's used as a decorative way to enhance a poolside or as a patio material. In the past, people used to complain that it was not worth it due to the chances of cracking. These days, stamped concrete is far more durable. That makes it a fairly coveted building amenity.
If you're a fan of the look and feel of stamped concrete, you're not alone. Many people adore the way it looks and feels, which means that you can add a fair amount of value to your property. Due to the improvement in quality, it's safe to say that stamped concrete is usually worth the investment.
Do You Need Concrete, Brick, or Stone Pros?
Get free, zero-commitment quotes from pro contractors near you.
Our Final Take
Stamped concrete is steadily climbing in popularity as a building material, and rightfully so. This material has seen incredible improvements when it comes to matters involving durability, color, and styling. The end result is a way to pave your patios and parking spaces with more style and resilience than ever before.
If you're worried about having a beautiful patio with a decreased lifespan, rest assured that you're not going to have to worry too hard. A typical stamped concrete patio can last as long as 25 years, given the right love and care. Even if you have a colored patio, you don't need to worry about fading. Another coat of sealer will bring your hues back to their original brightness.
Because of the new staying power of stamped concrete, you can expect more people than ever before to ask for it by name. Anyone who's looking for a new take on paving should check this out…even if they've been warned against it in the past.

Ossiana Tepfenhart
Ossiana Tepfenhart is an expert writer, focusing on interior design and general home tips. Writing is her life, and it's what she does best. Her interests include art and real estate investments.
More by Ossiana Tepfenhart
Published August 19th, 2020 9:48 PM