7 Views
Hardwood Flooring Cost | Installation Cost Per Square Foot
August 24th, 2021 11:48 AM
Share
We're committed to finding, researching, and recommending the best products. We earn commissions from purchases you make using links in our articles. Learn more here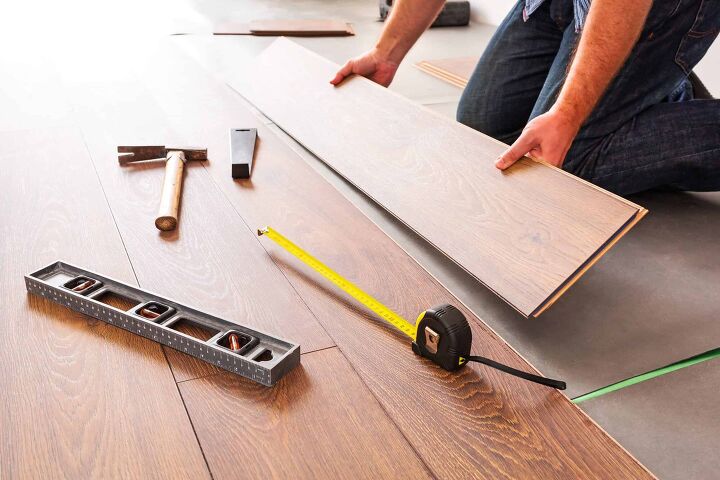 Hardwood floors are becoming increasingly popular due to their beauty. They match with any wall color and help to spread the natural light coming in through the windows. Some people are even replacing their carpets with wood floors. If this is something that interests you, how much will it cost?
The average cost to install 1,000 square feet of hardwood flooring is $4,450 at $8 per square foot. Homeowners spend $15 per square foot for high-end hardwood such as Brazilian Walnut. It costs another $200 if you have to remove carpet before you can install hardwood, and an average of $503 to remove old hardwood before new installation.
There are a lot of factors to take into account for pricing. That being said, we took it upon ourselves to break the price down even further for you. This guide will allow you to get an accurate estimate for your budget.
Do You Need to Hire a Flooring Contractor?
Get free, zero-commitment quotes from pro contractors near you.
Average Cost To Install Hardwood Flooring
Average Hardwood Flooring Cost

Low

Typical Range

Average

High

$1,000

$2,496 – $6,753

$4,541

$11,000
Most professional estimates include removing the old floor, plus the installation of the new floor and trim. Hardwood is popular due to its warmth and traditional look. Although not the cheapest option, it's long-lasting. It also increases the resale value of your home and attracts buyers. The main types of hardwood include solid or engineered hardwood.
Hardwood Floor Install Cost Per Square Foot
Hardwood installation costs $6 and $12 per square foot. The materials for the project will also cost anywhere from $3 to $7 per square foot, with labor costing about $3 to $5 per square foot. The price you pay per square foot will depend upon several factors, such as:
The materials you buy
The company you go through
Whether you hire a professional or you do it yourself
So the total cost will highly depend on what you choose overall. Also, it will depend on whether or not you hire one or three contractors to do the job. If you hire more people, the job will get done faster. However, this may cost a bit more. It all depends on your situation.
Labor Cost To Install Hardwood Floors
Usually, a contractor will charge you for labor by the square foot. Typically this amount falls between $4 and $8 per square foot for a solid hardwood floor. However, if you're looking to install an engineered wood floor, the labor fee will run between $3 and $10 per square foot. It's a good idea to check with multiple companies to get the best price.
Hardwood Flooring Cost Estimator
Cost By Size

Area Size

Typical Cost

500 sq ft

$3000 – $6,000

1000 sq ft

$6,000 – $12,000

1200 sq ft

$7,200 – $14,400

2000 sq ft

$12,000 -$24,000
Cost of Hardwood Flooring By Type
Cost By Type

Wood Type

Average Total Per Sq Ft

Bamboo

$5 – $11

Pale Yellow to GreenSustainableHard & Durable

Brazilian Walnut

$11 – $20

Hard & DurableExoticExpensive

White Oak

$8 – $15

Red Highly Visible GrainDurableCreates Warm Ambience

Red Oak

$8 – $13

Red Highly Visible GrainDurableCreates Warm Ambience

Maple

$6.50 – $11

Resists DentsHigh-Traffic FriendlyCreamy White to Pale Red

Pine

$4.50 – $10

Rustic Knot PatternsEasily DentedLight Beige To Rich Amber

White Ash

$9 – $13

Soft Light Tan to Pale GrayVisible Knots or Clear GradesDurable

Hickory

$6 – $13

Great Color VariationDenseHigh-Traffic Friendly
You have plenty of options in traditional and engineered solid wood for style and design, including:
Hue
Grain
Tree variety
Plank width
Hardwood floors are not one single type of building material. They come from different trees, and typically from newer growth, as it's softer to work with. Each one comes in a range of colors, prices, and qualities.
Traditional Wood Flooring Costs
This is usually sold in narrow planks of 3 inches wide or less. Installation may be finished or unfinished, increasing labor costs by $2 to $5 more per square foot than mentioned above.
Traditional Wood Costs

Type

Material Cost per Sq Ft

Installation Cost Per Sq Ft

Brazilian WalnutMahoganyCypressTigerwood
$8 – $18
$4 – $8
Pine
$1.50 – $5
$3 – $5
American CherryTeakOak
$5 – $15
$3 – $8
Wood Plank Flooring Costs By Style
Cost By Style

S

tyle

Cost Per Sq Ft

Parquet Style Tiles

$7 – $10

Real Parquet

$20 – $45

Herringbone Pattern

$5 – $16

Wide Plank

$4.50 – $18

Wood Look Tile

$10 – $20
Wood Look Tile Flooring Cost
As the name suggests, there aren't wood but tiles that resemble wood. Installation of wood-look tiles typically costs $900 to $2,700 or $15 to $20 per square foot. Costing more than wood, they're harder-wearing and don't rot or warp. They are a fantastic choice for basements for their appearance and durability.
Herringbone Wood Flooring Cost
Herringbone wood floors refer to the way the floor is laid. The same materials are used on any other floor. However, angling means more waste. Although, installation does take longer, increasing the cost of both materials and labor.
Herringbone patterns add 30% to the price of the same tiles laid in a parallel pattern. So for instance, if your wood costs $5 per square foot, you'll probably pay $6.50 per square foot.
Parquet Flooring Costs
Genuine parquet floors, handcrafted with small hardwood tiles, cost between $20 and $45 per square foot. However, these are no longer commonly used. Today, pre-made wooden parquet-style flooring kits resemble the traditional design. These kits typically cost around $15,000, including installation, or $7 to $10 per square foot.
Wide Plank Wood Flooring Prices
W

ood Flooring Price Ranges

Range

Materials Per Sq Ft

Notes

Low

$1.50 – $3

Usually NewEngineered Or Fast Growing

Middle

$3 – $6

Harder Than New GrowthLuxury Engineered

High

$6 – $12

Thick Luxury HardwoodsDesigner BrandsExoticOld Growth
Wide planks cost anything from $1.50 to $12 per square foot, with labor adding about $3 to $4 per square foot. There are fewer to lay over the same area with wider planks, so you'll save on labor costs.
Cost To Install Prefinished Hardwood Flooring
It costs $6 to $12 per square foot to install prefinished hardwood flooring. Prefinished floors, sanded and varnished at the manufacturers, and available at all major retailers, have been popular since the 1940s. However, the amount of time it takes and the number of people installing will significantly affect the cost.
Hardwood Flooring Installation Cost Factors
Several different cost factors affect the price of installation, such as:
$500-$800 to repair or replace the sub-floor 
$2,000-$5,000 for floor joist repairs. If there's significant rotting or damage from insects, these may need reinforcing or replacing.
The hardness of the wood. Exotic hardwoods such as Brazilian walnut and teak, being harder to work with, are harder to install.
Angled patterns, such as herringbone, need more cutting. Installation takes longer and produces more waste, increasing the expense.
The complexity of installation. Irregularly shaped rooms or those with counters need more time, and this can raise the bill.
Engineered Wood Flooring Cost
Engineered Wood Flooring Cost

Type

Total Cost Per Sq Ft

Description

Basic

$4.50 – $9

Veneer Between 1/16 To 1/12-InchThick Three Core Layers

Mid

$6 – $12

Five-Layer CoreThicker Veneer

High

$9 – $16

Veneer/Exotic Hardwood1/6 Inch Or Thicker VeneerTop-Of-The-LineHave Seven Or More Core Layers
While engineered wood floors may not last a hundred years, like some carefully-maintained solid wood floors, they will do an excellent job with a lower investment. For limited budgets, engineered wood floors that are hard-wearing and resistant to humidity are a perfect choice.
Bamboo Flooring vs. Hardwood Flooring Cost
Expect to pay around $4 to $8 per square foot for typical materials. Hardwoods such as red maple can start from $10 per square foot. The average cost of bamboo flooring ranges from $2 to $5 per square foot, with an average of $3.80 per square foot.
Bamboo has received a lot of interest as a sustainable, eco-friendly material. The grass stalks can grow fast and reach their full height in 3 to 5 years. Bamboo roots don't need to be cut after harvesting, so it merely regrows.
Hardwood trees can require 20 years or more before they are fully mature and ready to harvest. Once harvested, the tree dies. Therefore, the raw materials take longer to replace. On the other hand, an individual tree provides a significant quantity of usable wood. The cost of transportation may be lower, as many hardwoods can be sourced from local mills.
Cost To Replace Hardwood Flooring
The $6 to $12 per square foot that you can expect to pay for the installation of new floors costs anything from $1 to $13 per square foot to remove your existing flooring. The variation in costs is the result of differences in your current flooring. It's quick and easy to remove a floating floor because it isn't nailed down or glued. However, removing a decades-old hardwood floor is painstaking work and may take much longer.
How Much Does It Cost To Tear Out Hardwood Floors?
As an example, for a project in zip code 98375, the removal of existing flooring ranges from $1.21-$2.53 per square foot. This is far lower than the average cost, nationally, which is $27.32, although it ranges anywhere from $16.32 to $38.31
The total price, including materials and labor, can be anything from $1.09 and $2.27 per square foot. The average is $1.68 per square foot. A 300 square foot project would come in at $503. The final price varies according to:
The area you live
Size of the job
The existing flooring condition
Type of finishing you select.
How Much Does It Cost To Replace Carpet With Hardwood?
If you need to remove the old carpet before installing your new hardwood floor, you'll need to budget between $150 and $250 in addition to the cost of your new installation. Most professional installers include this in their quote. Apart from removing the old carpet, pads, and tack strips, you shouldn't have to pay any 'hidden' fees.
DIY vs. Hire A Hardwood Professional
Installing hardwood floors is a great DIY project. Although, you do need to familiarize yourself with the different application processes. To install a hardwood floor yourself, you also need to have the proper tools handy. Remember that installation usually involves removing the previous floor. It would be a good idea to rent a dumpster to get rid of debris. Taking on a DIY project is the perfect way to save money.
However, if you don't feel comfortable doing this on your own, you can always hire a professional. When hiring a contractor, the removal of debris and disposal of old flooring will be included in your quote.
Do You Need to Hire a Flooring Contractor?
Get free, zero-commitment quotes from pro contractors near you.
---
Related Questions
What is the most durable wood floor?
The hardest wearing and longest lasting wood floors are bamboo, teak, and Brazilian walnut. However, each type has its pros and cons. Make sure you read about each wood floor so that you choose the best one for you. 
How do I calculate how much hardwood flooring I need?
Measure the dimensions of your room to calculate the total area. Then divide space by the area covered by the tiles or planks in each box (this is clearly stated on the packaging). Add at least 10% to that figure to account for waste and overage. The result will tell you how many packs or cases you'll need to buy.
Where can I buy hardwood flooring?
A range of hardwood flooring can be found in the significant home-improvement retailers and specialist flooring stores. As an alternative, discuss with your installation professional, and they can buy it for you from a wholesaler or at a discount. 

Heather Robbins
Heather is a passionate writer who loves anything DIY. Growing up, she learned everything from home repairs to design, and wants to share her tips with you. When she's not writing, she's usually hiking or searching for her next DIY project.
More by Heather Robbins
Published September 27th, 2020 11:25 PM