100 Views
Goo Gone Vs. Goo Off: What Are The Major Differences?
December 5th, 2021 3:51 PM
Share
We're committed to finding, researching, and recommending the best products. We earn commissions from purchases you make using links in our articles. Learn more here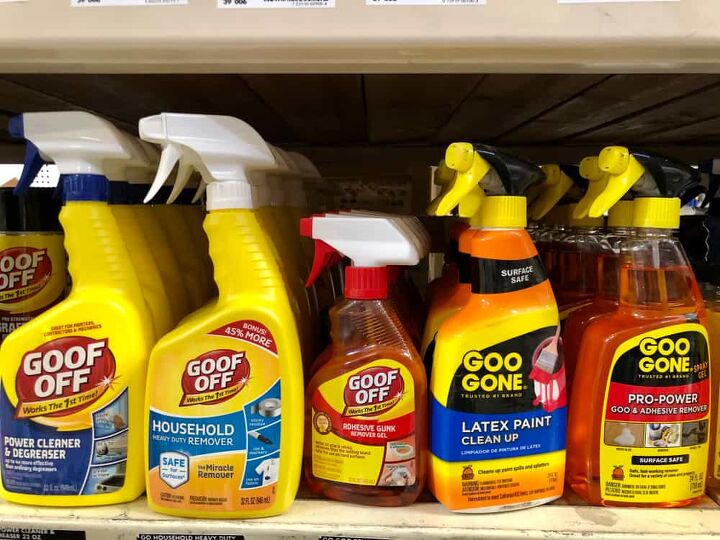 These days, adhesives are stronger and more comprehensive than ever before. It is easier now to find industrial-strength adhesives for next to nothing. But that extra adhesive strength can lead to problems when it needs to be removed. Thankfully, there are a couple of products that can remove those adhesives.
Goo Gone is great for cleaning sticky surfaces, but Goo Off can remove more types of adhesive. The acetone base in Goo Off makes it more abrasive and effective than Goo Gone. Goo Off is best for removing tough stick residue, and Goo Gone is better for everyday household use.
Do You Need a Maid Service?
Get free, zero-commitment quotes from a maid service near you.
What Kind of Things Can They Clean?
Before getting into a full comparison of the two, it is important to know what Goo Gone and Goo Off are meant to clean. They are generally best when dealing with the removal of surface adhesives. That includes decals, stickers, chewing gum, residue tape, and even some glues.
Depending on the type that you choose, they can even introduce a nice, fresh smell in the air being cleaned.
Now, let's take a deeper look at the individual features of each, the cleaning performance of each, and how they stack up against one another.
Goo Gone Featured Highlights
Goo Gone has a few unique features that make it an effective cleaning product. Though it isn't guaranteed to work on every surface or material, it is effective in a lot of ways. Among the unique features of Goo Gone are:
Citrus oil-based. Pretty much all of the Goo Gone products that you find will have some sort of citrus oil-based cleaning agent. This is what provides a more pleasant scent as you clean, leaving the area smelling fresh and clean.
Covers multiple surfaces. Goo Gone is meant to clean a wide array of surfaces. Use Goo Gone on scuffs, labels, taking off crayon, tar cleaning, adhesives, and the removal of glue. Depending on the spot in question, it may require multiple cleaning sessions.
No harm. Best of all, Goo Gone won't damage or harm the surface that you clean, even if there is an adhesive there. It can even remove window decals with little problem.
Goo Off Featured Highlights
Like Goo Gone, Goo Off has its own unique set of features that make it a quite effective cleaning product. It works on certain surfaces or situations better than Goo Gone, though it may take a few applications to fully clean.
Professional cleaning agent. Goo Off is a professional cleaning agent meant to take off dried paint, glue, grease, and any other greasy or gummy messes.
Economically priced. Goo Off is very affordable and can be picked up at a local hardware store with ease.
Cleans most locations. The best thing about Goo Off is that it can be used in the garage, workshop, workplace, or at home.
What is it Made of?
Goo Gone: Goo Gone is largely based on citrus-based cleaning agents. There are additional cleaning products in spray gel or all-purpose form and those meant for stickers, patios, grills, tile and grout, automotive, and kitchen degreasers.
Goo Off: Goo Off has an acetone base that is made from an ultra-potent formula. That increased potency is meant to remove any type of glue. That means epoxy glue, acrylic glue, and even gorilla glue. The 4-ounce containers allow for easy storage to be used at a moment's notice.
Goo Gone Performance
First off, it should be noted that Goo Gone will not damage the surface that it is used on. That's because Goo Gone does not have petroleum-based ingredients that won't cause scuffing, scratching, or damage to the surface it is applied to.
It can also be used on a huge array of surfaces, handling most stains or sticky messes. Even better, Goo Gone can even restore the surface in question back to its original state. For stained and faded wood or metal, Goo Gone can restore that original shine.
Goo Gone is safe to use on just about any surface, including:
Upholstery
Clothing
Carpet
Wood
Glass
Plastic
Ceramic
Countertop
Tiles
Granite
Whether it be for removing labels, taking off crayon or marker stains, or cleaning gum, tar, wax, window decals, or glue, Goo Gone is up to the task. Goo Gone might not be the heavy-duty cleaner that some industrial cleaners are, but it will safely remove most household stains and adhesives while restoring shine to the surface.
Goo Off Performance
As touched on previously, the main difference between Goo Gone and Goo Off is that the latter has an acetone base. The solution is far more concentrated than Goo Gone and will take out even the toughest of stains, even some that Goo Gone doesn't get.
Goo Off is most effective even on tough surfaces like brick, glass, and wood, though it can even work on hard metal surfaces and fiberglass. With a gentle application, Goo Off will even work on softer surfaces and even car upholstery.
It takes out sticker glue and residue, crayon, scuff marks, dried paint, candle wax, caulk, duct tape, tree sap and so much more. Goo Off may be the better bet for taking off tougher stains, though it can take multiple applications.
Goo Gone Safety Precautions
Goo Gone uses ingredients that are not flammable. You can safely use this product when cleaning appliances like the washer, dryer, and stove safely. Just make sure that you wash off the solution using water and soap when you're done.
Even better, this is a non-toxic product that isn't irritating to the eyes and skin. It has acquired a Federal Hazardous Substance certification to demonstrate its safety to use. It also is free of ozone depleters that can be harmful to the air. Just make sure that you keep it away from small children as it is a cleaning agent and should not be ingested.
Goo Off Safety Precautions
Unlike Goo Gone, Goo Off can be potentially damaging to certain types of plastics, paints, and carpets. Check the manufacturer directions before using it to ensure that you do not do damage to any of these particular surfaces.
Goo Off can also potentially dissolve certain types of rubber. Use a small test area before applying en masse. For some surfaces, rewaxing might be required to restore surface finish which is something that Goo Gone helps.
What are the Pros and Cons of Goo Gone?
Just like any product on the market, Goo Gone is not perfect. There are plenty of pros but there are cons worth noting as well. The pros:
Pros
Effective on dry slime and glue stains from carpet
Nice citrus scent
Removes sticker residue
Takes a few minutes to work effectively
Cons
Doesn't come in a spray, which can be easier to use in bottle form
Can leave behind an oily finish that is difficult to remove
Bottle doesn't have a flat bottom, so it can fall down from time to time
Opening is large, so squeezing a small amount generally isn't possible leading to more waste
What are the Pros and Cons of Goo Off?
Goo Off is in much the same position. It is advertised to handle heavy-duty stains with little to no issue but can be a bit harsher on surfaces, for instance. Here are the pros and cons of Goo Off:
Pros
Great for really tough stains
Comes in an easy to use aerosol can
Effective on most surfaces like metal, fabric, wood, and glass
Easy to use and takes a few minutes to work
Cons
Has a strong concentration and needs to be handled with care
Can leave behind a dull finish or marks when used on certain surfaces
Can't be used on some plastic and synthetic surfaces and can't be used on Formica at all
Do You Need a Maid Service?
Get free, zero-commitment quotes from a maid service near you.
Which One is Better?
So, now that we know what each can do – where they are effective and where they are not – it comes down to figuring out which one is better. The short answer is that it depends on what your intended use is.
Goo Gone. Goo Gone is better for most household applications. It can remove most normal stains and adhesives fairly easily. More importantly, Goo Gone can help to restore the surface finish wherever it is applied. For the long-term health of the surfaces in your home, that's a big deal.
Goo Off. Goo Off, meanwhile, is better for heavy-duty stains. Though it may take a few extra applications, Goo Off can remove just about anything from most types of surfaces. The downside is that Goo Off can damage certain types of surfaces. Check manufacturer instructions before using as you could potentially damage some of those surfaces along the way.
Which one is better? For everyday household use, Goo Gone is probably the better choice. Its removal properties are good and the fact that it improves the shine and surface finish is also valuable. For heavy-duty use – shops and garages in particular – Goo Off is probably the better choice. It removes stronger adhesives and oils with no problem and surface finish is generally not important in those instances.
It is a good idea to have both available for use, especially for home workshops and garages. Between the two, all of your cleaning applications will be met.

Ryan Womeldorf
Ryan Womeldorf has more than a decade of experience writing. He loves to blog about construction, plumbing, and other home topics. Ryan also loves hockey and a lifelong Buffalo sports fan.
More by Ryan Womeldorf
Published January 15th, 2021 2:00 PM