169 Views
GE Front Loader Washer Leaking Water? (Possible Causes & Fixes)
August 24th, 2021 4:11 PM
Share
We're committed to finding, researching, and recommending the best products. We earn commissions from purchases you make using links in our articles. Learn more here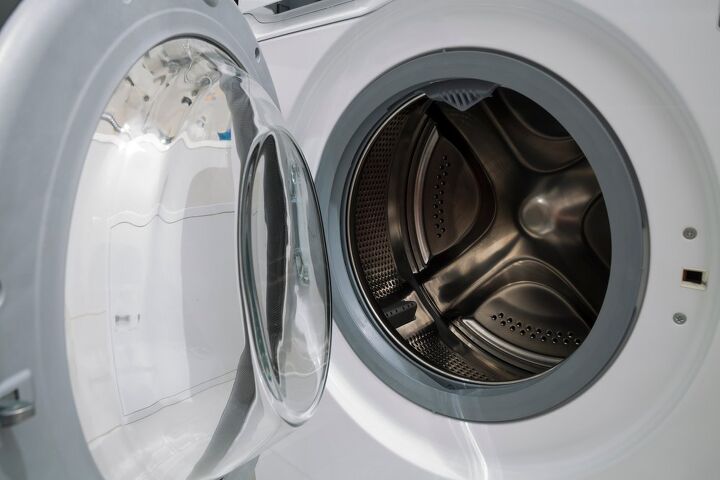 General Electric, also known as GE, is famous for making solid washers and dryers. They're especially famous for their front-loading machines, but every once in a while, you'll hear of a front loader that malfunctions. One of the most common issues front loaders have is leaking water during their use. So, what can you do to fix this issue?
There are several reasons why a front-loading washing machine would leak. The most common reasons include:
Grimy Seals
Bad Placement
Broken Boot Seal Recirculation Tubes
Cracked Drain Pump/Drain Hose
Leaking Tub-To-Pump Hoses
A front loader washer that's leaking water can be a major nuisance or even a cause of mold in your home. This guide will help you learn how to solve your problem.
Do You Need Appliance Installation or Replacement?
Get free, zero-commitment quotes from pro contractors near you.
Before You Begin: Is Your House On A Slant?
Before you assume there's something wrong with your dishwasher, it's best to grab a level and see if your washer has been placed evenly. A washer can start to leak out water if it's placed on too big of a slant. This can often happen if one of the washer's feet breaks or if you recently installed your washing machine.
In many cases, the easiest way to stop a leak from happening is to adjust the washing machine so that it's totally level.
How To Troubleshoot A Front Loader That's Leaking Water
A front-loading washer that's leaking water can be caused by a wide range of reasons. Since this can be a difficult endeavor to diagnose, we strongly suggest calling a washing machine repairman if you feel uncomfortable opening up the machine on your own. Here's how to troubleshoot it:
First, take a look at the seal around the door of the washing machine. GE might make a solid machine, but it won't work if it has a lot of grime and buildup. Too much gunk around the door can cause water to leak out the front. You can clean it up using a wet towel or a cleaning cloth.
Then, open the door and look for the boot seal recirculation tube. Some GE models have a tube that runs from the top of the washing machine throughout the tub to help recirculate the water. With lots of use, this plastic tube can get brittle and break. Surprise! It can cause a leak. If you notice a cracked tube, replacing it is what's going to need to be done.
Turn to the back of your washing machine to check the drain pump and drain hose. These are usually seen at the lower corner of a washing machine. Refer to your owner's manual to find out where yours are located specifically.
The first thing you should do is see if you can spot a leak from the drain hose. Sometimes, it gets disconnected from the washer. Other times, it's a legit hole. Either way, this suggests that you need to replace the hose. Do not try to cut the hose and attach it to a new section; it's usually too far gone to work.
Then, take a look at the drain pump. If the drain pump has a crack in it, the water that it siphons out from the washer will leak out onto the floor. This means that you will need to replace the pump.
Finally, you will have to open up the back of the washing machine. You will need a little brawn and a little experience for this. If you want to attempt it yourself, open up the washer by unscrewing bolts that keep the back held together. Then, check the tub-to-pump hose for a leak. If you find one, you may need to replace the hose or readjust it, depending on why the leak occurred.
Can A Front Loader Leak Water Due To Overflow?
Absolutely. Overflows of water can happen in virtually any washing machine if something goes wrong. It happens with GE washers, LG washers, and Whirlpool washers too. However, this doesn't usually happen very often. The reason why should be pretty easy to see: there are now computerized mechanisms that help prevent an overflow.
GE does a lot of work to make sure that an overflow doesn't happen. They often have automatic draining systems as well as weight-sensitive mechanisms that match the water to the laundry load. If you believe that your water leaking is due to an overflow, you are better served calling a repairman. These repairs tend to go beyond the typical DIY project.
How Much Does It Cost To Fix A Leaky GE Front Loader?
For the most part, it's a cheap repair if you can DIY it. DIY repairs can be free (if it's just a cleaning issue) or as much as $80 for a drain pump part for upscale GE models. If you choose to go through a handyman or a professional repairman, then you should expect to have repairs run $150 to $250 in most cases.
Are GE Washing Machines Prone To Leaking?
GE is known for being one of the most reliable washing machine brands on the market right now, so that bodes pretty darn well when it comes to reliability. However, it's still an issue that you need to be aware of. Front-load washing machines are more likely to leak than top loaders, regardless of the brand that you've bought.
In terms of the brand itself, GE is not the worst when it comes to leaks. In fact, it's actually one of the most reliable when it comes to staying leak-proof. Higher-end models are even less prone to leakage than a typical GE model.
Are Leaks Covered Under The GE Washing Machine Warranty?
For the most part, the answer is yes. All GE washing machines come with a year warranty that covers virtually all repairs and replacements. This includes leaks. If you have a warranty extension through a partner company, then your coverage is going to be based on the specific terms of your warranty extension. It's always smart to give them a call to make sure that you get the most bang for your buck.
Important Tips And Tricks To Prevent Leaking
A GE washer is sturdy, but it's still not crazy sturdy. If you want to make sure that you avoid extra damage from a leak or avoid a leak altogether, these things can help:
Get a leak tray. Did you know that GE sells trays to catch water from washing machine leaks? It's true and yet so few people actually buy one. While you don't need a tray, having one is a good safeguard should anything occur.
Keep the door area clean. All that lint and soap scum can build up and wreck the door seal. A quick cleaning of your washing machine is always a smart move.
Change the drain pump filter regularly. Your owner's manual will tell you how frequently this should be done. A clogged filter can stress your drain pump, leading to cracks in the system.
Don't overburden the washer with too many clothes. Excess clothing in the tub can cause the machine to rattle, vibrate, and just get overclocked. When this happens, you can stress out both the bearings and tubes of your washer. Both can cause leaks when the wear and tear gets to be too much to handle.
When you're washing your clothes, only use the appropriate recommended amount of detergent. The classic sitcom move of pouring a whole bunch of detergent into a washing machine does, in fact, cause a flood.
Do You Need Appliance Installation or Replacement?
Get free, zero-commitment quotes from pro contractors near you.
---
Related Questions
Are GE washers better than Whirlpool?
It depends on the specific model as well as what you consider to be better. GE washers are, on average, more expensive than Whirlpool. They have similar capacities and features. However, GE tends to have slightly more "techy" features that are designed to give you a perfect batch of laundry time after time.Whirlpool washers tend to have a slightly better warranty, while both are fairly comparable in terms of reliability. Overall, it's better to take a more specific look at each model before you make a decision. More often than not, specific models are better at predicting quality than anything else.
How long do GE washing machines last?
If nothing else, General Electric makes a darn durable washing machine. Most of their machines will last between 11 and 12 years until they need replacement, making them some of the most durable machines on the market. To get the most out of your washing machine, make sure that you maintain it frequently and call a repairman whenever you notice something going awry.
Is the GE extended warranty worth it?
For most people, GE's extended warranty plan is worth considering—but only if you're the type of person to remember to use a warranty. If you prefer to make low monthly payments to avoid a massive repair bill later on, then it makes sense to get it. On the other hand, if you feel like you won't need to get repairs anytime soon, it might not be a good match.

Ossiana Tepfenhart
Ossiana Tepfenhart is an expert writer, focusing on interior design and general home tips. Writing is her life, and it's what she does best. Her interests include art and real estate investments.
More by Ossiana Tepfenhart
Published March 16th, 2021 1:29 PM