116 Views
Freestanding Vs. Slide-In Range: What Are The Major Differences?
August 11th, 2021 3:21 AM
Share
We're committed to finding, researching, and recommending the best products. We earn commissions from purchases you make using links in our articles. Learn more here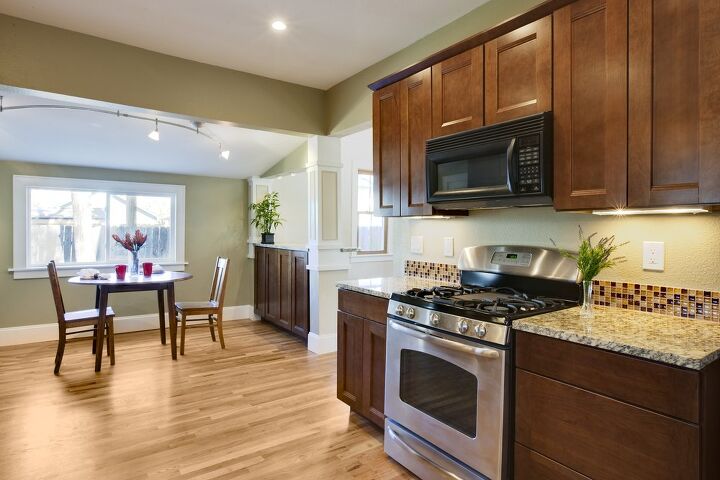 Choosing an oven for your kitchen is no easy feat. Not only do you have to choose between models, but you also have several types of ovens to choose from. When deciding between a freestanding and a slide-in oven range, your choice will depend on your preferences.
If you're building a new home and aren't too concerned about cost, a slide-in range is the best choice. If you're replacing an existing freestanding range and don't want to remove the countertop, choose another freestanding range. In this article, we'll discuss all the differences between each range, as well as the pros and cons of each.
Do You Need Appliance Repair Services?
Get free, zero-commitment quotes from pro contractors near you.
What Is the Difference Between Freestanding and Slide-In Ranges?
Slide-in and freestanding ranges are both great options for ovens. These are the main differences between a freestanding and slide-in range:
Installation Location
Controls
Appearance
Selection
Price
Freestanding Range
Installation Location:  You can install freestanding ranges anywhere in your kitchen.
Controls: Freestanding ranges have backguards that contain the controls for the burners and the oven. The backguard extends upward and covers a few extra inches of the wall.
Appearance: The sides of the oven are finished, to be able to stand on its own, anywhere in the kitchen.
Selection: Most major appliance manufacturer's make freestanding oven ranges. Some of the bigger companies that make them include Samsung, GE Appliances, Summit, Frigidaire, LG, Maytag, and Whirlpool.
Price: Freestanding ranges are generally less expensive than slide-in ranges. You can expect to find freestanding ranges for as low as $400 in some cases.
Slide-In Range
Installation Location: Slide-in ranges are designed to fit in between cabinets.
Controls: The oven and burner controls for a slide-in range are on the front of the oven.
Appearance: These oven ranges are a little wider on top, with a lip that's designed to hang over the counters. This makes it look like the oven is connected to the cabinets.
The sides panels of the oven are not finished since it's meant to be surrounded by cupboards or cabinets. Also, it sits a few inches away from the wall so that your countertop can wrap around it.
Selection: The major companies that make slide-in oven ranges are Samsung, Bosch, Summit, and Frigidaire.
Price: The cheapest slide-in oven ranges are usually around $900.
Pros and Cons of Freestanding and Slide-In Oven Ranges
As with any appliance that comes in different styles, there are advantages and disadvantages of both. Read on for the pros and cons of each, and consider where they fall within your priorities.
Pros of a Freestanding Range
Versatile – You can place them anywhere in the kitchen, giving you a range of design options. This means that if you want to change the look of your kitchen later, you can easily move the oven. You also won't need to worry about matching them exactly with the cabinets.
Options – Freestanding ranges are the most common type of oven on the market. So, you'll have the most options to choose from compared to other types of ranges.
Ease of Installation – Since they don't need to be fixed to any other kitchen furnishings, they're easier to install than slide-in ranges.
Cons of a Freestanding Range
Integration – If you want them to fit in with your cabinets, they don't integrate entirely seamlessly.
Cleaning – If you're placing your freestanding oven in between cabinets, cleaning around it can be a pain. Often, crumbs and liquids can easily fall in the crack between the cabinets and the oven. You may also have to pull the whole oven away from the wall to sweep and mop behind it.
Safety – If your burner controls are on the backguard, you'll have to reach across the burners to adjust the controls. For example, if you're cooking bacon and the grease is coming out of the pan, you'll have to be careful.
Outdated – Freestanding ovens are the more traditional choice, and some think they look old-fashioned. They might not fit in well with a more modern kitchen.
Pros of a Slide-In Range
Safety: You won't have to reach across a hot burner to adjust the temperature or turn another burner on.
Aesthetics: Seamlessly blend in with your cabinets, making it look like it was built in. Since there's no backguard, your backsplash is fully on display with nothing covering it up.
Cleaning: Slide-in ranges are easier to clean since it usually overlaps the counter. This prevents food and drinks from spilling down the cracks between the stove and cabinets.
Cons of a Slide-in Range
Price: Slide-in ranges are generally more expensive. Their starting prices are about $300 more than freestanding ranges.
Installation Limitations: The side panels of a slide-in range are not finished. Therefore, there must be cabinets on either side of the oven.
Wall Cleaning: Since there's no backguard, you might wind up cleaning grease and other food splatters off of the walls.
Safety: While controls in the front are safer for cooking, it may be a hazard for children. Consider extra childproof measures to make sure your children won't be able to turn the burners on.
Front Control Range
If you're having trouble deciding between a slide-in and a freestanding oven range, a compromise is possible. A front control range is the best of both worlds in terms of design.
Front control oven ranges have finished side panels. So, they can stand alone in your kitchen, or in between cabinets. And as the name suggests, the controls are on the front of the oven, with no backguard.
Which Should I Choose?
If you're replacing an older freestanding range, think about whether you want to do major renovations in your kitchen. If not, you should probably choose another freestanding model. Similarly, if you're going from a slide-in to freestanding, you'll have extra countertop along the wall to contend with.
If you're shopping for ovens for your new construction, a slide-in range is the better option. It will add a few hundred dollars to the cost of the kitchen, but the benefits might be worth it. You'll be able to match the oven to your new cabinets, and the oven will be easier to clean.
A slide-in range is also a better option if you have a custom backsplash on the wall to show off. However, if you're building on a budget, a freestanding range might be a better choice. They're more affordable, and with all the options available you'll likely find one to match your kitchen.
Can I Switch from a Slide-in to a Freestanding Range Later, or Vice Versa?
You might pick one of these choices now, and then change your mind years down the road. While this is doable, it may require you to update your kitchen.
Since slide-in ranges rest a few inches away from the wall, there's a strip of countertop behind and around it. Therefore, you'll have to update your countertop to accommodate a freestanding oven range.
If you're switching from a freestanding to a slide-in model, there are more size considerations. You'll need a range that fits exactly into the space between your cabinets. You should also take measures to prevent steam damage and stains to your wall since slide-ins don't have a backguard.
Tips to Remember When Installing a New Range
Measure your space: Make sure you know the size of your available space before you shop for a new oven. Oven ranges typically come in standard sizes today. Even still, you don't want to get home with a new range and discover your space is unique!
Protect your floor: Sliding your new oven across the kitchen floor could easily damage the floor surface. Use the box the oven came in to slide the range across the floor. But be careful not to rip the box, in case you need to return the range.
Do You Need Appliance Repair Services?
Get free, zero-commitment quotes from pro contractors near you.
---
Related Questions
Do slide-in ranges come in gas?
Slide-in oven ranges today come in both gas and electric models. Freestanding ranges can also be both gas and electric. So, your choices for oven ranges are not limited by the type of hookups you have in your kitchen.
Can I switch from electric to a gas oven?
This could be an easy or difficult task, depending on your home. To find out if it's possible, make sure gas is available in your community. If you already have a gas line in the kitchen, installing a gas range will be simple. If not, you'll need to consult with a plumber to find out how much it will be to add a new gas line to your home.
What about a wall oven?
Wall ovens get built into a cutout in the wall and can be installed at any height. If you don't already have one and aren't building a new kitchen, you'll have to renovate to use one. But if you're building a new kitchen, a wall oven might be a good choice.Wall ovens prevent you from bending to access the oven, and you can easily install a double vs. single oven. Wall ovens also mean that you can have your cooking surface separate from your oven. So, you can install the oven amidst your cabinets and install a cooktop surface on a kitchen island, for example.

Kathryn Flegal
Kathryn is a craft aficionado who loves writing about DIY home improvement projects. When she's not writing, she loves reading, listening to musicals, and playing with her kids.
More by Kathryn Flegal
Published October 5th, 2020 10:59 AM