244 Views
Entertainment Center Dimensions (with Drawings)
August 27th, 2021 2:33 AM
Share
We're committed to finding, researching, and recommending the best products. We earn commissions from purchases you make using links in our articles. Learn more here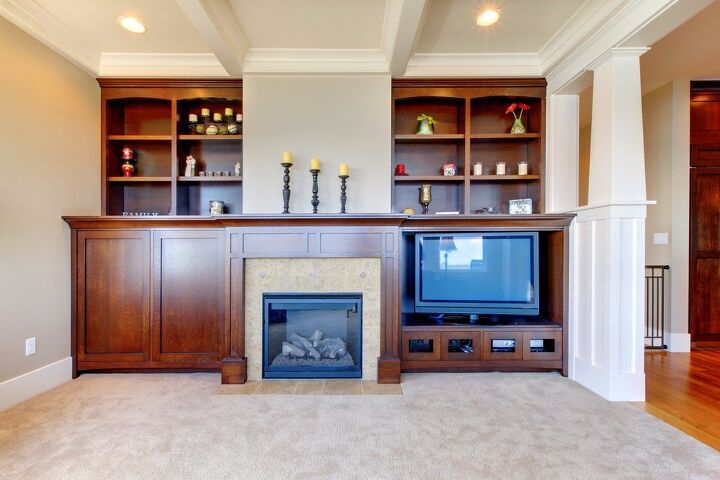 Entertainment centers are one of the most functional storage pieces of furniture in your home. They can hold TVs, speakers, entertainment equipment, and other electronics and store them out of sight. Finding the right entertainment center can be tricky, so use this as a guide to purchase the best one for your space.
Entertainment centers come in several different styles and sizes. However, the most common TV sizes are 42-inch, 50-inch, 65-inch, and 75-inch. Your entertainment center should be 2 to 3 inches wider than the overall width of your TV on each side.
What's the Average Size of an Entertainment Center?
On average, you'll find entertainment centers sized to accommodate the most popular TV sizes. Typically, the surface your television is on should be 2 to 3 inches wider than the overall width of your TV.
The most popular TV sizes are 42-inch, 50-inch, 65-inch, and 75-inch. But, you measure televisions diagonally across the screen, so the actual width is a bit less than these numbers.
For example, a 42-inch TV has a width of about 36.5 inches. Therefore, your entertainment center should be at least 41 inches wide. You should also make sure that there is enough room in front of and behind your TV.
Types of Entertainment Centers
There are three types of entertainment centers, wall units, TV stands, and media chests. Each of these types can come in a variety of styles and sizes.
Wall Units
Wall unit entertainment centers are large pieces of furniture that feature open or closed shelving units. This is what you most likely recognize when you think of an entertainment center. Wall units vary in width, but they can be as tall as 72 inches.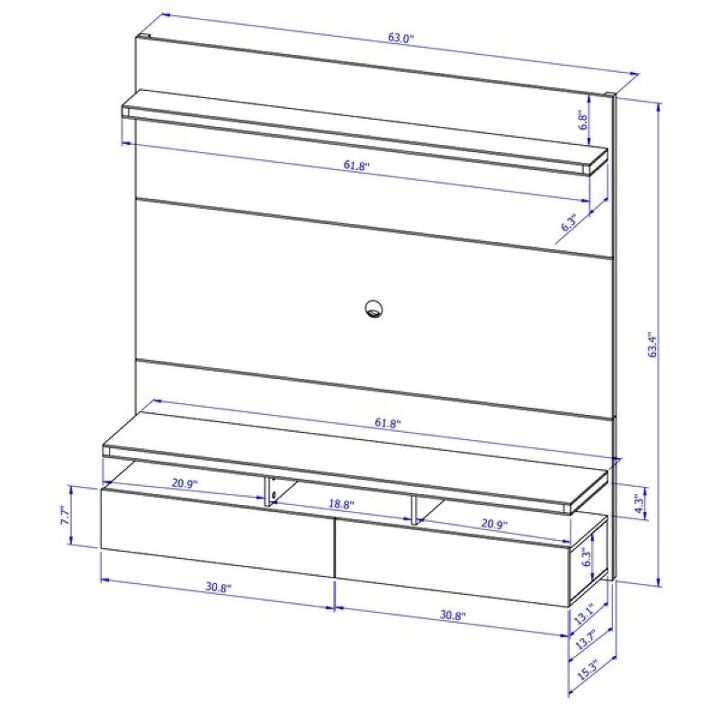 TV Stands
A TV stand is generally a long, cabinet-like piece of furniture where the TV rests on top. Sizes and styles vary, but counter height is best for viewing the TV. These pieces often have storage underneath to hide any electronics.
A TV stand height of about 42 inches is usually best to prevent straining your neck.
Media Chests
Media chests, or cabinets, are smaller, vertical units that hold the TV and other electronics. These are similar to armoires in that they open and reveal a TV behind the doors. This is an excellent option for those who prefer to hide their TV when they're not using it.
Entertainment Center Styles
When trying to choose an entertainment center, keep in mind the style that will work best for you. Specific shape, structure, and function are important as you will likely use this piece for years. There are many different types of entertainment center styles.
Open Shelving
An open shelving entertainment center is quickly becoming popular, especially for those looking for a clean setup. Open shelving is less obtrusive and allows you to conserve space around the TV. Typically, a central frame will hold the shelves, and then in the center will be a mounting bracket for the TV.
The IKEA Besta TV Storage Combination has three drawers, six open shelves, and three glass cabinets. The TV is mounted in the middle for a modern, minimalistic look but provides extra space for other electronics. This piece has an overall height of 75.625 inches, a width of 70.875 inches, and a depth of 15.75 inches.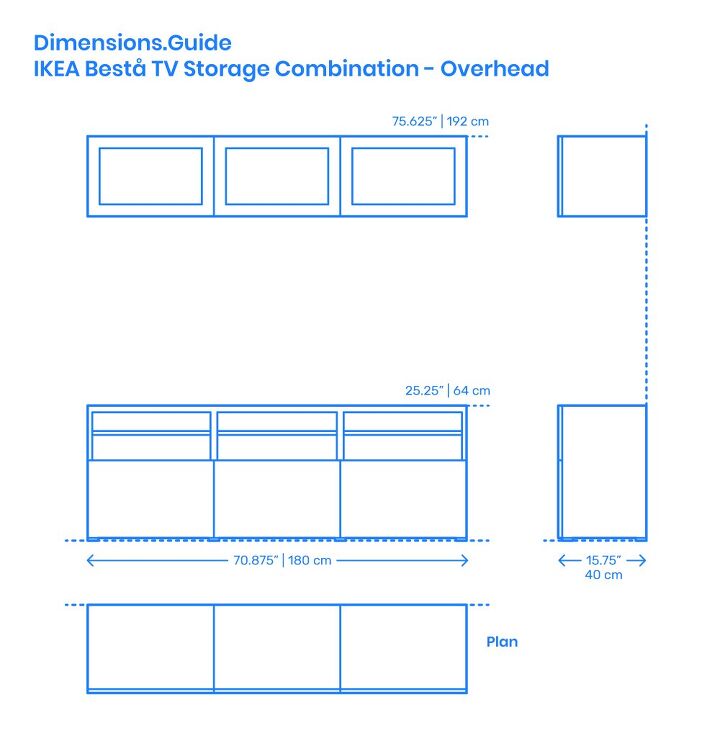 Console
A console is usually a singular, rectangular piece that has shelving and a large surface area. The IKEA Besta TV Storage Combination with overhead stepping is a console piece with added storage above.
The console piece has four drawers and two open shelves. It also features three wall cabinets that you can hang above or next to the TV if you desire. This piece has an overall height of 74.75 inches, width of 94.5 inches, and depth of 16.5 inches.
TV Stand with Audio Towers
A TV stand with audio towers is for those who are looking to enhance their entertainment space. This style of TV stand goes best in a game room or home theater. It has the functionality and look of an entertainment center, but with tall shelves on either side for speakers.
The IKEA Besta TV Storage in the U-shape is a good option when you want a TV stand with audio towers. This U-shaped piece features three glass doors on one side and two glass doors on the other. The TV mounts in the middle of the wall with a large storage compartment underneath.
Inside the doors, you can store and display any audio equipment, and the storage below the TV can house other electronics. This piece has an overall height of 76 inches, a width of 118.125 inches, and a depth of 16.5 inches.
Hutch
A hutch is a common entertainment center style. The cabinets and shelving are stacked around, and the TV sits on a counter space. You can use the open shelving to display home decor, and the cabinets below can house any electronics.
Most hutches measure about 111 inches wide overall and have enough room for a 65-inch TV.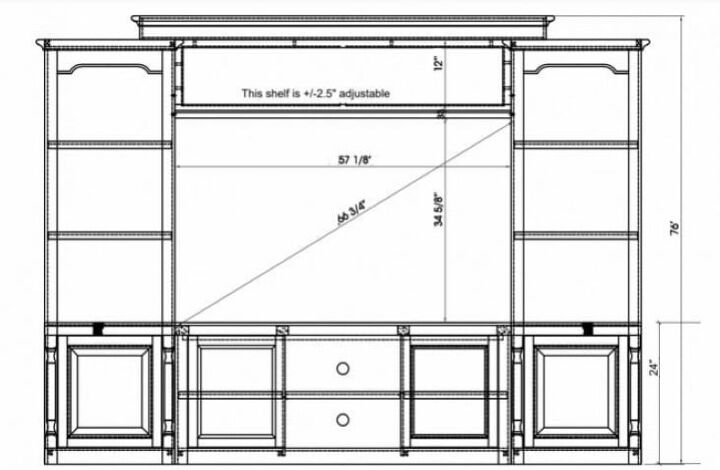 Floating
A floating entertainment center design is a wall-mounted unit that allows open floor space and keeps a clean look. Most floating pieces contain shelving and a place to hide any cords. TVs can be sat on top of the piece or mounted on the wall above the floating stand.
Floating TV consoles are typically hung 36 to 42 inches above the floor. These pieces vary in style and size, but they should follow the same guidelines for TV stands. Your floating TV console should be at least 2 inches wider than your TV on each side.
Corner TV Stands
Corner TV stands are popular for those who value storage but don't want to take up much space in their home. These entertainment centerpieces can create storage for your TV and other electronics while also saving your space.
When measuring for this stand, measure the diagonal width of your TV from the top left corner to the bottom right. Then, add two inches to that measurement to find the minimum width of your corner TV stand. If you have an older TV, you may have to measure the depth of the TV, too, for the right fit.
Cabinet
A cabinet TV stand is a combination of a console model and a hutch. There is closed cabinetry throughout the piece, and drawers sit below the space where the TV is. Some cabinet TV stands are fully enclosed so you can hide the television when it's not in use.
The Combination Overhead IKEA Besta unit is a large piece of furniture that houses the TV, media consoles, and electronics. The unit features compartments, drawers, and glass door storage units for plenty of space around the TV. It has an overall height of 90.5 inches, a width of 118.125 inches, and a depth of 15.75 inches.
How to Choose the Right Size Entertainment Center
With so many options, it can be challenging to find an entertainment center that fits your needs. Measuring your TV, the room, and the space where the entertainment center will go can make the process much easier.
Measuring Your Television
Before you purchase an entertainment center, measure your television. You will need to know the screen size, frame size, and depth.
You determine the screen size of the TV by measuring diagonally from corner to corner of the screen. Remember, a 42-inch TV isn't 42 inches in width.
Frame size is the size of the bezel around the TV screen. This will affect the measurement of your TV, so measure the space around the screen. Include the height and the width of the TV.
The depth of your TV is significant if you don't have a flat-screen. You want to make sure that the TV will fit properly within the entertainment center. If it's too shallow, the TV won't be secure, or it could overheat.
Always allow for two extra inches of space in each direction to accommodate any small measurement discrepancies.
Measuring Your Room
Measure the width and depth of the floor space to identify the available space needed for the entertainment center. These measurements can also help you determine the best viewing distance when watching TV.
Where to Place the Entertainment Center
When trying to decide where to place the entertainment center, consider the layout of your space. Be mindful of power outlets and cable connectors. Of course, you shouldn't place TVs in front of a window which can cause glare or backlighting.
You should also keep in mind sightlines. The lower half of the TV screen should be at eye level when seated. The shelf where the TV is should be no less than 12 inches below the measured sightline.
---
Related Questions
How wide should a TV stand be for a 55-inch TV?
No matter the size TV you have, your console should be the appropriate size. Your TV should never overhang on the TV console. A rule of thumb is to add two inches on each side of the TV. Always measure the TV's actual width to ensure that the TV stand will be the correct size. A 55-inch TV has a width of 47.9 inches, so the stand should be at least 51.9 inches wide.
How far should you sit from a TV?
The size of your TV will determine how far you should sit from it. The style TV will also determine how far away you should sit, as HD TVs tend to be more pixelated. This can be distracting when sitting too close, but 4K TVs have a clearer image allowing you to sit closer.For a 50-inch TV, try to sit 4 to 6.5 feet away from the screen. Then, for a 55-inch TV, sit 4.5 to 7 feet away from the screen. For a 65-inch TV, sit 5.5 to 8 feet away from the screen.

Stacy Randall
Stacy Randall is a wife, mother, and freelance writer from NOLA that has always had a love for DIY projects, home organization, and making spaces beautiful. Together with her husband, she has been spending the last several years lovingly renovating her grandparent's former home, making it their own and learning a lot about life along the way.
More by Stacy Randall
Published June 17th, 2021 1:45 PM