459 Views
Does Lowe's Cut Wood For DIY Projects? (Find Out Now!)
December 13th, 2021 2:10 PM
Share
We're committed to finding, researching, and recommending the best products. We earn commissions from purchases you make using links in our articles. Learn more here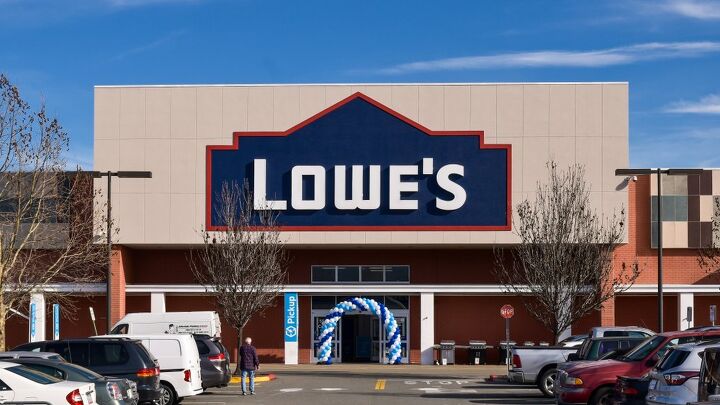 Lowe's works with all of their customers that need lumber, whether for the DIY project at home, for home remodeling, or for construction needs. The company offers a wide range of store services and services for professionals, but does Lowe's cut wood?
Lowe's cuts wood you purchase at the store but the store's cutting policies can vary from location to location. Lowe's will make rough cuts to help you fit larger wood pieces in your car, but some employees will go the extra mile. If you want precise cuts, consider visiting during off-hours and measure and mark the wood yourself.
It's best to check your store's cutting policies first before loading up your cart with lumber. The store also sells pre-cut wood in a variety of different types and sizes.
Do You Need Handyman Services?
Get free, zero-commitment quotes from pro contractors near you.
Understanding Types Of Wood
Lumber varies in color, wood grain, texture, and density. Less dense wood is likely the ideal choice for a variety of woodworking projects. On the other hand, more dense lumber is the best option for furniture and building projects.
The store associates guide customers through the factors that are important in selecting the best options for their projects. Pressure-treated lumber, dimensional lumber, wood deck boards, hardwood and softwood lumber, and shiplap are some options. Plywood, particleboard, and oriented strand board (OSB) are some other options discussed by Lowe's and sold at stores.
How To Get Your Wood Cut At Lowe's
Some customers come into a Lowe's store and already know the type and size of wood that they need for their project. However, when purchasing pre-cut wood is not always an option, asking your Lowe's associate to do it for you is a great option. This way, you do not have to guess what size wood you need and which size is the right size for your building or home project needs.
Lowe's will cut most sizes and types of wood, with the exception of smaller pieces. Do not expect the associate at your local Lowe's store to cut a piece of wood for your 5 x 7-inch picture frame. The reason that Lowe's does not cut small pieces of wood is because of safety concerns.
Do not worry about loading the wood into your vehicle. Lowe's will even load the wood that you purchase, whether it is pre-cut, or cut by a store associate.
Purchasing The Right Size Wood For Your Project
The company points out that whatever customers are building, their selection of wood makes it easy for customers to complete any project. Lowe's also helps customers understand the different types of lumber available and the uses for each type of lumber. Customers that bring in the dimensions for the wood that they need to cut often receive the assistance that they need when seeking the perfect size wood, ranging from constructing a small bookcase to adding a room or for new construction.
Other Home Improvement Stores That Cut Wood
Suppose that you are unable to locate the ideal wood for your home project or for your building needs. You know that Lowe's cuts wood, but what about other home improvement stores? Do they cut wood too?
Menards' Wood Cutting Policies
There are other home improvement stores that also cut wood. Menards is one option where customers may be able to get their lumber cut for them. The store policies dictate details about their wood cutting services. Menards will not cut plywood. They will cut any other type of wood. There are also some limits on the length and thickness at some stores. Services for cutting wood at Menards varies by store, so customers need to make sure that the Menards store in their area cuts wood before going to the store.
Lehman's Hardware Store Wood Cutting Policies
Some smaller stores, such as Lehman's Hardware Store, also offer wood cutting services. However, the wood cutting service at Lehman's Hardware Store locations is limited to cutting firewood, according to the company website. They also offer hauling services.
The store stocks a good variety of firewood cutting tools, and products for splitting, carrying, and storing the wood. Customers that need wood cut for building or other construction, or for home project needs want to consider other stores for cutting wood.
Local Hardware Stores
Check the local home improvement or hardware stores in your community. Smaller stores that are not nationwide chain stores may offer wood cutting services, but do not have the means to advertise online.
Does Home Depot Cut Wood?
The answer to this question is likely "yes," that Home Depot stores will possibly cut wood. This service is provided when the wood is purchased from their stores, the same as Lowe's cuts wood for their customers.
However, customers that really need their lumber cut for them need to double-check if their local Home Depot will cut wood for customers. There are some reports surfacing of customers having issues with this service. There could be a reasonable explanation, such as customers that want wood cut in sizes that are safety issues or other problems.
Cost To Cut Wood
The cost to have wood cut for customers depends on where the customer purchases the lumber and the wood cutting services offered at specific home improvement stores. Some stores may offer a station where customers can cut their own products. This saves the cost of having someone cut the wood for you. But if you do not have experience cutting wood with the type of equipment in the store, it may be best to let a professional do it for you. It may cost a little extra, but it could also potentially save your fingers.
Lowe's Cost
Check with Lowe's to determine what their costs may be for cutting wood. The website indicates that they offer wood cutting services, but does not mention a fee for the service. Customers that shop at Home Depot also want to check for possible charges if the Home Depot in their community offers to cut wood for customers.
Menards' Cost
Menards is one store that some sources indicate as a company that cuts wood, but the site does not list that information. That is why we recommended checking with stores in your area because they do not cut wood in all areas. When they do cut wood, the last known charge for cutting wood for customers at Menards was a nominal charge of $1.00 to $2.00 per cut, with some stores offering the service at no charge.
Military Discounts
One way to save on wood cutting costs is if you are a member of the military, a military spouse, or a veteran. Lowe's, and some other stores offer a 10 percent discount. Check whether the discount applies to wood cutting services.
The Lowe's Wood Policy
Lowe's indicates that the company's long-term goal is to ensure that all wood products sold in their stores originate from well-managed, and non-endangered forests. The company recognizes the importance of forests around the globe. Yet, the company is still able to purchase a substantial amount of wood to sell to Lowe's customers at all of the Lowe's stores.
The company understands that there is a lot that goes into selling wood and satisfying customers, assuring them that they have the best options available for all of their wood projects and building needs.
Do You Need Handyman Services?
Get free, zero-commitment quotes from pro contractors near you.
---
Related Questions
How do I know the right type of wood to select for my needs?
Although not every Lowe's or other stores offer to cut the wood that customers buy, they will help customers select the best lumber for their construction, home improvement, or DIY project needs. Ask a store associate to help you, and explain the purpose of buying the wood.
How do I protect the wood that I buy from Lowe's?
Ask the associate when you purchase the wood. Do not wait until you get to the cashier, who may not know the answer to your questions. Ask the professional in the lumber department. Read about caring for the particular type of wood that you buy for additional information.
Will Lowe's help me with my design needs?
Yes, Lowe's will likely assist you with your design and consultation needs. Some customers have a vision for their project, but just do not know quite how to bring the project together. Lowe's can recommend the ideal wood, composition, and other details. They will even help you with your needs for the perfect lattice style and your wood veneer needs.Do you feel embarrassed by your sketch or written plan for your project? Do not worry about it. Lowe's associates are trained to help customers with all types of design and consultation needs.The store also offers delivery services. Check with your local store where you plan to purchase your wood to learn more about Lowe's delivery services, and scheduling a delivery.

Upgraded Home Team
We are a team of passionate homeowners, home improvement pros, and DIY enthusiasts who enjoy sharing home improvement, housekeeping, decorating, and more with other homeowners! Whether you're looking for a step-by-step guide on fixing an appliance or the cost of installing a fence, we've here to help.
More by Upgraded Home Team
Published February 21st, 2021 10:05 AM