107 Views
Does Huawei Work With Verizon? (Find Out Now!)
December 1st, 2021 2:59 PM
Share
We're committed to finding, researching, and recommending the best products. We earn commissions from purchases you make using links in our articles. Learn more here
Huawei, a Chinese-based company, has established itself as a credible innovator in the mobile phone industry. This leaves many Americans are wondering- does Huawei work with Verizon? Huawei devices work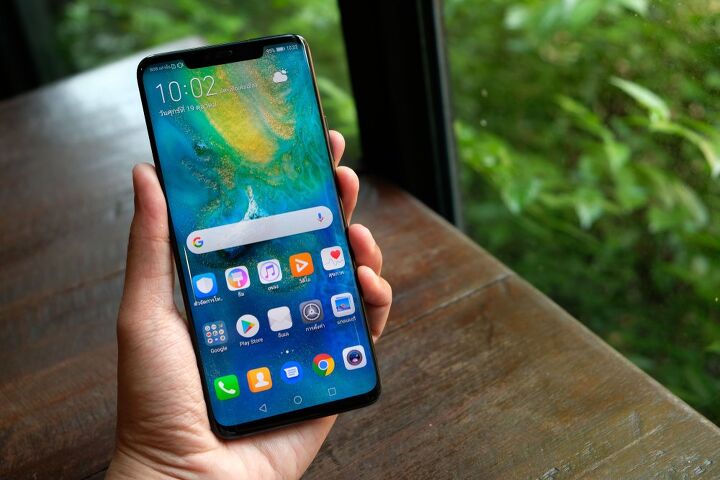 Huawei, a Chinese-based company, has established itself as a credible innovator in the mobile phone industry. This leaves many Americans are wondering- does Huawei work with Verizon?
Huawei devices work with Verizon, but only partially due to recently settled patent infringement lawsuits and their use of CDMA. If you live in the United States and own a Huawei phone, opt for carriers that use GSM like T-Mobile. AT&T and Metro by T-Mobile also offer better coverage for Huawei.
Follow along to learn more about Huawei, why it's difficult to buy their products in the U.S., and if Huawei works with popular carriers like Verizon!
Do You Need a Smart Home System Installation or Service?
Get free, zero-commitment quotes from pro contractors near you.
What Is Huawei?
Huawei is a Chinese telecommunications company founded in the late 1980s that manufactures equipment, affordable smartphones, and home appliance smart hardware.
They are known for being a powerhouse in the industry and have made massive strides in creating 5G technology. The company owes their success largely to a valuable supply of resources they have acquired over the years. With over $100 billion in revenue reached in 2020 alone, Huawei's product development plans are aggressive and well-funded (to say the least).
The Chinese establishment has made attempts at entering the U.S. market before, but they have yet to be officially partnered with any carrier. Their reach is global- so it's no surprise that competitors, like Apple and Samsung, feel threatened by the magnitude of Huawei's advancements.
What Is the Huawei Ban?
Huawei's presence in the United States and in other European countries has been quite controversial over the years.
Back in 2012, America banned their companies from using Huawei equipment; it's all been fairly downhill from there. Challengers have argued that the Chinese company's products pose a security threat to the U.S., with their main concern being the use of cell phones as spyware.
Just recently, two patent infringement lawsuits between Verizon and Huawei were settled. Tensions continue to rise as Huawei's sales have taken a hit due to their relationship with foreign countries.
However, this hasn't stopped them from finding creative ways around the ban. Huawei products are still available for purchase in the United States through one-off websites.
The current state of affairs is that Huawei is not forbidden altogether, but their devices can't be used with any U.S. companies on anything involving national security.
Does Huawei Work with Verizon?
The answer is sort-of. Huawei products do work with Verizon, but only partially.
Their usage is rather restricted and only capable on the carrier's 4G mode. However, we can recommend a few Huawei devices that work best on the Verizon network.
They are the Huawei:
P20 Lite
Honor 10
Mate S.E.
Mate 20 Pro (available on Amazon)
Furthermore, Huawei phones are not sold on the Verizon website or in stores, and the support service options are limited when partnering with Verizon Wireless. Most of the time, wherever you buy their phones in the U.S. won't offer a warranty package. This means you're taking a big risk with regard to possible damage.
It is recommended that you purchase the phone "unlocked" so that you can receive updates directly from the company instead of through your carrier. That way, you'll get the latest software faster and without any interference.
Ultimately, due to the recent lawsuit, Verizon and Huawei aren't on the friendliest of terms. That being said, using them together in the United States is still somewhat possible.
Which Phone Service Provider Does Huawei Work Best On?
While Verizon offers limited support and networking for your Huawei device, there are other carriers that it will work better with.
The companies with the best coverage for Huawei are:
T-Mobile
AT&T
Metro PCS (now called Metro by T-Mobile, a subsidiary of T-Mobile)
A few forums online also recommended using a carrier that offers Global System for Mobiles (GSM) over Code Division Multiple Access (CDMA) because of the radio network's international capabilities. Essentially, you need the ability to use all 4 GSM bands and 4G LTE.
That's another reason why Huawei doesn't work the best on Verizon- they exclusively use CDMA.
You can check Huawei's list of compatible carriers and Huawei phone models to see what the best option is for you!
---
Related Questions
Does Huawei P30 have Google?
The Huawei P30 was released in 2019 and DOES have Google apps and capabilities. That being said, any of the newer mobile phones produced by the company do not have access to Google's services.
Does Huawei work with your Fitbit?
Fitbit released an official statement reading that their Huawei phones, in particular, are not supported. However, their customer support section does not mention anything about handsets.Although, if you have an older Huawei phone, there are a few techniques you can try to sync your FitBit and override this. This includes allowing notifications and managing the battery life manually (so as not to overwhelm the FitBit application).While this isn't guaranteed to work, it may be an option for Huawei phones manufactured before any U.S. banning went into place.
Does Huawei work in Canada?
Yes, Huawei works with almost all major carriers in Canada.However, there is an Android ban that went into effect in Canada over the past few years. Their official stance is that any Huawei phone manufactured before May 2019 will qualify for repairs and be able to receive the latest software updates.Additionally, Canada detained Meng Wanzhou, Huawei's CFO, in 2018 on charges of fraud. He has since been released, although you can't help but wonder what this means for future relations between Huawei and Canadian phone carriers.
Do You Need a Smart Home System Installation or Service?
Get free, zero-commitment quotes from pro contractors near you.
The Bottom Line
What all of this really boils down to is that Huawei will work with Verizon Wireless. Even so, it's not your best option.
If you live in the United States and own a Huawei phone, choose carriers that use GSM like T-Mobile. AT&T and Metro by T-Mobile also offer better coverage for Huawei due to their Global System for Mobile Communication offering.
We recommend doing your research on which network provider will best suit your needs. Do this before switching to one of these providers so as not to compromise on cellular service quality or reception.

Emily Carr
Emily is a copywriter with over five years of experience in crafting content for the home renovation and remodeling industry. She loves house projects, whether it be painting a room or tweaking small design elements to transform a space. Her favorite aesthetic is french modern because of its clean lines and airy feeling! When not writing, Emily loves to travel and check out architectural details all over the world.
More by Emily Carr
Published November 5th, 2021 6:44 PM