346 Views
Do I Need A Permit To Build A Patio? (Find Out Now!)
July 11th, 2021 5:54 PM
Share
We're committed to finding, researching, and recommending the best products. We earn commissions from purchases you make using links in our articles. Learn more here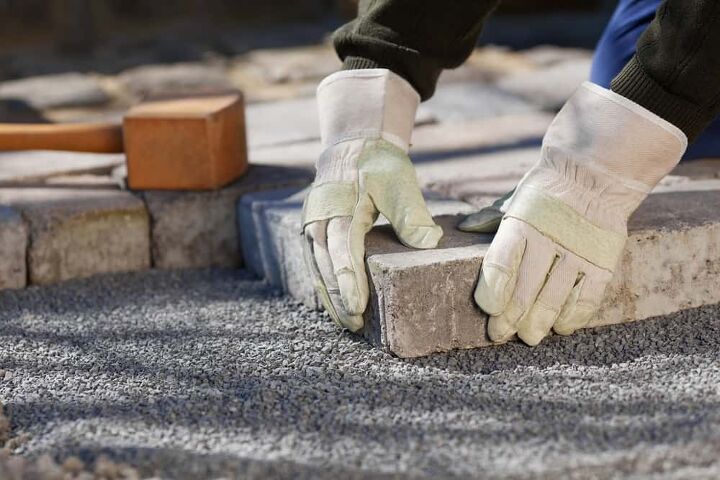 Creating outdoor living spaces such as a patio can add a new dimension to your home. The addition of a patio or deck enhances the livability of your home in many ways. The big question facing most homeowners is whether a permit is required to build a patio.
In most instances and locals, outdoor work to create a patio at grade level doesn't need a permit. You usually don't need a permit for patios built of concrete, pavers, brick, or decks. Any patio or deck less than 30 inches above grade level is usually exempt from permitting as well.
A quick call to your local building inspection office will confirm your local codes and requirements. It is better to check than to learn later that you must tear out your work because you didn't have a permit. There are other considerations that you should undertake before you start construction. A little preplanning will go a long way to getting the patio or deck you want.
Do You Need a Permit Service?
Get free, zero-commitment quotes from pro contractors near you.
Choose your Style of Patio
Before you begin any design or construction, you should have a concept of what you want from your patio. There are some questions to ask yourself. These questions can help you build an understanding of what you need to incorporate into your patio design.
Where will My Patio Be Located and How will the Patio Be Used?
Location is everything and in many ways, location depends on how you intend to use your patio. Some people see their patio as an outdoor living area. In this case, the patio should be adjacent to the main living area and directly access the home. A patio meant as a retreat, or private place needs separation from the house and screening by plants or a fence.
Future Considerations
Another consideration in this phase is your future plans. Do you anticipate adding a cover or pergola to the patio in the future? If so, planning should include making the patio structurally able to support the additional loads. Footing or piers may require permitting and inspections when you pour the concrete.
What Design Elements Do You Want to Incorporate?
If you envision an outdoor entertainment area on your patio, an outdoor kitchen may be part of the plan. Cooking spaces outdoors requires an extra degree of planning since you will need to run utility services to the outdoor kitchen area.
Adding extra electrical service, gas service, water service, and drain service to an outdoor kitchen area all involve added planning and preparation. In most areas, any utility additions or expansions to your home require you to have a permit. Your sub-contractors can give you better advice about your local building codes. Consult with your sub-contractors before any work commences.
Getting the Design Ready – Architect, Contractor, Or Do-it-Yourself?
The simplest patio needs a plan. Your plan may be nothing more than a pencil sketch of the patio, noting the size and dimensions. The plan should note the exact dimensions, the slab thickness, and any special considerations.
For more elaborate designs, the plan needs to contain more detail. Many contractors can provide this sort of service. Getting a plan prepared is especially true if you are installing footings for a future patio cover or pergola. The addition of any underground utilities such as electrical requires plans that show the detail of the installation.
If your patio dreams include an outdoor kitchen or other extras, a good architect is probably a wise choice. At this level of complexity, permits are a necessity. Getting permits for this work may require a set of professionally prepared plans to submit with the permit application.
Hiring a Contractor
Even the simplest patio is beyond the scope of most home do-it-yourselfers. The requirements of pouring even the simplest concrete patio include special tools and finishing skills most homeowners don't have in their repertoire.
Building a patio is, by necessity, a job that will need subcontractors skilled in the various jobs required. At the very least, you will need a concrete contractor to do the dirt work, set the forms, and perform the finishing.
The more complex your patio plans, the greater the need for you to hire a contractor specializing in the kind of work involved in the plan. A good contractor knows the ins-and-outs of permitting, has the sub-contractors to perform the work and holds the bonds and insurance that protect you.
Self-Contracting – What You Need to Know
It is possible to self-contract a patio installation. Many homeowners do this quite successfully. If you are intent on being your own contractor, there are some things to consider.
Have a good set of plans that you can give to each sub-contractor on your job.
Get a contract for each sub-contractor that sets out the work scope, the work requirements, and the dates and deadlines for the work.
You should make sure each sub-contractor carries the necessary bonds and insurance to protect you.
Scheduling contractors can be tricky. Each job must happen in the correct order. You should allow time for inspections before the next phase of construction starts.
Who is responsible for permits? If you are sub-contracting your project, you may be eligible to get a homeowner permit if a building permit is required. Contact your local building inspection department for more information about permitting.
The Issues of Permits – Understanding the Building Codes
In most areas, patios, and decks below 30 inches above grade are considered part of the hardscape and do not require permits. There are several reasons that patios rarely require permits.
Patios usually sit at or near grade level and don't require handrails or stairs for access
Patios are not attached to the home structure; thus, there is no alteration to the house's structural part.
There is no danger of collapse that could endanger lives or other people's property.
The International Residential Code – The IRC
Most cities and towns recognize or have adopted the IRC as the governing building code. The IRC is rather silent about patios and decks at or near grade level with the home. Specifically, the IRC mentions patios in only two or three places. The one that concerns most homeowners is the regulations on slope and drainage. The IRC states:
All hardscapes within 10 feet of a building must slope away from the building with a minimum slope of 2 percent. That means that the patio must slope away from your house at least 1/4 inch per foot, for at least the first 10 feet from the house exterior.
The IRC also specifies that any opening leading outside to a patio or deck cannot exceed 7 ¾ inches. On most homes built on a slab foundation, this is no problem. However, this code may affect patios on a slope or houses with a pier and beam foundation. Patios under these circumstances may require a permit for the steps to get up or down to the patio.
Zoning Codes and Rules
Don't forget any zoning codes or rules that may affect your patio project. Zoning rules and regulations are different and separate from building codes. The use of the land is controlled by zoning and the addition of a patio may impact the zoning of your property.
Zoning rules can affect your patio installation inf various ways.
Setback rules specify how close to your property line you can put structures and hardscaping.
You must take into consideration powerline and utility easements that cross your property.
Some zoning laws may restrict your patio's size based on the size of your lot and other structures that exist on the property.
Environmental rules can be a problem if your patio impacts a drainage area or protected waterway
Don't Forget Your Homeowners or Neighborhood Association
Many newer residential developments include deed restrictions or homeowners associations with rules about any additions or changes to your home. Any additions, such as patios, must be submitted to the HOA for approval in many instances. Failure to adhere to these rules and the proper processes for approval can lead to legal headaches later.
HOA rules or deed restrictions can cover such things as:
Location requirements
Size restrictions
Material selections
Finish and colors
Height requirements
This list is not exhaustive, and you should make sure that your plans are within the guidelines and have the HOA's approval before you turn the first shovel of dirt. In our experience, HOA's can be more restrictive and harder to work with than your local building inspection and zoning department.
Planning is the Key to a Successful Project
Like any other construction project, good planning is the key to a successful project. Knowing your expectations and goals leads you to know what is required before the project starts. A good plan can help eliminate nasty surprises or unexpected obstacles.
Do You Need a Permit Service?
Get free, zero-commitment quotes from pro contractors near you.
Getting to the Good Part
Of course, the final goal is to sit on your finished patio and enjoy your new outdoor living space. This enjoyment may include watching your friends and family as you gather or simply enjoying a sunrise as you sip coffee. In either case, such moments are the goal.
We hope that this article has given you a better understanding of permitting and building an outdoor living area for your home. Adding to your home's beauty and functionality is always a satisfying and rewarding experience. Good luck with your project and enjoy your patio.

Dennis Howard
Dennis is a retired firefighter with an extensive background in construction, home improvement, and remodeling. He worked in the trades part-time while serving as an active firefighter. On his retirement, he started a remodeling and home repair business, which he ran for several years.
More by Dennis Howard
Published March 13th, 2021 11:33 AM