541 Views
DensShield Vs. HardieBacker (Here Are The Differences)
April 8th, 2021 1:22 AM
Share
We're committed to finding, researching, and recommending the best products. We earn commissions from purchases you make using links in our articles. Learn more here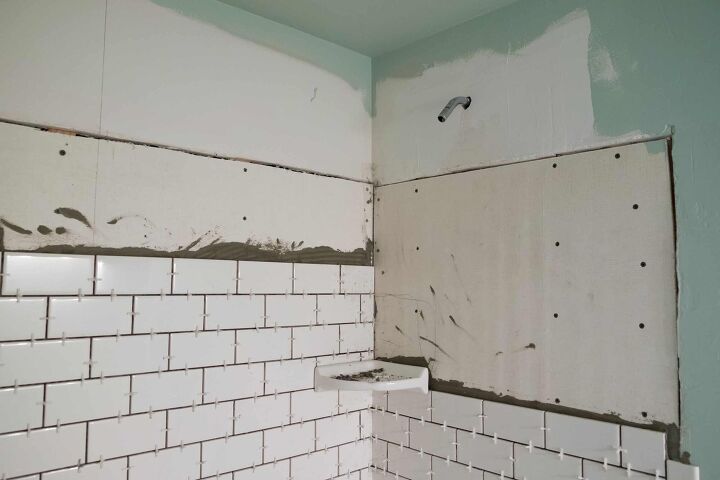 A successful installation of tile depends heavily on the type of substrate that is used to adhere to the tile. Whether you're installing tile on a floor, wall, or countertop, using the appropriate substrate is essential to avoid breaks and cracks in the grout and tile. When it comes to tile, backer board is, without a doubt, the best choice.
However, with so many different types of backer boards on the market, it can be difficult to determine which one is right for your project. One common comparison is often posed between the brand names, DensShield and HardieBacker. The major difference between the two is that the latter is a cement board, while the other is made of a water-resistant gypsum.
Both DensShield and HardieBacker have their own associated benefits and choosing between the two will largely depend on your particular situation and preference. Let's explore the characteristics of each and what they have to offer, in order to help you make an informed decision about the type of backer board you need for your tile installation project.
Do You Need to Hire Tile Installers?
Get free, zero-commitment quotes from pro contractors near you.
What is DensShield?
DensShield is, arguably, the most common brand name for glass mat gypsum board tile backer. The sheets of glass mat gypsum are constructed using a waterproof, silicone-treated gypsum and then fortified on both sides with fiberglass matting.
This type of tile backer is advertised as "the first backer board with a built-in moisture barrier," making it the ideal choice for bathrooms or other areas that will experience wetness. DensShield Tile Backer is specifically designed by Georgia-Pacific Gypsum to be used in interior tile installations that are susceptible to moisture.
In the past, paper-faced, impermeable gypsum, or "green board," was used as a tile backer but is no longer recommended. It was discovered that these materials actually become adversely affected by moisture when it makes its way into the core and causes the paper coating to separate. With the paper walling away from the backer board, tile can easily fall off.
As better, more appropriate products became available, DensShield's glass mat gypsum board claimed the spotlight. It not only protects against moisture and serves as a thorough substrate for tile; it is also approved by code.
DensShield Characteristics and Benefits
This gypsum hybrid is approved by experts and often considered to a favorite among professionals and DIYers alike. It is effective, easy to install, affordable, and simple to handle. The following are some of DensShield Tile Backer's characteristics and related benefits.
Easy handling when compared to traditional cement board. Without the use of specialized tools or fasteners, DensShield can be effortlessly cut and installed similar to drywall.
Little water absorption. DensShield Tile Backer's built-in moisture barrier allows it to absorb less water than fiber cement products. In addition to the high-performance moisture-resistant core, this tile backer is specially treated for further protection against moisture.
Ideal bondable surface. The grey, acrylic surface coating is heat-cured and not only provides a moisture-barrier, stopping water from infiltrating below the surface. It also serves as an optimal bonding surface for a number of tile setting mastics and mortars.
Mold-resistance. This type of backer board has been put through a multitude of testing in order to ensure that it is effectively resistant to mold. When tested, DensShield achieved the highest level of mold resistance performance with a score of 10.
Convenient sizing. DensShield can be purchased in a number of suitable sizes to fit your project needs. These include, but are not limited to, ½" by 4' by 8' and 5/8" by 4' by 8', for use on walls, floors, ceilings, and countertops.
Fiberglass mats on both sides for added strength. The core of the DensShield Tile Backer is fortified by fiberglass mats on either side. These add strength, rigidity, and help to eliminate any possible issues that are often associated with paper-faced gypsum board.
Lifetime limited warranty for residential installations. DensShield provides a lifetime limited warranty for use residentially and a 20-Year limited warranty for commercial installs. This fact can offer peace of mind for both the homeowner and contractor.
With such a large amount and wide range of advantages, it's hard to deny the draw for using DensShield, glass mat gypsum board for your tile substrate. However, there is a more commonly used and broadly accepted type of backer board available for your tile installation needs.
What is HardieBacker?
HardieBacker is the most common brand name that is associated with the fiber cement backer board. Both cement board and fiber cement board are widely known and most often used for tile substrate. HardieBaker cement board was awarded the most preferred backer board brand by tile contractors and installers in the 2019 Tile and Stone Report reported by ClearSeas and in accordance with TILE magazine and the National Tile Contractors Association.
Its fiber cement structure is a blend of sand, compressed cement, and generally wood fibers throughout for reinforcement. However, HardieBacker Cement Board is advertised as 90% Portland cement, sand, and no loose filler or aggregate. Similar to conventional cement boards, fiber cement backing is typically heavier than gypsum and can be challenging to cut.
When compared to standard cement boards, fiber cement sheets are more delicate and special care should be taken to avoid breaking the board. For example, screws should be kept a minimum of one inch from the edge to prevent unnecessary damage.
While most fiber cement boards can be easily scored and snapped, HardieBacker requires you to use special tools in order to effectively trim small strips off the edge. HardieBacker fiber cement boards can be found at most home improvement centers and exist in a grey- or beige-colored form.
HardieBacker Characteristics and Benefits
HardieBacker is considered by some to be the most preferred brand of backer board on the market. Its unique cement blend and design offer a suitable combination of performance, uniform configuration, and durability. The following are some of HardieBacker Cement Board's characteristics and accompanying benefits.
Non-abrasive design. The formulation of sand and 90% Portland cement with no fillers, coarse aggregates, or other additional components offers a structure that is safe and non-abrasive.
Simple score and snap cutting. Many claim that all that's required to cut a piece of Hardiebacker fiber cement board is 2-3 passes of a utility knife, pressure on the scoreline, and a simple upward motion to snap it free. However, it should be noted, that this method only works for cutting large pieces and trimming off the edges can be much more complex.
Less mess and dust. When compared to other fiber cement or standard cement boards, cutting products less dust, making clean-up a much easier task.
Ample Tile Adhesion. HardieBacker's sophisticated cement construction provides an excellent surface for tile's to successfully adhere to.
HardieBacker Cement Board has the three-times the compressive strength and the highest standard of flexural strength when rivaled against other competitive cement boards.
Do You Need to Hire Tile Installers?
Get free, zero-commitment quotes from pro contractors near you.
DensShield Vs. HardieBacker
When it comes to strength, adhesion, and moisture protection, both DensShield and HardieBacker are forces to be reckoned with. Although, when pitting fiber cement board against glass mat gypsum board, the latter arguably comes out on top. DensShield's ease of install, simple handling, and unmatched durability make it the most desirable option, selected time and time again, by contractors and homeowners.
However, since both options will serve as effective tile substrates, and are around the same price, it all comes down to your own personal preference.

Jessica Stone
Jessica considers herself a home improvement and design enthusiast. She grew up surrounded by constant home improvement projects and owes most of what she knows to helping her dad renovate her childhood home. Being a Los Angeles resident, Jessica spends a lot of her time looking for her next DIY project and sharing her love for home design.
More by Jessica Stone
Published September 10th, 2020 12:14 PM