505 Views
Standard Daybed Dimensions (with Drawings)
September 5th, 2022 9:34 AM
Share
We're committed to finding, researching, and recommending the best products. We earn commissions from purchases you make using links in our articles. Learn more here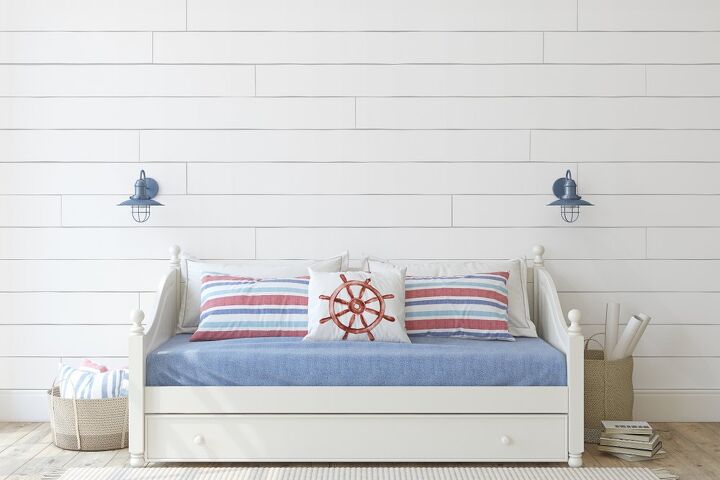 Are you looking to spruce up your living space? Adding or taking away furniture is a straightforward way to freshen up a room and bring it back to life. A smartly placed daybed in a den or a lanai adds a whole new level of usefulness to your space.
Daybeds come in different styles and sizes, with most measuring 38 inches wide by 75 inches long. This size daybed perfectly accommodates a standard twin-size mattress. Some larger daybeds measure 54 inches wide by 75 inches long to fit a full-size mattress.
Adding a daybed to an already completely furnished living room may seem like an extravagant idea. The key is figuring out what you want your room to do for you. To follow are several types of daybeds and where to place them.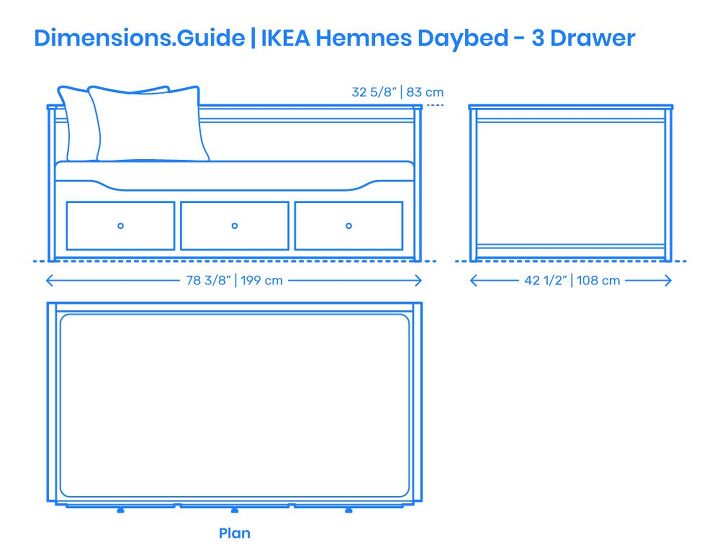 Daybed with Storage
This daybed measures 32 ⅝ inches wide by 78 ⅜ inches long and is 42 ½ inches deep. This is a great furniture piece tucked beneath a picture window or as extra napping space in the children's room. The built-in storage is always a lovely bonus that will prove useful when keeping a room tidy.
Having three separate drawers instead of one big, long one makes organization a breeze. You can use the drawers to store extra pillows, blankets, toys, and books. In a children's room for multiple kids, each sibling could have their own personal drawer to store their possessions.
Another excellent use for this daybed is in a spare bedroom for the occasional guest. The added storage again comes into play as drawer space your guest can utilize if a closet is unavailable. When unoccupied, the drawers can serve to tuck away magazines and reading material, extra bedding, towels, and even toiletries.
Create a casual vibe and make your daybed look like a couch.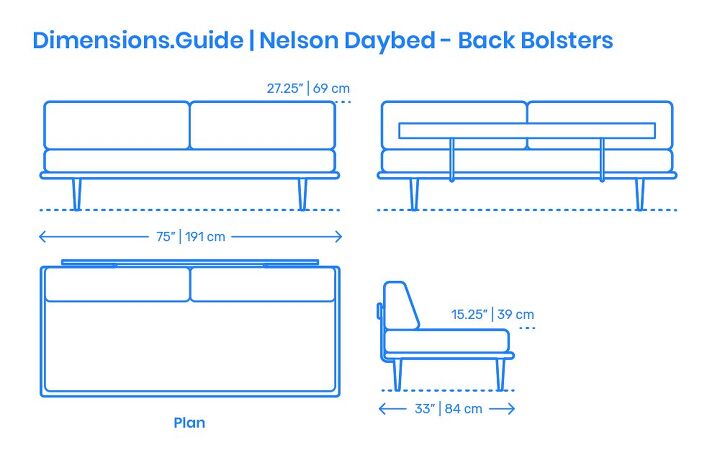 Daybed with Backrest
The daybed with a backrest works double-time as visitor's seating and a cushy oasis to take a power nap. This unassuming piece of furniture works well in home offices and in any space that requires additional seating.
This daybed measures 27 inches wide by 75 inches long and 33 inches deep. Choosing one upholstered with neutral tones works well in almost any room in the house. A nice addition of colorful throw pillows complements the theme of whatever room you decide to place this daybed. Take a look at these comfy chaise lounge dimensions.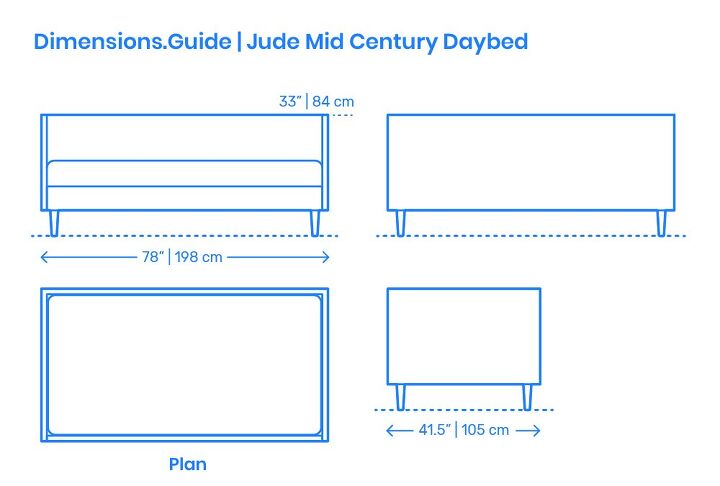 Daybed with Back and Arm Rests
For this daybed, one will require a tad more space than the other two featured above. This daybed with back and armrests is 78 inches long, 33 inches wide, and 41.5 inches deep. Despite its length, this classic mid-century look appeals to many and works well with a host of other design aesthetics.
This particular daybed can also double as your living room couch if space is at a minimum. It can also prove to be a fantastic sleeping area for that adventurous couch-surfing friend we all know and love. Throw a sheet over it, add extra pillows and a blanket, and your friend may not ever want to leave.
Another area of the house this daybed can take residence in is a reading nook or library of some sort. This lovely piece will be an oasis for the book lover, as well as seating for 2-person games, like chess.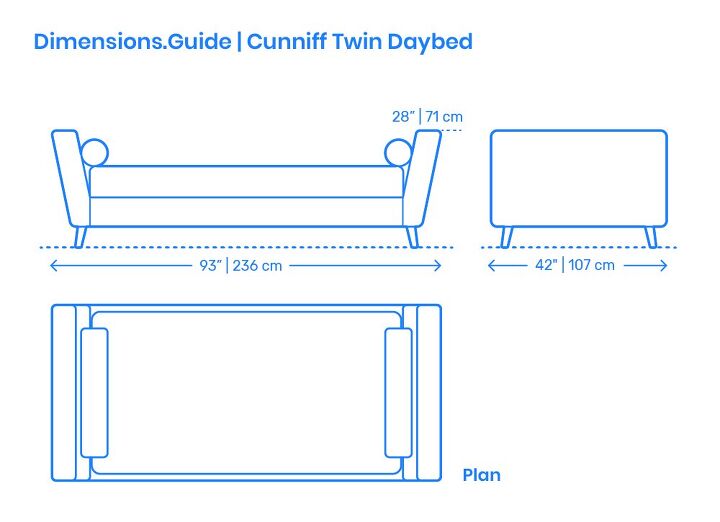 Twin Daybed
The twin daybed has a marked difference from the previously mentioned daybeds, owing to its extensive length and rather diminished width. This twin daybed measures 42 inches deep, only 28 inches wide but is an impressive 93 inches long. Two cylindrical pillows on either side of the daybed offer additional cushioning and comfort.
This charming piece of furniture would serve well as additional seating in an empty hallway. Another use for it would be as a cushioned escape in a breezy lanai. Even better, the twin daybed would be a welcome respite when strategically placed in a well-utilized family room.
Daybed for Small Spaces
This last type of daybed was designed specifically for small spaces. Only 13 inches wide and 19 inches deep, this piece works exceptionally well for small apartments or studios. The design aesthetic pays homage to simplicity bordering on the austere.
This daybed is also fantastic for patio seating or even as a place to take a quick nap. Not as plush as its bigger counterparts, this piece does not require throw pillows. A lush fleece blanket will do the trick to dress it up.
Clearance For a Daybed
Depending on its use, a daybed has to have enough space around it in order for it to be functional. Also, take into consideration its height, design function, and built-in storage, if any.
Height
The average height of a daybed frame is 14 inches from the floor to the base of the mattress. The thickness of the mattress will determine sleeping or seating height, according to your personal preference.
Under-Bed Storage
If your daybed does not come with built-in drawers, this only translates to 18 square feet of storage space underneath! You can neatly tuck bins and baskets underneath to store children's toys, books, extra pillows, and bedding.
Trundle-Bed Space
If your daybed comes with a trundle, ensure you have enough space to pull it out for instant nap time. Trundle daybeds need at least double the area to function at their optimum. This means an extra 18 square feet of clearance in front for maximum comfort.
Keep a rug in front of the daybed when the trundle is not in use. This 3 x 6-foot space can double as a play area for children and household pets.
How to Take Care of Your Daybed
Your daybed needs some care and maintenance in order for it to last you as long as you would like. As with any other piece of furniture, your daybed and the mattress need regular brushing and vacuuming. To follow are some tips to keep your daybed in tiptop shape.
Remove Daybed's Cushions
Ensure that no small items have fallen in between the mattress and the frame. Depending on the daybed's usage, you may find small objects such as coins, pens, french fries, and popcorn.
Remove Daybed's Slipcovers
Take off any washable slipcovers, pillowcases, and sheets that may be adorning your daybed. Throw these in the washing machine, making sure you follow the manufacturer's laundry instructions.
Remove the Daybed's Mattress
Vacuum all sides of the daybed's mattress. If stains are present, sponge the affected area with a clean cloth dipped in warm, soapy water. Dab on the spot and let dry.
Wipe the Daybed's Frame
To clean the daybed frame, run a damp cloth along all areas of the structure. The frame typically either consists of metal or wood. Simply wipe the entire frame of dust and dirt, and let it dry.
How to Dress Your Daybed
There are myriad ways to decorate your daybed, from fancy lace pillows to soft fleece blankets to vibrant paint colors. Even a strategically placed light fixture can turn your daybed from blah to beautiful.
Throw Pillows on a Daybed
A pillow or two can make a world of difference to dress your daybed. When dealing with a deep daybed with a solid back, adding oversized pillows will soften the look. This technique also ensures that the occupant is surrounded by plush comfort and not a rigid wooden back.
Blankets on a Daybed
Layering your daybed with a blanket or two simply declares comfort and warmth. The blankets can be in the same color palette as the daybed to imbue that classic look. Or it could be a cornucopia of colors to draw the eye and promote vibrancy to an otherwise bland room.
Slipcovers on a Daybed
Akin to sofa slipcovers, these beddings are similar to sheets you use on a normal bed. Slipcovers are a great way to change up and switch out according to the seasons. Don't limit yourself to the four seasons, but also think of major annual festivities like Christmas or Halloween and such.
Placing a Daybed by a Window
Sometimes, the only adornment your daybed needs is a picture window. If your home has a nice outside view, position your daybed right in front of the biggest window. Place a cute stool to set a lamp and a coffee mug down and a short bookshelf for reading material.
Daybed Decor Themes
Having a design theme already in place, remember that the daybed can make or break a room.
After situating your daybed, look all around and capture the essence of the space and dress your daybed accordingly. To follow are just a few examples of some themes you can play around with.
Vintage-inspired
Bohemian 
Shabby Chic
Old French
Rustic Farmhouse
Oriental
Floral and Feminine
Library
There are many, many other designs one can come up with. The idea is to glean inspiration from what is already in the room and work your way from there. Remember that you should also consider fabrics, paint, texture, and the daybed frame.
---
Related Questions
What size room is best for a daybed?
Any room with more than enough space for a bed or couch will be suitable for a daybed.  The versatility of this piece knows no bounds, but remember to place the daybed where there isn't much foot traffic.  Otherwise, the whole idea of serenity and relaxation will go by the wayside.
What type of daybed is best for the outdoors?
If considering a daybed for your porch or veranda, go with a simple wooden frame.  Wicker, rattan, or even modern plastic frames are also quite suitable.  If dealing with humidity, keep the mattress and cushions indoors when not in use. When cushions and the mattress are outside, brush them often before dirt particles get a chance to settle in deep.  Wipe up spills as soon as they happen, and wash the slipcovers often.
Summing It Up
The daybed is a piece of furniture that you will truly get much use out of. The only places in the house where they are pretty much useless would be the kitchen and the bath. Otherwise, every room is fair game.
Take good care of your daybed, and freshen up the look whenever your heart desires. With maintenance and care, this lovely piece of furniture will serve you and your family for many years to come.

Stacy Randall
Stacy Randall is a wife, mother, and freelance writer from NOLA that has always had a love for DIY projects, home organization, and making spaces beautiful. Together with her husband, she has been spending the last several years lovingly renovating her grandparent's former home, making it their own and learning a lot about life along the way.
More by Stacy Randall
Published July 18th, 2021 11:25 AM