209 Views
Cultured Marble Shower Cost [Per Square Foot & Overall Cost]
March 1st, 2022 3:12 PM
Share
We're committed to finding, researching, and recommending the best products. We earn commissions from purchases you make using links in our articles. Learn more here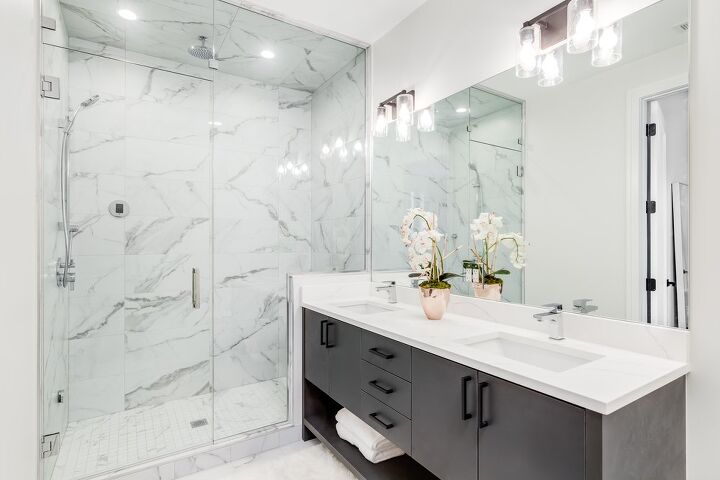 Whether you're building your shower for the first time or renovating it, choosing the right materials for it will be crucial. Your shower is going to be a prominent part of your bathroom. It's understandable if you want to use some special materials to make it stand out.
Many homeowners dream of having a marble shower, but the cost of that material is too steep for them. Notably, you can still feature the look of marble in your shower without having to pay an exorbitant price. To do that, you simply have to choose cultured marble for your new shower.
Cultured marble is pricey, but it's significantly more affordable compared to real marble. On average, cultured marble is available at $25 per square foot while real marble is priced at $40 per square foot. The average price of installing a cultured marble shower is $700. You can also add a cultured marble shower pan for the price of $550.
Using cultured marble for your shower allows you to achieve your desired look without draining your bank account. That cultured marble shower can become a real asset for your home. Find out how much installing that cultured marble shower will cost by continuing with the rest of this article.
Do You Need to Hire Shower Installers?
Get free, zero-commitment quotes from pro contractors near you.
Cost of Cultured Marble for Shower
| | |
| --- | --- |
| Estimate Type | Cost Per Square Foot |
| Low-End Estimate | $10 |
| Mid-Range Estimate | $25 |
| High-End Estimate | $40 |
A marble shower can be a terrific addition to any home, but it can also be quite pricey. In lieu of splurging on that home addition, you can opt for cultured marble instead. Expect to pay $25 per square foot for the cultured marble that will be used in your shower.
$25 may seem a tad high, but it's considerably more affordable than real marble. The best part is you're not sacrificing much in the way of looks if you're using cultured marble. You're still getting the distinctive appearance of marble if you decide to use cultured marble inside your bathroom.
Cost Factors for Cultured Marble
Cost factors will affect the final price of cultured marble. It's important to know about those cost factors so you can make wiser decisions regarding your purchases. Let's take this opportunity to discuss the cost factors that matter most when it comes to cultured marble pricing.
The Size of Your Shower
The target size you want for your shower will determine how much cultured marble you will need. Before deciding on how big you want your shower to be, you should consider how cultured marble is sold.
Typically, cultured marble is sold in sheets. Check out how big those sheets are and consider their measurements as you construct your shower.
Those cultured marble sheets may reach up to 71 inches in length, but they can also be as short as 34 inches. In terms of width, the range often goes from 30 to 48 inches. You can always cut the sheets of cultured marble down to size, but that could wind up becoming an additional expense.
The Thickness of the Cultured Marble
The thickness of the cultured marble is also a factor that affects pricing. You have some options to choose from in terms of cultured marble thickness.
Those sheets we mentioned earlier may be a quarter of an inch thick. You can also find sheets that are 3/8 of an inch thick. The thickness of the cultured marble sheet may also go up to half an inch.
Unsurprisingly, you're paying more for the thicker sheets of cultured marble. So, is it worth splurging on those thicker sheets of cultured marble?
The advantage to installing thicker cultured marble is that it will be stronger and more stable. The material may become more resistant to normal wear and tear if it's thicker.
Sound construction will save the cultured marble from sustaining unnecessary damage, so you can lean on that too. Using thicker sheets just makes your cultured marble shower more durable. If you want that added durability, you'll have to buy the thicker sheets.
Features Carved into Cultured Marble
Some homeowners prefer carving features into their shower walls so it's easier to move in there. You may want to build a toilet paper holder or a soap dish into the wall. By doing that, you won't have to purchase additional accessories designed to hold those items anymore.
You can ask the installers to carve out those features for you. Just know that they will charge extra for that service.
The amount they charge will vary based on the complexity of the features you want to see added. If it's a relatively simple feature, the additional cost will be low. You can expect to pay more for specially designed features.
Labor Cost to Install Cultured Marble in the Shower
| | |
| --- | --- |
| Estimate Type | Cost |
| Low-End Estimate | $530 |
| Mid-Range Estimate | $700 |
| High-End Estimate | $920 |
Now that you know how many cultured marble sheets you need for your shower, you will need someone to install them. Hiring a professional is highly recommended if you need cultured marble installed inside your shower. Professional installers typically charge $700 to take on that project.
Installing the cultured marble yourself is very risky. The manufacturers who sell cultured marble in your area may only offer a warranty if the material will be professionally installed.
You're missing out on the warranty by tackling the installation solo. That could lead to a huge loss if an accident occurs.
Entrusting this job to a professional installer also makes sense because of how pricey cultured marble is. Cultured marble must be handled and installed properly and the professionals know how to do that.
Cost of Cultured Marble Shower Pan
| | |
| --- | --- |
| Estimate Type | Cost |
| Low-End Estimate | $350 |
| Mid-Range Estimate | $550 |
| High-End Estimate | $750 |
In addition to cultured marble shower walls, you can also install a cultured marble shower pan. The cultured marble shower pan is another pricey addition to your bathroom. A new shower pan made of cultured marble is often priced at $550.
The shower pan is an important part of your entire shower setup. Its job is to collect water that may pass through your shower's tile floor. After collecting the water, the shower pan directs it to the drain for disposal.
An issue with the shower pan could lead to leaking. Water may drip through the floor of your shower and fall to the area below.
Whether you need a shower pan made of cultured marble is your call. In all likelihood, it won't even be seen that often so its appearance does not matter that much. Still, if you want to maintain that cultured marble motif, you can install a shower pan made from it with no issue.
Labor Cost to Install Cultured Marble Shower Pan
| | |
| --- | --- |
| Estimate Type | Cost |
| Low-End Estimate | $100 |
| Mid-Range Estimate | $150 |
| High-End Estimate | $200 |
The installation of your cultured marble shower pan should also be handled by a professional. Thankfully, the labor cost for installing the shower pan is more affordable than the labor cost for the shower walls. The entire installation may only cost you $150.
Leaving the job of installing the shower pan to a professional minimizes the chances of water leaking through your bathroom floor. That will also save you from some potential repair bills.
Should You Install Cultured Marble in the Shower?
Numerous materials can be used for your shower walls and shower pan. Cultured marble is just one of those many material options.
To better understand if cultured marble is the best choice for your bathroom, let's examine its pros and cons. Go through the points detailed below to learn more about how cultured marble can fit inside your bathroom.
Pros:
Elegant Appearance – The main selling point of cultured marble is its elegant appearance. It bears a remarkable resemblance to genuine marble and it's difficult to even notice dissimilarities between the two.
Relatively Affordable – Cultured marble is not the most affordable you can use for your shower. However, it is the more cost-effective alternative to marble. Getting the look of marble at a significantly discounted price is a pretty good deal.
Highly Customizable – If you have a specific design in mind for your bathroom, using cultured marble in there is a great idea. Cultured marble is available in different colors so you can choose the right one for your bathroom. You can also change the shape of cultured marble or add some decorative elements to it ahead of installation.
Durable Material – Different stone particles and resins are combined with an adhesive to create cultured marble. Because of how it's made, cultured marble develops a strong resistance to damage. It doesn't chip or crack as quickly as many other materials typically used for the bathroom.
Easy to Install – The cost of installing cultured marble in the shower is still somewhat low because the material is easy to work with. That doesn't mean you should handle the material yourself. Still, you can expect the installation to get done faster since the material used is cultured marble.
Cons:
Inconsistent Quality – Before you finalize your purchase, you should take the time to inspect the cultured marble sheets closely. Issues during the manufacturing process may affect the final appearance of the cultured marble. Make sure that the material is up to your standards before you pay for it.
High Maintenance – You must care for the cultured marble diligently if you want it to remain in good condition. Stick to using non-abrasive cleaners because the alternatives will damage the surface of the cultured marble. Regularly polishing the cultured marble is also important if you want it to retain its luster.
Susceptible to Heat Damage – Cultured marble surfaces are susceptible to sustaining quite a bit of damage if they are exposed to high temperatures. Note that the temperature has to be really high to damage the cultured marble. The hot water coming from your shower is not warm enough to damage the cultured marble surface.
Do You Need to Hire Shower Installers?
Get free, zero-commitment quotes from pro contractors near you.
---
Related Questions
How Long Does a Cultured Marble Shower Last?
Your new cultured marble shower can last for a while. As long as you pay proper attention to its care and maintenance, the cultured marble should last for 20 years. The longevity of cultured marble is another reason why it can be a great addition to your household.
Why Does Cultured Marble Yellow?
The appearance of cultured marble may change over time if you installed it in a room with poor circulation. To be more specific, the cultured marble may start to develop a yellowish color. Notably, newer sheets of cultured marble are less likely to be affected by the aforementioned issue.
Is Cultured Marble Good for Resale?
There are several reasons why cultured marble can be a good home addition, but resale value is not one of them. Cultured marble is not a sought-after material and buyers typically like natural stones more. You can still use cultured marble to improve your home, but it will not net you a larger profit down the line.

Gary Evans
Gary Evans is passionate about home improvement. He loves finding out how to make improvements in the easiest, most practical, and most affordable ways. Upgrading his home kitchen is one of his ongoing hobbies. Gary is also a long-time content creator and enjoys spending his free time tending to his hydroponic vegetable garden.
More by Gary Evans
Published November 24th, 2021 2:24 PM