135 Views
Craftsman Vs. Husky Tools: What Are The Major Differences?
December 19th, 2021 3:11 PM
Share
We're committed to finding, researching, and recommending the best products. We earn commissions from purchases you make using links in our articles. Learn more here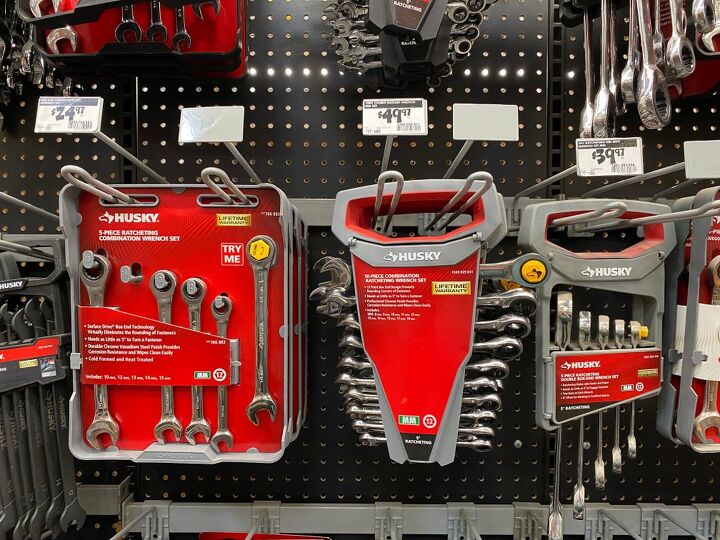 The key to doing a good job might be skills and knowledge. Then again, the tools should not be overlooked. Without proper tools to get the job done, even the most skilled and experienced of handymen will struggle.
Craftsman and Husky are two of the most popular brands on the market for hand, power, and mechanic tools.
For hand and mechanic tools, Husky seems to be the preferred brand. For power tools and outdoor equipment, Craftsman stands a cut above. Of course, everything comes down to personal preference, so keep that in mind.
What Are The Differences Between Craftsman And Husky?
With all things considered, coming to a choice is a bit difficult. Both offer great quality and affordability for DIYers and professionals alike. Both are well-known, trustworthy brands that have been around for nearly a century.
Mid-level affordability. Both brands offer a level of mid-level tools at affordable prices. They are even fairly similar in their offerings, though Craftsman does also have a line of outdoor equipment.
Power tools. When it comes to power tools, Craftsman has a clear advantage. They have a wider assortment of offerings, from light DIY work to professional-grade. Even though the professional-grade tools don't rate quite so highly, they still hold that advantage over Husky.
Hand and mechanic's tools. The distinct advantage when it comes to hand and mechanic's tools, however, goes to Husky. This is their bread and butter, what they do best. Not only do they have a distinct advantage over Craftsman in this category, but they match up with some of the best brands in the category. If you want a quality hand or mechanic's tool at a reasonable price, Husky is a clear choice.
Tool Storage. Though they have somewhat similar offerings, the edge would have to go to Husky here as well. Their tool storage options are slightly more versatile. Moreover, they tend to be lightweight and durable in just about all their iterations.
What Is Husky Tools History?
American-made, Husky focuses mainly on hand tools, storage tools, and pneumatic tools. In 1924, the first Husky wrench was created for mechanic's toolsets and the brand was born. Just a few years later, they collaborated with the J.H. Williams Tool Group to form a larger brand.
Their popularity really began to climb beginning in the 1990s. During that decade, they not only began featuring tools at Home Depot but eventually transferred exclusive rights to the home improvement megastore.
Though they have a notable reputation and the Home Depot connection, they are not quite as big as their competitor.
What Is Craftsman Tools History?
Here's a little piece of history: Craftsman was actually created by retail giant Sears back in the 1920s. The goal was to make a mid-line tool series featured exclusively at Sears. What ended up happening was much bigger.
Eventually, Sears ran into financial issues and sold the name to Stanley Black & Decker, one of the biggest brands in tools.
They still own the Craftsman name to this day. What's funny is that, at one point, Stanley Black & Decker owned both Craftsman and Husky.
Comparing Quality Between Husky And Craftsman Tools
Bar none, one of the most important aspects of any type of tool is the quality. Not only does that tool need to be able to perform its function, but it needs to be able to hold up to the stress of constant use. If a tool breaks down soon after getting it, it is time to find another option.
Power Tools
When it comes to power tools, neither is considered to be the premier brand. That said, Craftsman definitely has a good reputation for creating quality power tools.
They are a popular option for lightweight, comfortable, durable power tools meant for light work. Husky, meanwhile, has spotty quality when it comes to their power tool line.
Hand And Mechanic Tools
This is where Husky truly shines. The brand is known for some of the highest-quality hand and mechanic tools currently on the market, rivaling even the best brands.
That's not to imply that Craftsman hand tools are bad; they are perfectly fine. But hand tools is what Husky does.
Heavy-Duty Use
Craftsman tools are generally not used for professional or heavy-duty use. They are built to be lightweight and used on occasion, great for homeowners and DIY work.
Husky, though limited to hand and mechanic tools, can be used for heavy-duty applications. When it comes to heavy-duty work, you may have to swap out the Craftsman. You won't have to swap out the Husky.
Selection Variety Of Husky And Craftsman
Another important aspect of any tool brand is its catalog. Some brands lean into a particular line or niche, limiting their offerings.
That can be seen here. As covered above, Husky focuses on hand and mechanic tools whereas Craftsman covers the spectrum. For that reason, let's focus on specific offerings from both companies.
Sockets And Wrenches
Husky's focus is on hand tools and mechanic tools. Given that focus, it only makes sense that Husky would have a better selection of sockets and wrenches. Moreover, their quality is better than the offerings provided by Craftsman by a pretty wide margin.
Advantage: Husky
Because of their focus on hand tools, Husky puts an emphasis on the storage of said hand tools. When it comes to their tool cabinets, tool chests, tool bags, and toolboxes, Husky stands as a cut above.
Power Tools
Advantage: Craftsman
This is where Craftsman gains a distinct advantage. Husky makes power tools, but their quality is middling at best. With a focus from Husky on hand tools, that leaves light professional work to Craftsman power tools.
Warranty
What is truly great about both of these companies is their warranty offerings. Some brands offer limited warranties that expire after a few years. Both Husky and Craftsman offer lifetime warranties. That means if a tool ever fails, it can be returned and replaced.
Both are known for their level of quality, but that warranty reassurance is on another level. If for no other reason, these brands should be considered because of the serious backing of their products.
The Pros Of Craftsman Tools
Now, let's put a little bit of a spotlight on each company. Despite their lesser qualities, there are more than a few positives to each brand. After all, you don't get to be a global brand without doing a few things right.
Warranty. Perhaps the biggest selling point of Craftsman tools is the warranty. Whether you buy mid- or high-end, each Craftsman tool comes with a secure warranty. Even if a tool breaks after 10+ years of consistent use, you can walk into a Craftsman store location with a replacement. Unparalleled warranty.
Price. Though their pricing can differ – the professional tools tend to be on the higher end of the spectrum – the cost appears worth it. Customer reviews feel that Craftsman tools are more than worth the price and tend to last them for a long time.
Strong quality. Craftsman has become a brand well-known for its durability and its ability to last for years to come. With dependable, durable, sturdy tools, customers are typically happy with the life that they get out of their Craftsman tools.
User-friendly. Though they get a knock for not being "professional grade," there is a reason for that. Their aim is a light, DIY use. That means that most Craftsman tools are easy to assemble, come ready to use, and are ergonomically designed for easier use.
The Pros Of Husky Tools
Despite their narrowed focus when compared to Craftsman, Husky excels in a few different areas. There are some very loyal Husky customers out there that swear by Husky for all that they do. Here are the pros of Husky tools.
Quality. Husky stands out for its quality of hand and mechanic tools. Though there are some critics regarding their line of power tools, there are few when it comes to their hand tools. They are among some of the finest hand and mechanic tools on the market today.
Affordability. Despite their higher quality on hand tools, they aren't priced like some of the high-end options for hand tools. Their affordability coupled with their quality make them a favorite among both amateurs and professionals.
Superior storage. For the price and quality, Husky offers some of the best storage options around. Moreover, their toolboxes are very lightweight allowing for easier storage and transportation than other options.
Toolsets. One of the calling cards of Husky is that they offer huge toolsets, which are great for novices and professionals alike. They all include a huge assortment of reliable, durable tools that can get a broad range of jobs done.
The Verdict
If push came to shove, Husky would get the overall nod. But the simpler explanation is that it depends on the tools that you need for the job.
For hand tools, it clearly goes to Husky. For power tools, Craftsman would be the choice. Really, you can't go wrong with either well-established brand.

Ryan Womeldorf
Ryan Womeldorf has more than a decade of experience writing. He loves to blog about construction, plumbing, and other home topics. Ryan also loves hockey and a lifelong Buffalo sports fan.
More by Ryan Womeldorf
Published March 14th, 2021 9:39 PM