156 Views
How Much Does It Cost to Turn A Crawl Space Into A Basement?
August 25th, 2021 1:35 PM
Share
We're committed to finding, researching, and recommending the best products. We earn commissions from purchases you make using links in our articles. Learn more here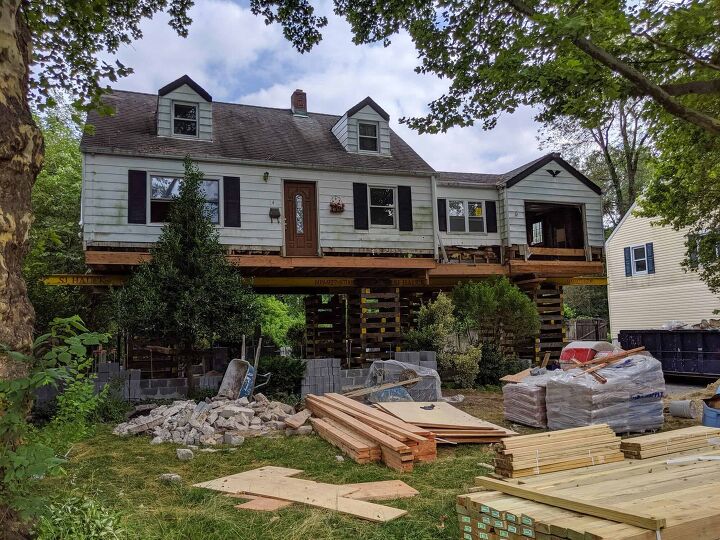 For smaller homes, space can come at a premium. While the simple solution may be to just get a bigger home, it also isn't necessarily financially viable for some. That is why making the most out of the current space is sometimes the more optimal route.
The average cost to convert a crawlspace to a basement is $100,000 including materials and labor. Homeowners pay an average of $20,000 to dig out the crawlspace, $10,000 to remove the concrete slab, $112 per cubic yard to excavate, and $2,000 to install plumbing. It costs another $20,000 to pour a foundation, $30,000 to finish the basement and another $15,000 if you have to raise the home.
Do You Need an Addition or Remodel Contractor?
Get free, zero-commitment quotes from pro contractors near you.
The Costs of Turning a Crawl Space into a Basement
We will break down each of the requirements for transforming a crawl space into a basement a bit later on in this guide. First, you should have an idea of what each of the components will cost and what you will ultimately need to spend to transform the entire space.
| | |
| --- | --- |
| Service | Cost |
| Cost per square foot average | $50 |
| Cost per square foot range | $30-$75 |
| Digging out the crawl space | $10,000-$30,000 |
| Raising the home | $2,500-$9,000 |
| Bracing the footings | $15,000-$20,000 |
| Excavation Costs per cubic yard | $75-$150 |
| Installing plumbing and drainage | $3,000-$8,500 |
| Pouring foundation | $10,000-$30,000 |
| Basement remodel per sq. foot | $15-$20 |
| Total Costs | $50,000-$150,000 |
This is a major investment in your current home. Adding a finished basement, in particular, can not only add additional space to the home, but it can also add a considerable value should you wind up selling. Finished basements are a major selling point for home buyers and is a project that many hope to avoid when purchasing a home.
Breaking Down the Various Components
Converting your crawl space into a basement is not a simple process. Though it can be done in a relatively short period of time, understanding the various processes of converting the space is important. Not only that, but you can understand where the costs are and why they are what they are. The major costs involved can seem shocking at first, but with a little bit of budgeting and financial planning, you can save up to make this major addition to your home.
Digging Out the Crawl Space
The first thing that will need to be done is to dig out your crawl space. This can include raising or bracing the home in addition to all of the actual digging. This step will cost anywhere from $10,000 to $30,000 in most instances.
The first step is to raise up your home and brace it if that is necessary. When this has been completed, the digging can begin. Another thing to keep in mind is that this area will typically have an unfinished floor in it. That means no concrete or slab to dig through, making it easier to dig. Getting access to this area is the real problem, though.
Though it is somewhat uncommon, there is the possibility that your crawl space may have poured concrete underneath. This will add to your costs as it has to be removed first. Tack on another $5,000 to $1,500 for the removal of the slab.
Raising or Bracing Your Home
This is the part where the contractor puts your home onto a jack or brace as they dig. Raising the home is generally the cheaper option as it can cost $2,500 to $9,000 for them to lift the house. If you have a general contractor, they will have to bring in a specialized professional to perform this service.
If the contractor opts for bracing the foundations, this can raise your costs substantially. Bracing can run you $15,000-$20,000 as it adds quite a bit more labor time to the entirety of the project. Bracing is where they add foundational footings as they dig. The good thing about bracing is that it keeps your home from shifting. This can mean less damage to interior ceilings, floors, and walls in the long-term.
Excavating the Crawl Space
For a crawlspace that is about 1,000 square feet in size, you will be staring down a bill that is $30,000-$45,000 just for excavation of the space. This comes out to $75 to $150 per cubic yard simply for the excavation.
This is a slow process as most of the excavation is actually done manually. This is because it is a tighter space and getting a machine into the space is simply too difficult. With more labor involved, your costs are substantial for the excavation process. There is a possibility that you can do some or all of the digging yourself, but that is best left to the professionals instead.
Installing Plumbing and Drainage
Digging out the crawlspace is relatively quick, but that just leaves you with an unfinished basement. Having the basement space is great, but unless it is finished, it isn't really a livable space until you add in all the finishes.
Drainage and plumbing will be the next step in the process. Lines will have to be run under a brand-new foundation and will often times be broken up into two installations. For the plumbing, you can count on costs ranging from $1,000 to $3,000. The drainage, meanwhile, will cost between $2,000 and $5,500.
Pouring a Foundation
Of course, to have a finished basement, you'll need to pour in the foundation. When finishing a basement, the foundation is probably the most expensive cost of all. Costs can vary, ranging from $10,000 to $30,000 depending on the size of the basement and the service that you choose.
This installation process includes not only the flooring but the footings and walls as well. When the space is empty save the plumbing and drainage, the process of pouring the foundation at this point is relatively simple and the professionals will make sure that the process is done properly.
Finishing the Basement
With the plumbing and drainage laid under your newly poured foundation, you can now finish the basement. This is hard to put a price on as "finishing" can mean a number of different things. You're generally looking at about $15 to $20 per square foot and the individual costs can vary.
Wall framing will run you $1,000 to $2,500, electrical wiring in the $3,500 to $8,000 range, drywall $1-$3 per square foot, painting anywhere from $500 to $2,800, and flooring from $1,500 to $4,500. Your total costs for a complete remodeling effort will run in the $10,000 to $30,000 range.
Why Do Homes Have a Crawl Space?
If you've ever wondered why your home has a crawl space, there are actually two reasons for this: accessibility and cost. Having a crawl space negates the need for moving the dirt to a sloping lot that is required for a concrete pad. That process can get quite expensive.
The second reason is that it is easy to put something like piping or an HVAC unit in. You can even run your sewer and water distribution through this space. That makes it easier and cost-effective to have plumbing installed.
What Does it Cost to Dry Out a Crawl Space?
Like just about any other portion of your home, the crawl space is susceptible to potential damages. When these instances occur, it is important to know what the potential costs are so that you are not blind-sided.
| | |
| --- | --- |
| Restoration | Average |
| Structural repair | $1,500-$4,000 |
| Insulation replacement | $900-$3,600 |
| Water damage | $1,500-$5,000 |
| Encapsulation | $1,500-$15,000 |
Water damage is a particularly common occurrence with crawl spaces. Whenever moisture permeates the space and goes unchecked, it can cause structural damage and can even lead to mold and fungus growth. It is imperative that you have mold and fungus treated right away as they can lead to respiratory issues after some time.
Do Crawl Spaces Need to be Vented?
Most building codes will likely require that there be working vents in your crawl space. This is to allow air from the outside to circulate underneath the flooring to prevent a buildup of moisture. That buildup is the leading cause of mold and mildew in addition to encouraging wood rot.
The vents would be closed during the winter when the air is drier. This also reduces the chances that your vents and pipes could freeze, causing damage that needs to be repaired sooner rather than later. So, yes, your crawl space needs to be vented seasonally instead of just leaving them open or closed all the time.
Do You Need an Addition or Remodel Contractor?
Get free, zero-commitment quotes from pro contractors near you.
Is Digging Out the Crawl Space Worth it?
Despite all of the big costs and scary numbers, digging out your crawl space and converting into a basement, particularly with higher ceilings, can definitely be worth all of the trouble. Depending on how high the ceilings are, you can make the space feel like an extension of your house and not just a finished space.
Not only that, having a finished basement can provide substantial room to a previously small house. This is great for creating recreational space that previously did not exist. Moreover, if you are looking to earn rental income from your home, having a finished basement can make for a highly attractive rental space for potential tenants.
Investing in a finished basement, particularly to rent that space out, can be a great way to provide supplemental income and eventually help you play off the costs of the basement – and your home – in much shorter order. That would definitely make it an investment that is more than worthwhile.

Ryan Womeldorf
Ryan Womeldorf has more than a decade of experience writing. He loves to blog about construction, plumbing, and other home topics. Ryan also loves hockey and a lifelong Buffalo sports fan.
More by Ryan Womeldorf
Published September 23rd, 2020 7:18 AM