704 Views
How Much Does It Cost To Move And Set Up A Mobile Home?
December 20th, 2021 8:41 AM
Share
We're committed to finding, researching, and recommending the best products. We earn commissions from purchases you make using links in our articles. Learn more here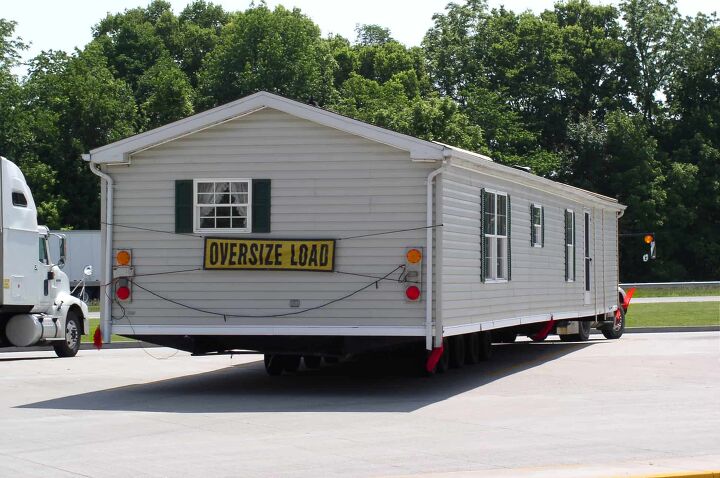 Many people choose mobile homes because they can give you convenience and the freedom to get up and go whenever you want, right? While the name suggests easy mobility, moving a mobile home does actually require a lot of effort.
From obtaining the proper equipment to haul a large home to the permits to legally do so, the cost of moving a mobile home can get steep. It often leaves homeowners weighing the costs of moving an existing home versus replacing one at a new lot.
It costs an average of $6,500 to move and set up a mobile home. You can expect to pay $3,000 to move a single-wide, $7,000 for a double-wide, and at least $12,000 to move a triple-wide mobile home. Permits are required and cost an average of $60 to legally move a mobile home.
Continue reading to learn more about the cost of moving and setting up a mobile home, as well as some tips for planning your big move.
Do You Need to Hire Movers?
Get free, zero-commitment quotes from pro contractors near you.
So, How Much Does It Cost To Move And Set Up A Mobile Home?
If life leads you to a new location and a big move, your mobile home will be ready to go with you. It does require some prep work, though. You must first consider the costs of moving a mobile home. Your final price from a mover will be determined by the distance you are traveling, as well as the size and weight of your mobile home.
To move a single-wide mobile home and get full moving services (including travel up to 50 miles, permits to hook up utilities, and moving equipment), owners may pay around $5,000 – $8,000 on average.
Your quote from a professional mover will include factors like:
Cost of labor
Setup services
Materials and equipment
Transportation costs
Permits for long-distance travel
Mileage costs
Let's explore some of these factors that play a part in the cost of moving and setting up a mobile home:
Cost Of Labor And Moving Equipment
Moving and setting up a mobile home is not as simple as hooking it up to the back of a pickup truck and taking it to a new plot of land. These wide loads require proper planning and the expertise and help of a professional crew.
Ideally, homeowners look for a company that offers a full-service move. This means they'll take a lot of the grunt work of the move off of your hands, leaving you to worry about less. It's always important to speak with your service provider to learn more about their specific costs and which will be included in your final invoice.
Full Service Movers
Full-service movers will include setup services for your mobile home. Companies that move mobile homes will also already be equipped with the tools and supplies necessary for the job, like tow hitches and tires.
You'll pay more when you hire a company to take apart the mobile home in order to move it from the old location and set it up at the new plot of land. But, it's worth the investment. These professionals can assist in setting up utilities, removing and reinstalling pieces like your porch, and reconnecting a mobile home that is double-wide.
Cost Of Labor
Here are some more factors that can implant the cost of labor:
You may request that the moving company clean up the lot from where your home was removed.
If your mobile home is in less-than-great condition and needs some repairs or adjusting during the move to secure it, that could be an added charge. Sitting idle for a while can mean that it needs its wheels or axles repaired before being moved.
If your home sits on a solid foundation, it will take a lot more work to remove it. Do you have permanent stem walls or piers installed on your mobile home? Those will also take some effort to remove.
You'll also want to consider adding liability insurance to protect your home during the move. If you already have insurance for your mobile home, ask a representative if your coverage will protect your home while it's in transit.
Many do not cover a move, and will thus require you to purchase additional coverage or work with a company that's insured. Always shop around to compare providers and always make sure to work with a company that is licensed and insured.
Moving Permits For A Mobile Home
Even if you're moving your mobile home locally, you will most likely need a moving permit to drive it around the city. A reputable moving company can acquire the appropriate ones for your move. These moving permits for mobile homes can cost between $15-100 depending on where you live.
There are also permits that allow you to move across state borders with your home. You may also need a setup permit or an inspection to install your mobile home on a spot of land in a new state. Inspections make sure that the mobile home, if old, meets certain safety standards.
Mobile Home Move Cost Estimator
When you're trying to estimate your costs for moving a mobile home, two main factors come into play: how large your mobile home is and how far you're taking it. Our mobile home move cost estimator can help you learn more about what you may be paying.
Cost Of Moving A Mobile Home By Size
First, your moving costs will greatly depend on the size of your mobile home. These homes can be heavy, bulky, and wide when driving down the street. So, it's important for a service provider to be prepared with the necessary materials for the home's size and weight.
As expected, single-wide mobile homes will cost less to move than double-wides. And, if your mobile home is too large to drive down the street safely, your move may require a police escort. The ability to drive around a "Wide Load" requires serious safety precautions. It can be beneficial to learn about the laws in your state and work with a professional who knows the proper steps to take.
Here are some average mobile home moving costs you can expect by unit size:
| | |
| --- | --- |
| Mobile Home Size | Average Moving Cost |
| Single-wide (14-16 ft) | $3,000 |
| Double-wide (20-36 ft) | $7,000 |
| Triple-wide (Varies) | $12,000 |
Just as it's important to consider the length and width dimensions of your mobile home, its weight is also crucial. The heavier your mobile home is, the more equipment it will require to be transported safely. The material your home is made of (vinyl vs. metal) can have an impact on its weight.
Mobile homes can weigh anywhere between 35-50 lbs per square foot, with older models often weighing less than newer ones. That means, if your mobile home is 950 square feet, it could weigh around 38,000 pounds! Discuss with your local service provider how the weight of your mobile home may impact the moving costs.
Cost Of Moving A Mobile Home By Distance
Understandably, local moves will be cheaper than long-distance moves. So, if you're looking to move your mobile home across many state lines, shop around to find the company with the best price and the services you need. Many moving companies may limit the mileage their team will travel. Or, they may charge you a higher rate for the extra miles.
The shorter trip you need to take, the cheaper the move will cost you. That's because towing a large mobile home requires a large amount of gas. Also, to ensure the safety of those involved with the move and drivers around you, the movers will most likely not be driving at high speeds. Safe and efficient service people will take their time with the heavy load.
Also, moving a longer distance may require the moving company to install new tires or other equipment on their vehicle to last on the road.
Planning A Safe Move For Your Mobile Home
Learn The Process With Your Mobile Home Park
Before you move, make sure you're aware of the proper steps to take when you're leaving a mobile home park. Because owners wish to keep their park full of mobile homes to get a return on their investment, many may make it more difficult for you to leave.
Watch out for a clause in your lease that includes a right to refuse if you decide to sell. They may get the opportunity to purchase the home from you. But, if you already own your home, you have a legal right to move it. Consider legal representation if you think you may run into issues with the owners of the park.
Prep Your Home
While the pros are definitely there to help during your move, you can also do some prep work yourself to get ready for the move and save some money. Things like securing drawers, doors, appliances, and furniture can be an easy enough task to take on.
Moving down the road—especially long distances—can mean that whatever's left inside your mobile home can be rattled around or knocked over. Make sure to remove valuables and secure anything left behind. When you take care of these things yourself, it often means less labor the moving company has to charge you for.
However, you always have the option to select a provider that can handle these things for you.
Detach Exterior Features And Add-ons
Your home will be much easier to move once any additions to the unit have been removed. Detach any exterior features or add-ons from your home like awnings, decks, and additional room units. Be aware that many may not be salvageable after taking these pieces apart. You may have to invest in replacements once the main body of your mobile home has been moved.
The aftermath of taking apart your mobile home will all depend on the condition of your home and its accessories, as well as the level of skill your contractor has to efficiently break down and rebuild your home. Make sure to ask if services like this are included in their rates.
You Can Move A Mobile Home For Free!
Mobile home parks make their money by renting out their spaces to people who want to move their mobile home into the slots. But what happens when there's a lot that's sitting there for a long amount of time, empty? This is when mobile home park owners begin offering people to move into their mobile home park for free!
Choosing The Right Location
Some parks are in dire need of spaces to be rented that they will offer to move your mobile home free of charge! This is a great opportunity to take, to move your mobile home without the hefty costs and pains of figuring out how to move your mobile home. However, this doesn't mean that there's only one place or two places that you can choose from. Do your research to find out you options and choose based on that!
Related Guide: Can You Put Up A Fence In A Mobile Home Park?
Tips For Making Your Entire Move Free
Why just stop at getting your mobile home moved free? Why not push it even more, and move your belongings for free as well? Well, you may have to pay for packing tape or pay to have some friends help you. (Buy them some pizza and cake, they'll be set!) So, it may cost you $10 to $60 but that beats the thousands of dollars you will save on!
Get boxes from stores or online. You can check Craigslist as well as liquor stores, dollar stores, and big-box stores to see if they have any extra boxes for you. They're free, and don't cost you a thing!
Pack your belongings yourself. You don't need to hire people to pack for you. You can do this easily on your own. Furthermore, instead of bubble wrap or wrapping, you can always use newspaper instead of a cushion. This will save you even more money.
Transport your belongings on your own. If you have a pickup truck you can make several trips and pay nothing but the gas money. Or, you can rent a Uhaul and drive it on your own or ask a friend to. This will save on the costs of hiring movers to do this for you.
---
Related Questions
Do I need to hire professionals to move and set up my mobile home?
Moving a mobile home is an extremely difficult job to tackle by yourself. It may even be illegal in some states. Relocating a load of its size requires a team of trained professionals who know how to get the job done efficiently and securely.This means they'll have experience driving large loads and that they can get the necessary permits for the move. You'll save time and energy when you let the professionals handle the big job for you.
How much does it cost to prepare the land for a mobile home?
After you purchase a plot of land, preparing it for a mobile home can cost anywhere from $350-8,000 depending on the size of the lot and the previous condition it was in. Speak with your moving company about these services to see if they can also prepare your new lot for your move.
How much does it cost to hook up utilities to a mobile home?
Hookups for utilities will require inspections from your city and a professional to do it correctly. Each utility service (water, sewage, electric, gas, and HVAC) can each amount to on average around $1,000 each.
Do You Need to Hire Movers?
Get free, zero-commitment quotes from pro contractors near you.
Find A Provider To Help Move Your Mobile Home
Moving and setting up a mobile home can come with some steep costs. On average, owners of a single-wide moving under 50 miles can expect to pay between $5,000 and $8,000.
The cost of moving a mobile home will differ from homeowner to homeowner based on the size of the home and the distance of the move. It's important to weigh your options and determine if it's more beneficial to move your existing home, or replace it with a newer model at your new lot.

Upgraded Home Team
We are a team of passionate homeowners, home improvement pros, and DIY enthusiasts who enjoy sharing home improvement, housekeeping, decorating, and more with other homeowners! Whether you're looking for a step-by-step guide on fixing an appliance or the cost of installing a fence, we've here to help.
More by Upgraded Home Team
Published August 19th, 2020 11:55 PM