95 Views
How Much Does It Cost To Build A House In Vermont?
September 9th, 2021 2:45 AM
Share
We're committed to finding, researching, and recommending the best products. We earn commissions from purchases you make using links in our articles. Learn more here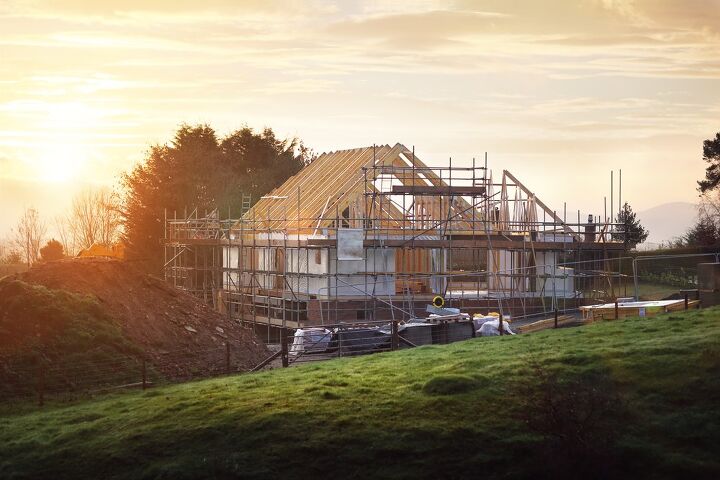 In 2019 US News ranked Vermont in the top five best places to live in the continental US. Vermont consistently scores high with families as a prime destination to make a home from scenery to education. Fortunately, the cost of home building in Vermont is reasonable and compares favorably with many other parts of the US.
Custom home building in Vermont typically costs between $120 and $180 per square foot. The overall total depends on the quality of the finishes, cabinetry, and amenities included in your custom home build. Location can also make a difference in the overall cost of your new home in Vermont.
While Vermont mirrors national averages closely in building and land costs, it pays to understand how those variables affect your building project. Whether you plan to manage your home construction project or contract with a builder, knowing where your money is going is critical to maintaining control of your project.
Do You Need to Hire an Architect or a Builder?
Get free, zero-commitment quotes from pro contractors near you.
Location and Land Costs
Overall, Vermont is a land of mountains and forests. The state's motto, The Green Mountain State, attests to these geographic facts. Land in Vermont is still plentiful despite its long history of occupation. However, the cost of developing raw land can be expensive sure to environmental regulations.
However, it is possible to locate, purchase and develop a rural property if your family's dream is to own a small stake of land to become more independent. This type of lifestyle fits in well with Vermont's tradition of self-reliance and independence.
| | | |
| --- | --- | --- |
| | Upper Range of Land Cost | Lower Range of Land Cost |
| Raw Land | $299,400 per acre | $8.000 per acre |
| Suburban Development | $350,000 per lot | $17,000 per lot |
There are options for almost any family to custom build a home in Vermont. You can choose from the most modern urban environments to rustic rural landscapes. Fortunately, the relevant prices are also available in a wide range to fit almost any budget.
Buying Raw Land
Rural Vermont is a dream for many homeowners. The mountain vistas, tree-studded landscapes, and memorable winter scenes are the makings of memories. However, before you embark on that homestead adventure, there are some factors to consider when developing raw land into a homesite.
Access and Site Preparation –Vermont can offer some challenges for site preparation. Most of the land is hilly, and sites are generally on a slope requiring extensive dirt work. In addition, rocks and boulders can increase costs. Expect to pay between $1.50 and $3.00 per square foot for site preparation services
Electricity – Typically, Green Mountain Power will run overhead utility lines from the nearest power source to your building site for between $25 and $50 per foot. If severe terrain features interfere, the cost can rise considerably.
Sewer –If no major geological problems are encountered, such as shallow bedrock or other large rock formations, a typical residential septic system will cost about $4,786 in Vermont.
Water – On average, residential wells in Vermont are 260 feet deep. At an average cost of between $27 and $58, the average well runs between $7,020 and $15,080.
Suburban Developments – The Typical Residential Building Location
For many families moving to Vermont, a more traditional lifestyle is the choice. Finding a development in an urban area or suburban setting fits better with the needs of their family. Fortunately, the home development industry in Vermont is thriving.
If you want to build a custom home, purchasing a lot in an established development is a great solution. Statewide, the cost of purchasing a lot in an established development with all the amenities will cost between $17,000 and $350,000.
Coming Up Out of the Ground – Task Costs on a Residential Build
Whether you hire a builder or serve as your construction superintendent, worrying over costs is a normal part of the home building project. Having an idea of the normal range of costs in a home building project gives you some targets to watch as your new home project unfolds.
| | | | |
| --- | --- | --- | --- |
| Job or Task | Percentage of Overall Project Cost | Vermont Average Low Costs | Vermont Average High Costs |
| Dirt Work and Site Work Preparation | 3 to 8 percent | $7,158.60 | $28,344.00 |
| Foundation and Concrete | 10 to 15 percent | $23,862.00 | $53,145.00 |
| Framing | 10 to 20 percent | $23,862.00 | $70,860.00 |
| Dry in (Exterior, windows, doors, and Roof) | 15 to 20 percent | $35,793.00 | $70,860.00 |
| Mechanical Systems (plumbing, sewer, HVAC, Electrical) | 10 to 15 percent | $23,862.00 | $53,145.00 |
| Interior Finish (drywall, paint, flooring, trim) | 25 to 35 percent | $59,655.00 | $124,005.00 |
These figures represent the average upper and lower ranges of costs. Additional features and amenities always raise the overall total. Work closely with your builder to manage these costs and any additions you request.
How Big and How Much
One of the primary factors in the cost of your new home is the actual size in square footage of the home. Many factors influence this decision, including your family's size, the features you want in a new home, and your budget.
| | | |
| --- | --- | --- |
| Total Square Footage of Home | Lower Range of Cost | Upper Range of Cost |
| 800 | $95,448.00 | $141,720.00 |
| 900 | $107,379.00 | $159,435.00 |
| 1,000 | $119,310.00 | $177,150.00 |
| 1,200 | $143,172.00 | $212,580.00 |
| 1,500 | $178,965.00 | $265,725.00 |
| 1,600 | $190,896.00 | $283,440.00 |
| 1,800 | $214,758.00 | $318,870.00 |
| 2,000 | $238,620.00 | $354,300.00 |
| 2,500 | $298,275.00 | $442,875.00 |
| 2,700 | $322,137.00 | $478,305.00 |
| 3,000 | $357,930.00 | $531,450.00 |
| 4,000 | $477,240.00 | $708,600.00 |
| 5,000 | $596,550.00 | $885,750.00 |
Don't depend on these averages as you plan your home. You may find wide variations in costs and prices across Vermont and among different builders. You should use these numbers as a quick reference only.
Adding Bedrooms – What Does it Cost to Add Sleeping Space?
Once you decide on a plan, you may want to alter the floor plan to include more bedrooms. Most builders can accommodate a reasonable number of bedroom additions on most of their stock plans for a small fee and the additional costs of construction. These additional costs run in these ranges.
| | | |
| --- | --- | --- |
| Number of Bedrooms | Lower Range of Costs | Upper Range of Costs |
| One | $154,728.37 | $229,738.75 |
| Two | $195,312.86 | $289,998.09 |
| Three | $235,897.35 | $350,257.44 |
| Four | $276,481.84 | $410,516.78 |
| Five | $317,066.33 | $470,776.13 |
These are base figures and will trend upwards as you upgrade fixtures, finishes, or add special details such as additional closets or an ensuite bathroom.
Personnel Costs of Building a Home in Vermont
Labor costs figure predominantly in any building project. Many people don't realize the extent to which labor and professional costs contribute to the cost of building their new home in Vermont.
Architect or Engineer
In many parts of Vermont, even building in a rural setting will require a set of plans drawn by a certified architect or engineer before permits will be issued. In general, architects and engineers in Vermont work on a percentage fee basis. You can expect to pay up to 12% of the total estimated cost of your new home as an engineering fee. These fees can range between $28,634.40 and $42,516.00 per project.
Builder or Construction Manager
Unless you are well versed in home building and have a background in construction, serving as your contractor or builder can lead to disaster. Builders typically charge a percentage of the project costs. In most cases, the profit your builder takes is calculated into the overall bid you receive for the project. In general, the costs and fees associated with hiring a builder or manager will add between $ $14,317.20 and $21,258.00 to your project.
Cost Estimate for Professional Tasks
You will soon notice a beehive of activity on your building site as the sub-contractors begin their portions of building your new home. Each sub-contractor offers a bid for their part of the services, which includes the labor charges. You should expect these services to fit into these ranges.
Electrician rates – Union electricians typically charge between $78.93 to $95.25 per hour in Vermont.
Roofing contractor – The typical standard composition roof installed on new construction in Vermont averages $40 – $256.65 per 100 square feet of roof surface.
Framers – Framers typically charge by the square foot. The price per square foot framers charge varies on the type of framing and the complexity of the plan. You can expect basic framing costs for a single-story residential structure to run $25.79 – $30.11
Drywall, Trim, and Finish – Finishing the interior of your home is a big job and requires several different skills. Lumping finish costs together shows a net cost between $5.50 and $9.00 per square foot.
Plumbers and HVAC – Part of finishing your home's interior is installing plumbing fixtures, kitchen fixtures, and the HVAC system. Overall, you can expect to pay $82 and $95 per hour.
Administrative and permits – Your local government will expect their fees as well. These local fees and permit costs can add between $600 to $4,500 to your project in Vermont.
Upgrade Costs – Adding Amenities to Your New Home
Individualizing your new home is part of the excitement. Adding all those amenities and extras that you have dreamed about makes your home special. Unfortunately, all these upgrades and additions don't come with a price.
Framing
Wood has been the traditional method of framing homes in the United States. Wood has many advantages. It is renewable and easily obtainable. Wood construction is well known and understood. However, new materials are fast gaining recognition and acceptance in the residential building trades. Metal framing is perhaps the best known.
The downside of using metal framing materials is the cost. Typically, metal framing costs about $1.65 per square foot more than traditional wood framing. There may be additional costs for framing with metal, but many contractors claim metal framing is faster than wood.
Concrete
The typical home in Vermont sits on a concrete slab foundation. Basements are popular additions and add cost to the concrete work required. In addition, sidewalks, patios, and driveways add additional concrete work to the project. Concrete work in Vermont typically runs $25.79 – $30.11 per square foot.
Adding a basement to the plan can cost between $10 – $25 per square foot
Drywall and Trim Work
A finished home build project includes the trim, wall, and other finishes inside your home. Most decisions about the quality, style, and types of finishes for your home occur before construction begins. Most people opt for upgraded finishes in their homes for personal as well as resale reasons.
Adding appeal and livability to your home is often a function of your decisions about the finishes. In general, you may see additional costs from $8 to $65 per square foot for some of these services and products. You should note that this cost does not include materials.
Upgraded Kitchens and Appliances
Very few custom homes end up with the standard builders' choice of cabinets, countertops, and appliances. Add the cost of upgraded amenities in your kitchen, and you can raise the cost of your new home considerably.
The cost of upgrades for a kitchen can be rather reasonable or go beyond almost anyone's expectations. The range of options is so broad and so varied that there is no limit. Nationally, these types of additions can cost between $30 and $85 per square foot.
Adding Visual Appeal – Exterior Upgrades
Upgraded exterior finishes, higher grade windows and doors, and specialized roofing material can bring several benefits to your new home.
You may be thinking you are building your forever dream home. However, life has a way of throwing curves, and you should always have a resell plan in the background. Planning now for greater curb appeal for your home often translates to increased resale value in the future.
It is hard to predict future trends. However, planning your exterior finish options for the future can positively affect the value of your home in the future.
Making your home more energy-efficient is always a practical consideration. Energy efficiency can be particularly important in areas known for extremes in weather and temperature, such as Vermont.
Zoning restrictions and homeowner's association rules can dictate to some extent your roofing decisions. However, many newer roofing options can lower your insurance premiums. Many of these new products are more fire-resistant, weather-resistant and have a longer life expectancy than older materials.
Consider choosing from the many new windows and door products to add elegance and solidity to your new home. Better windows and doors make your home more energy-efficient. Anything that adds a green component to your home will be money well spent, although you may not see the apparent benefits for some years.
Being energy efficient can be expensive on the front end. In the long run, most of these improvements will amortize over time, and you will see the savings as well as the increased value in your home.
Do You Need to Hire an Architect or a Builder?
Get free, zero-commitment quotes from pro contractors near you.
Building Your New Home in Vermont
Building in Vermont, overall, is much like building anywhere in the US. There are challenges, and there are problems. However, Vermont offers so much in history, opportunity, and culture that the headaches of building become minor in comparison.
We recommend a partnership with a reputable builder or developer, no matter what your location or dreams. Working with someone conversant with the local regulations, sub-contractors, and traditions will pay off in the long run.

Dennis Howard
Dennis is a retired firefighter with an extensive background in construction, home improvement, and remodeling. He worked in the trades part-time while serving as an active firefighter. On his retirement, he started a remodeling and home repair business, which he ran for several years.
More by Dennis Howard
Published July 27th, 2021 12:10 PM