367 Views
How Much Does It Cost To Build A House In South Carolina?
September 8th, 2021 4:01 PM
Share
We're committed to finding, researching, and recommending the best products. We earn commissions from purchases you make using links in our articles. Learn more here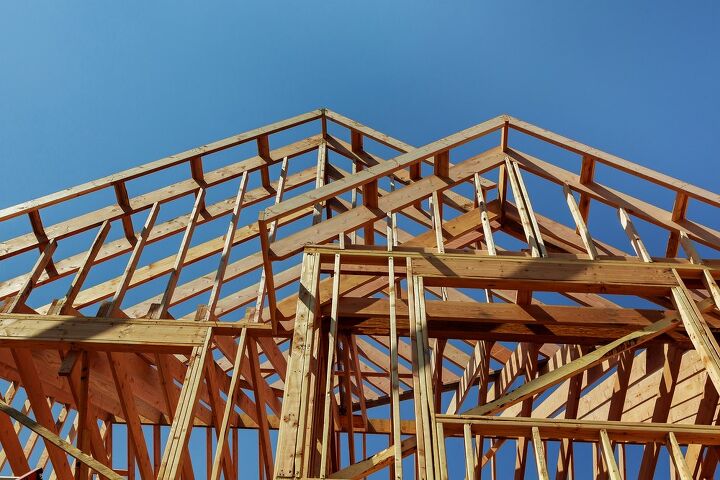 Almost everyone dreams of a custom-built home. Getting exactly the amenities you want, on the location you want, with the finishes and colors you want is the goal. Many factors influence the overall price of a custom-built home in South Carolina.
The average cost to build a house in South Carolina is $379,000. Homeowners spend an average of $120 per square foot to build a house in South Carolina. It costs $5.57 per square foot to pour concrete in South Carolina and $82 per square foot for insulation.
Calculating building costs on any project on a statewide basis always requires a wide range of costs and prices. Variance in materials costs, labor costs, land costs, and special additions and features make speculating on building costs a bit of a challenge.
Do You Need to Hire an Architect or a Builder?
Get free, zero-commitment quotes from pro contractors near you.
Location and Land Costs
It surprises many first-time home builders how dramatically the cost of land affects the overall building costs. Land costs are essentially the highest single overall costs when considering a custom-built house. Like every other part of a custom build, land costs vary widely depending on the location.
When buying land for a custom build, the land can be in one of several guises. The form of the land you buy is about the preferences you set for your finished project. When considering the cost of land for a custom build project, we look at the different ways people purchase the land on which they want to build their homes.
| | | |
| --- | --- | --- |
| | Upper Range of Land Cost | Lower Range of Land Cost |
| Raw Land | $114,900 per acre | $15,000 per acre |
| Rural Development | $70,000 per acre | $16,000 per acre |
| Suburban Development | $199,000 per lot | $3,559 per lot |
It is easy to see the disparate in the upper and lower costs of land in these categories. These disparities are driven by location more than any other variable.
Buying Raw Land
Many people dream of an isolated home on a plot of land to create their dream lifestyle. This dream is wonderful but comes with some additional costs in the building process. These costs all add to the overall total to build your dream home. In general, these costs fall into several categories.
Access and Site Preparation – Gaining access to your property and preparing the site for building and eventual occupancy is a cost in rural development that suburban development lots already include. Typically, site preparation costs are shown as a percentage of the overall project costs and run between three and eight percent. In South Carolina, this usually averages between $5,000 and $38,000.
Electricity – Extending electrical service to your rural land can add additional costs to your overall building project. The costs of extending electrical service in rural areas depend largely on the distance to the closest electrical service. In general, extending rural electrical service to a new residential project will cost between $10,000 and $30.000.
Water and Sewer – Bringing water to your rural location usually means drilling a well. Taking care of the wastewater from your home requires installing a septic system. Both costs add to the overall cost of the project. A typical septic system for a three-bedroom residential structure in South Caroline ranges between $6,000 and $8,000, while residential, domestic water well can cost between $1,500 to $12,000.
Rural Developments – The Best of Both Worlds?
Opting to purchase a lot in a rural development often gets you the best of both worlds. Many rural developments lay far outside the normal suburban landscapes and offer lot sizes from one-quarter acre to ten acres. In some instances, these rural developments include such amenities as
Paved access roadways
Private maintained water systems and connections
Development operated waste management systems
Site preparation ready for building
Land costs in rural developments are typically higher than purchasing raw land. These higher costs represent the work done by the developer to prepare the land for building and occupancy. Overall, in South Carolina, you can expect to pay between $15,000 and $70,000 per acre for a ready-to-build lot in a rural development.
Suburban Developments – The Typical Residential Building Location
Building in an established planned residential suburban development is the most common location for residential custom build projects. The land costs include the cost of site access, site preparation, and utility acquisition. You usually also get other amenities such as curbed streets, sidewalks, common area landscaping and deed restrictions to protect your property value.
In South Carolina, land costs in suburban developments typically average between $3,559 per lot and $199,000 per lot. Again, the lot location, size, and amenities of the development are often the determining factors.
Coming Up Out of the Ground – Task Costs on a Residential Build
It is always exciting to watch your new house rise from the foundation footings toward the roof. However, understanding what is happening and all the tasks necessary to create a finished home can be daunting. What are the required tasks, and how much does each contribute to the overall cost of your new home?
| | | | |
| --- | --- | --- | --- |
| Job or Task | Percentage of Overall Project Cost | South Caroline Average Low Costs | South Carolina Average High Costs |
| Dirt Work and Site Work Preparation | 3 to 8 percent | $9,846.00 | $33,908.80 |
| Foundation and Concrete | 10 to 15 percent | $32,820.00 | $63,579.00 |
| Framing | 10 to 20 percent | $32,820.00 | $84,772.00 |
| Dry in (Exterior, windows, doors, and Roof) | 15 to 20 percent | $49,230.00 | $84,772.00 |
| Mechanical Systems (plumbing, sewer, HVAC, Electrical) | 10 to 15 percent | $32,820.00 | $63,579.00 |
| Interior Finish (drywall, paint, flooring, trim) | 25 to 35 percent | $82,050.00 | $148,351.00 |
The lowest percentages and costs represent the basic work in each category. As better materials are requested, or the home grows larger, the costs and percentages rise. The most luxurious additions or components can push costs even higher.
How Big and How Much
Square footage is always a key issue when building a house. Each additional bedroom, bathroom, or extra amenities such as a home theater adds costs to the project. Typically, smaller square footage homes tend to have simpler designs and finishes. As homes grow, the complexity of the design and the quality of materials grow as well.
| | | |
| --- | --- | --- |
| Total Square Footage of Home | Lower Range of Cost | Upper Range of Cost |
| 800 | $73,824.00 | $109,608.00 |
| 900 | $83,052.00 | $123,309.00 |
| 1,000 | $92,280.00 | $137,010.00 |
| 1,200 | $110,736.00 | $164,412.00 |
| 1,500 | $138,420.00 | $205,515.00 |
| 1,600 | $147,648.00 | $219,216.00 |
| 1,800 | $166,104.00 | $246,618.00 |
| 2,000 | $184,560.00 | $274,020.00 |
| 2,500 | $230,700.00 | $342,525.00 |
| 2,700 | $249,156.00 | $369,927.00 |
| 3,000 | $276,840.00 | $411,030.00 |
| 4,000 | $369,120.00 | $548,040.00 |
| 5,000 | $461,400.00 | $685,050.00 |
You should understand that these figures represent the basic costs of building a home. Any extra amenities, upgrades in the quality of the materials, finishes, or appurtenances will drive the overall price upwards.
Adding Bedrooms – What Does it Cost to Add Sleeping Space?
Across the board, functional areas of homes tend to be about the same size. As you add bedrooms, the footprint of the house expands, and costs expand. Many people are more interested in the bedroom count of a home than the other amenities included. Bedroom count is true of many young and growing families.
| | | |
| --- | --- | --- |
| Number of Bedrooms | Lower Range of Costs | Upper Range of Costs |
| One | $103,912.82 | $154,281.48 |
| Two | $131,168.64 | $194,748.75 |
| Three | $158,424.46 | $235,216.03 |
| Four | $185,680.28 | $275,683.30 |
| Five | $212,936.10 | $316,150.58 |
Anyone adjusting their building budget based on bedroom count should realize that other factors may come into play. Adding additional bedrooms to the house's base layout often means adding larger HVAC systems and more functional rooms such as bathrooms. Each of these adds additional costs that must factor into your building budget.
Personnel Costs of Building a Home in South Carolina
Like almost any other project of any magnitude, labor costs factor in as the most significant input in the project. Construction trades are no different, and the cost to put qualified and skilled people on your job site is a major contributor to the cost of your home.
Architect or Engineer
Most cities in South Caroline will require a set of plans drawn by a certified architect or engineer before permits will be issued. You can expect to spend $200 – $300 per hour or up to 12 percent of the cost of the home on the plans you have drawn.
Builder or Construction Manager
In most cases, you will want to hire a builder or construction manager to oversee your project. Your builder will be responsible for hiring subcontractors, scheduling, and overseeing the work. The cost of a good builder or construction manager can't be overrated. Most builder's fees are part of the overall bid for your project. Construction managers may charge by the hour or a percentage of the project costs. You should expect this percentage to be between 5 and 15 percent.
Cost Estimate for Professional Tasks
The other trades and professions required to complete your new home contribute to the overall cost as well. You can expect costs in these ranges for these services and skills. Remember that these costs do not include the materials.
Electrician rates – Expect to pay electricians between $50 and $100 per hour
Roofing contractor – The roofer responsible for making your home watertight will cost between $5,000 and $10,000.
Framers – Getting the structural part of your home in place is the responsibility of the framers, and you can expect to pay between $4.00 and $10.00 per square foot.
Drywall, Trim, and Finish – The cost of getting the finishing touches to the interior of your new home will cost between $3 and $8 per square foot
Plumbers and HVAC – Labor costs for plumbing and HVAC services will cost between $45 and $200 per hour.
Administrative and permits – Administrative services, including legal work and building permits, may add another $700 – $1500 to your project.
Upgrade Costs – Adding Amenities to Your New Home
Getting the basics in your new home is an important factor. However, very few of us are happy with just having the basics. We all want the better things, a higher quality of life, and those amenities that make life better. All of these bring additional costs to the table and must figure into your construction budget.
Framing
The traditional style of building in the US is timber or wood framing. Framers use dimensional lumber to erect the home's structural framing before applying flooring, wall finishes, and ceilings. Many people are now considering metal framing options. Metal has many advantages over wood that make it attractive to homeowners and home builders.
The downside of using metal framing materials is the fifteen percent premium in metal framing over wood framing. There may be additional costs for framing with metal as well.
Concrete
Home construction requires a lot of concrete. Past the foundation, there are walkways, patios, porches, curbing and driveways to consider. Each of these additional concrete constructions adds additional costs to the final project total. Concrete work in South Carolina typically runs $4.75 – $6.36 per square foot.
Drywall and Trim Work
Basic drywall and trim work are part of the original estimate for your building project. However, adding to your home's interior appeal is a large part of upgrading your home's décor. There are many possibilities for upgrades and additions to add an almost unlimited line item to your budget for this area.
Custom trim work, custom-built cabinets, special textures, or applications to wall finishes all bring special appeal to your home. These items also add cost upfront to the building costs. In general, you may see additional costs from $15 to $150 per square foot for some of these services
Upgraded Kitchens and Appliances
Builders who offer estimates for home construction often base their pricing on using builder-grade appliances and finishes in the kitchen. These may be brand-name appliances and finishes but are offered to builders in large quantities at special prices.
If you specify your appliance and finishes, such as countertops, cabinets, and flooring for your kitchen, you can expect additional costs. It is hard to estimate how these changes will affect your building costs, but most professional builders assert that these types of additions can cost between $30 and $85 per square foot.
Adding Visual Appeal – Exterior Upgrades
Upgraded exterior finishes, higher grade windows and doors, and specialized roofing material can bring several benefits to your new home.
Greater curb appeal for your home often translates to increased resale value in the future.
Many upgraded exterior features can increase insulation values making your home more energy-efficient.
New roofing materials not only add a visually striking difference to your home, but these new materials can also lower your insurance premiums. Many of these new products are more fire-resistant, weather-resistant, and have a longer life expectancy than older materials.
Higher-quality windows and doors bring elegance and solidity to your new home. Most of these window and door upgrades are more energy-efficient, many of them offer better home security.
The downside to these types of exterior upgrades is the additional costs involved. The benefits of these specialty products come with some exceptional prices that can add appreciably to your home's costs. You may recoup the cost in time, but you must pay for them first.
Do You Need to Hire an Architect or a Builder?
Get free, zero-commitment quotes from pro contractors near you.
Building Your New Home In South Carolina
Building a new home signals an exciting time for you and your family. You are starting a new phase of your family's experiences and memories. Hopefully, the experience of planning and building your home is as good as the experiences you have living in that home.
Understanding the costs involved in your home building project is essential to making the process as painless and stress-free as possible. We hope that this article gives you a better understanding of the financial side of a home-building project.

Upgraded Home Team
We are a team of passionate homeowners, home improvement pros, and DIY enthusiasts who enjoy sharing home improvement, housekeeping, decorating, and more with other homeowners! Whether you're looking for a step-by-step guide on fixing an appliance or the cost of installing a fence, we've here to help.
More by Upgraded Home Team
Published July 19th, 2021 6:01 PM