8 Views
What Is The Cost Of Living In Rockville, MD?
April 23rd, 2021 7:57 AM
Share
We're committed to finding, researching, and recommending the best products. We earn commissions from purchases you make using links in our articles. Learn more here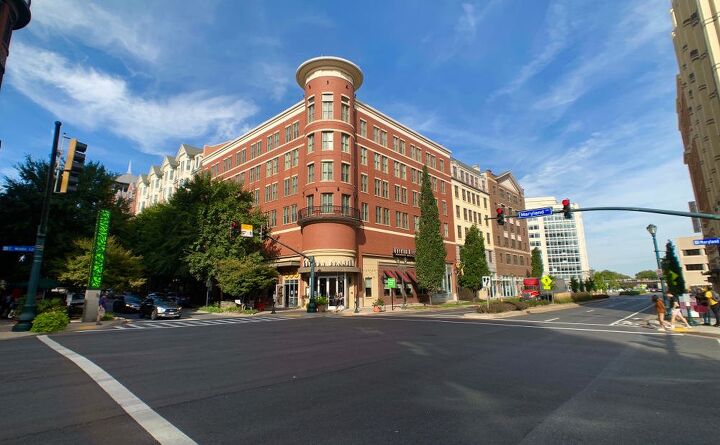 Rockville, Maryland boasts the charms of a small town with the opportunities of a big city. Its proximity to Washington, D.C. makes it a prime location for commuters seeking to live away from the hustle and bustle of the nation's capital.
Rockville has everything from vast, luscious parks and historic architecture to a beloved town square and thriving technology job market. This location may combine small-town heart with big-city prospects, but how much does it cost to make Rockville your home?
The median home cost of living in Rockville, Maryland is $502,200. This amount does not take into account the various additional expenses of life, such as groceries and utilities, that can quickly add up for a homeowner. With a cost of living index of 143.6, buying a home and living in Rockville is quite expensive in comparison to nearby cities.
According to MIT's living wage calculator, the livable wage in Montgomery County (where Rockville is located) can amount to $19.82 per hour for a single adult. The minimum wage in Maryland is $11.00 per hour. Because it is such a prime location, Rockville demands a higher cost of living, but it is still an accessible city for many individuals working at a range of salaries.
Though the cost of living is lower than nearby hotspots like Washington, D.C., Rockville itself is a coveted destination that necessitates residents offering up a pretty penny to make it their home base. Below you'll find a detailed breakdown of the total amount you can expect to count toward monthly expenses while living in Rockville, Maryland.
Do You Need to Hire Movers?
Get free, zero-commitment quotes from pro contractors near you.
Cost to Buy a Home In Rockville, MD
Homeownership in Rockville, Maryland may seem daunting at first, particularly because Rockville housing can cost 41.44% more than Maryland in general. The median cost of a home in Maryland is $294,100, which is significantly lower than the cost to live in Rockville.
What's driving that home cost up so much? Likely it's a combination of the booming local biomedical and software markets as well as the cache of living in such a stunning, historic spot. Compared to the national median home cost, Rockville is 54% more expensive.
Don't let these figures scare you. Remember, a median home cost means that half of all homes are below and half all homes are above that price tag. There are plenty of options for affordable, quality homes that will fit smack dab into your ideal budget. Plus, renting is an excellent option for those seeking a more affordable entry into the Rockville living scene.
Cost to Rent in Rockville, MD
Rockville has dozens of options for those with an eye toward rental properties. You'll find that 1.6% of the housing market in Rockville is open to renters. Here is the price breakdown for different home styles:
| | |
| --- | --- |
| Style of Home | Price Per Month |
| Studio | $1670 |
| 1 Bedroom | $1715 |
| 2 Bedroom | $1965 |
| 3 Bedroom | $2565 |
| 4 Bedroom | $3160 |
Though these prices may seem steep, the abundance of job opportunities in Rockville can make up for it. Consider also that Rockville is exceedingly walkable, boasting two Metrorail stations and plenty of easily accessible public transportation. This means you can save on the cost of gas and operating a vehicle. Renting out a studio either as a single person or splitting the cost with a significant other will enable you to settle in Rockville, Maryland without breaking the bank.
Home Property Taxes in Rockville
According to the City of Rockville, residents can expect to pay a real property tax of $0.292 per $100. One caveat to note is the State of Maryland's Homeowner's Tax Credit Program, which offers property tax credits to households with income below $91,000 per year and net worth less than $200,000. There is also a tax credit for the elderly and those retired from the military.
Property tax is an important consideration for those wishing to make Rockville their long-term home. Rockville's approximately 0.940% tax rate is actually lower than the property tax in Maryland at large and nationally. Clearly, the city wants to incentivize people to move to Rockville.
Utilities in Rockville
Utilities are an unavoidable fact of life no matter where you permanently reside. For renters, utilities can often be lumped together in a contract that ensures you don't have to worry about each expense. Utilities in Rockville are comparable to the rest of Maryland and only slightly higher than the national average. The average household will pay between $100-$200 for utilities. This may include services such as:
Electricity
Cooling
Heating
Water
Garbage
Plenty of attractive rental properties will offer "all utilities included" as a way of catching your eye. Keep this type of deal in mind but remember that if the rent is correspondingly higher than other comparable properties that don't include utilities, you may find the deal isn't actually better for someone who is energy savvy.
The Cost of Child Care
Raising a family in Rockville poses the same challenges facing parents everywhere – how to balance the cost of childcare with the demands of a busy career. Though it often goes unmentioned, childcare prices can skyrocket depending on the local demand.
In Rockville, full-time daycare per week can set you back this much:
| | |
| --- | --- |
| Age | Cost Per Week |
| Infant | $434 |
| Preschooler | $281 |
You can expect the cost you'll pay per child to decrease substantially as they get older. Though paying between $1,000 and $2,000 per month for childcare may appear excessive, the median household income is high enough that the cost ends up being more reasonable. Rockville has a variety of options for parents seeking different types of childcare centers or facilities.
Food in Rockville, Maryland
The price of food will be a substantial contributor to your overall cost of living in Rockville. You will likely find yourself stopping by the grocery store at least once per week. The more dependents you have, the more you'll pay. Choosing to dine out less and make your own meals from home can help drive your food costs down.
Check out the list below of common grocery items and their corresponding prices in Rockville. This will help you estimate how much you'll generally spend weekly while living comfortably in the city.
| | |
| --- | --- |
| Food Item | Cost |
| 1 Gallon of Milk | $3.60 |
| 1 Loaf of White Bread | $2.82 |
| 12 Dozen Eggs | $2.26 |
| 1 Pound of Rice | $2.10 |
| 1 Pound of Chicken | $4.82 |
| 1 Pound of Apples | $2.23 |
| 1 Head of Potatoes | $2.02 |
| 1 Bottle of Mid-Range Wine | $15.00 |
| 0.5 Liters of Domestic Beer | $2.64 |
How Much Will Entertainment Cost?
Rockville is a paradise of outdoor and indoor entertainment, with plenty of activities that can simultaneously keep you healthy without breaking the bank. For those who like to spread out their daily runs around the park with the occasional fine dining or a feature film showing, Rockville has plenty to choose from.
A great idea is to start from a reasonable budget for entertainment and try your best to stick to it. To help you out, we've listed the price range for common activities in this historic town.
| | |
| --- | --- |
| Activity | Price Range |
| Restaurant (three-course meal for two people, mid-range) | $30-$60 |
| Fitness Club (one adult, monthly) | $29-$85 |
| Public Art Pieces | Free |
| Opera Performance | $20-$28 |
| Museums Passes | Many are free for Rockville Public Library patrons |
Rockville has a blend of inexpensive and expensive activities. With so many parks and public art installations, a free stroll around the area can delight the eye without making your wallet lighter.
Education in Rockville, Maryland
Grade school and high school don't have to be expensive, especially when you leverage high-quality public-school systems to your advantage. Private schooling costs are astronomical, especially in locations with high median incomes like Rockville. We're here to ensure you are fully prepared and truly understand the value you're getting from public and private education.
In Rockville, each teacher instructs about 15 students, with schools spending around $16,548 for every kid, which is about $4,000 higher than the US average. Though this is the cost of schooling in Rockville, the expense is displaced when you choose to place your children in public schools. Here's what you should consider when examining the cost of a good education in Rockville:
Private School
Private elementary school tuition in Rockville can reach nearly $20,000. Though this cost may raise some eyebrows, there is the benefit of a lower student-to-teacher ratio compared to public schools. But is it really worth a bill that amounts to 1/5th of the median salary in the area?
University
Rockville is a short 25-minute drive to the University of Maryland, an outstanding public research university with in-state tuition of only $8,824 for an entire academic year. This is highly affordable compared to the cost of many private universities.
Of course, tuition doesn't account for how much it will cost to pay for mandatory fees, room, and board to attend the University of Maryland. For that, you're looking at around $4,760 per academic year for board, $1,955 in mandatory fees, and $8,064 per academic year for a standard 2-person living arrangement with AC.
Technical College
Rockville is also home to Montgomery College's Gudelsky Institute for Technical Education, which offers degrees in automotive technology, carpentry, electrical wiring, and HVAC wiring, as well as certificates in these fields. For a Montgomery County resident, 12 credit hours will come out to $2,128.80. Compare this to a non-Maryland resident's tuition for the same number of credits ($5,613.60) and you'll see it's over double what a resident pays.
For those looking to move to Rockville, Maryland with education in mind, your bank account will benefit from waiting the requisite time to become a resident. Public schooling is a promising alternative to the cost of private schools, especially considering many of the schools rate above average in quality.
---
Related Questions
How much do you need to live comfortably in Rockville?
In general, to live comfortably in Rockville you will need to make a minimum of $41,222 a year before taxes. This comes out to about $3,435 per month for an adult living on their own in the area. As more children are added into the equation, the necessary income increases correspondingly.
Is Rockville a good place to live?
Rockville combines the best of outdoor beauty and easily accessible recreation with the optimistic outlook of burgeoning software and biomedical industries. Many talented individuals settle down in Rockville, which makes it a vibrant location for families and young professionals.
What are the main industries in Rockville?
Rockville, Maryland is a growing hub for biotech companies, federal government employment, and many information technology companies.
Do You Need to Hire Movers?
Get free, zero-commitment quotes from pro contractors near you.
In Conclusion
Rockville, Maryland can be both beautiful and practical for anyone looking to expand their career outlook while also enjoying historic scenery. Though it is an expensive city by many metrics, it is quite attainable considering the vast professional landscape.
You will adore the gorgeous parks and find yourself meandering around the classic Rockville Town Square time after time. By providing quality of life, convenient transportation, and small-town charm, Rockville can be an incredible place to put down roots without sacrificing proximity to the social environment of a big city.
Related Articles

Upgraded Home Team
We are a team of passionate homeowners, home improvement pros, and DIY enthusiasts who enjoy sharing home improvement, housekeeping, decorating, and more with other homeowners! Whether you're looking for a step-by-step guide on fixing an appliance or the cost of installing a fence, we've here to help.
More by Upgraded Home Team
Published March 1st, 2021 11:42 AM