23 Views
What Is The Cost Of Living In Rapid City, South Dakota?
April 23rd, 2021 6:19 AM
Share
We're committed to finding, researching, and recommending the best products. We earn commissions from purchases you make using links in our articles. Learn more here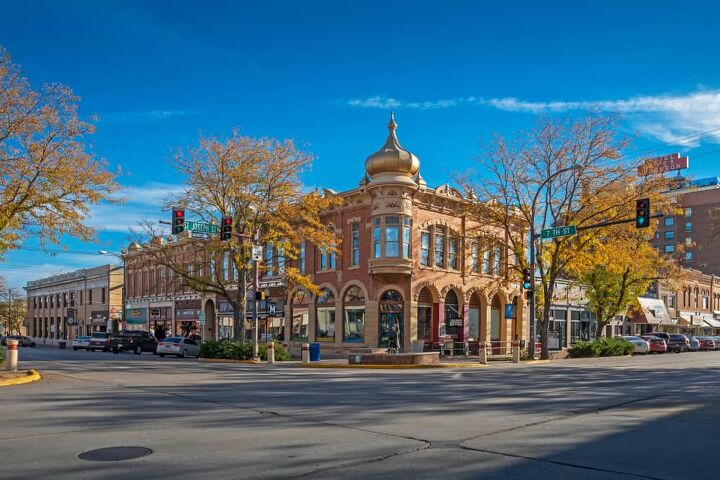 Whether work, family, or something else calls you to Rapid City, consider the cost of living before deciding whether it is the right financial fit for you. People move to Rapid City to take advantage of the strong job market in the energy industry and achieve a high standard of living at a lower-than-average cost in a city with a suburban feel.
Rapid City boasts a competitive real estate market with median home prices at $250,000. Child care and other costs are similarly low, but these figures are countered by a median annual household income of only $52,351. On the United States cost of living index with a base of 100, Rapid City's cost of living index is 92.9, which means it is 7.1% less expensive to live in Rapid City than the theoretical average cost of living in the US.
That average income will go further than it would in major metro areas across the country, but that $4,300 per month will be quickly consumed by housing and other costs. Read on to learn more about the cost of living in Rapid City, South Dakota.
Do You Need to Hire Movers?
Get free, zero-commitment quotes from pro contractors near you.
The Cost of Home Ownership in Rapid City
Homeownership is much more attainable in Rapid City than in other cities in the United States. The median list price for single-family homes in Rapid City is just shy of $250,000. Market analysts expect home values to rise about 7 percent in the next year as the area is becoming a seller's market. The home inventory is down across the country right now, but a shortage of homes was a characteristic of the Rapid City market prior to the pandemic.
According to the United States Census Bureau, the average monthly mortgage payment in 2018 was $1,400 per month. Keep in mind that while interest rates remain low, buyers can secure homes for lower monthly payments providing they lock in a historically low rate.
The Cost of Property Taxes in Rapid City
Prospective home buyers should remember that the cost of property taxes is tacked onto your monthly mortgage payments by the lender, and Rapid City's property taxes are more expensive than the national average. Real estate property taxes are calculated on the assessed value of the home, which is usually not the list or sell price and is actually a percentage of the home's value. Regardless, the more expensive the home, the higher the property taxes.
The national average property tax rate is 1.07 percent. In Rapid City, the average rate is 1.410 percent. This translates to an annual property tax amount of $3,525 per property.
The Cost of Renting a Home in Rapid City
If purchasing a home does not fit your needs, you will be in good company. In Rapid City, 37.8 percent of residents rent a home. In hot housing markets, it is more difficult for first-time homeowners to win a contract and get into a home. Here is the average price for several common apartment sizes:
| | |
| --- | --- |
| Bedrooms | Monthly Rent |
| Studio | $525 |
| 1 Bedroom | $675 |
| 2 Bedrooms | $900 |
In many metro markets, homeownership is appealing because rent is so expensive that it is comparable to a mortgage payment. In Rapid City, however, renters are likely to find housing much less than the average mortgage payment.
Utility Rates in Rapid City
Renters can also get ahead if their apartment rent includes utilities. If utilities are separate or if you purchase a home, be sure to budget for utility costs. In particular, plan for more expensive utility bills in the winter. December through March, the average monthly high is below 40 degrees Fahrenheit. Fortunately, the mild summers usually do not warrant air conditioning.
Electricity Rates: The average residential electricity bill in South Dakota is $99 per month, which is below the national average of $107. In Rapid City, the residential electricity rate is $0.1078 per kilowatt.
Water and Sewer: The average residential water and sewer bill is $60 per month. For water, the city charges a flat fee based on meter size and then a usage rate on top of that. The sewer rate is $3.68 per 100 cubic feet plus demand fees.
Child Care Costs in Rapid City
Babysitter and daycare bills are painful to pay regardless of where you live, but it is much less in Rapid City than in other metro areas. The monthly average cost for full-time daycare is $962 per month.
As with anyplace else, the cost varies based on the type provided. Expect infant and corporate daycares to cost more than in-home care.
Grocery Costs in Rapid City
Perhaps surprisingly, food costs can vary dramatically depending on location. While few people choose to move based on the cost of groceries, it is an important aspect of budgeting and determining how much mortgage or rent you can afford each month.
Here is a list of some grocery items and prices in Rapid City; use this as a starting place to determine whether your grocery bills will be more or less expensive in Rapid City than where you currently live.
| | |
| --- | --- |
| Item | Price |
| Milk – 1 gallon | $3.75 |
| Loaf of Bread – White – 1 pound | $3.00 |
| Rice – White – 1 pound | $2.00 |
| Eggs – 1 dozen | $2.38 |
| Cheese – 1 lb | $4.25 |
| Chicken Fillets – 1 lb | $2.75 |
| Tomatoes – 1 lb | $2.80 |
| Bottle of Wine – Mid-range | $12.50 |
| Cigarettes – Marlboro – 20 count | $6.50 |
Costs of Entertainment and Recreation of Rapid City
Entertainment and recreation may be a big concern for people considering a move to Rapid City. Is there even anything to do? Take a look at this list to see if Rapid City has what you need to live your best life.
| | |
| --- | --- |
| Activity | Price Range |
| Mid-range Meal for Two | $50 |
| 1 Movie Ticket | $8-15 |
| Fitness Membership – 1 person | $10 + per month |
| Day trip bus tour to Mount Rushmore | $85 – $300 |
| Stand-up Paddle Board Rental | $65+ |
Rapid City boasts a fantastic free activity: the outdoors. People visit Rapid City as the gateway to the Black Hills and enjoy paddling sports, hiking, camping, hunting, and many other outdoor activities. After an initial investment into equipment, these activities usually have a low per-occurrence cost.
Education Costs in Rapid City
In addition to childcare costs, education costs are another major expense that families incur. Rapid City has a large public school system as you would expect with any city. Families paying for private school or higher education can expect the costs described below.
Private School
Rapid City has several private schools, most of them faith-based. The average cost of private elementary school is $3,005 per year while high school is over double that at $6,717 per year. One school, St. Joseph Elementary School, has the lowest private school tuition at $1,250. Sunshine Bible Academy is the most expensive tuition of $9,410.
University
The niche South Dakota Mines University calls Rapid City home and draws students from across the West. Mines is a well-respected engineering school. South Dakota residents pay only $11,020 per year for tuition, although room and board and fees inflate the price to $21,050 annually. The university offers generous reciprocity programs with other states to offer in-state tuition to many students.
Black Hills State University also has a location in Rapid City for a second public four-year degree option. Six credits cost $2,107.50. A sixteen-credit semester would cost $5,620.
The median annual tuition at a public four-year university in the United States is $10,270
Technical College
Rapid City also offers a two-year higher education option in Western Dakota Tech. Western Dakota Tech charges students per credit at $283 or $333 per credit, depending on whether students choose in-person or online classes. WDT offers several professional programs including degrees in bookkeeping, technology, and agricultural management.
---
Related Questions
What do most people earn in Rapid City?
The per-person income for people living in Rapid City is $31,299. The household median income is $52,351. About 16 percent of Rapid Citians live at or below federal poverty guidelines. Only 32 percent of the workforce has a bachelor's degree or higher.
Are there other population centers nearby?
The largest city in South Dakota, Sioux Falls, is five hours away by car. The population of Rapid City is 72,258. Rapid City is the largest city within several hours. It has multiple malls, shopping districts, and shopping centers. Rapid City shops will have everything you need, from boutiques to outdoor stores. It also offers fine dining and an array of foods from around the world; one of the most popular restaurants is actually a Nepalese restaurant!
What are the main industries in Rapid City?
Rapid City's greatest industry is tourism. It is a common stopover for people visiting Mount Rushmore, the Badlands, Deadwood, and the Black Hills. Mining, logging, and agriculture are also significant industries in the area. Ellsworth Air Force Base is nearby and serves as an additional influx of employment and income in the area. The Air Force base is the largest employer in the entire state.
Do You Need to Hire Movers?
Get free, zero-commitment quotes from pro contractors near you.
Is Rapid City, SD Right for You?
Rapid City is an appealing choice for people who prefer a suburban feel rather than a highly populated metropolitan area. And just as city dwellers disperse to the suburbs for bigger yards and cheaper costs of living, so are some people interested in Rapid City.
The greatest lure of the city, though, is its natural surroundings. It is the home to world-class landscapes as well as man-made structures. People who love Rapid City love the peace and the slower pace than the hustle and bustle of big cities.
The household median income is low compared to many areas, but it can provide for a comfortable existence thanks to the lower cost of living, provided you can manage the discomfort of the winters.
Related Articles

Upgraded Home Team
We are a team of passionate homeowners, home improvement pros, and DIY enthusiasts who enjoy sharing home improvement, housekeeping, decorating, and more with other homeowners! Whether you're looking for a step-by-step guide on fixing an appliance or the cost of installing a fence, we've here to help.
More by Upgraded Home Team
Published March 1st, 2021 11:34 AM