51 Views
Cost Of Living In Eugene, OR (Taxes, Housing & More)
January 7th, 2022 4:56 PM
Share
We're committed to finding, researching, and recommending the best products. We earn commissions from purchases you make using links in our articles. Learn more here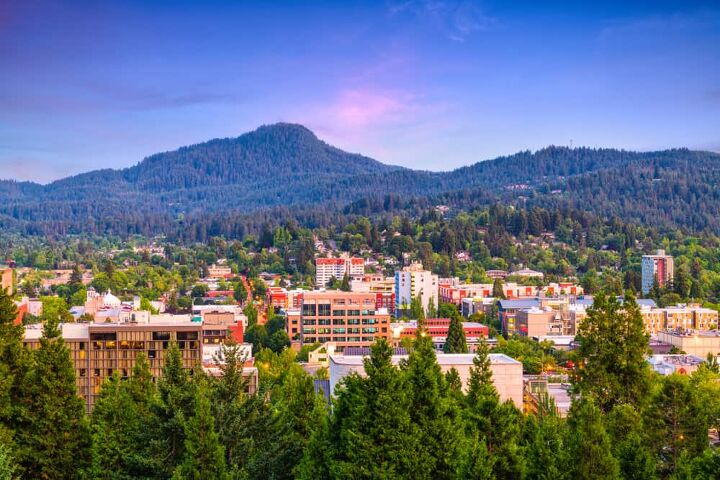 The pacific northwest is notable for its gorgeous vistas, bigfoot sightings, cultural significance, and a high quality of life. You may be more familiar with Portland and Salem than cities such as Eugene, but Eugene is booming. Home to farms, local eateries, and parks, Eugene is a great city, but what is the cost of living?
The cost of living in Eugene, OR is higher than the United States average due to housing costs and expenses. Eugene's housing costs are lower than Oregon's, but the $297,600 median home value is higher than the U.S. average. The average Eugene, Oregon resident spends up to $800 per month before rent or mortgage payments.
Follow along as we take an in-depth look into the cost of living in Eugene, Oregon.
Do You Need to Hire Movers?
Get free, zero-commitment quotes from pro contractors near you.
Housing Prices in Eugene, Oregon
The median home value in Eugene is $297,600, and that comes from a wide range in prices. You can expect to pay $192 per square foot for a home in Eugene, on average. Houses in Eugene average roughly 1,500 square feet.
| | | |
| --- | --- | --- |
| Location | Median Home Value | Homeownership Rate |
| Eugene | $297,600 | 47.9% |
| Oregon | $379,503 | 62% |
| United States | $231,200 | 67.9% |
The homeownership rate in Eugene may seem significantly less than the state of Oregon, but there are many reasons why. First, Eugene is home to the University of Oregon, meaning that many residents live on campus or rent apartments. Besides that, Eugene boasts many great renting opportunities, and the numbers show that younger people are more likely to rent, and not buy.
You can also expect to spend up to $1,600 or more a year in homeowner's insurance costs. That may seem like a lot, but the national average is $2,305. Mortgage payments in Eugene can easily cost between $1,600 and $1,800 a month.
Average Rent in Eugene, Oregon
The average rent cost in Eugene is $1,324 per month. Your total rent costs in Eugene are based on the number of bedrooms, and the location of the apartment. Rent can start as low as $850 for a 1 bedroom, and as much as $1,800 for a 3 bedroom.
| | |
| --- | --- |
| Oregon Cities | Average Monthly Rent Cost |
| Eugene | $1,324 |
| Hillsboro | $1,567 |
| Oregon City | $1,032 |
| Portland | $1,499 |
| Umatilla | $850 |
| Lake Oswego | $1,680 |
There is rent control in Eugene, and in the rest of Oregon as well. Rent cannot increase by more than 9.9% in Oregon, and that keeps rent costs stable. Each neighborhood in Eugene varies in total monthly rent costs.
| | |
| --- | --- |
| Eugene Oregon Neighborhoods | Average Monthly Rent Cost |
| Harlow | $1,350 |
| Downton Eugene | $1,300 |
| Whitaker | $850 |
| West Eugene | $930 |
| Churchill | $800 |
Average Utility Costs in Eugene, Oregon
Utilities can cost a total of $127 per month in Eugene, but it varies based on energy consumption. The low utility cost, compared to the rest of Oregon, is due to the 9.64¢ per kilowatt-hour electricity rate in Eugene. Another component to low utility costs is that Eugene has incentives for homes and apartment buildings to be energy efficient.
Besides your basic electricity, gas, and water costs, internet bills are another monthly cost factor. Expect to spend roughly $65 on an internet plan, or more if you pair it with phone plans. You should also factor in between $20 and $45 per month for garbage pickup, unless you are a renter, and it is included in your lease.
Taxes in Eugene, Oregon
Taxpayers in Eugene, Oregon only pay two main forms of taxes, as there is no state sales tax. While residents dodge having to pay a sales tax on their purchases, they are subject to a progressive income tax system that is one of the highest in the country and an average effective property tax rate that is pretty on par with the national average. Let's take a look.
Sales Tax in Eugene, Oregon
Believe it or not, Eugene, Oregon has no sales tax on any products. The state of Oregon is one of only 5 American states that have zero sales tax. Other American states with no sales tax include Delaware, Montana, New Hampshire, and Alaska.
Residents of Eugene only need to consider sales tax if they are traveling outside of Oregon. While the state imposes no sales tax, counties and cities within Oregon can impose sales tax. Luckily, Eugene is not one of those cities and has a 0% sales tax rate.
Property Taxes in Eugene, Oregon
If a low property tax rate is a big selling point for you, then you can consider Eugene, Oregon sold. The national average property tax rate is 1.08%, but Eugene's property tax rate is 1.04%. That comes out to $7.01 for every $1,000 in assessed value of your home.
Property tax exemptions are possible in Eugene, Oregon, but they come with stipulations. Multi-family homes in downtown Eugene are eligible for property tax exemption for up to 10 years. However, this only applies to newly constructed homes built with 5 units or more.
Oregon has the 29th lowest property tax rate in the United States. As low as Eugene's tax rate may sound, Gilliam County has the lowest rate at 0.85%.
Oregon State Income Tax
The income tax rate in Oregon can be anywhere between 5% and 9.9%. Tax brackets vary in Eugene based on marital status, and knowing your own bracket is a great idea.
| | | | |
| --- | --- | --- | --- |
| Single Tax Bracket | Tax Rate | Married Tax Bracket | Tax Rate |
| $0.0 | 5% | $0.0 | 5% |
| $3,550 | 7% | $3,550 | 7% |
| $8,900 | 9% | $8,900 | 9% |
| $125,000 | 9.9% | $125,000 | 9.9% |
Oregon has the 3rd highest state income tax in the United States, right behind Hawaii and California. In many ways, the high state income tax makes up for the lack of state income tax. It is important to factor state income tax into the cost of living, as well as the federal income tax.
You can also pay up to 9.9% on capital gains from investments in Oregon. However, the capital gain tax rates are the same as their income taxes and can be as low as 5%.
Food & Grocery Costs in Eugene, Oregon
You could spend between $130 and $245 a month on food in Eugene if you stick to groceries. One of the things Eugene is known for is the number of farms and options for organic food. Because of that, buying local is a big thing in Eugene and a great way to save money.
The average single adult in Oregon spends up to $3,500 or more a year on food. Several cost factors affect the total, however, such as eating out versus eating at home. Food can be pricier in Eugene than in other Oregon cities, such as Salem, which has 3.4% cheaper food costs.
| | |
| --- | --- |
| Eugene Oregon Groceries | Average Cost |
| Gallon of Milk | $3.30 |
| Dozen Eggs | $2.70 |
| Head of Lettuce | $1.65 |
| Loaf of Bread | $2.40 |
| Pound of Apples | $1.90 |
| Pound of Rice | $2.20 |
You can eat out in Eugene for a relatively low cost, and that includes dinner for two. A meal for two people can cost as little as $45 at a low to mid-range restaurant. Otherwise, a meal at a fast-food or cheap restaurant costs an average of $9 per person.
Education Costs in Eugene, Oregon
The University of Oregon can cost $36,615 a year for out of state students, and $12,720 for local students. You can save money by choosing Lane Community College which costs between $5,000 and $10,590 each year.
Private education is both popular and costly in Eugene, Oregon. A private elementary education can cost up to $18,500 a year at Oak Hill. There are also private colleges, such as Northwest Christian University, and it can cost up to $31,410 per year.
There are also many public education opportunities in Eugene, Oregon that can save you money. Popular public schools in Eugene include The Village School, Prairie Mountain School, and Ridgeline Montessori Public Charter School.
Transportation Costs in Eugene, Oregon
The transportation cost of living index in Eugene is 88.5, which is lower than both the national average (100) and the state index of 107.1. Transportation costs are another important factor that you must consider in order to determine the overall cost of living in a particular location. These include expenses such as gas prices, public transportation costs, and car insurance premiums.
Gas Prices in Eugene, Oregon
Currently, the lowest cost of gasoline for Eugene, Oregon drivers is $2.09 per gallon. The average car owner goes through roughly 656 gallons of gasoline per year. In Eugene, Oregon, that could cost between $1,371 and $1,476 each year on gasoline alone.
Annual Car Insurance Premiums in Eugene, Oregon
The average cost of car insurance in Eugene is $1,231 per year for full coverage. This is lower than the Oregon average of $1,346 a year for a full coverage policy. Though, your rate can vary based on your age, personal driving record, the insurance company that you choose, and whether you opt for full or minimum coverage.
To help illustrate how car insurance premiums vary based on where you live in Oregon, the following table outlines average car insurance rates in five Oregon cities:
| | | |
| --- | --- | --- |
| City | Average Annual Premium for Full Coverage | Percent Difference from Statewide Average |
| Portland | $1,639 | 22% |
| Eugene | $1,231 | -9% |
| Salem | $1,416 | 5% |
| Gresham | $1,765 | 31% |
| Hillsboro | $1,446 | 7% |
Public Transportation Costs in Eugene, Oregon
You can spend between $1.75 and $30 on public transportation in Eugene based on the method that you choose. Due to the relatively high cost of living in Eugene, public transportation is common and quite accommodating. Each city bus in Eugene is equipped with bike racks and wheelchair access.
| | |
| --- | --- |
| Eugene Oregon Public Transportation | Average Cost |
| Taxicab | $2.25 (Per Mile) $30 (Per Hour) |
| Train Month Pass | $50 |
| Single Stop Train Ticket | $1.75 |
| Bus Fare | $0.85-$1.75 |
| Bus Pass | $50 (1 Month) $135 (3 Month) |
A new car in Eugene can easily cost $20,000 or more, and that limits many residents. If you rode the bus for a whole year in Eugene, it would only cost you $540. Compare that to the thousands in additional costs of driving aside from a car itself, and you save a fortune.
If you are simply looking to have a fun day out downtown, a pedicab is a great choice for sightseeing. Expect to pay $40 per hour for a pedicab service. Otherwise, a single day bus or train fare won't cost more than $1.75 and can help give your car a break.
Eugene, Oregon Flight Prices
You could fly nonstop from Eugene to Los Angeles for between $92 and $196 per ticket. Flying from Eugene all the way across the country to St. Louis would currently cost $278 roundtrip. Eugene Airport is known as the fifth largest pacific northwest airport, and it serves with five different airlines.
Think twice before parking your car at Eugene Airport if you have a long trip planned. You will spend $12 per day for parking, or $72 for a weekly rate. You can save money on this cost by simply choosing to shuttle to the airport.
A shuttle to Eugene Airport can cost $45 per person, for adults. That cost includes a free ride for one child that is 12 years old or younger.
Entertainment & Miscellaneous Costs in Eugene, Oregon
Movies are a popular form of entertainment in Eugene, Oregon, and tickets can cost $10 per person. A form of entertainment unique to Eugene is the Museum of Natural and Cultural History. Ticket prices vary based on age, with senior and child tickets at $4 each, and adult tickets at $6.
You can spend $4-$8 for admission to the Eugene Science Center depending on the show you are attending. Children get free admission, so the Eugene Science Center is a great option for families.
| | |
| --- | --- |
| Eugene Oregon Entertainment | Average Cost |
| Eugene Science Center | $4-$8 Per Person |
| Museum of Natural and Cultural History | $4-$10 Per Person |
| Movie Theater Tickets | $10 Per Ticket |
| City of Eugene Athletics | $10 Per Person $150 Per Team |
There are several music venues in Eugene as well, and tickets range between $12 and $130 a ticket. Currently, concerts are not being held in Eugene, but when they return, ticket costs will vary based on the act.
---
Related Questions
Is Eugene, Oregon safe?
Yes, Eugene far from the most dangerous city in Oregon, but there is still an element of crime. Only 1 out of 259 Eugene residents face violent crime, and property crime is more common. There are roughly 36 crimes for every 1,000 residents in Eugene, Oregon.
Does Eugene, Oregon get wildfires?
Like other pacific northwest cities, Eugene does get wildfires. There was recently a wildfire that raged along a nearby river and destroyed 500 structures in and around Eugene. When there are wildfires nearby Eugene, and even in California, smoke is still detectable in the Eugene area.
What is Eugene, Oregon known for?
Eugene is most notably known for the University of Oregon, and many gorgeous trails and paths. The college town was also ranked the #1 U.S. city for hippies due to prominent cultural people, such as Ken Kesey, coming from Eugene. Hendricks Park and Alton Baker Park are popular trails for hiking and recreation in Eugene.
Do You Need to Hire Movers?
Get free, zero-commitment quotes from pro contractors near you.
Summing It Up
A home in Eugene may cost $297,600, but renting can cost between $800 and $1,324 a month. You'll pay at least $127 in utilities, on average, and another $65 a month in Eugene for internet service. Gas prices are relatively high, currently starting at $2.09 a gallon.
You should budget at least $130-$245 a month for food in Eugene, and you can save big by eating at home. Eugene is a gorgeous and cultured city and living there is well worth the cost of living.
Related Posts

Nick Durante
Nick Durante is a professional writer with a primary focus on home improvement. When he is not writing about home improvement or taking on projects around the house, he likes to read and create art. He is always looking towards the newest trends in home improvement.
More by Nick Durante
Published January 8th, 2021 5:38 PM