37 Views
What Is The Cost Of Living In Bend, Oregon?
January 3rd, 2022 6:28 PM
Share
We're committed to finding, researching, and recommending the best products. We earn commissions from purchases you make using links in our articles. Learn more here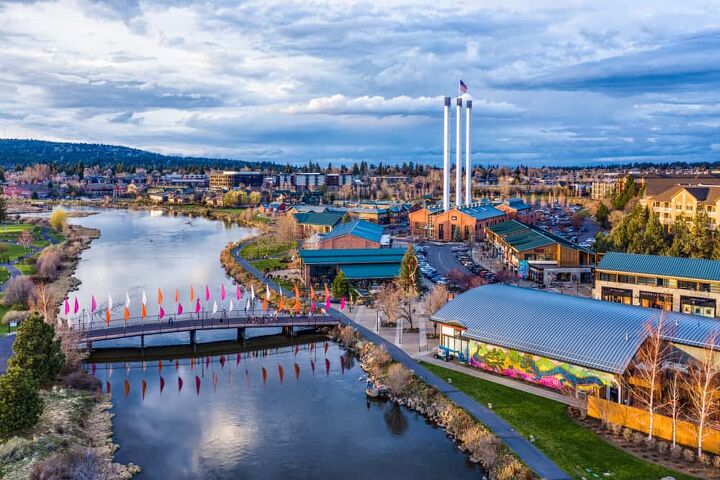 Bend, Oregon is fast becoming a dream destination for successful young singles and couples looking to raise a family. Within the last 5 years, it has also become an unlikely commuter spot for Silicon Valley residents who are looking for a "weekend home", despite the 10-hour drive. With it, housing costs have exploded. Over 100,000 residents call the Bend area home.
With a cost of living index of 123.5, Bend, Oregon consistently is one of the more expensive places to live within the United States. However, with that price come many benefits, including access to great schools, lots of nature, and much more.
Is Bend worth it for you? Your reasons for moving will change that answer greatly, but if you are concerned about the cost of living in Bend, Oregon, consider the data before you make the leap.
Do You Need to Hire Movers?
Get free, zero-commitment quotes from pro contractors near you.
Housing Costs in Bend, Oregon
Housing costs in Bend, Oregon are regularly leading the state, with no signs of slowing. In fact, many investors think that Bend will only continue to grow in popularity in the coming years, with housing prices continuing to rise.
Median Home Values in Bend, Compared
| | | |
| --- | --- | --- |
| Location | Median House Price | Homeownership Rates |
| Bend | $547,000 | 60% |
| Portland | $501,224 | 58.9% |
| Oregon | $344,200 | 62.4% |
| United States | $320,000 | 65.8% |
As you can see, housing prices in Oregon in general are higher than the country's average, with homeownership rates lower. Many people might be surprised to see that Bend has a higher median home value than Portland.
However, year over year real estate in Bend increases. In the past 5 years alone, housing in Bend, Oregon has appreciated over 60%, while the country's average sits at just 35.6%.
Homeownership rates are still holding strong in Bend, but market experts expect this number to fall as time goes on, and more homes are replaced with apartments and multi-family units.
Median Home Prices in Bend, Oregon
| | |
| --- | --- |
| Value of Home | Percent of Homes |
| $1 Million and Above | 1.5% |
| $750,000-$999,999 | 2.9% |
| $500,000-$749,999 | 14.6% |
| $400,000-$499,999 | 13.9% |
| $300,000-$399,999 | 21.8% |
| $200,000-$299,999 | 24.7% |
| Sub $199,999 | 19.6% |
The majority of homes (31%) in Bend were built between 2000 and 2009. Just 12% were built since then. 21% of homes were built between 1990 and 1999, and 12% were built between 1980-1989. While Bend may have been founded in 1905, it didn't experience the big population boom until recently. Between 2000 and 2019, it is estimated over 50,000 moved to the city of Bend. This is why many homes are relatively 'new' compared to other US cities.
Average Rental Prices in Bend, Oregon
| | | | | |
| --- | --- | --- | --- | --- |
| Housing Size | Bend | Bend Metro | Oregon | United States |
| Studio | $780 | $742 | $827 | $821 |
| 1 Bedroom | $930 | $884 | $921 | $930 |
| 2 Bedroom | $1125 | $1071 | $1123 | $1148 |
| 3 Bedroom | $1620 | $1540 | $1620 | $1537 |
| 4 Bedroom | $1975 | $1881 | $1947 | $1791 |
The average apartment size in Bend, Oregon is just 885 square feet. Rental prices in Portland, Oregon have gone down nearly 2% over last year, there was a 9% rise in rental prices during the COVID-19 pandemic.
According to the most recent census data, 29.27% of households in Bend, Oregon were rentals.
The average monthly rent in most Oregon cities is generally lower than the national average, with a statewide average of just $1,110 a month. With this in mind, Oregon can be considered an affordable place to live for renters. However, rates vary considerably based on where you live in the state.
To put things in perspective, the following table outlines how the average monthly rent in Bend compares to other cities in the state of Oregon:
| | |
| --- | --- |
| City | Average Rent |
| Portland, OR | $1,633 |
| Eugene, OR | $1,512 |
| Vancouver, OR | $1,543 |
| Beaverton, OR | $1,590 |
| Bend, OR | $1,711 |
| Keizer, OR | $1,059 |
Utility Costs in Bend, Oregon
The utility cost of living index for Bend is 83.6, which ranks it as cheaper overall than the national average by quite a bit. The average residential electricity rate is 10.38¢/kWh, which is higher than the state's average of 9.8¢/kWh. However, this comes in cheaper than the US average of 11.88¢/kWh.
For a 915 square foot apartment, Bend residents can expect to pay approximately $185 for their heating, electricity, cooling, water, and garbage. The average Bend resident pays just over $72 for their internet services.
Taxes in Bend, Oregon
Taxpayers in Bend enjoy no sales tax, but have some of the highest property taxes in the state. Oregon's progressive income tax system also ranks among the highest in the country, with a top marginal rate of 9.9%.
Sales Taxes in Bend, Oregon
The entire state of Oregon is one of the few in the US that has a 0% sales tax. However, technically separate counties and even cities have the right to impose their own sales tax rates. Good news if you're interested in moving to Bend, however – there is no sales tax imposed by the county.
Property Taxes in Bend, Oregon
The average effective property tax rate in Deschutes County is 0.850%. While this is slightly lower than the state's average of 0.90% and the nationwide average of 1.07%, it is the fifth highest rate in the state. This means that if you your home has an assessed value of $547,000, you would pay approximately $4,650 annually in property taxes.
Income Taxes in Bend, Oregon
Bad news – Oregon certainly makes up for its lack of sales tax when it comes to personal income tax. While local income tax is zero, that state has a progressive income tax system, with four income tax brackets in total that range from 4.85% to 9.9%. This top marginal rate of 9.9%, is one of the highest in the country.
Though, this rate only applies to single filers that make at least $125,000 or joint filers that make $250,000 of taxable income in Oregon. the state's rate is about 8.75%, one of the highest in the country. This means that if your household income is $52,471 annually, the average, your estimated state income tax would be more than $3,800.
While Oregon doesn't rank the highest in the country, it isn't far behind.
Food & Grocery Costs in Bend, Oregon
| | |
| --- | --- |
| Food in Bend, Oregon | Average Cost |
| Average Meal for 1 | $12-$15 |
| Mid-Range Meal for 2 | $70-$80 |
| Gallon of Milk | $3.25-$3.60 |
| Loaf of Fresh Bread | $3.25-3.75 |
| 12 Eggs | $2.60 |
| 1lb Chicken | $3.99 |
| 1lb of Bananas | $.65-$.95 |
Bend, Oregon's food cost of living index is 102.2, which sits slightly above the national average. There are over 350 restaurants in and around Bend, so there is no concern about finding somewhere to eat. There is also a wide variety of grocery stores in Bend, both chain locations and smaller, locally-owned stores.
Residents of Bend seem to value organic or eco-friendly options, as there are many within the city limits to choose from.
It is recommended that 11% of a household's budget go towards food. With the average household income in Bend being $52,741, that estimates about $5,691 annually for food, or $474 a month.
Transportation Costs in Bend, Oregon
The transportation cost index in Bend, Oregon is 82.6, which is considerably lower than both the national and state average. Transportation costs are another important factor that you must consider in order to determine the overall cost of living in a particular location. These include expenses such as gas prices, public transportation costs, and annual car insurance premiums.
The average one-way commute for a resident of Bend, Oregon is just 15.3 minutes, which is significantly less than the national average of 26.4 minutes. Over 74% of residents drive themselves to work, with the car being the primary mode of transportation. 7.6% of residents carpool, and just 0.4% take the mass transit options.
Cost of a Gallon of Gas, Compared
| | |
| --- | --- |
| Location | Cost |
| Bend | $2.63 |
| Portland | $2.91 |
| United States | $2.62 |
Public Transportation Costs in Bend, Oregon
Bend currently has a public transportation service called CET, which is a bus route that runs throughout the city. There are currently 9 routes total running through Bend, run by CET.
For those aged 6-59, a single ride will cost $1.50, with a day pass costing $2.50. For senior (60+) or disabled members of the community, it is $0.75 for a single ride or $1.25 for a day pass.
A month pass for those 18+ is $30, or $20 for those aged 6-18, and just $15 for seniors and disabled members of the community.
The CET also offers rural transportation into the city, as well as recreational bus transportation out into nature. Prices vary depending on the age of the rider and the location of the station.
Annual Car Insurance Premiums in Bend, Oregon
The average annual car insurance premium in Bend, Oregon is $1,240 per year for full coverage. Though, your rate can vary quite a bit depending on your age, driving record, the insurance company that you choose, and whether you opt for full or minimum coverage.
To help illustrate how car insurance premiums differs based on where you live in Oregon, the following table outlines average car insurance rates in five Oregon cities:
| | | |
| --- | --- | --- |
| City | Average Annual Premium for Full Coverage | Percent Difference from Statewide Average |
| Portland | $1,639 | 22% |
| Bend | $1,240 | -8% |
| Eugene | $1,231 | -9% |
| Salem | $1,416 | 5% |
| Gresham | $1,765 | 31% |
Schools in Bend, Oregon
Deschutes County in Oregon, where Bend is located, has quite a variety of schools to choose from. There are 27 preschools, 22 middle schools, and 13 high schools. 26 of those are public district schools, just 1 is a public charter school, and there are 87 total private schools.
Many of the schools in Bend are ranked Above-Average to Average by parents, and continue to have the highest concentration of top-rated schools in the state. However, the student: teacher ratio in Bend is higher than the state average, at 22:1 versus 20:1 for the rest of Oregon.
Entertainment & Recreation Costs in Bend, Oregon
Bend, Oregon is perfect for those who love nature and the outdoors. Nestled between the Cascade Mountains and the desert plateaus, there are numerous nature and hiking activities you can do for absolutely no cost, including trail running on the Urban Trail System or rafting in the river. Tumalo Falls, Newberry National Volcanic Monument, and the Lava Lands Visitor Center are all highly recommended and free.
The city is very proud of its craft beer breweries, where you can expect to pay anywhere from $6-$12 for a pint of locally-made beer. There are even tour groups, ranging from $30-$100/trip, that will take you to the best breweries in the city.
The High Desert Museum in Bend is also highly recommended, with general admission just $14 for adults, $12 for seniors, and $9 for children under the age of 12.
Clothing Costs in Bend, Oregon
Clothing costs are another good indicator of the cost of living within a city. For Bend, you can expect to pay slightly above average costs, just like with everything else in the state.
| | |
| --- | --- |
| Item of Clothing | Price |
| 1 Pair of Name-Brand Jeans | $51 |
| 1 Summer Dress (From a Chain Retail Store) | $36 |
| 1 Pair of Name-Brand Shoes | $80 |
| 1 Pair of Dress Shoes | $93 |
Do You Need to Hire Movers?
Get free, zero-commitment quotes from pro contractors near you.
Should I Move to Bend, Oregon?
No one can make the decision for you, but careful consideration should be taken! In WalletHub's report of the Happiest States in America, Oregon was 41st on the list, which took into consideration depression rates, unemployment, and sports participation. The state did boast some of the highest income growth in the country, the fewest work hours, and the third-best volunteer rate.
Bend itself has over 100,000 residents with the Bend metro area boasting nearly 200,000 total, making it the fifth-largest metro area in the state.
Bend, Oregon is a beautiful city in a beautiful state. There is never a lack of things to do or nature to see, which appeals to a lot of people. But with a cost of living index at 123.5 and an average household income of just $52,741, it can be an incredibly expensive place to live as well.

Upgraded Home Team
We are a team of passionate homeowners, home improvement pros, and DIY enthusiasts who enjoy sharing home improvement, housekeeping, decorating, and more with other homeowners! Whether you're looking for a step-by-step guide on fixing an appliance or the cost of installing a fence, we've here to help.
More by Upgraded Home Team
Published February 24th, 2021 2:14 PM