60 Views
Cost Of Living In Bellingham, Washington (Taxes, Housing & More)
April 22nd, 2021 5:14 PM
Share
We're committed to finding, researching, and recommending the best products. We earn commissions from purchases you make using links in our articles. Learn more here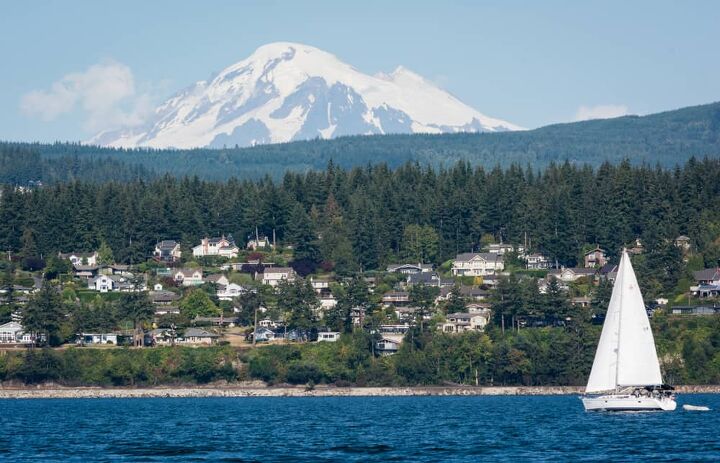 Bellingham, Washington is a small city just south of the Canadian border, set on the east shore of the Puget Sound. Bellingham is located between Seattle and Vancouver. It's a beautiful small city and, compared to much of the west coast and Pacific Northwest, does have a relatively affordable cost of living. Bellingham is located in Whatcom County.
The overall cost of living index in Bellingham is 121.7. This means Bellingham is on average more expensive than the United States average cost of living, which is 100. However, Seattle's overall cost of living index is 172.3, so Bellingham is less expensive. Bellingham is almost 42% less expensive than Seattle, and the median home cost is 66% lower in Bellingham than in Seattle. The median home listing price in Bellingham is $475,000.
So what else should you know about the cost of living in Bellingham, the taxes, and the economy? Find out just how much money you might need to live comfortably in Bellingham.
Do You Need to Hire Movers?
Get free, zero-commitment quotes from pro contractors near you.
Bellingham, WA House Prices
In Bellingham, the median listing home price is $475,000, and that means around $294 per square foot. The median sold home price is slightly less at $472,500. There are an estimated 22 neighborhoods in Bellingham. The most expensive is Edgemoor, with a median home listing price of $1.1 million. The most affordable neighborhood is South Bellingham, with a median listing price of $245,100.
Bellingham Median Home Listing Price by Neighborhood
| | |
| --- | --- |
| Neighborhood | Median List Price |
| Mount Baker | $600,000 |
| Guide Meridian | $402,500 |
| Puget | $526,000 |
| Samish Hill | $699,900 |
| Silver Beach | $589,000 |
| Roosevelt | $407,500 |
| Happy Valley | $510,000 |
| Cornwall Park | $629,000 |
Bellingham Home Prices Compared to Other Washington Cities
| | |
| --- | --- |
| City | Median Home Price |
| Bellingham | $475,000 |
| Seattle | $799,950 |
| Bellevue | $1,000,000 |
| Redmond | $955,000 |
| Kirkland | $725,100 |
The average rent price for a one-bedroom apartment in Bellingham is $1,275. The average rent for a studio apartment in Bellingham is $915. The average rent for a two-bedroom unit is $1,400.
The majority of households in Bellingham are renter-occupied at 57%, with only 43% being owner-occupied.
The most expensive neighborhoods for renters in Bellingham are Fairhaven, Lettered Streets, and Columbia. The most popular neighborhoods if you're going to rent are Happy Valley, Sehome, and Columbia.
If you just wanted to visit Bellingham short-term to decide if it's the right place for you, the average price of an Airbnb is around $3,861 a month.
Bellingham Rent Compared to Other Cities
| | |
| --- | --- |
| City | Average Rent |
| Bellingham | $1,275 |
| Seattle | $1,928 |
| Everett | $1,454 |
| Tacoma | $1,419 |
| Vancouver | $1,385 |
Taxes in Bellingham, Washington
The following is a breakdown of the taxes you might expect to pay if you live in Bellingham.
State Income Tax
First, Washington doesn't have a personal income tax. However, Washington does have high sales tax rates.
Sales Tax in Bellingham, Washington
In the state of Washington, sales tax ranges from 7% to 10.5%. There is a combined state and average local sales tax rate of 9.23%. The base sales tax rate is 6.5%, but cities and counties can also collect their own sales tax in addition to that.
In Whatcom County, where Bellingham is located, there is an added 1.30%, for a total sales tax rate of 7.90%.
Property Taxes
On average, property taxes in Washington are somewhere in the middle compared to the rest of the country. The state's average effective rate is 0.93%. In Whatcom County, the average county tax rate is 0.850%. If you had a home with an assessed value of $250,000, you would then owe $2,125 annually in property taxes.
A home's assessed value is an estimation of the current price. It's usually based on a percentage of the home appraisal value or the fair market value.
In Washington State, there is also a statewide tax on real estate sales. It's called the real estate excise tax or REET. It's equal to a certain percentage of the home's price that's sold. The seller usually pays it. Some cities in Washington also levy a 0.25% tax on property sales, in addition to the REET.
If you sell a home that's between $500,000 and $1.5 million, there's a REET rate of 1.28%.
Other Taxes in Bellingham
There are other taxes to be aware of in Bellingham and Washington State in general, which include:
There are two taxes on alcohol. There's a sales tax of 20.%5 for retail sales and 13.7% for sales in restaurants and bars.
There is a gas tax of 49.4 cents per gallon of gas and diesel.
There is an excise tax rate of 37% of the sales price for marijuana.
Cost of Utilities in Bellingham, WA
Utilities in Bellingham are actually 20% less than the national average, which is one of the few areas where this is the case.
You might expect an energy bill of around $134.80 a month in Bellingham and an average phone bill of $143.69.
The average rate for residential electricity in Bellingham is 10.36 cents per kilowatt-hour. That means the rate is 21.45% higher than the Washington average but 12.79% lower than the national average rate.
Cost of Food in Bellingham, WA
To out and grab a casual dinner for one person in Bellingham, you could pay around $15. Adding a beer might mean another $7.50. For a soda, add $2.50 to your bill. Coffee can cost around $5 on average in Bellingham. To get a meal for two people at a mid-priced restaurant, the average is around $60. A combo meal at a fast-food restaurant averages $7.
Grocery Prices in Bellingham
| | |
| --- | --- |
| Food Item | Price |
| Gallon of milk | $2.80 |
| Loaf of bread | $2.82 |
| Pound of local cheese | $7.55 |
| Pound of chicken | $3.97 |
| Pound of bananas | $0,78 |
| Head of lettuce | $1.52 |
Transportation Costs in Bellingham, WA
For overall transportation costs, they are estimated to be 21% higher in Bellingham than the national average.
The public transportation system is known as WTA in Bellingham and all of Whatcom County. To buy a 31-day pass you'll pay $13, while a county connector 31-day pass is $25. There's also a 92-day pass for $35. There are reduced fares for people who are 75 and older, veterans, and individuals with disabilities.
If you have a car, the average price of gas is $3.11 a gallon, which is above the U.S. average of $2.77.
The average price of a new Toyota Corolla or similar Sedan in the Bellingham area is around $23,500.
The average cost of car insurance in Washington State is less than the national average at $1,160 a year. That is almost 19% lower than the national average.
Healthcare Costs in Bellingham, WA
The cost of healthcare is estimated to be 12% lower in Bellingham than the national average.
Cost of Healthcare in Bellingham vs. Seattle
| | | |
| --- | --- | --- |
| Type of Visit | Cost in Bellingham | Cost in Seattle |
| Doctor's Visit | $125 | $137 |
| Dentist Visit | $112 | $148 |
| Optometrist visit | $155 | $160 |
| Cost of Lipitor | $506 | $478 |
Education Costs in Bellingham, WA
The Bellingham School District is highly-rated among public schools. It ranks well in terms of academics, teachers, and college prep. The Bellingham School District ranks as number 14 in Washington State, out of 254. It ranks as number 34 in the state in terms of teachers.
Some of the highest-rated public schools in the Bellingham School District include Columbia Elementary School, Fairhaven Middle School, and Sehome High School.
The average cost of daycare in Bellingham is $1,672 per month. In general, Washington is known as having some of the highest early childcare prices in the nation.
The average private school tuition in Washington state is $11,300 a year. For private elementary schools, the average is $10,517 annually. For private high schools, the average annual price is $13,054.
Western Washington University is located in Bellingham and has tuition and fees of $25,266. The least expensive post-secondary school in Bellingham is Bellingham Technical College, with tuition and fees of $4,911.
Entertainment and Miscellaneous Expenses in Bellingham, WA
The cost of living index for miscellaneous expenses in Bellingham is 108.2.
| | |
| --- | --- |
| Activity or Item | Average Cost |
| Fitness club membership for one adult | $61 |
| Movie ticket- one seat | $15 |
| One pair of jeans | $49 |
| Yoga class | $17 |
---
Related Questions
How Much Money Do People Make in Bellingham, WA?
In 2018, there was a population of 87,100 in Bellingham, and the median age was 30.8. The median household income was $50,844.The average hourly rate of pay in Bellingham is $19. The most popular jobs in the city are Administrative Assistant, Certified Nurse Assistant, and Registered Nurse.Some of the major employers in the area include PeaceHealth, Fred Meyer Inc., and the Anvil Corporation.
How Does Bellingham Compare to Seattle?
If you wanted to move from Seattle to Bellingham, you would see a significantly lower cost-of-living.If you earned $50,000 in Seattle, you might only need to earn $36,481 to maintain your current lifestyle in Bellingham. The housing costs are 42% lower in Bellingham, and the transportation costs are 12% lower. Food costs are 14% lower in Bellingham than in Seattle.
Do You Need to Hire Movers?
Get free, zero-commitment quotes from pro contractors near you.
Is Bellingham, WA a Good Place to Live?
As far as safety, Bellingham is somewhat safe, although the total crime rate is above the national average. Much of that is property crime. The property crime rate in Bellingham is around 39% higher than the national average, but the violent crime rate is 28% lower than the national average.
Bellingham is scenically beautiful, which draws people there.
Also, even though it's more expensive than much of the rest of the country, compared to most places in the Pacific Northwest, it is actually more affordable. For example, it's significantly more affordable than Seattle on all measures.
If you were moving from a major Northwest city you might find that you save money in Bellingham. However, moving from another part of the country might mean you spend more than you did previously.
Related Articles

Ashley Sutphin
Ashley Sutphin Watkins studied journalism at the University of North Carolina. She now works as a full-time writer with an interest in all things real estate and interior design. She lives in East Tennessee and enjoys the nearby Smoky Mountains with her family.
More by Ashley Sutphin
Published March 5th, 2021 4:12 PM