43 Views
What Is The Cost Of Living In Ann Arbor, MI?
April 23rd, 2021 7:59 AM
Share
We're committed to finding, researching, and recommending the best products. We earn commissions from purchases you make using links in our articles. Learn more here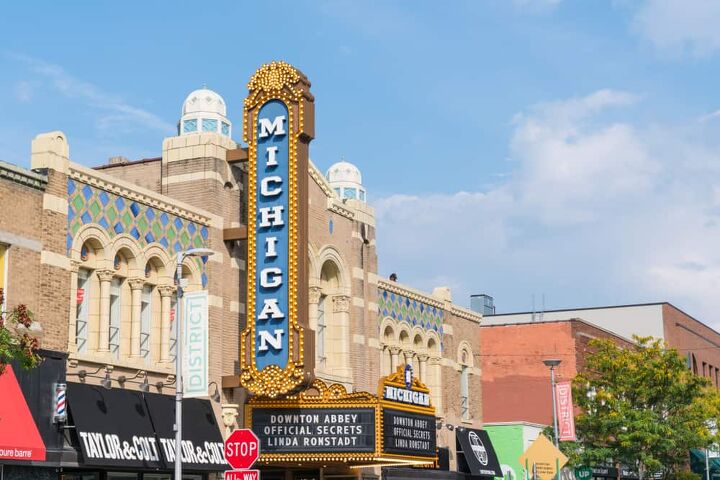 Ann Arbor is one of the most vibrant, dynamic cities in the Great Lakes area. Home to the well-known University of Michigan, Ann Arbor also houses Michigan Stadium, the largest football stadium in the country. If you have a passion for education, culture, and sports, this city is the right place for you.
Rating at 117.5 on the cost of living index with a US average of 100, Ann Arbor is not a cheap place to live. This university town is the second most expensive city in Michigan, next only to East Lansing. Housing costs are one of the highest in the nation owing to high demand and zoning decisions made decades ago.
Do You Need to Hire Movers?
Get free, zero-commitment quotes from pro contractors near you.
Housing Costs in Ann Arbor, MI
The average home value in Ann Arbor is a hefty $401,979 compared to the US average of $247,084. This translates to a median price of $221 per residential square foot. The most expensive neighborhood is Angell, with a median home price of $1.2M.
There are 42 neighborhoods in Ann Arbor with median home prices ranging from $166,500 – $1.2M. Here is a chart to showcase the neighborhoods and their average home prices. The city's homeownership rate is 44.8% which is much lower than the US average of 63.9%
Median Home Prices in Ann Arbor Neighborhoods

Neighborhood
Median Home Price
Angell
$1,200,000
North Central
$939,000
North Area
$649,000
West Park
$599,900
Glazier Way
$545,000
Virginia Park
$517,500
Old West Side Historic District
$499,000
Plansmart
$479,900
Lower Burns Park
$455,000
Clinton-George
$365,000
Lawton
$360,000
Kimberly Hills
$344,000
Greenview and Pioneer Nature Area
$330,000
Broadway
$314,900
South Maple
$299,000
Southeast Ann Arbor
$272,500
Old Fourth Ward
$230,000
Georgetown
$189,900
Bryant
$185,000
Allen
$166,500
Rental Costs in Ann Arbor, MI
Being the university town that it is, over 50% of residential structures in Ann Arbor are rentals. Despite this statistic, there is still a shortage of rentals, and the cost remains quite high. With almost half of its residents comprising university folk, Ann Arbor continually scrambles to keep up with the demand.
Average Rent in Ann Arbor by Bedroom Size

Studio
$990
1-Bedroom Unit
$1,165
2-Bedroom Unit
$1,600
3-Bedroom Unit
$2,395
4-Bedroom Unit
$2,913
Ann Arbor is the fourth most populated city in Michigan, with about 120,000 residents, compared to Detroit's 700,000. Here is a comparison chart of rental costs in some popular cities in Michigan.
Average Rent for a 1-Bedroom in Ann Arbor and Neighboring Michigan Cities

City
Price
Ann Arbor
$1,165
Detroit
$1,200
Grand Rapids
$1,069
East Lansing
$828
Kalamazoo
$800
Lansing
$707
Flint
$604
Cost of Utilities in Ann Arbor, MI
The cost of utilities in Ann Arbor stands at 99.3 in the US cost of living index. While housing rates are through the roof, utilities fall just about average compared to the rest of the country.
Check out the chart below to know how much you would need to set aside to pay the utility bills.
Average Utility Costs in Ann Arbor

Utility
Average Cost Per Month
Electric
$40
Basic Internet Plan
$42
Natural Gas
$78
Basic Cable TV
$55
Water
$28
Tax Rates in Ann Arbor, MI
Ann Arbor residents pay a combined sales tax of 6%, which is 1.3% less than the US average. There are no income tax brackets in Ann Arbor, and all filers pay a flat rate of 4.25%. Along with Michigan are 9 other states that pay a flat income tax rate, ranging from 3.07% – 5.25%.
Michigan property tax is referred to as millage and figured in mills which equate to 1/1000 of a dollar. Simply put, for every $1,000 in property value, a property owner pays $1 in taxes. In Ann Arbor, homeowners pay a millage of 39.5, which is slightly lower than the state average of 42.
In comparison, nearby Detroit pays a much higher 69.6 mills. However, this number does not in any way indicate the highest millage rate in the state. The most expensive property taxes in Michigan go to Ecorse, with a millage rate of 111.5.
Food Costs in Ann Arbor, MI
There are more restaurants per person in Ann Arbor than there are in any other city in the US. With over 400 restaurants packed in a mere 28.8 square miles, this is a definite foodie town. The international student body drawn in by Ann Arbor's top universities translates to international flavors offered in the restaurant scene.
If being in the kitchen is more your style, the chart below shows you the basic cost of grocery staples. Check out the item prices in Ann Arbor compared to key cities in the US.
Prices for Groceries in Ann Arbor and Other Cities

Food Item
Ann Arbor
New York
San Francisco
1 Loaf of Bread
$2.19
$3.16
$3.82
1 Liter Milk
$.77
$1.06
$1.16
1 lb Apples
$1.77
$2.08
$2.075
1 lb Potatoes
$.98
$.95
$1.10
1 Dozen Eggs
$2.12
$4.14
$5.18
1 lb Chicken Fillet
$4.18
$6.00
$5.20
1 Bottle Domestic Beer (16 oz)
$2.74
$4.43
$5.54
1 Bottle Red Wine (mid-range)
$13.00
$17.00
$18.00
Fast Food Combo Meal
$8.00
$9.00
$9.00
Lunch at a Restaurant (mid-range)
$15.00
$18.00
$18.00
Car Insurance Costs in Ann Arbor, MI
Michigan drivers pay one of the highest car insurance rates in the country. The state abides by its unmatched no-fault insurance system, which provides crash victims with unlimited lifetime coverage of medical bills. Exorbitant insurance rates have caused residents to ditch insurance altogether, causing the state to place fourth nationwide for uninsured drivers.
Michigan residents pay an annual premium of $2,111, which is about 35% more than the national average of $1,592. Ohio, New Hampshire, and South Carolina pay the lowest car insurance rates in the country. Here is a quick comparison of the states with the highest car insurance premiums.
States with the Highest Full Coverage Auto Insurance Rates

State
Average Cost Per Month
Florida
$2,587
New York
$2,498
Louisiana
$2,351
Michigan
$2,111
Rhode Island
$2,066
Transportation Costs in Ann Arbor, MI
Ann Arbor public transit means navigating and relying heavily on its bus transit system, also known as "The Ride." Over 1500 bus stops in this city of 28 square feet make bus-riding pretty convenient for residents. You may be able to get away with not owning a car because of the efficiency of its bus system.
Ann Arbor prides itself in being a bike-friendly city with 90.1 lane-miles of on-street bike lanes. The city is also highly walkable, with downtown being the most walkable neighborhood.
Cost of Transportation in Ann Arbor

Transportation Type
Price
City Bus (single-ride pass)
$1.50
City Bus (day pass)
$4.50
City Bus (30-day pass)
$58.00
Taxi (meter drop)
$2.50
Taxi (1 mile)
$2.50
Taxi (waiting per hour)
$24.00
Education Costs in Ann Arbor, MI
Ann Arbor is proud to house the best universities and top schools in the state of Michigan. The most-renowned would be the University of Michigan Ann Arbor campus, home to 45,000 students. The average tuition fee is about $16,000 for in-state students, but this number jumps to $51,000 for out-of-state.
Aside from its stellar universities, Ann Arbor is also rated one of the top 10 school districts in the state. The city's average private high school tuition is $16,344 compared to the national average of $14,978. The most expensive private school is Rudolf Steiner, with an average tuition fee of $22,600.
Daycare costs are high in Ann Arbor, with an average annual cost of $8,744.
Entertainment Costs in Ann Arbor, MI
There are many ways to keep yourself entertained in this cultural and sports mecca known as Ann Arbor. Home to the country's biggest football stadium, it is also teeming with various indoor and outdoor leisure activities. Numerous bookstores, craft breweries, theaters, museums, and parks will keep you busy any day of the week.
Here is a list of some entertainment options in Ann Arbor and how much they cost.
Ticket Prices for Popular Ann Arbor Attractions

Attraction/Event
Price
Huron River
Free
University of Michigan
Free
Matthaei Botanical Gardens & Nichols Arboretum
Free Admission ($2-5 parking fee)
Ann Arbor Hands-On Museum
$12.50 (adults & children)
Gallup Park
Free
Ann Arbor Folk Festival
$25.00 (single-night pass)
Ann Arbor Film Festival
$50.00 (adult)
Craft Beer Pedal Trolley Tour
$375.00
---
Related Questions
Is it safe in Ann Arbor?
Ann Arbor may not be the safest city in the country, but it ranks 6th safest city in Michigan. 49 residents out of 1,000 find themselves victims of crimes, which is low compared to Detroit's 196 per 1,000 residents. The least unsafe area to walk alone late at night in Ann Arbor is on campus.  
What is the climate in Ann Arbor?
Ann Arbor gets an average of 36 inches of rain per year, close to the annual average of 38. The summer high in July is around 83°F, and the winter low in January is 17°F. The area does get 43 inches of snow in a year. 
How is healthcare in Ann Arbor?
Ann Arbor is home to some of the highest-rated medical care facilities in the nation. The University of Michigan Hospitals-Michigan Medicine tops the list, followed by C.S. Mott Children's and the Ann Arbor VA.  Despite the easy access to excellent healthcare, Michigan residents rank in the bottom third in overall personal health.
Do You Need to Hire Movers?
Get free, zero-commitment quotes from pro contractors near you.
Summing It Up
Ann Arbor has everything any modern city has to offer, all wrapped up in a tiny package. This town's vibe and energy make it a livable city not just for students but for families too. If cold winters do not deter you, a move to Ann Arbor may be a good option for you.
Related Articles

Stacy Randall
Stacy Randall is a wife, mother, and freelance writer from NOLA that has always had a love for DIY projects, home organization, and making spaces beautiful. Together with her husband, she has been spending the last several years lovingly renovating her grandparent's former home, making it their own and learning a lot about life along the way.
More by Stacy Randall
Published March 1st, 2021 1:55 PM